My husband gave me an extra special gift on Mothers Day and I have to tell you I loved it!  Usually I sit down on the weekend and work out our weekly or fortnightly meal plan and grocery list.  I do it not because I am the female of the house, but because I am the control freak of the family, I want to make sure it's a balanced meal plan getting in enough vegetables and good meats.  But sometimes it does get monotonous and I do get tired of thinking what to cook and being creative.
I went to start my meal planning on Saturday just after lunch, my hubby grabbed the pen, meal plan and shopping list off me and said, "allow me, my Mothers Day gift to you".  I LOVED IT!  I didn't have to think about what to cook for dinner nor do the grocery shop, bonus.  I stayed home and relaxed, so rare!  It worked out well as I was in Sydney for a few days that week so he was able to plan dinners that he knows he can manage.  So today I share with you my husbands meal plan, please don't pick on him if you don't think it's healthy or balanced, this once off plan is an exception and I think he's done OK.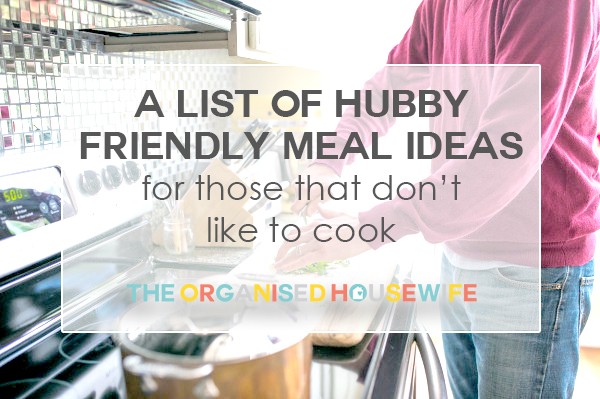 My hubbies go-to dinner when I go out is meat pie and chips, the kids love it. I also asked on facebook what the communities partners signature dishes are, I listed them all below. Tell me in the comments below:
What is your partners go-to dinner when your partner cooks?
Meal planning tips:  How to meal plan & meal planning printables.
See my previous weekly meal plans here.
My husbands weekly meal plan
MONDAY

Chicken schnitzel from the grocery store deli with mashed potato and vegetables
TUESDAY
Beef stirfry using a packet sauce mix and fresh vegetables with rice
WEDNESDAY
Frozen meat pie and frozen chips (cooked in the oven, not eaten frozen LOL)
THURSDAY
Spaghetti bolognese
FRIDAY
BBQ sausages, mashed potato and vegetables
SATURDAY

Beef ravioli with a tomato based sauce (found in the cold section) and garlic bread
SUNDAY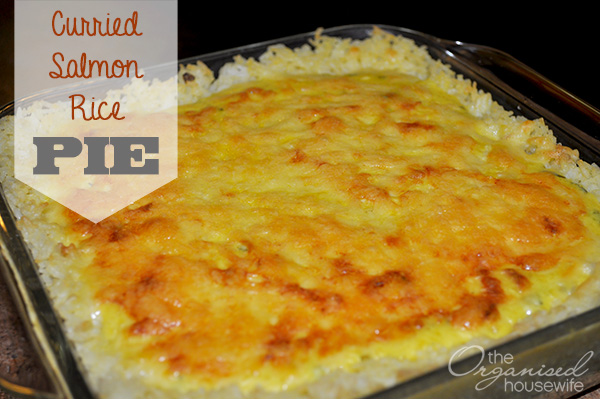 BAKING
I had some Apricot Yoghurt Muffins in the freezer along with some biscuits.
Fruit muffins are always a great addition to the kids lunch box.  This recipe is easy to prepare, you can do it on the weekend and freeze so you can add to lunch boxes through the week or prepare it while you are waiting for dinner to finish cooking in the oven or stove top.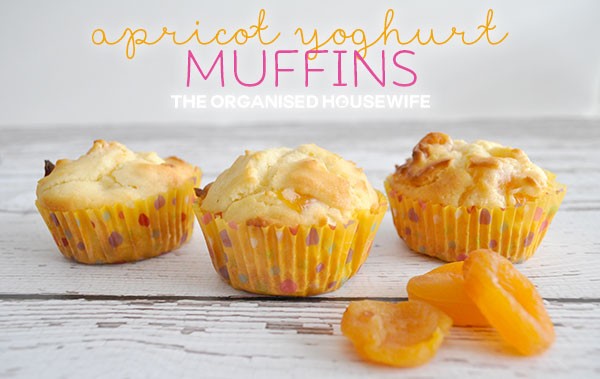 More Hubby friendly meal ideas:
I asked the community what their partners go-do dinner dish is, this is an awesome list of ideas:
BBQ
Toasted sandwiches
Homemade pizza
Lamb shanks with mash
Scrambled egg
Beer BBQ chicken
Chicken satay
Steak
Tin spaghetti on toast
Chicken breast in a creamy tarragon and bacon sauce
Toast
Weetbix
Chips, chops and eggs
Steak diane
Take away
Seafood marinara
Smoked trout fettucine
Porridge
Slow cooked lamb curry
Pork roast
Homemade beer and beef
Poached eggs on toast
Cheese on toast
Seafood chowder
Chips and sausages
Apple crumble
Nachos
Portugese chicken with piri piri sauce
Salmon and vegetables
Paella
Beef Rendang
Chocolate self saucing pudding
Baked BBQ ribs
Egg salad
Steak with mushroom sauce
Pulled pork in the slow cooker
Vegetable omelet
Pancakes with bacon and eggs and maple syrup
Bacon and eggs
What is your partners go-to dinner?