Easy tips and effective step-by-step instructions for how to clean the grease stains, sticky residue and stubborn marks on your home walls.
Children and pets kicking about in the same home is guaranteed to result in dirty, dusty walls. There are lots of different ways you can achieve clean, streak-free walls with minimal elbow grease. Whether you're wanting to spot clean your walls, tackle stubborn stains, freshen up the whole home or clean your walls because your lease is ending or you're selling your home, these wall cleaning tips will have you sorted.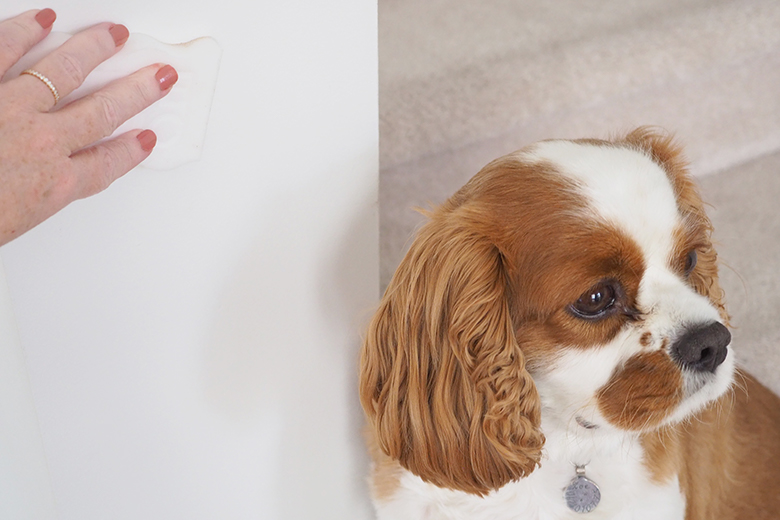 Create A Cleaning Routine
I don't regularly clean my walls, instead if I see that one of the walls looks dirty, I simply grab my 'wall cleaning equipment' and give the wall a wipe down. It is a great idea however, to add this task into your fortnightly or monthly cleaning routine and pick a different wall each time to clean. This way over the course of a year you would have cleaned all the walls in your home.
This affordable Cleaning Checklist is an easy way to do this. It's available to purchase and print instantly (so you can kick start your new cleaning routine asap!), and includes daily, weekly, monthly, quarterly and annual cleaning tasks.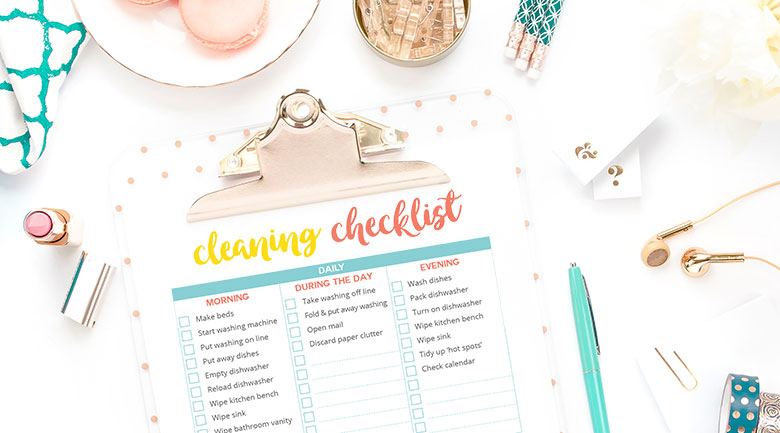 My Wall Cleaning Equipment
Here is a summary of what I like to keep on hand to ensure I can tackle any stain or stubborn wall mark that comes up in my home.
Vinegar
A sock or microfibre cloth
Tea Tree Essential Oil or Eucalyptus Essential Oil
Sugar Soap
Routine Wall Cleaning
A good multi-purpose wall cleaner is essential for routine wall cleaning. I used to use diluted sugar soap to clean my walls – and this worked really well – but I have since discovered The Pink Stuff Multi-Purpose Cleaner which I think I prefer. I recently used this spray to clean a bit of wall that my cat Millee had been rubbing her face on, and it cleaned up so well!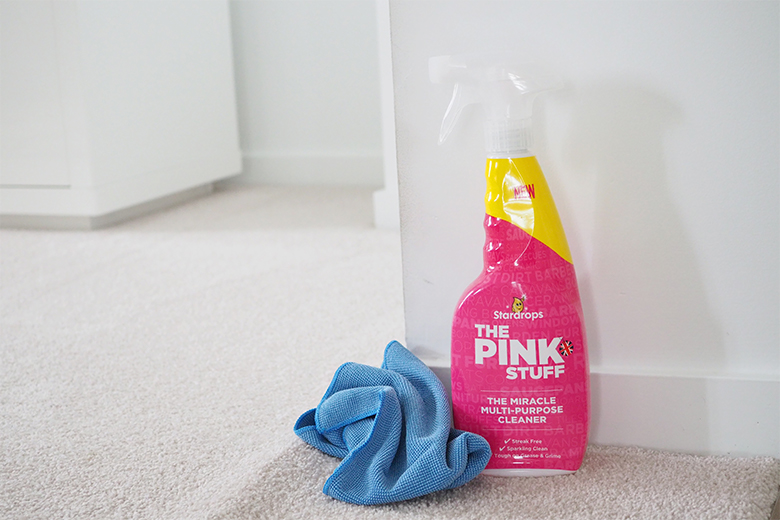 Here are a few multi-purpose wall cleaning options to choose from, including a budget-friendly DIY recipe:
Diluted sugar soap in a spray bottle (1/2 sugar soap and 1/2 water)
DIY Natural Wall Cleaner Recipe: 1L water and 1/4 cup vinegar or 3 parts water to 1 part vinegar
This wall cleaning recipe is one of many available in my DIY Cleaning Recipes eBook.

It's also important to not use too much soap on the walls as the residue is hard to remove and will attract dirt and dust.
My Very Clever Wall Cleaning Device
An old white sock, that's it, nothing very fancy at all! Spray your multi-purpose wall cleaner onto walls with one hand and wipe over with a sock on the other hand. This quickly and easily picks up all dirt on the walls and I find it easier to glide the hand flat over the wall.  Alternatively you can use a microfibre cloth.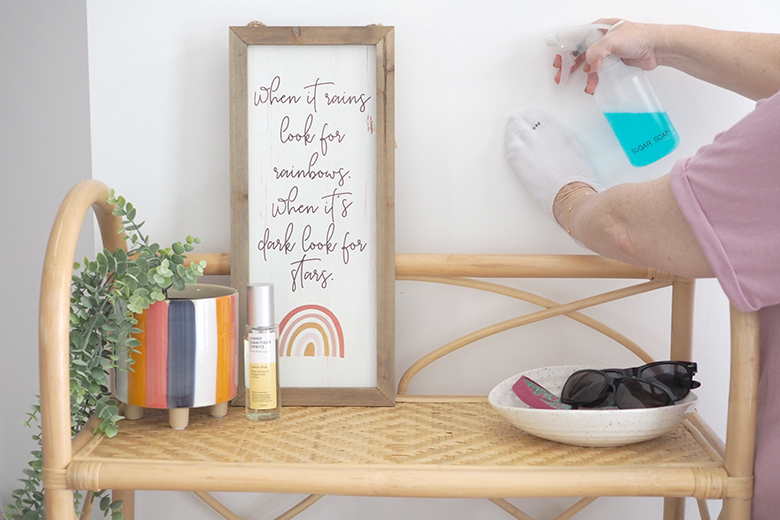 Spray the cleaner at the top of the wall and work your way from side to side down the wall, catching all drips as you go.
How To Remove Sticky Residue From Walls
For any sticky marks you find on the wall simply use tea tree or eucalyptus oil and a textured sponge/cloth. I like to use this White Magic Eco Cloth as the rough texture helps to pick up the residue.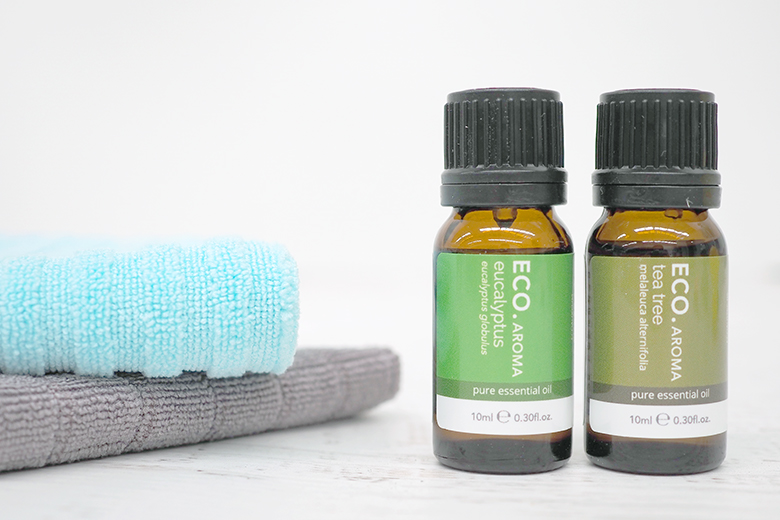 Removing Grease From Walls
A little lemon juice will do wonders for removing grease from your walls. The acidic properties in lemon juice assist in cutting through grease and grime on walls. Simply add a good splash of lemon juice to your wall cleaning solution and clean away!
Stubborn Marks
If you're needing to remove ink, pen and shoe scuffs from the wall (the joys of children hey?), simply wipe over the stubborn marks with one of the following solutions:
The Pink Stuff Cleaning Paste is amazing on stubborn stains – especially dirt that is captured in a dent in the wall, as the particles in the cleaning paste effortlessly pick up the dirt. It's also great for hard water stains around the bathroom sink and tub, stubborn marks on the walls, cleaning the ceramic stovetop, pots and pans – I couldn't live without it now!
Baking soda scrub recipe – mix together 1/4 cup baking soda and 1 tablespoon water to make a paste. This recipe (and heaps more!) is available in this instantly downloadable DIY Homemade Cleaning Recipes eBook.
Using a cloth dab The Pink Stuff Cleaning Paste or the baking soda scrub onto the dirt area, leave for a few minutes, then wash with wall cleaning spray.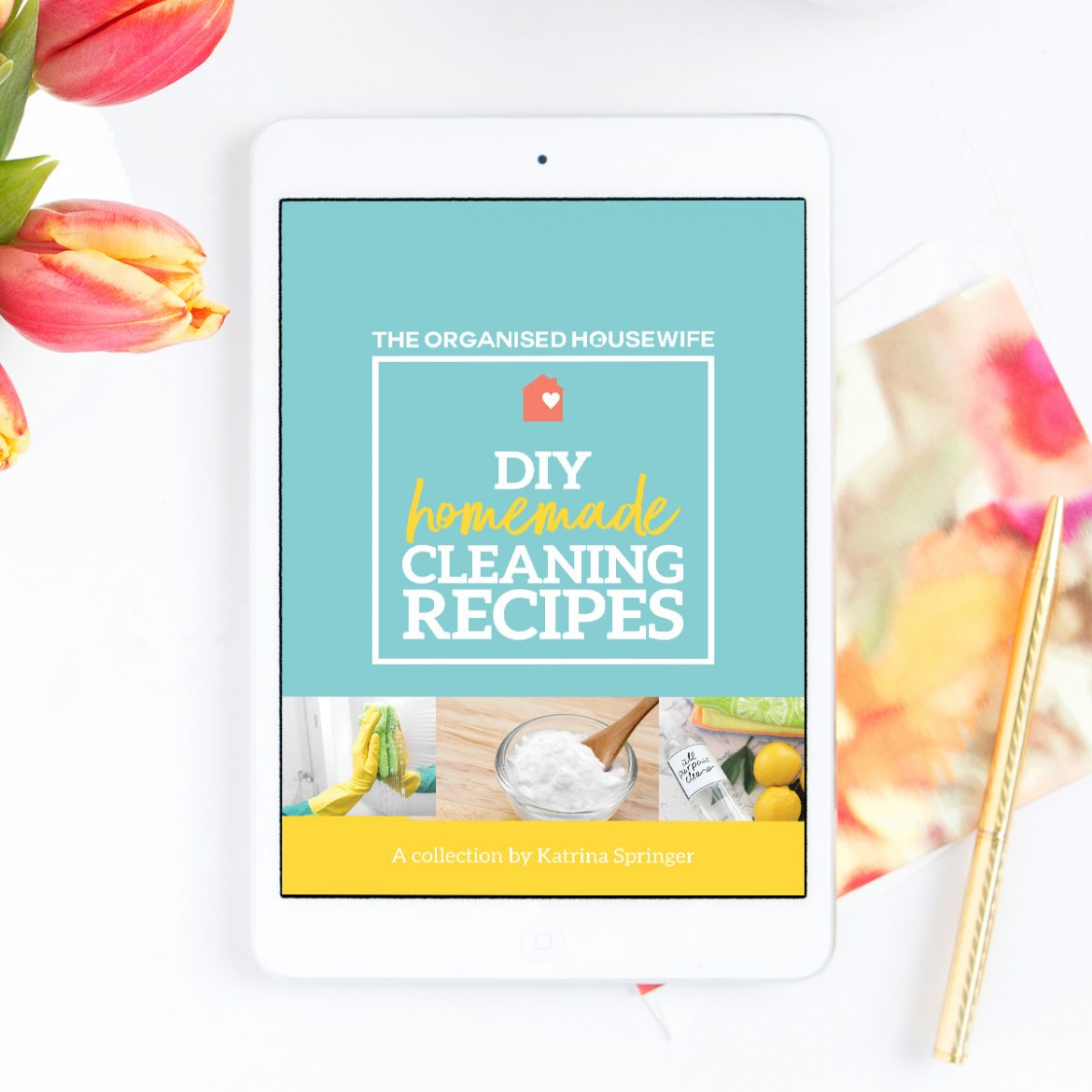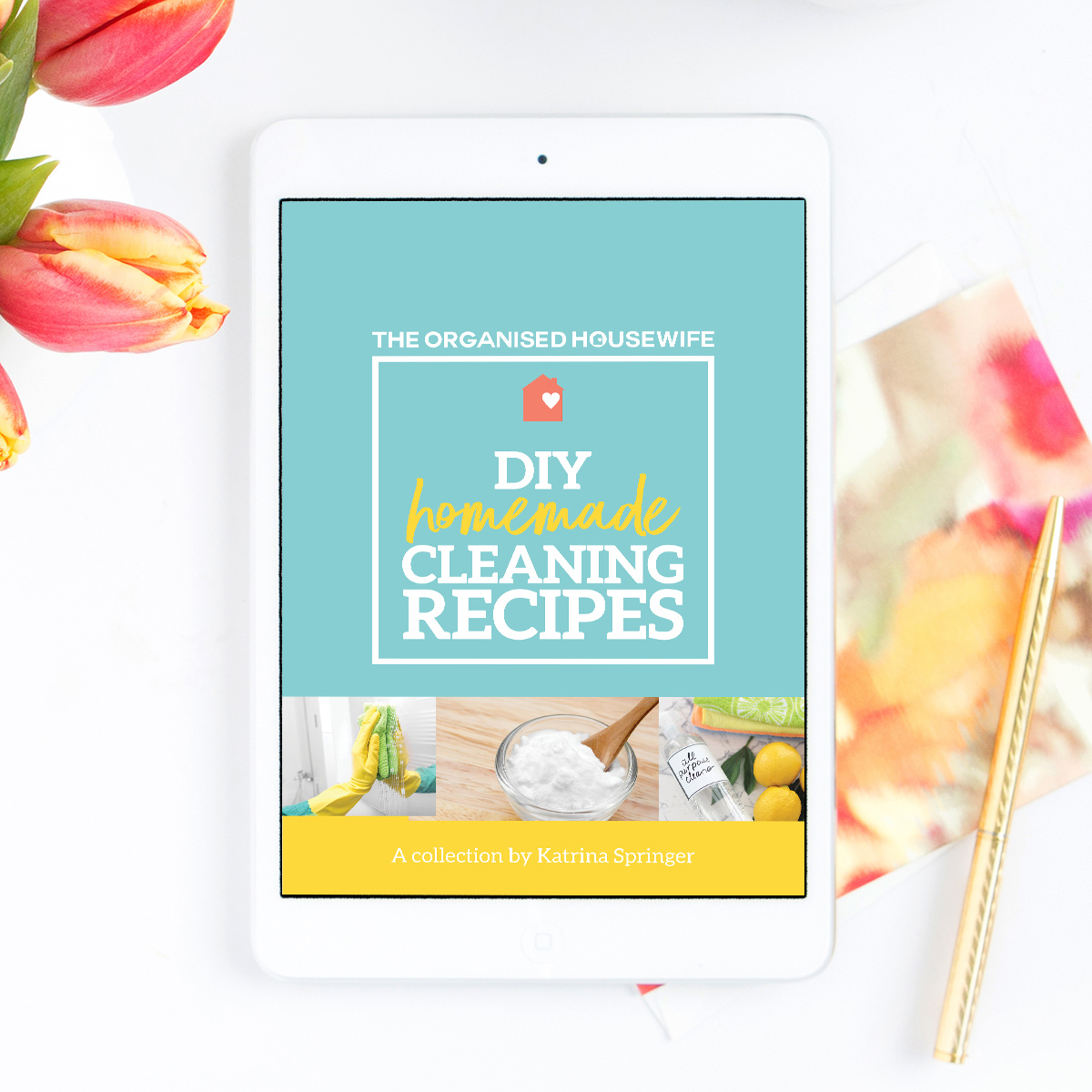 Spot Cleaner For Walls
My beautiful fur-babies leave a lot of little marks on the corners of my walls from leaning against them or rubbing on them as they walk past. The bottom of my stairs is a common place that gets these dirty spots. The kids also put their hands on this wall as they go up the stairs.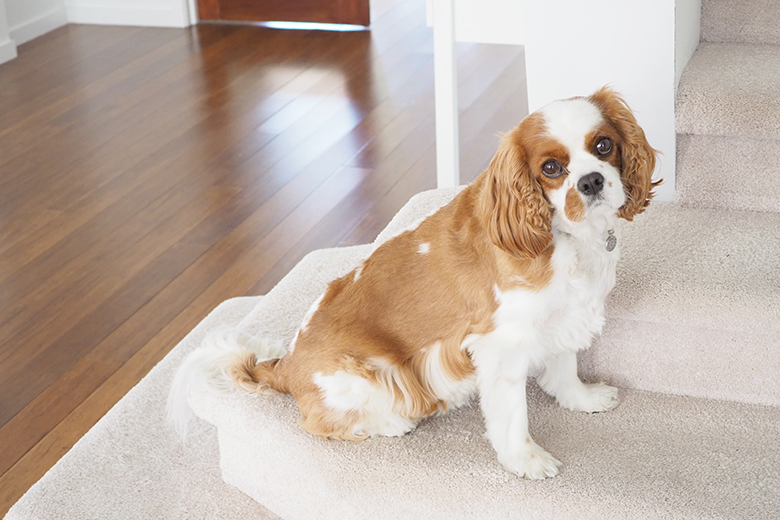 If it's just a spot clean here and there that you're needing to do on your walls, then this White Magic Eraser is fabulous – and really quick and easy! It removes stubborn marks without the need for any multi-purpose cleaners or chemicals. Simply add water and scrub away those marks.
The Pink Stuff Multi-Purpose Cleaner is probably still my go-to for very stubborn stains though.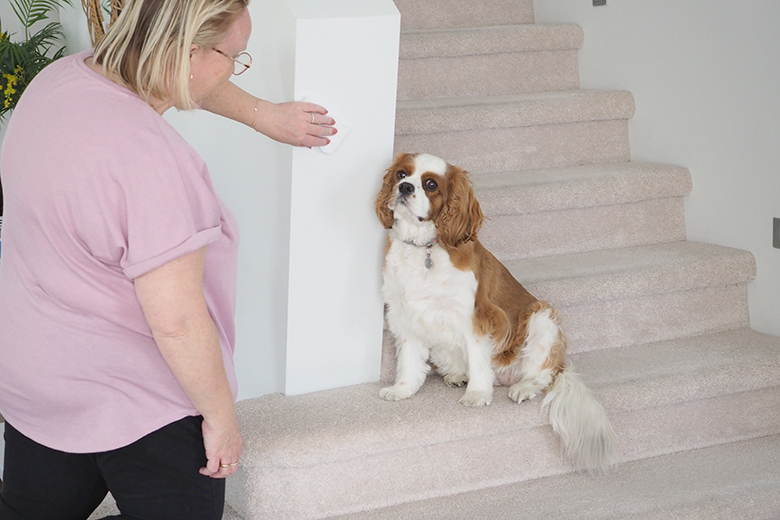 What walls in your home are in need of a good clean?
---
Pin this image below to Pinterest!