These mouthwatering iced cinnamon scrolls are a quick, easy and delicious treat for afternoon tea. 
These iced cinnamon scrolls are absolutely delicious. I have made them countless times now and everybody gets excited when they smell them cooking in the oven.  These are my rainy day morning tea, served with a hot cuppa or hot chocolate – you can't go wrong!  My kids said they tasted the same as donuts and the glaze over the top makes them so delightful. These are very easy to make and not time-consuming at all as the dough doesn't include yeast so you don't have to wait for it to prove.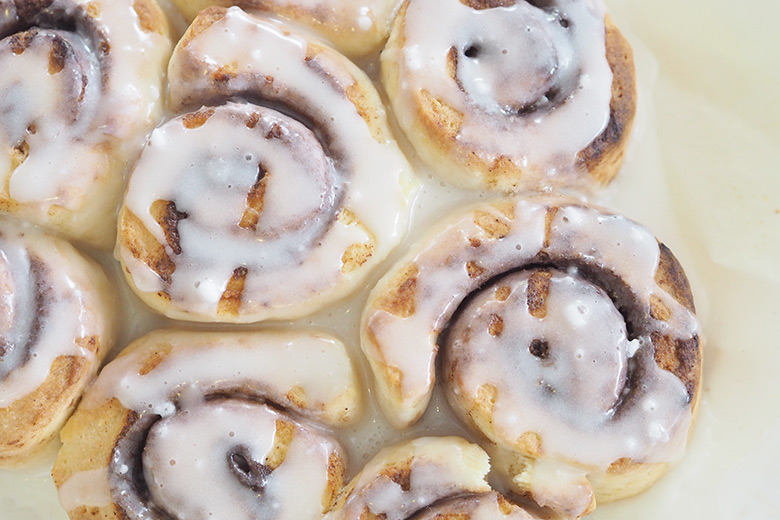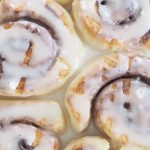 YOU WILL NEED
Dough:
2 cups plain flour
2 teaspoons caster sugar
2 teaspoons baking powder
½ teaspoon salt
1¼ cups thickened cream
Filling:
1 tablespoon unsalted butter, melted
2 tablespoon brown sugar
2 teaspoons ground cinnamon
Icing:
½ cup icing sugar
1 tablespoon milk
Instructions
Preheat oven to 180C.
Place flour, sugar, baking powder and salt into a bowl.
Add the cream and stir until just combined.
Lightly flour bench space.
Knead dough on floured surface until smooth (approx 30 seconds).
Roll the dough into a 20cm x 30cm rectangle.
Combine brown sugar and cinnamon into a small bowl.
Brush dough with melted butter.
Sprinkle the sugar mixture evenly over dough.
Roll from longest side to form a scroll.
Cut into 8 equal slices.
Place each slice into a baking dish, flatten slightly.
Bake for 20-25 minutes or until golden.
Place on wire rack while you are making the icing.
In a small bowl whisk the icing sugar and milk.
Pour the icing over the scrolls.
Serve warm.
KAT'S lunchbox recipe cookbook
50 freezer friendly recipes that make for perfect no-fridge, no-heat lunches ideal for school, work, or even picnics!
The easy to follow recipes with full colour photos, and my how-to guide at the beginning of the book, means both experienced bakers and those a little newer to the kitchen, will have all the help they need.