How to organise the cupboard under the kitchen sink, and make it clutter free. Organise the under the sink space efficiently as possible, so you can easily access the things you need to use.
The cupboard under the kitchen sink, can be an awkward one to keep tidy and use effectively as it also contains sinks and plumbing. Under sink organisation is one thing that I regularly hear from my readers that they have trouble with. I keep my under the kitchen sink cupboard space organised for a few reasons:
It's easier to keep clean
It's easier to find what I need
There is less clutter as I only keep what I use regularly in there.
I can most effectively utilise what space there is in the cupboard.
I thought it would be good to share a post on 'How to organise under the kitchen sink cupboard' so you can see how I sort out mine and you can have another clutter-free space in the house!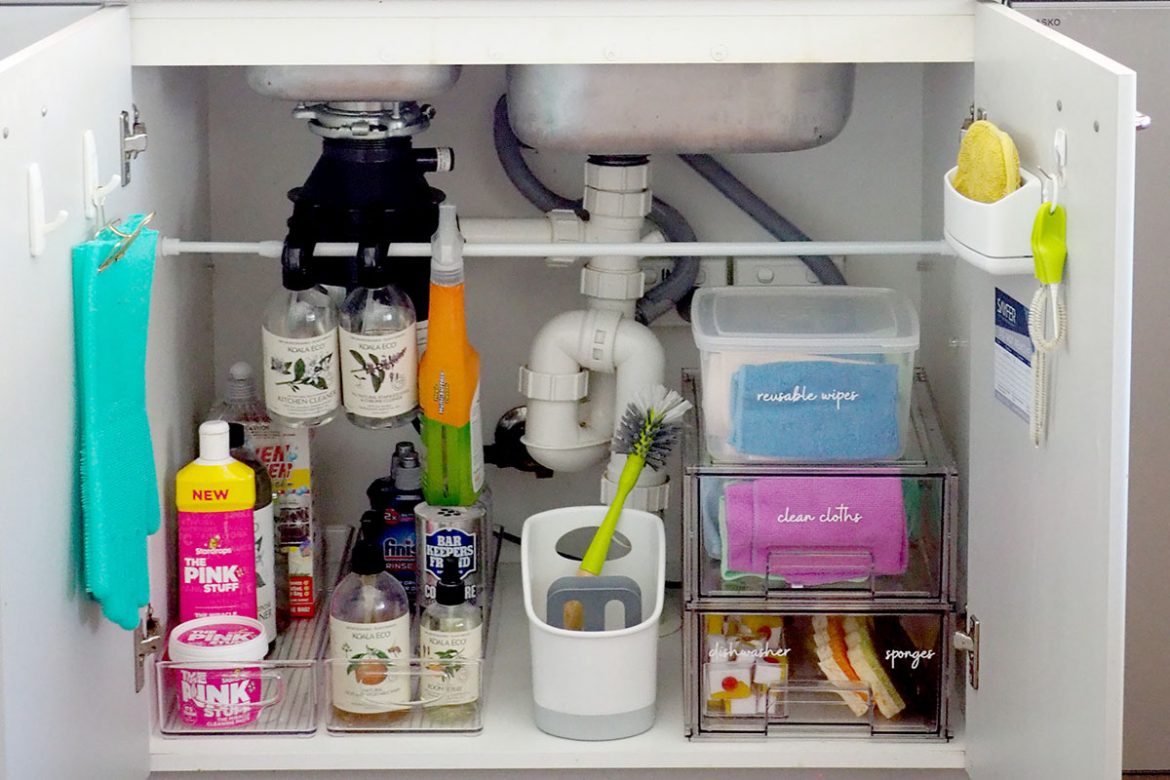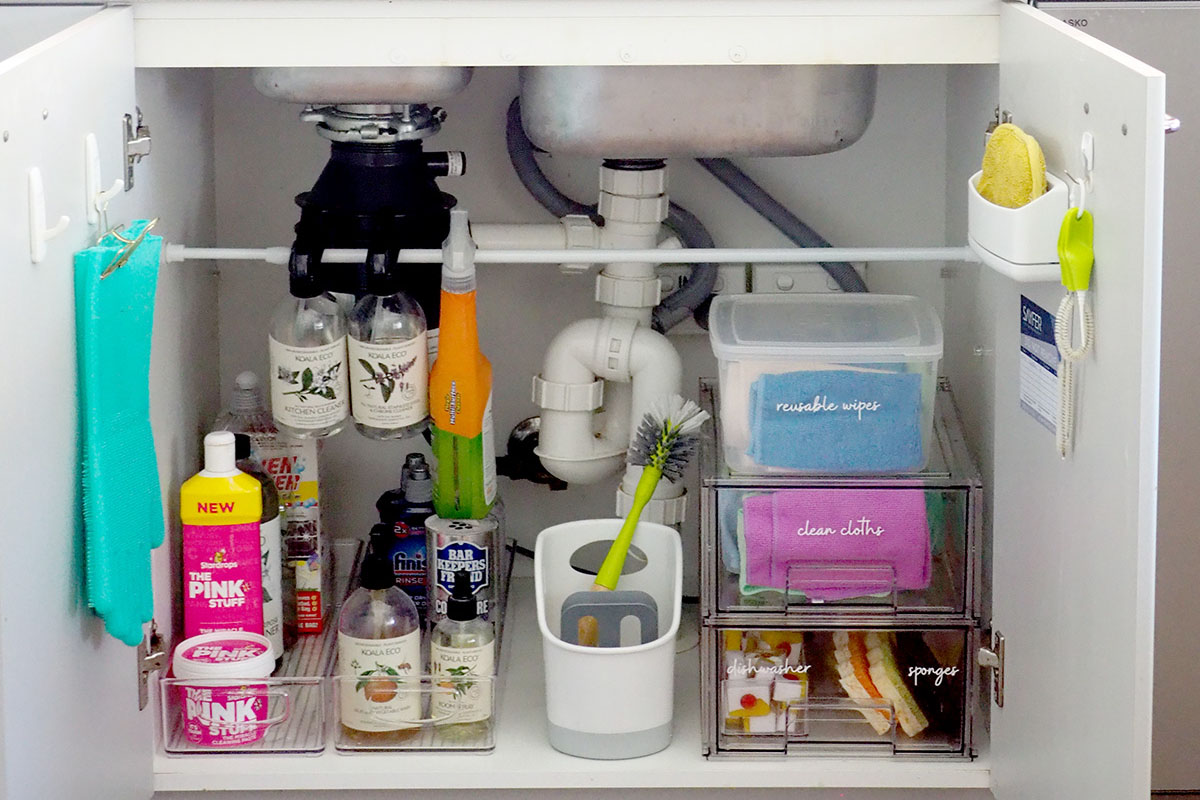 You want to make this cupboard organised enough that everything has a place to avoid it from becoming a mess. You only want to have supplies in there that you use regularly to avoid it becoming too cluttered.
Remove everything from the cupboard, grouping similar items together
Assess what was under the sink
Purge anything you no longer need
Label
Organise!
LABELS – Labels are the best for organising clutter-prone areas like under the kitchen sink. Any space that can easily become a dumping zone and untidy. The key to keeping it organised is to make sure everything has a place and label everything! This lets all household members know where everything goes, and avoids things being put back in the wrong spot. Labels are available in my shop here.
TENSION RODS – are brilliant for under sink organisation, as you can utilise space normally wasted due to the under sink plumbing. This tension rod holds my cleaning spray bottles, which helps to keep the cupboard clutter free. I'm such a fan of using tension rods to reduce clutter, that I stock them in my shop, you can purchase them here.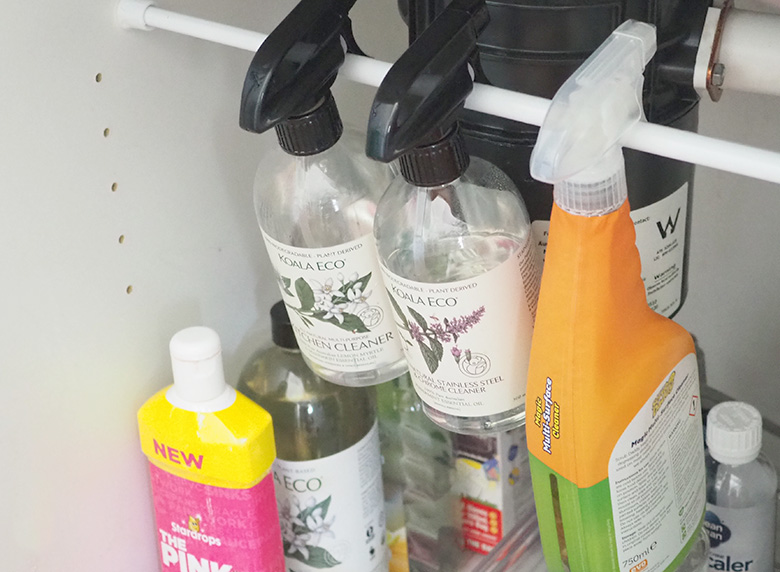 DRAWERS – are a great way to increase the functionality of the under sink cupboard. These drawers are from my shop here. In the top drawer I keep clean microfibre cleaning cloths.  In the lower drawer I have a smaller tray inserted for my dishwasher tablets, with my spare sponges next to it.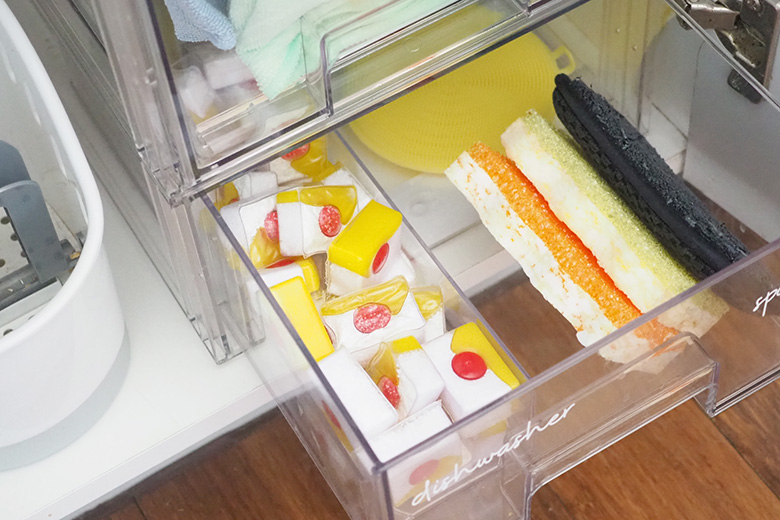 SINK TIDY – pictured below – Keep your kitchen sink organised and clutter-free with this space-saving sink tidy that helps gives you more space under your sink (or keep on top of the sink tidy) and helps to air your sponges and brushes with fewer germs. When washing up, the Sink Tidy will keep sponges and washing up liquid together in one convenient place.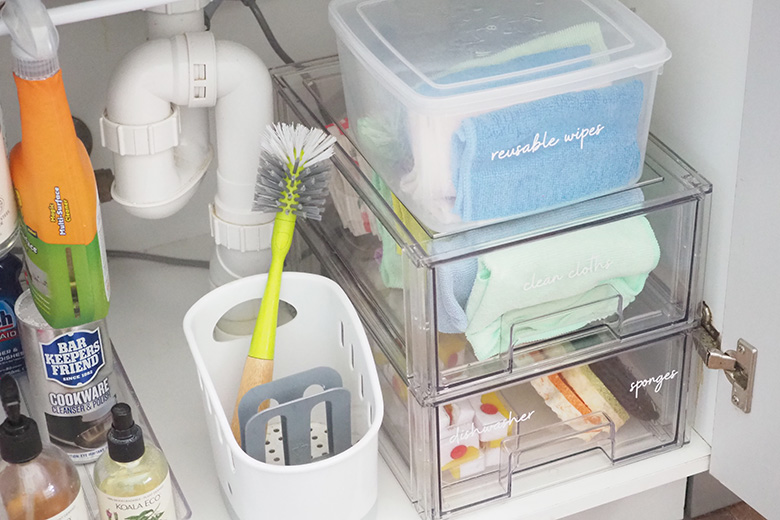 DIY REUSABLE WIPES – I make my own antibacterial reusable wipes which I keep in an air-tight plastic container, this really reduces waste and is far more economical that disposable ones. I have put together a kit of all the supplies (and the recipe) you need to make your own reusable antibacterial wipes – Available Here.
HOOKS – I've have 3M hooks on the cupboard door to hold washing up gloves.  I love these gloves for when I have to do washing up by hand, as not only do they protect my hands but they also have built in scrubber on the hand. This makes washing up so much faster. On the other door, I have a hook for my bottle cleaning set, which has little tools to get into all the crevices in drink bottles and keep cups.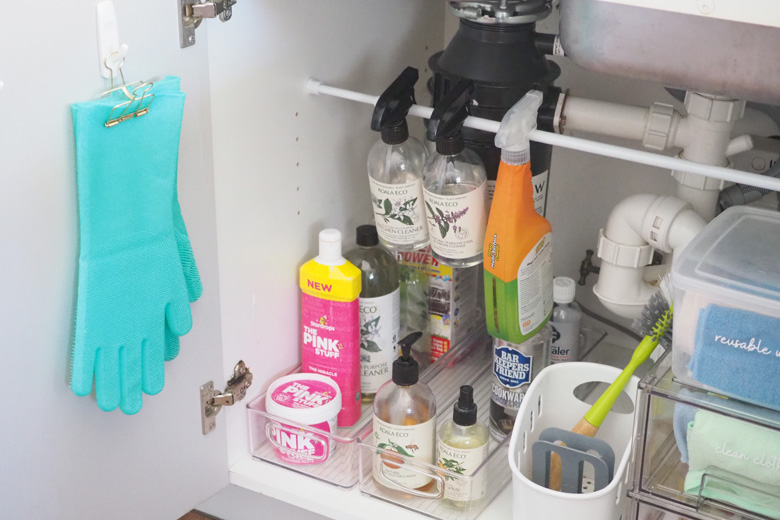 Items I have in my under the sink cupboard
3M hooks – Coles or Bunnings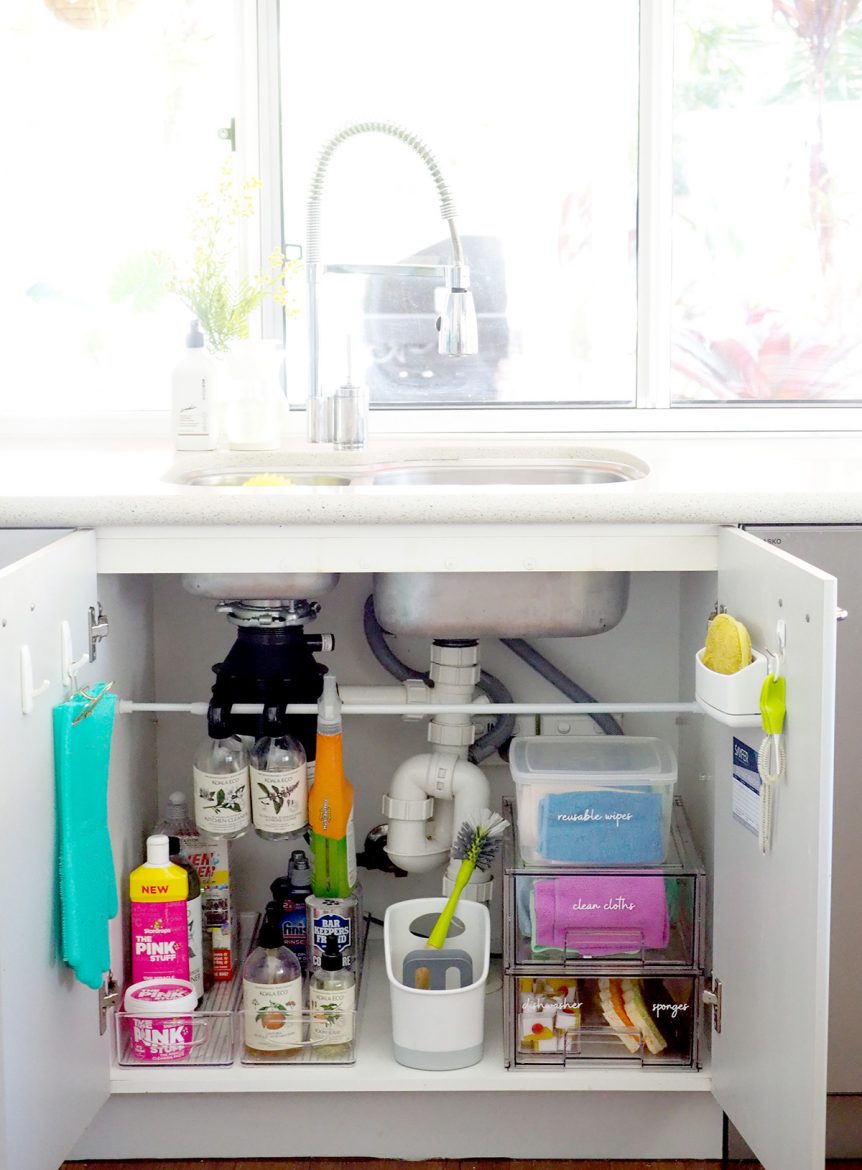 Do you have trouble keeping your under the kitchen sink cupboard organised?
Organised kitchen drawers means that all your space is used efficiently and it's easier to find items when you need them. Some easy tips on how to organise and declutter kitchen drawers. Continue Reading
KAT'S Hearty Dinners recipe cookbook
A 128-page cookbook that is bursting with hearty, home-cooked meals that the whole family will enjoy!
50 simple, fuss-free and easy-to-follow dinner recipes range from pasta to oven bakes, and slow cookers to soups. They aren't fancy, but they are laced with love, and each one is intended to not just make a meal, but a memory too.