50 super quick and easy dinner ideas to inspire your weeknight dinners, and allow you more time to connect with your children after a busy day at school.
Weeknight dinners don't need to be complicated or time-consuming to prepare – particularly at the beginning of the school year when stressed out parents are already struggling with the extra workload that comes with back to school! This fabulous list of quick home-cooked dinners comes courtesy of The Organised Housewife community, and is just what you'll need to fuel those growing minds and body, whilst also affording yourself time to chat with your children about their new classrooms, teachers, and friends.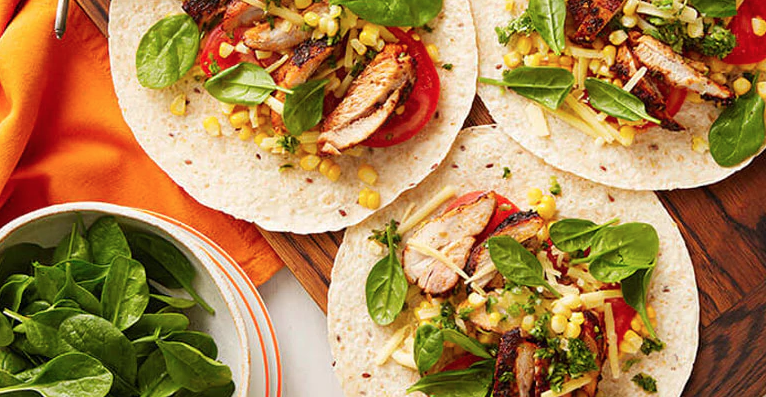 In partnership with Woolworths
---
---
The beginning of the school year brings with it a little more chaos than usual. There are new schedules to juggle, tired children to look after, school pick-up and drop-off to arrange, not to mention uniforms, school shoes, lunchboxes and booklists to sort! This is why it's so important to save yourself extra work wherever you can… and these super quick dinner ideas will certainly help you do that!
PESTO PASTA – a jar of pesto into pasta with some extra olives and artichokes and spinach stirred through. Sprinkle with cheese. Yum! Kids love it. – Siobhan S
MINESTRONE SOUP – so many of our meals have been chosen for this reason. I can make minestrone in about twenty minutes. – Lynelle Y
If you're looking for an even quicker option than homemade soup, you can buy a fresh minestrone soup like this one straight off your supermarket shelf.
Find this Rainbow Minestrone recipe here.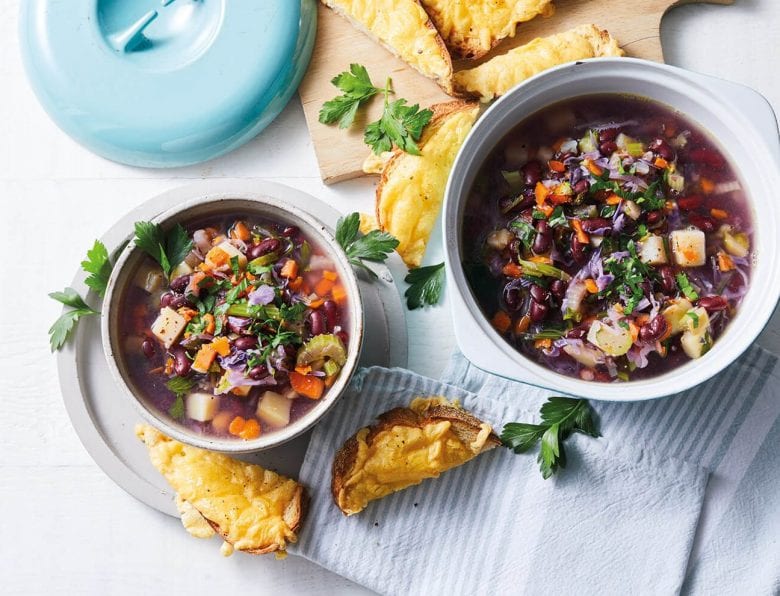 TUNA BAKE – packet of pasta, large can of tuna, can of tomato soup. Cook pasta, add all other ingredients into a casserole dish, add breadcrumbs and cheese to the top and cook in the oven till cheese is melted. Sounds awful but my son loves it and it's actually not bad. – Roslyn O
TUNA BAKE… WITH ASPARAGUS! – cooked pasta combined with a tin of tuna and a can of asparagus soup topped with shredded cheese and baked in the oven until golden… it's the kids favourite and they hate asparagus. – Gab S
SLOW COOKER MEAL – steak, tin of vegetable soup, some tomato paste… could go further with other food items but that's what I do for an "I'm running late for work" dinner. – Gemma R
Find my Favourite Slow Cooker Meals here.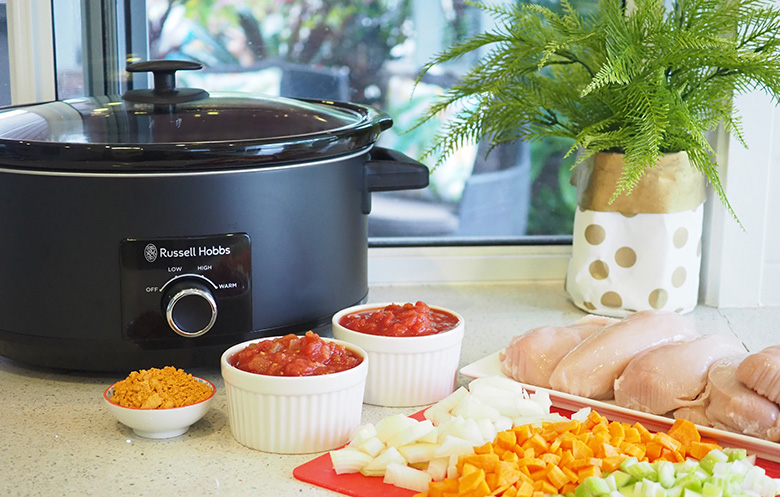 BEEF STIR FRY – stir fry beef in a honey and soy sauce, with Singapore noodles and loads of stir through veggies… takes about 10mins all up. – Cassie R
TACOS – Mexican. A few minutes to brown some mince and add seasoning, then 5 minutes to chop up salad stuff. Less than 15 minutes from start to on the table. – Tiffany H
Find this Quick and Easy Taco recipe here.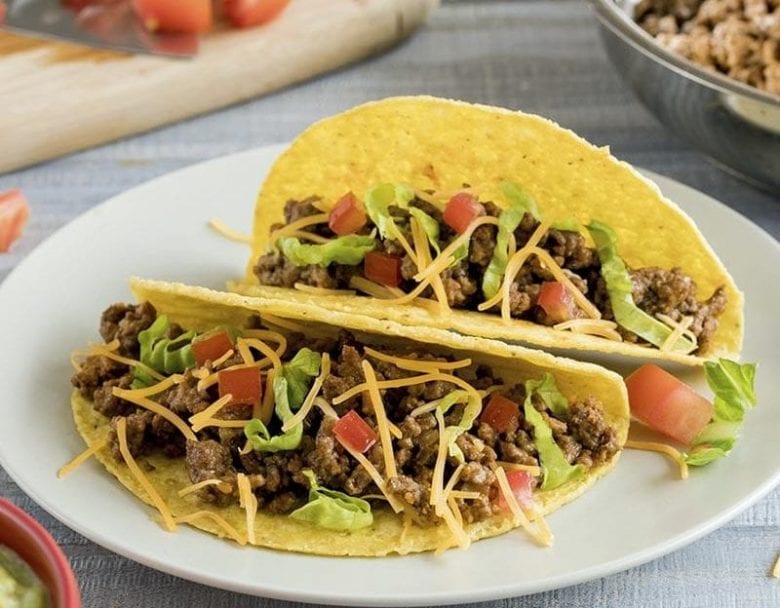 GRILLED CHEESE SANDWICH – grilled cheese sandwich and canned soup are my quickest meals when I'm in a hurry or it is late in the evening. – Lorette D
CHICKEN DRUMSTICKS WITH RICE & VEG – marinated chicken drumsticks with rice and broccoli… the kids absolutely love it and eat it quicker than takeaway! Its a set and forget kinda meal where I have hardly anything to do with the cooking times as I use the oven for drumsticks, rice cooker for rice, then a saucepan to steam the veg. – Lisa L
Find this Easy Barbecue Chicken Drumsticks recipe here.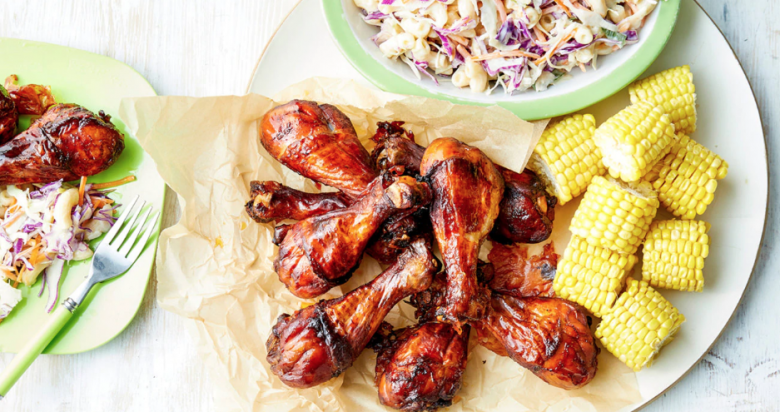 EGG & BACON ROLL – egg and bacon toasted rolls. I make a quick tossed salad whilst they're toasting. – Tamar S
FISH WRAPS – with baked fish fillets, round flat wraps, chopped salad, eggs and mayo. My family love this, especially from spring to summer. – Tlc S
CHICKEN WRAPS – roast chicken shredded, lettuce, tomato and a sauce of natural yoghurt mixed with sweet chilli sauce. Family favourite and very easy. – Dominique B
Find my Easy Chicken Finger Wraps recipe here.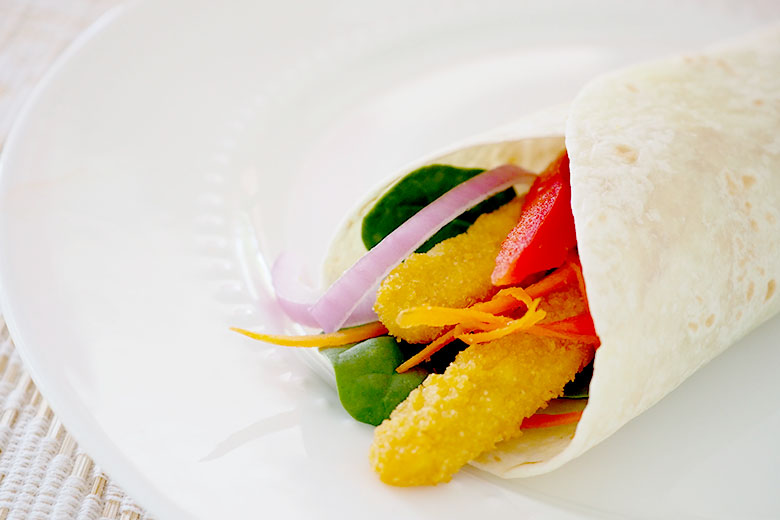 LAMB STIR-FRY – I'm loving the pre-marinated lamb strips from woolies – comes in Mongolian flavour or lamb souvlaki flavour. I super quickly stir fry and add a bunch of broccoli and serve with a microwave satchel of rice. The meat is super tender and takes about 10mins from star to serve. – Jane S
HOMEMADE PASTA SAUCE – I make 27 litres of pasta sauce every couple of months and freeze most of it in meal size portions. Then when we're in a hurry just reheat the sauce and boil the pasta and dinner is done. – Kylie J
MEXICAN CHICKEN ENCHILADAS – your Mexican Chicken Enchiladas! I use a BBQ chicken from the supermarket. So quick, easy and tasty! Thank you! – Tiffany G
Find my Mexican Chicken Enchiladas recipe here.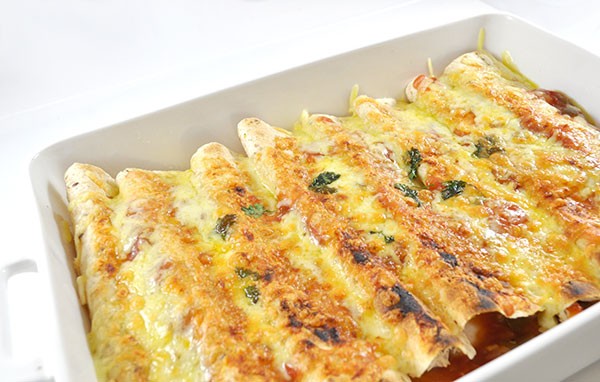 CHICKEN SCHNITZELS – chicken schnitzels in the frypan, with woolies microwave mini potatoes. 8 mins in the microwave plus broccolini and green beans covered with a bit of boiling water in a bowl for 2 mins (my little kids prefer them barely cooked and not chopped up). Winner! – Siobhan S
SAUSAGE, SALAD & CHIPS – takes about 15 minutes. Deep fryer can heat up whilst the sausages are cooking, and you can cut up salad as the sausages are cooking. – Tiffany H
CHICKEN STROGANOFF – I use left over roast chicken with the jellied juices as stock and simmer for a while, then add a little roast vegetable seasoning and sour cream. Pour over pasta. – Lani P
Find this Skillet Chicken Stroganoff recipe here.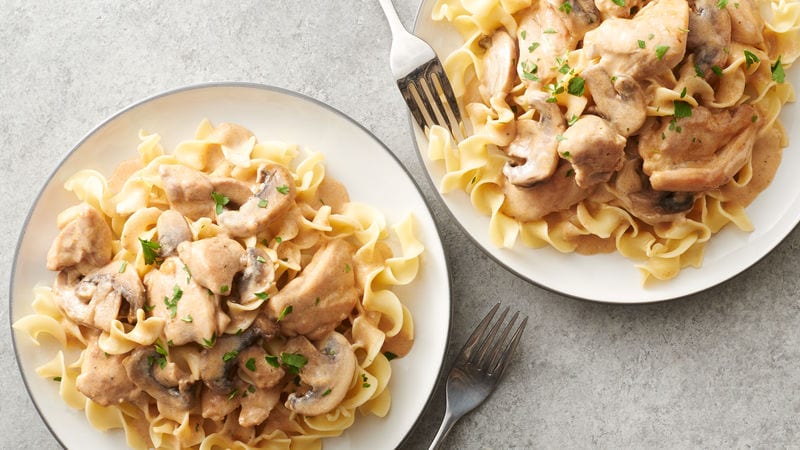 PASTA & CHEESE – if we are out really really late for sport or some other reason I will boil pasta and grate cheese on top. Don't even need a mince or sauce… the kids do not care! This is pretty rare (I think I've only done it once this year) but its definitely the quickest option! – Sarah-Jane H
MINCE WITH VEGGIES – mince with whatever veg you have grated in! You can serve this on spaghetti, tacos, or toast. – Sarah-Jane H
BREAKFAST FOR DINNER – boiled eggs with toast, fruit salad or yoghurt. – Sarah-Jane H
Find this 10-Minute Breakfast Bruschetta recipe here.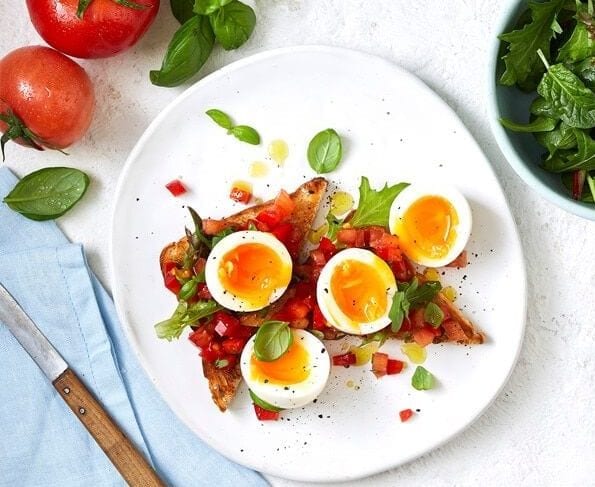 ROAST CHICKEN – Woolies cooked chicken, microwave potatoes and salad. I get the pack with greens, grated beetroot, spring onion, pack of crushed walnuts and crumbled feta included, then add fresh home grown blueberries, cucumber and tomato. Top with honey mustard dressing. – Chris M
TUNA MORNEY & RICE – microwave 1 can of Campbells chicken soup, a can of tuna and 2 handfuls of frozen veggies with a pinch of pepper. Serve over rice. The kids love it! – Cherie C
SOUP – tomato soup and grilled cheese – Dawn H
Find my Super Easy Roast Pumpkin Soup recipe here.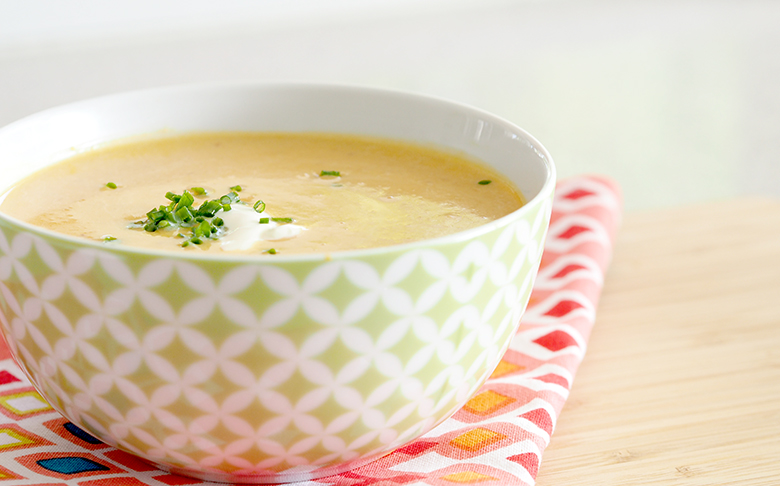 FISH & SALAD – chats in the microwave, kid's fish in air fryer, mine and hubby's salmon in pan. Wash cherry tomatoes, cut cucumber and carrot sticks, halve an avo, throw some salad leaves, nuts, feta and dressing in a bowl. Set the table, yell at kids to wash their hands. then serve. Wah-Lah dinner! – Shaye L
GNOCCHI BAKE – It's a big fav in our house and super easy! In a frying pan cook some garlic, onions and Italian herbs. Add a tin of crushed tomatoes and a tsp of sugar and let it simmer until thick. Meanwhile cook a packet of store bought gnocchi in a pot. Once every thing is ready mix the gnocchi into the sauce, put in a baking dish, top with cheese, then put under the grill for a few minutes to melt the cheese. – Tiffany H
Find this Chicken Alfredo Gnocchi Bake recipe here.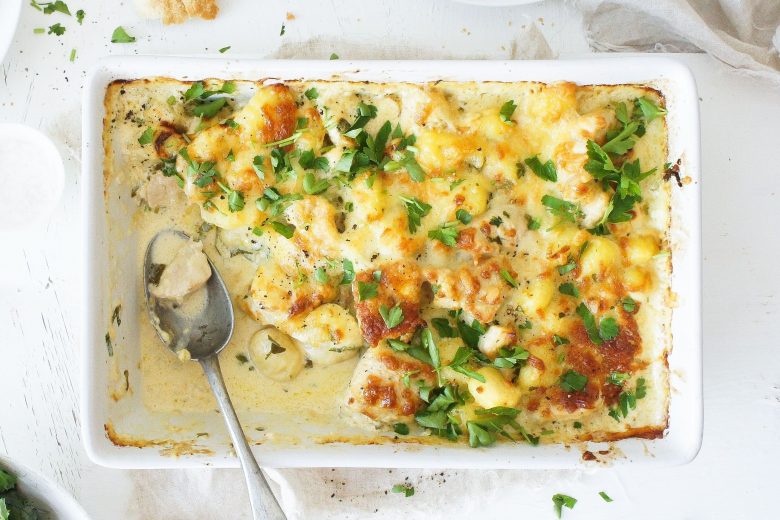 MINCE & NOODLES – my kids and hubby love mince and noodles. Fry up mince and onion, add 2 minute noodles and flavour enough water to cook noodles. I will quite often add garlic and Worcestershire or curry powder when I'm frying up the mince and onion just to make it different. – Jennifer H
OMELETTES – omelettes with whatever is in the fridge or pantry. My favourite 'go-to' meal. – Susan D
Find this Ham and Cheese Omelette recipe here.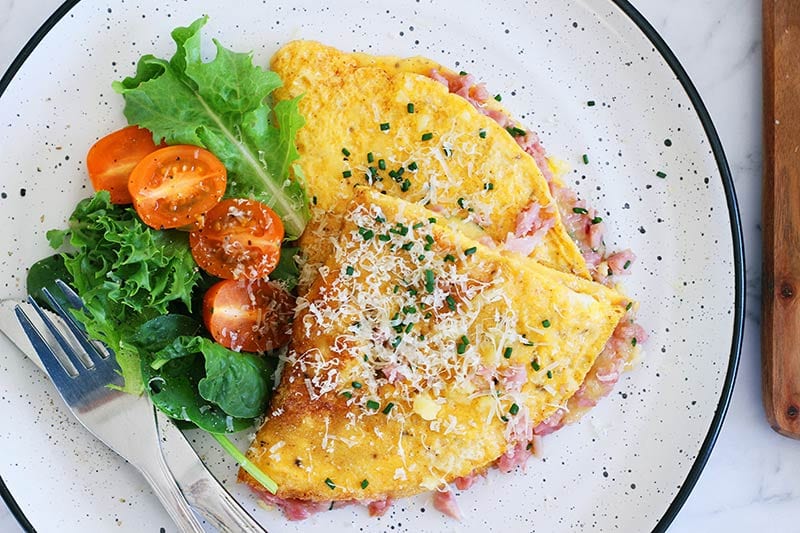 BAKED BEAN NACHOS – open baked beans tin and pour over arranged corn chips, sprinkle with cheese, give it a zap in the microwave, and then add sour cream, avo, chopped tomatoes etc. – Julie C
EGGS & SALMON – scrambled eggs with smoked salmon – Peta P
FRIED RICE – make using leftover rice. Just add egg, bacon, onion and peas with or without chicken. Takes 10 minutes to prep and 5-10 to cook. – Sharnet H
Find my Homemade Fried Rice recipe here.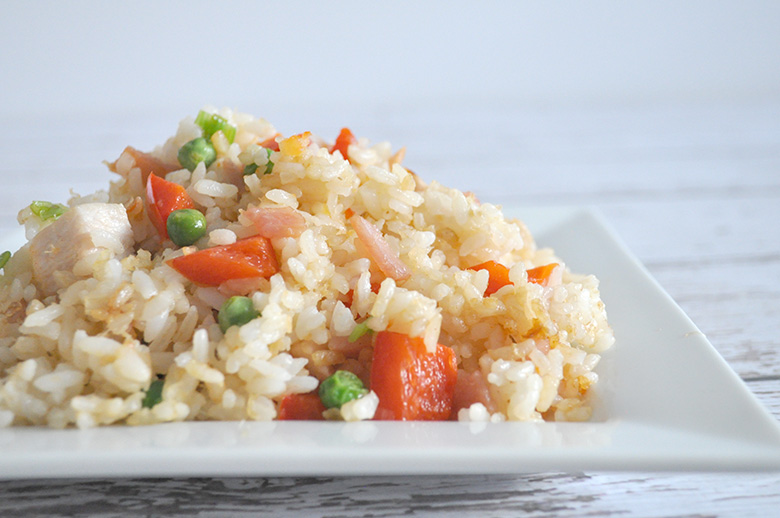 NIBBLES – honestly my go to dinner in a hurry is nibbles. Bite size prices of cheese, meat and veg – whatever is in the fridge – and a packet of crackers. – Carri A
PASTA & BROCCOLI – boil pasta and once it comes to the boil add broccoli florets until tender. In a separate pan lightly fry chopped garlic (chilli too if tolerated) in oil. Drain pasta, reserve a little of the liquid and add to oil and garlic. Add parmesan and a side salad. Quick, healthy and apart from the pasta packet (which can be recycled) there's no landfill. – Melissa T
Find this Pasta with Broccoli, Lemon & Pine Nuts recipe here.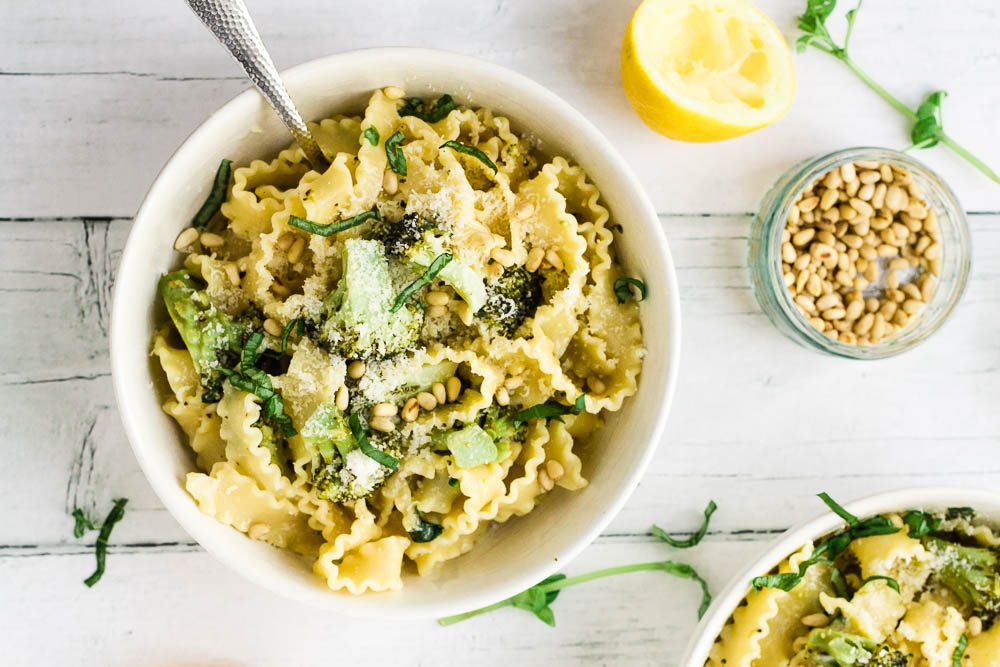 GREEN CHICKEN – more like chicken pesto. Cook a 500g packet of spaghetti, brown 500g chicken pieces, add a jar of basil pesto and cream then add the spaghetti and mix. Also mince and veg, cut up whatever vegetables you have into small pieces and microwave them. Brown mince and then add the veggies. Serve with mash potatoes or whatever you want. – Alison T
TOASTED SANDWICHES – my son loves toasties. He likes a little steam veg too, but all up 2 minutes. On Friday nights it's an easy dinner, so I ask him what he wants and 90 percent of the time he says this… before he will say fast food – Gemma T
MEATBALLS – meatballs with pasta, sauce, zucchini and baby spinach. – Jasmine B
Find my Slow Cooker Spaghetti And Meatballs recipe here.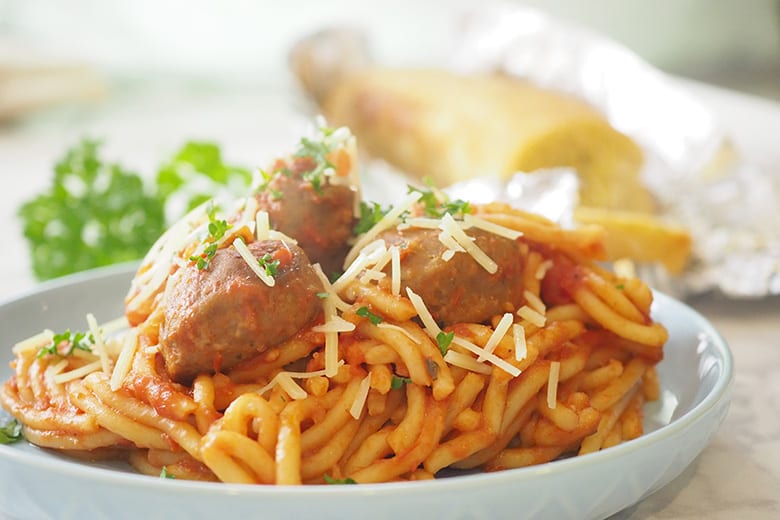 TUNA RICE – rice and a tin of a tuna mixed in. My kids love it! – Natasha D
EGGS & SPAGHETTI ON TOAST – eggs and spaghetti on toast. Nuke spaghetti, cook eggs in pie maker so I can do 4 at a time, and cook toast in 4 slice toaster. Everyone is eating in under 15 minutes. – Sandra M
SALMON & BROCCOLI – chop broccoli and place on baking tray, drizzle oil, bake 10 minutes. Add salmon fillets basted with a mix of soy, honey, garlic, chilli, and bake for 10 minutes. Use baking paper, no washing up. – Leanne G
Find this Quick Baked Salmon With Asian Greens On Rice recipe here.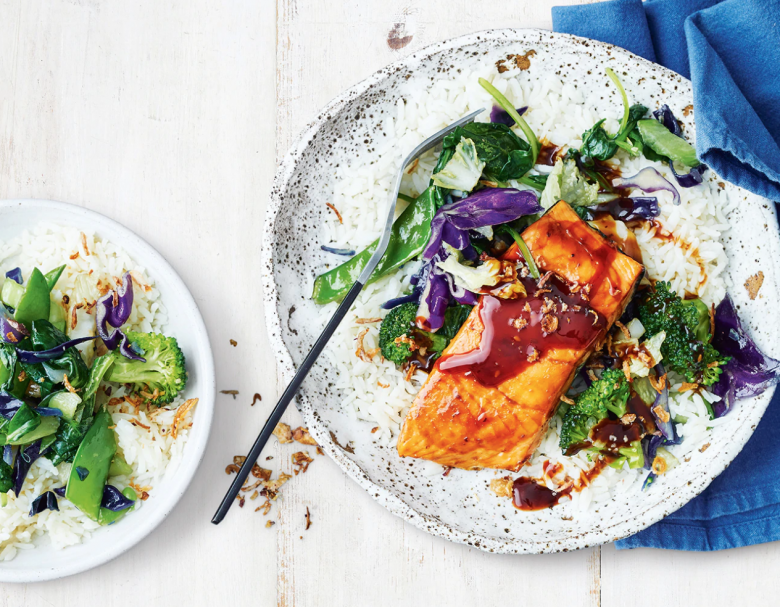 CHICKEN ROLLS – BBQ chicken, coleslaw and bread rolls… does that count?! – Deb C
CHICKEN KIEV – Chicken Kiev and gem potatoes in the air fryer with steamed broccolini and carrots. 15 min max! – Jessy J
NOODLES & VEGGIES – stir fry using 2 minutes noodles. Chop bacon and onion add any veggies I have in the crisper and mix in the noodles. I add soy sauce and sesame oil for flavour. And its done! – Marie S
Find this 20-Minute Stir Fry Rice Noodles With Veggies recipe here.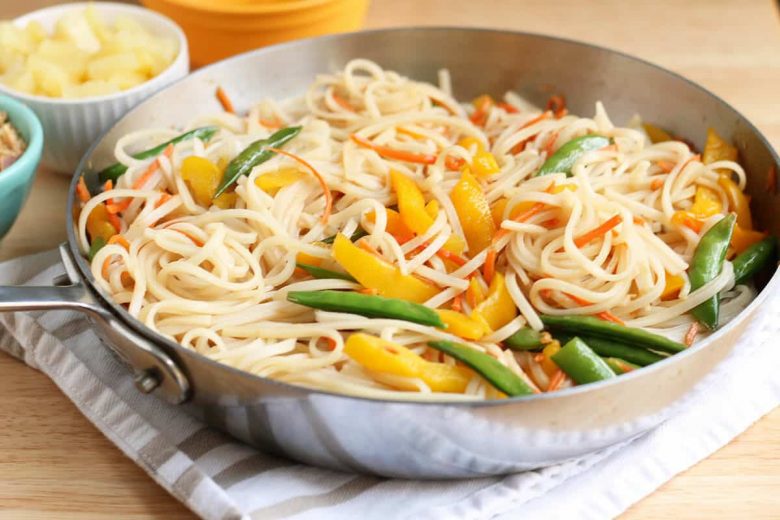 TOASTED WRAPS – our favourite is bacon, shaved parmesan, leafy greens and caramelised onion mayo. 5 mins and dinner is served. – Nikki M
MEAT & STEAMED VEG – meat (pretty much anything) and steamed veggies. Easy, simple and healthy. – Jessica N
CARBONARA – cheats carbonara. Bring pot of water to the boil for pasta. In a frying pan add olive oil and bacon. Once it's fried off I add garlic, a can of evaporated milk, parmesan cheese and peas or broccoli. Done in 15min. If really short on time, I get a roast chicken from woolies, bag of coleslaw and bread rolls. – Marisa T
Find my Chicken Carbonara Pasta Bake recipe here.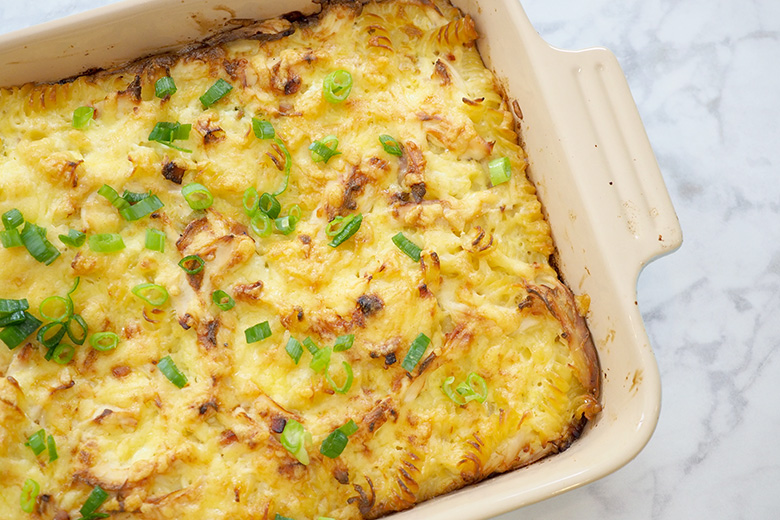 TACO BOATS – my best and healthiest option is taco boats fill with cooked mince and onions. Microwave frozen mashed potatoes, oven bake for just 20 mins and add a little cheese on top of mash. Perfect cottage pies without the calories of pastry and the grandchildren love them! – Jacqueline H
TUNA CASSEROLE – combine 1 can of tuna and 1 can cream of mushroom soup, season with garlic and onion powder, salt and pepper. Add shredded cheddar cheese and boiled pasta of choice. Mix together in casserole dish (oven deep dish), and cook until cheese melts. You can add chopped onions or peas if desired. Usually done in less than 30 minutes. – Jennifer R
Find my Curried Salmon Or Tuna Rice Pie recipe here.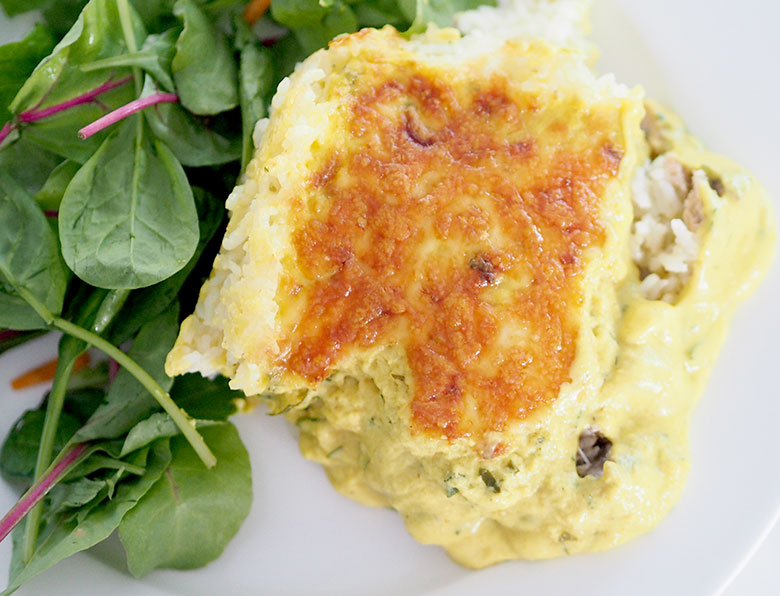 CHICKEN PENANG – very quick and everyone loves it! – Heidi Z
RAVIOLI – frozen ravioli with a jar of spaghetti sauce and water cooked in the slow cooker. – Jacqueline S
HAM CREAM CHEESE PASTA – a bag of pasta, a jar of original cream cheese and a tin of plum rose leg ham.
Cook pasta, dice the ham, mix it all through with the jar of cream cheese and it's delicious!! – Bianca R
---
SAVE EVEN MORE TIME & MONEY!
Check out The Organised Housewife Grocery Essential List on Woolworths' website to see what essentials I shop each week to help make dinner time less stressful (and expensive!) in my home.

---
WHAT IS YOUR QUICKEST HOMEMADE DINNER OPTION?
This post is run in accordance with my disclosure policy.
---
Pin this image below to Pinterest!