My mum used to make Tuna Mornay for us all the time as children.  I remember when she began to make this for us, it wasn't long after she purchased her first microwave oven.  She went and had lessons at the local TAFE on how to use it and came home with a folder full of microwave recipes.  Sounds similar to what the thermomix is today, newest greatest gadget and you can go and get lessons.  Mum always served the mornay on toast and as per the recipe suggested she served it with crushed potato chips.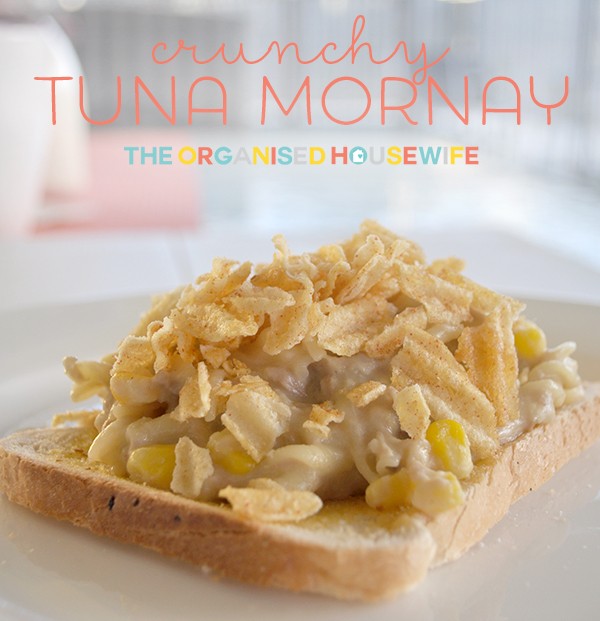 Looking at other Tuna Mornay recipes, traditionally it's not served with potato chips, but to me it just isn't the same without them, I know it's not a healthy options…. but I do continue to serve them with crushed BBQ chips on top.  I also like to add in small spiral pasta, makes the dish go further, my recipe usually makes enough so I can have left overs the next day for lunch!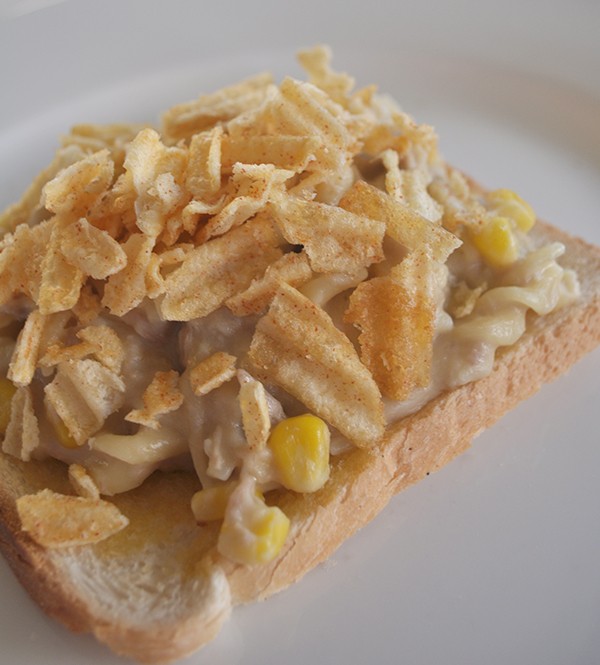 Thermomix Recipe
this thermomix recipe was inspired by this recipe from Shelly W
Tuna Mornay
Serves:

| | | |
| --- | --- | --- |
| Prep Time | Cook Time | Total Time |
| 10 mins | 15 mins | 25 mins |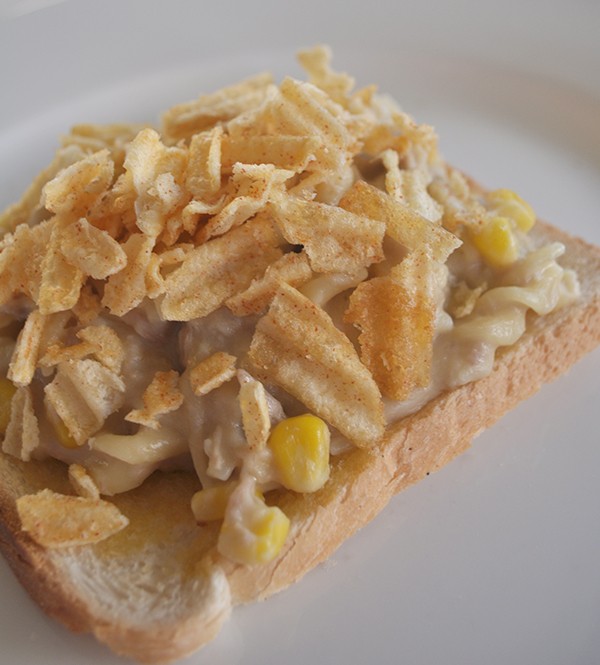 Ingredients
2 cups spiral pasta
2 cloves garlic
1 onion, quartered
95g butter
2 tablespoon vegetable stock, or to taste
60g plain flour
500g milk
425g tin Tuna in Springwater, drained
250 g frozen corn kernels
1 1/2 cups BBQ potato chips, crushed
toast, to serve
Instructions
Cook pasta on stove top following packet directions, drain and keep warm
Add onion and garlic to thermomix bowl – 3 sec / speed 7
Scrap side of bowl, add butter – 3 min / varoma / speed 1
Spoon in vegetable stock and flour – 20 sec / speed 2
Scrap side of bowl – 10 sec / speed 2
Pour in milk – 7 minutes / 90 deg / speed 3
Add tuna – 8 min / 100 deg / speed 2
Add corn – 2 min / 100 deg / speed 2
Pour tuna mornay into saucepan with pasta, mix to combine
Serve on toast, topped with crushed potato chips
By Kat – The Organised Housewife
Regular recipe
I make my Tuna Mornay in the Thermomix, see recipe above, however, I used to use this recipe before my thermomix, making it on the stove top, rather than my mum's microwave recipe.
Ingredients:
425

g 

canned tuna, 

in springwater

60

g 

butter

4

tablespoons

plain flour

pinch cayenne pepper

pinch black pepper

½

teaspoon

mustard powder

1

teaspoon of stock powder

4

spring onions,

chopped finely

1 cup

frozen sweetcorn kernels

500

ml

milk

breadcrumbs

cheese,

grated
Full recipe can be found on the Nigella.com website.  

Julie Goodwin has a great recipe, she adds in some carrot, onion and dijon mustard into hers and tops with breadcrumbs.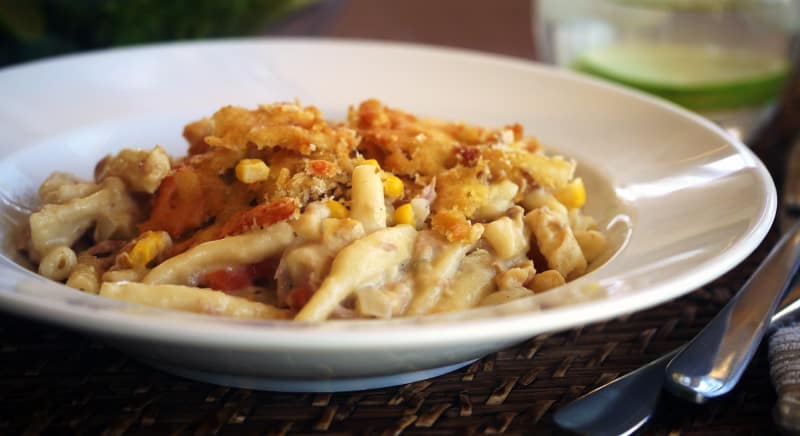 Find my Salmon Mornay Pasta Bake recipe here.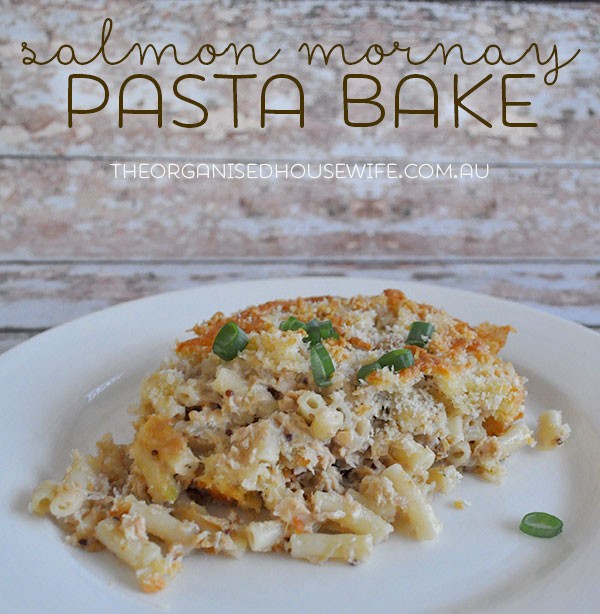 Find my Curried Fish and Vegetable Pot Pie recipe here.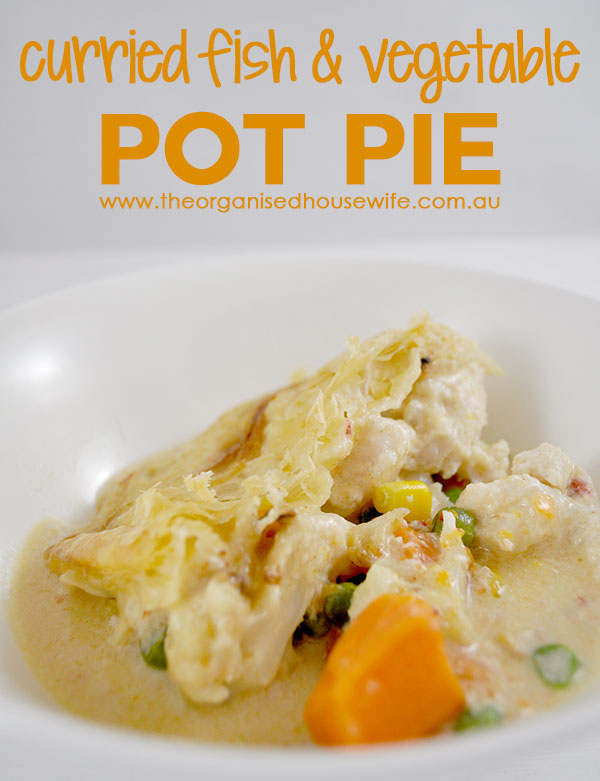 Find my Creamy Garlic Prawns recipe here.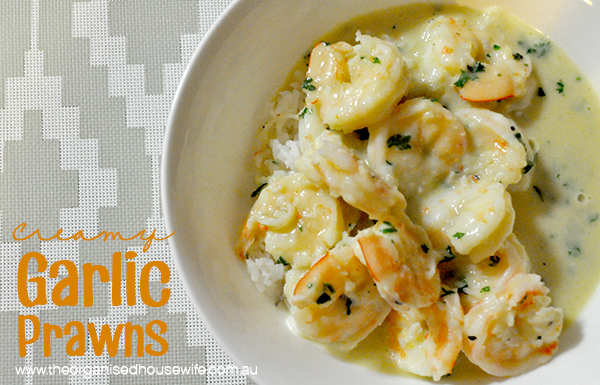 Find my Beef and Vegetable Sausage Rolls recipe here.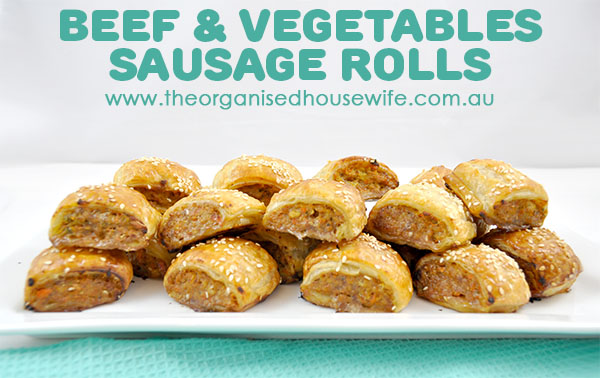 How do you like your Tuna Mornay?