I have made Chow Mein for my family for years.  The kids loved it as toddlers and I found it was a great way to add some vegetables into their meals, with mince which all kids love and a fun element of wiggley noodles.  Now they are getting older I add in more curry for a stronger flavour, when they were young I only used a small pinch.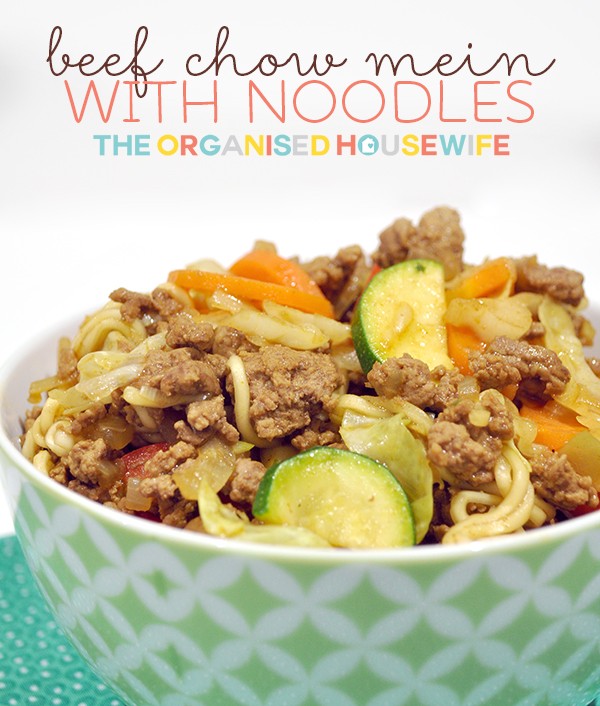 This recipe is so versatile, you can use up any vegetables you have in your fridge, ie, brocoli, cauliflower, mushrooms, peas etc.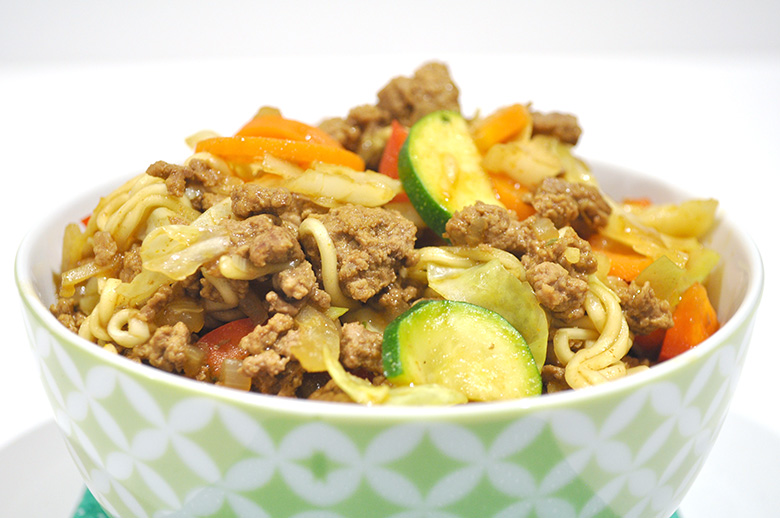 I like to make a double batch and give the kids left over for school the next day.
Beef Chow Mein with noodles
Serves:

| | | |
| --- | --- | --- |
| Prep Time | Cook Time | Total Time |
| 10 mins | 15 mins | 25 mins |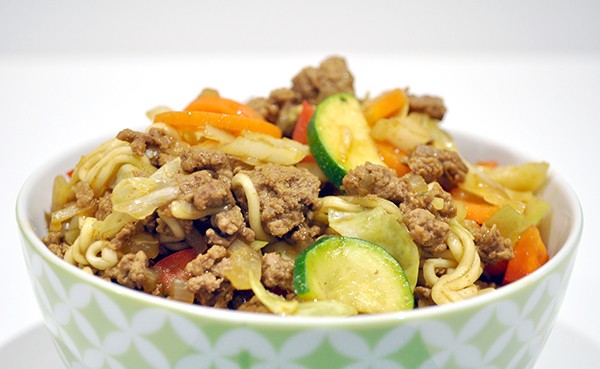 Ingredients
1 packet instant beef noodles
1 tablespoon olive oil
500g lean beef mince
1 onion, diced
1 carrot, peeled and chopped
2 teaspoon garlic, minced
1 tablespoon curry powder
1 capsicum, chopped
1 stalk celery, chopped
1 zucchini, diced
1/2 cup chicken stock
1/2 cup oyster sauce
2 cups green cabbage, finely shredded
Salt and pepper, to season
Instructions
Make noodles following packet directions. Drain and set aside.
Heat oil in a large frying pan over medium-high heat.
Cook mince, onion and carrot for 5-10 minutes or until browned.
Spoon garlic and curry powder over mince, stir through and continue to cook for 1 minute.
Add capsicum, celery and zucchini into pan and stir through for 2-4 minutes or until vegetables are just tender.
Add in stock, oyster sauce and cabbage. Stir until cabbage has just started to soften.
Top mince mixture with noodles, toss to stir through.
Season with salt and pepper. Serve.
By Kat – The Organised Housewife


click on image to view recipe