I have made Chow Mein for my family for years.  The kids loved it as toddlers and I found it was a great way to add some vegetables into their meals, with mince which all kids love and a fun element of wiggley noodles.  Now they are getting older I add in more curry for a stronger flavour, when they were young I only used a small pinch.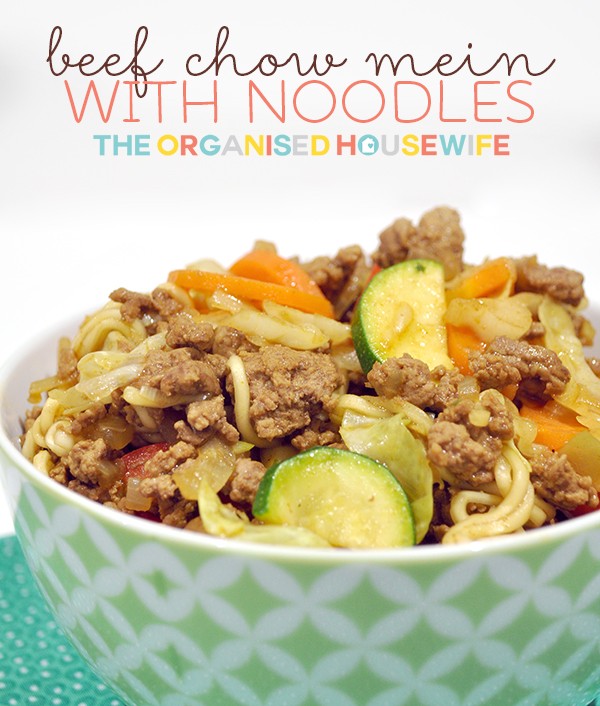 This recipe is so versatile, you can use up any vegetables you have in your fridge, ie, brocoli, cauliflower, mushrooms, peas etc.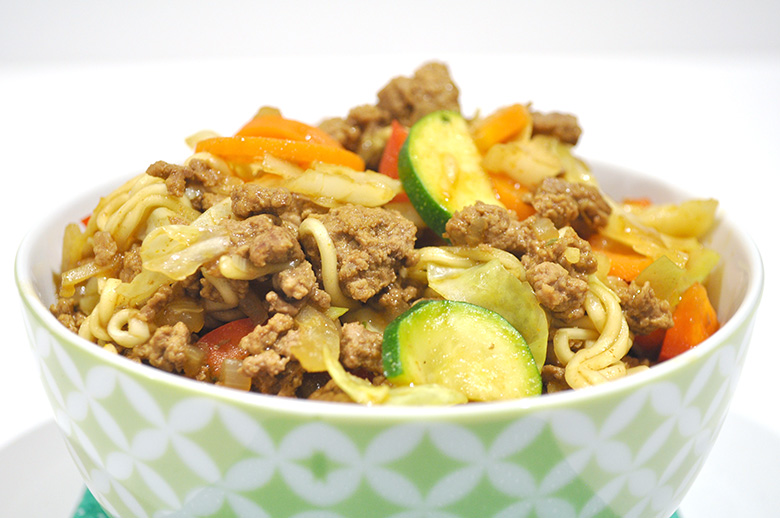 I like to make a double batch and give the kids left over for school the next day.
Beef Chow Mein with noodles
Serves:

| | | |
| --- | --- | --- |
| Prep Time | Cook Time | Total Time |
| 10 mins | 15 mins | 25 mins |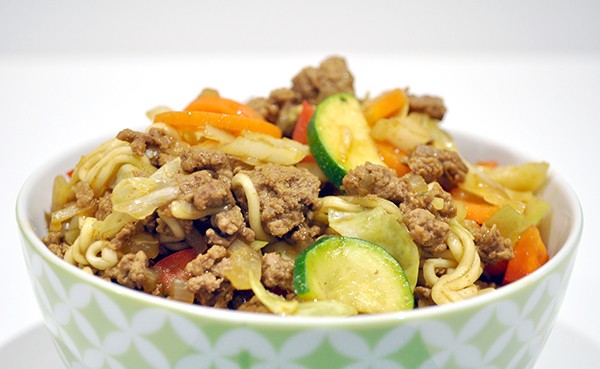 Ingredients
1 packet 2 minute noodles
1 tablespoon oil
500g beef mince
1 onion, chopped
1 carrot, peeled and chopped
2 garlic cloves, crushed
1 tablespoon curry powder (or to taste)
1 capsicum, chopped
1 stalk celery, chopped
1 zucchini, chopped
1/2 cup chicken stock
1/2 cup oyster sauce
2 cups cabbage, finely shredded
Instructions
Make noodles following packet directions, no need to use flavour packet, drain and set aside.
Heat a large frying pan with oil over medium to high heat
Add in mince, onion a carrot, cook stirring until mince has browned, 6 minutes.
Add garlic and curry powder, stir through and cook for a further minute.
Place capsicum, celery and zucchini into pan and stir through for 2-4 minutes or until just tender.
Add in stock, oyster sauce and cabbage, stirring until cabbage has just started to soften.
Gently stir through noodles.
Serve.
By Kat – The Organised Housewife


click on image to view recipe