Yummy Easter treats to make and bake. Find over 10 different Easter dessert recipes that you can make this coming Easter holiday.
With Easter just around the corner, I admit, I really enjoy all the yummy treats and chocolate at Easter time. I like to make something special for the family to enjoy, especially if we have friends or family coming over to visit on the Easter long weekend. I have compiled some of my favourite Easter recipes and some new ideas I've found to inspire your Easter baking.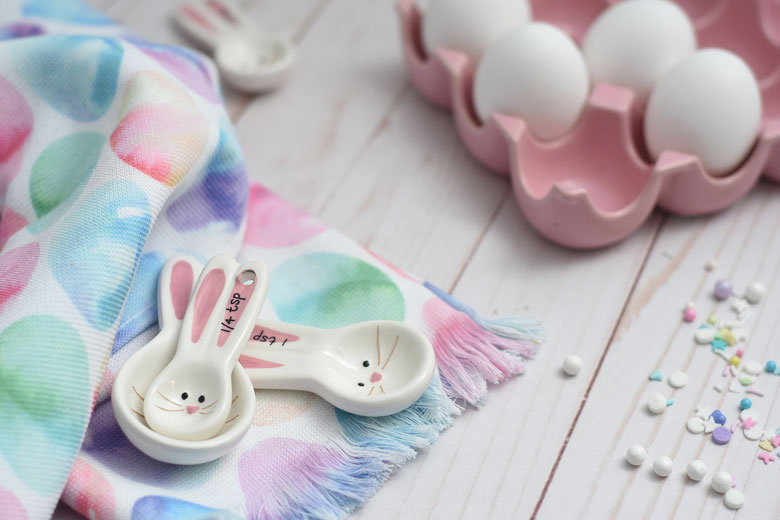 CHOCOLATE EASTER CRACKLE NESTS
Chocolate Crackles but better with an Easter twist! These Chocolate crackle nests have mars bars in them as well as the candy chocolate Easter eggs. A perfect treat for your children to take to an end of term Easter party at school. Plus they are so easy to make your kids could make them themselves!
  MAKE THESE: Chocolate Easter Crackle Nests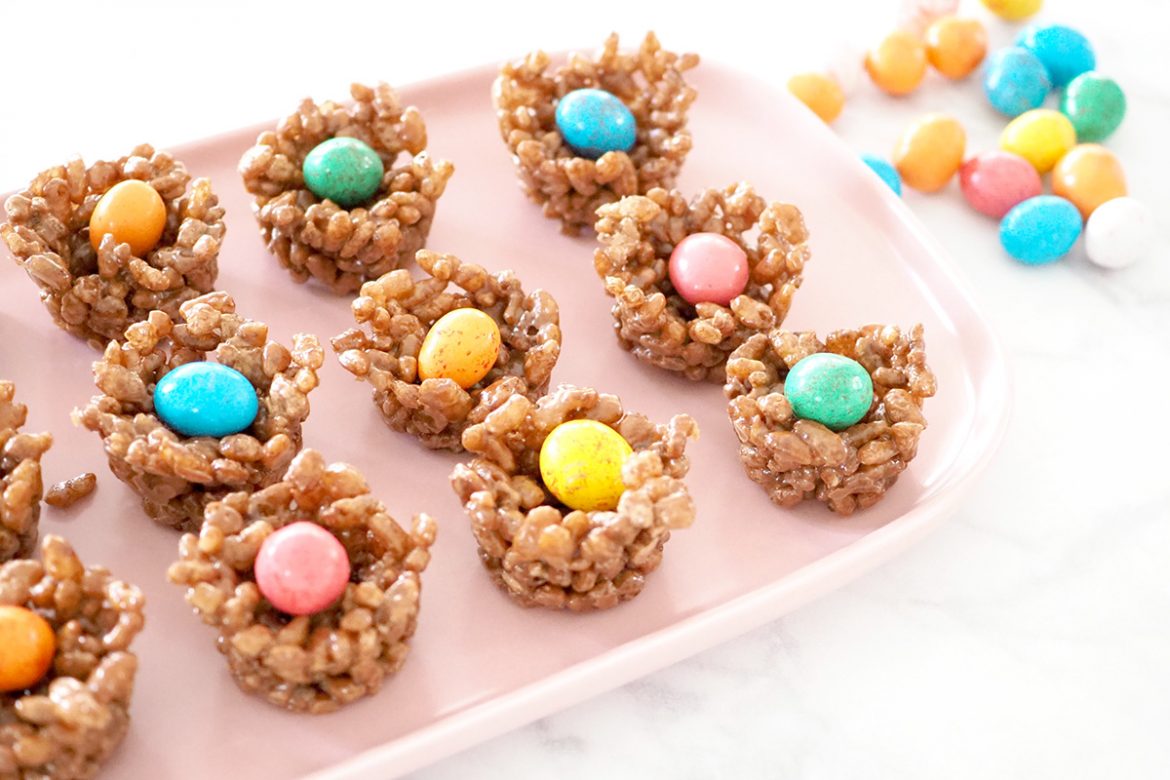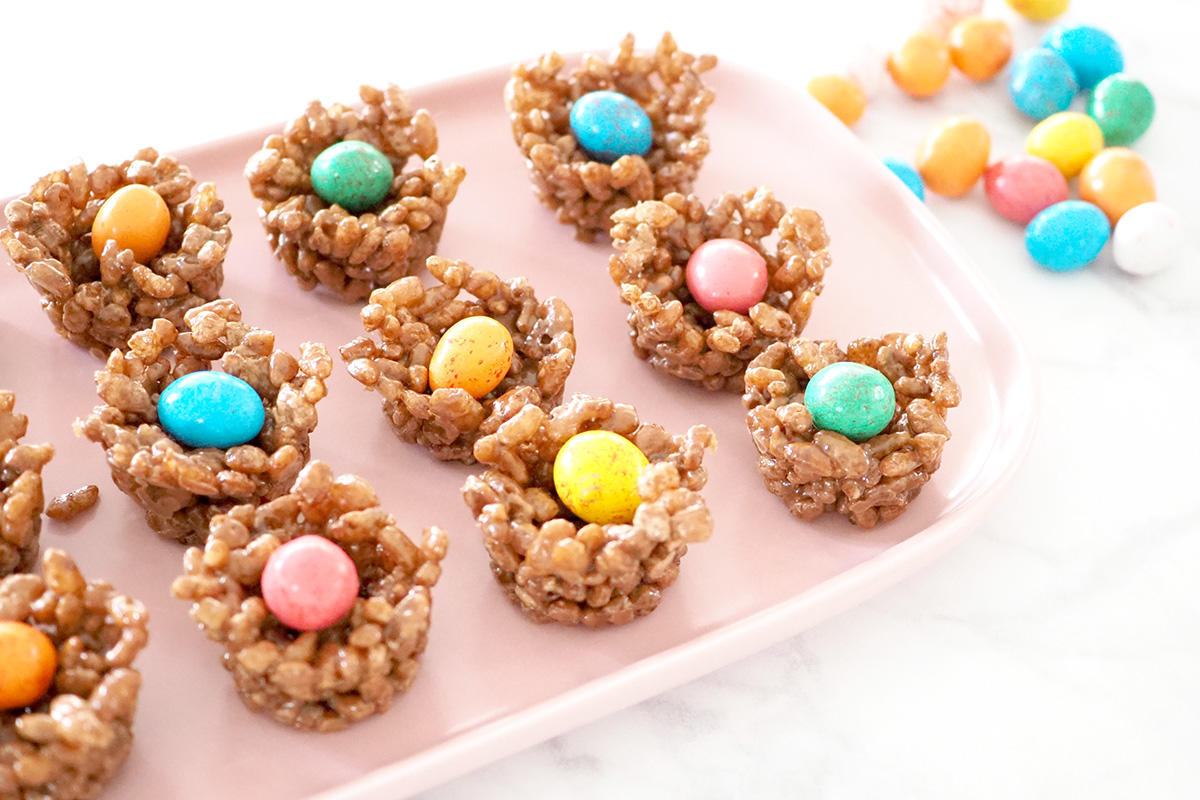 EASTER BUNNY CUPCAKES
How adorable are these bunny cupcakes? I like the ones with the cute little marshmallow cottontails the best! The decorations look so effective and would be easy to recreate.
  MAKE THESE: Easter Bunny Cupcake Recipe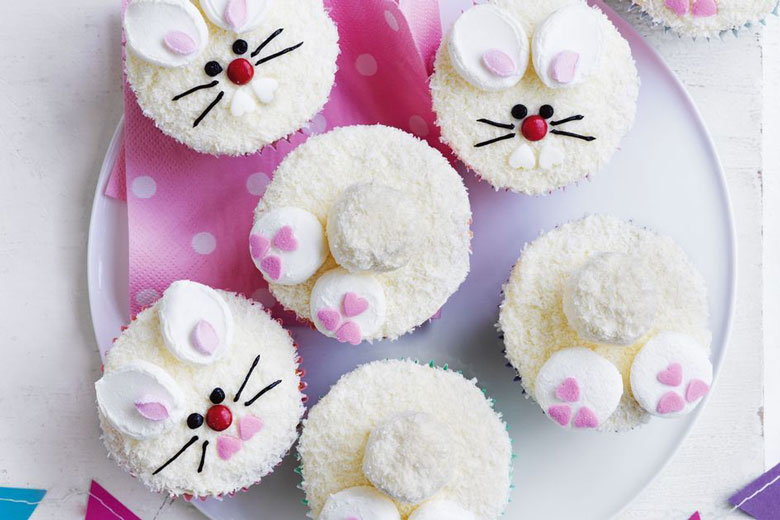 NO-BAKE CARAMILK CHEESECAKE
This dessert is an absolute show stopper and it's hard to stop at just eating one or two mini cheesecakes. It's a no-bake recipe so you could even get the kids to whip up a batch for you. Apparently the caramilk cream cheese is hard to find in store, so if you do want to try this recipe, the limited edition Dairy Milk Marble cream cheese would be a great alternative to use.
  MAKE MY: No-Bake Caramilk Cheesecake Recipe

RASPBERRY AND CHOCOLATE HOT CROSS BUN PUDDING
Forget ordinary Bread and Butter Pudding! This Easter Hot Cross Bun Pudding is definitely a next level version of the traditional bread and butter pudding. The chocolate and raspberry flavours would work so well together in this baked Easter treat.
  MAKE THIS: Raspberry & Chocolate Hot Cross Bun Pudding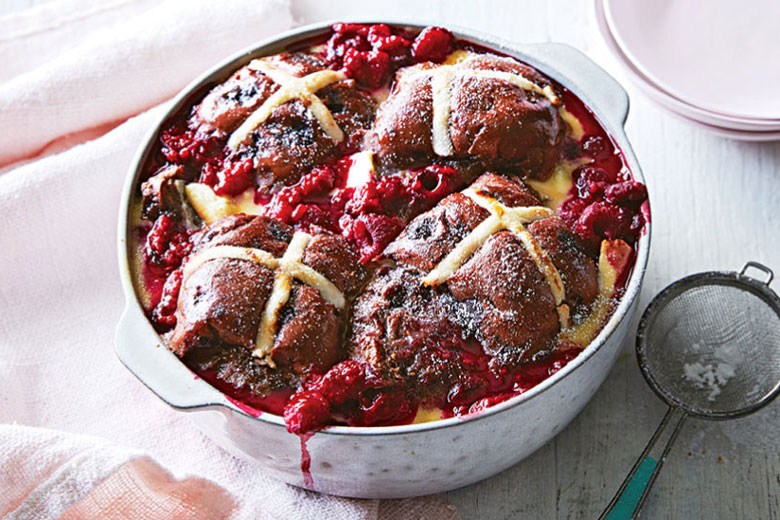 EASTER BUNNY BARK
This Easter treat literally only takes 20 minutes to make but looks so impressive as well as being super yummy! It's great item to make if you have to bring a plate to an Easter gathering and are running short on time.
  MAKE MY: Easter Bunny Bark Recipe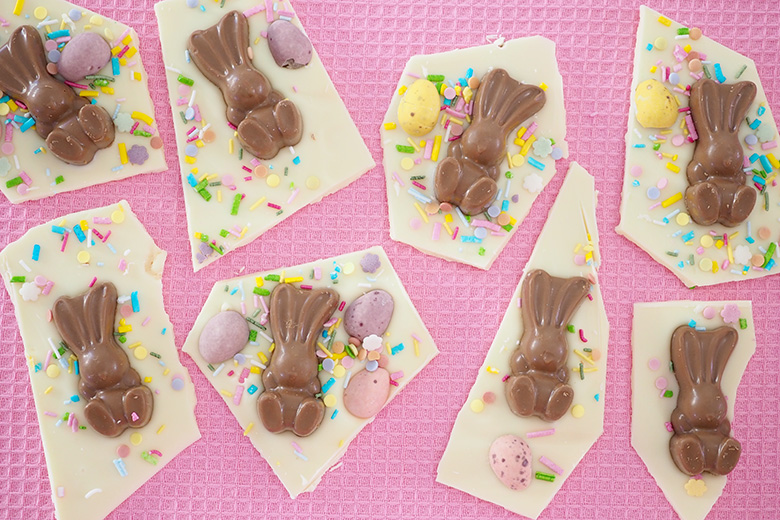 EASTER EGG BLONDIES
A rich and fudgy tasting slice to make for an Easter treat. I always think of cookie dough when I eat blondies, as they are meant to have a slightly undercooked texture to them.
  MAKE THIS: Easter Egg Blondies Recipe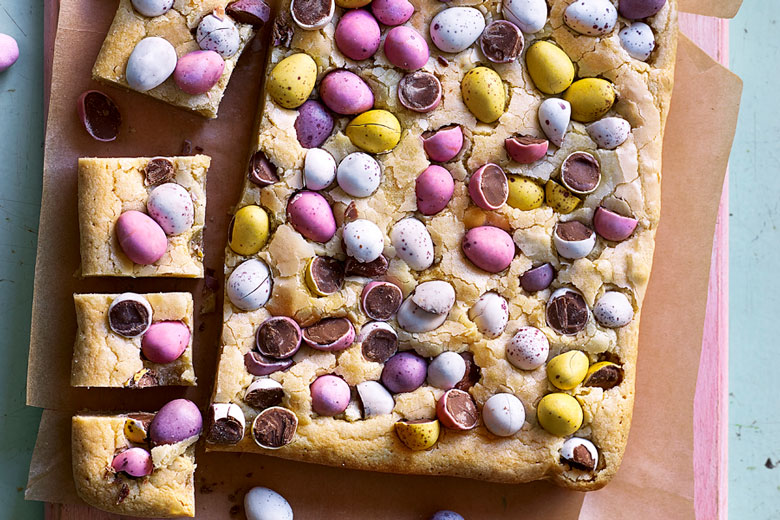 CINNAMON SCROLLS
Cinnamon scrolls warm from the oven make an ideal special family breakfast for Easter. That is if you're planning on having something other than chocolate for breakfast LOL!
  MAKE MY: Cinnamon Scrolls Recipe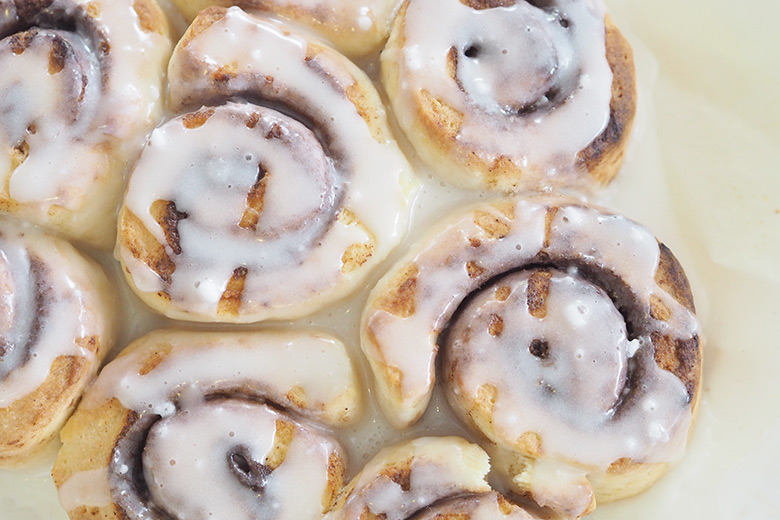 EGG BISCUITS FOR EASTER
Not everyone likes chocolate flavoured treats, so for something a bit different you could make these lemon curd egg biscuits for Easter.
  MAKE THIS: Lemon Curd Egg Biscuits for Easter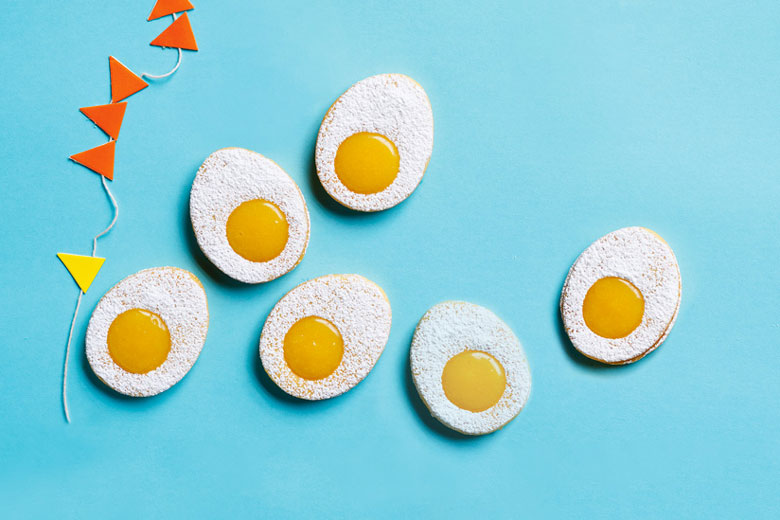 EASTER POPCORN
Easter popcorn is a really quick and easy easter gift idea that you can make with the kids or they could make themselves.  It makes a delicious treat for teachers, neighbours, the kids friends or your work colleagues.
  MAKE MY: Easter Popcorn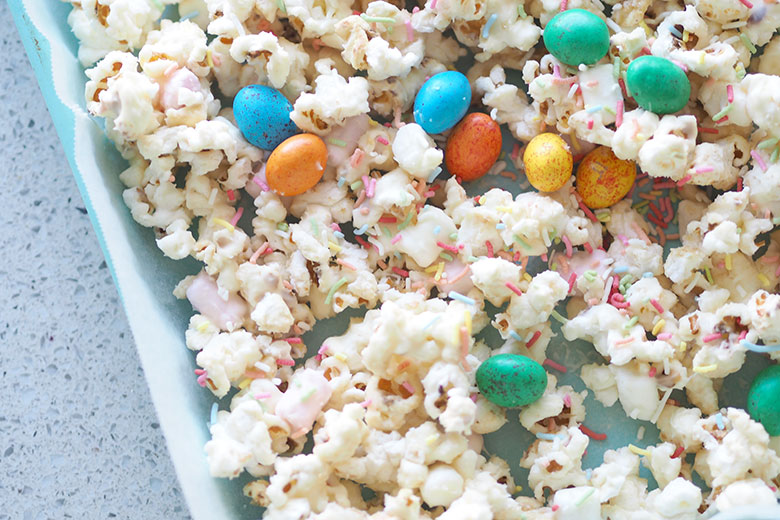 EASTER CARROT CUPCAKES
Carrot Cake cupcakes with fun Easter twist of little mock carrots, and a cream cheese and biscuit crumbs frosting for the 'dirt'.
  MAKE THESE: Easter Carrot Cupcakes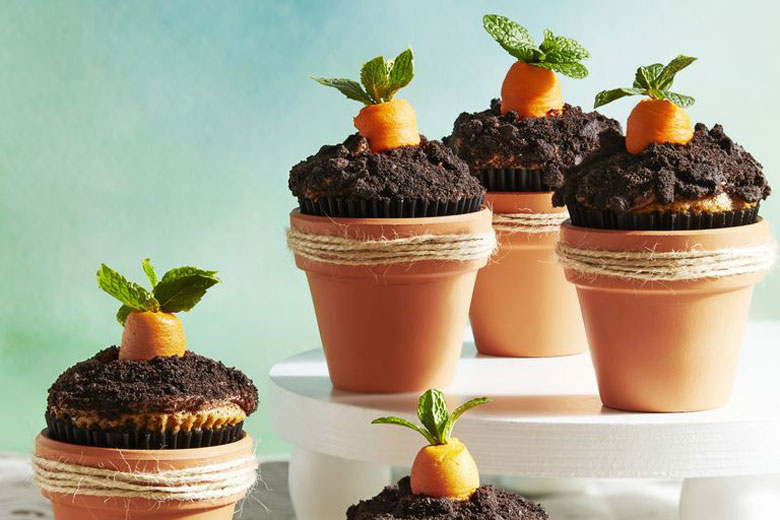 COCONUT BUNNY TAILS
These Coconut Bunny tails are so delicious and coconutty! They make a good present to make and gift at Easter, or a perfect Easter party nibbly.
  MAKE MY: Coconut Bunny Tails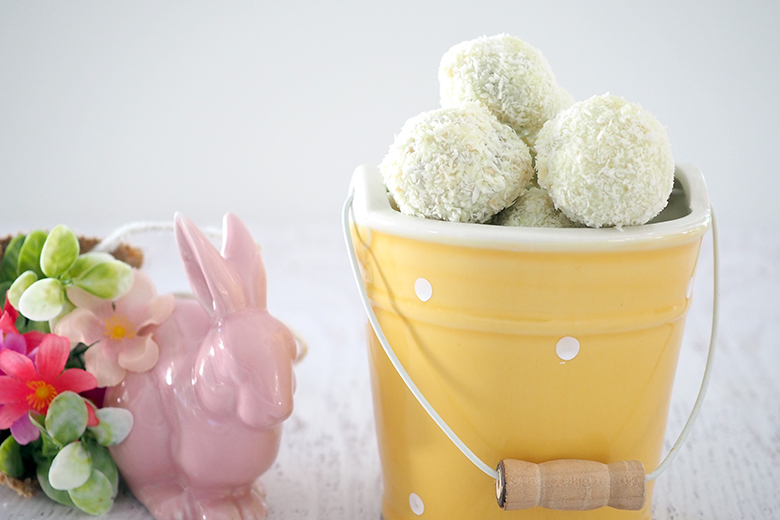 CREME EGG BROWNIES
A gooey rich brownie recipe, made even better with this Easter twist of adding some Cadbury Creme Eggs to it. This is definitely on my Easter to make list!
  MAKE THIS: Creme Egg Brownies Recipe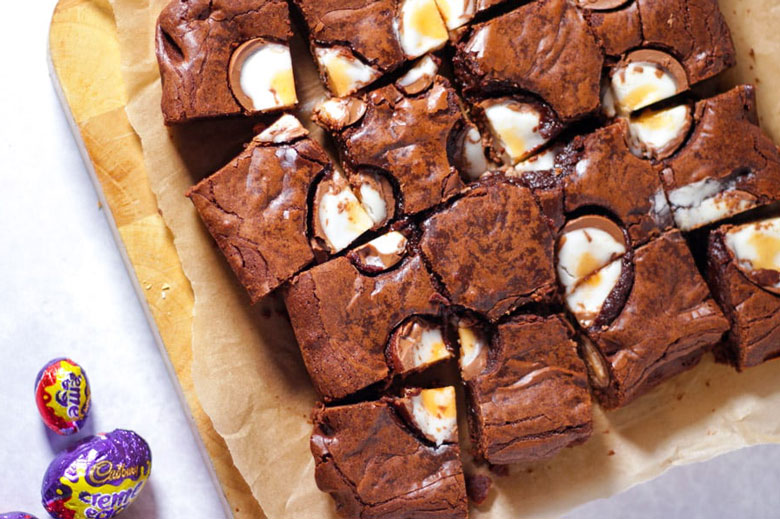 EASTER GRAZING PLATTER
A grazing platter is the perfect fuss-free food solution if you're entertaining this Easter. They are much easier to put together than you'd think, and if you prepare the platter before your guests arrive, then you don't have to spend any time in the kitchen at all!
  MAKE MY: Easter Grazing Platter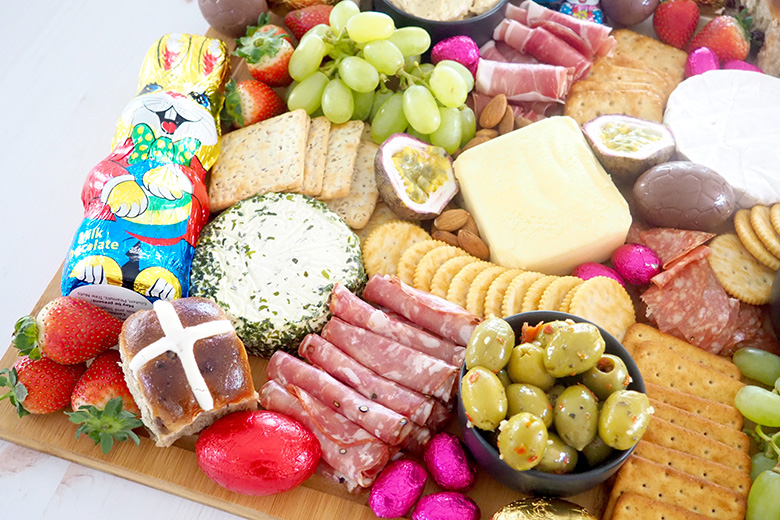 What is your favourite Easter treat?