A fun Easter treat to make for the kids (or adults!) that is quick and easy to prepare.
Only have 20 minutes to spare and want to create something delicious for an Easter gathering? I've got you covered with these yummy and quick to make Easter Bunny Bark treats. You can honestly whip them up in under 20 minutes, and they add a colourful touch to the more traditional Easter nibbles. 
I said they were quick to create, and I wasn't joking… you do actually need to work fast when creating these cuties as the chocolate base sets very quickly. When setting, you can leave longer in the fridge if you like, but I found mine set within 10 minutes.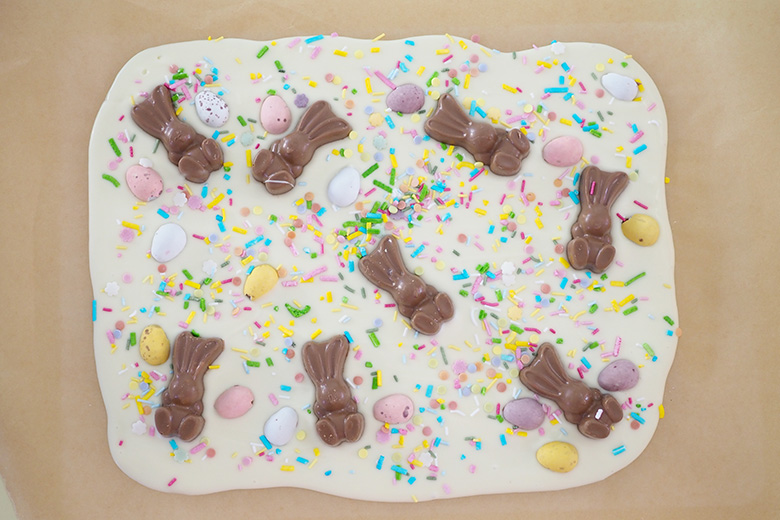 Whilst they're quick to make, it's worth taking a little more time to cut them up with a knife, as I found trying to break them with my hands caused them to break along the bunny (and nobody wants a broken bunny at Easter!)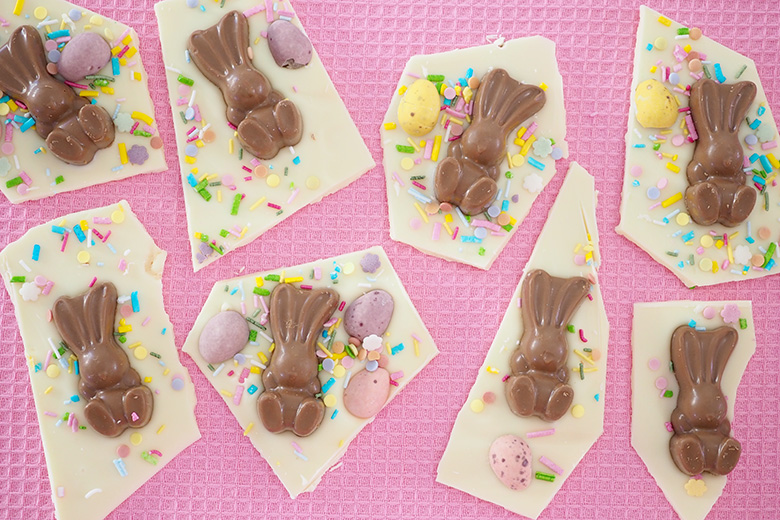 My kids loved these so much – and so did the girls in the office! Perhaps I'll make a double batch next time.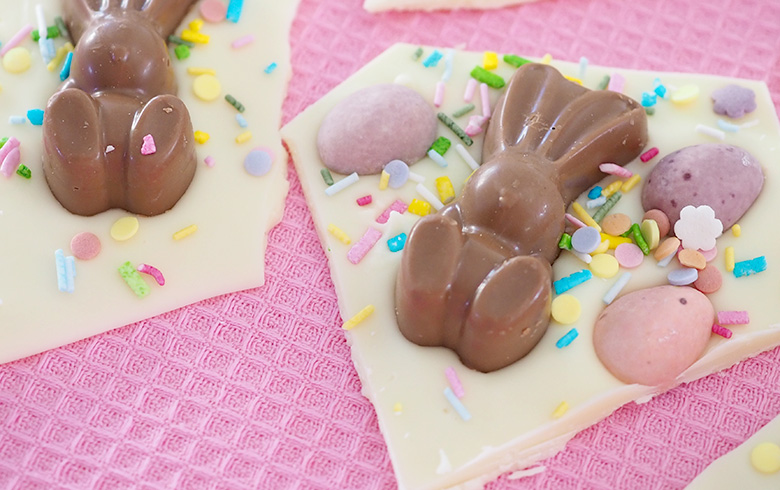 Print
EASTER BUNNY BARK
Author:
Prep Time:

10 min

Cook Time:

10 min

Total Time:

20 minutes

Yield:

8
290g

 white chocolate melts

8

 Maltesers mini bunny chocolates

1/4 cup

 Cadbury Mini Eggs, cut in half

2 tablespoons

 unicorn confetti (or sprinkles of your choice)
Instructions
Line a baking tray with baking paper.
Follow packet directions to melt white chocolate.
Pour chocolate over baking paper and smooth out into a 30x20cm rectangle.
Working quickly as the chocolate should begin to set soon, drop mini bunnies onto white chocolate spaced evenly apart.
Place chocolate eggs, sliced side down next to bunnies.
Sprinkle with confetti.
Place in fridge for 10-20 minutes.
Break into pieces.
For kids wanting to give these as Easter gifts at school, they are a great alternative to traditional Easter eggs. Simply pop one or two in a small cello bag and finish off with an Easter Bag Topper – presto!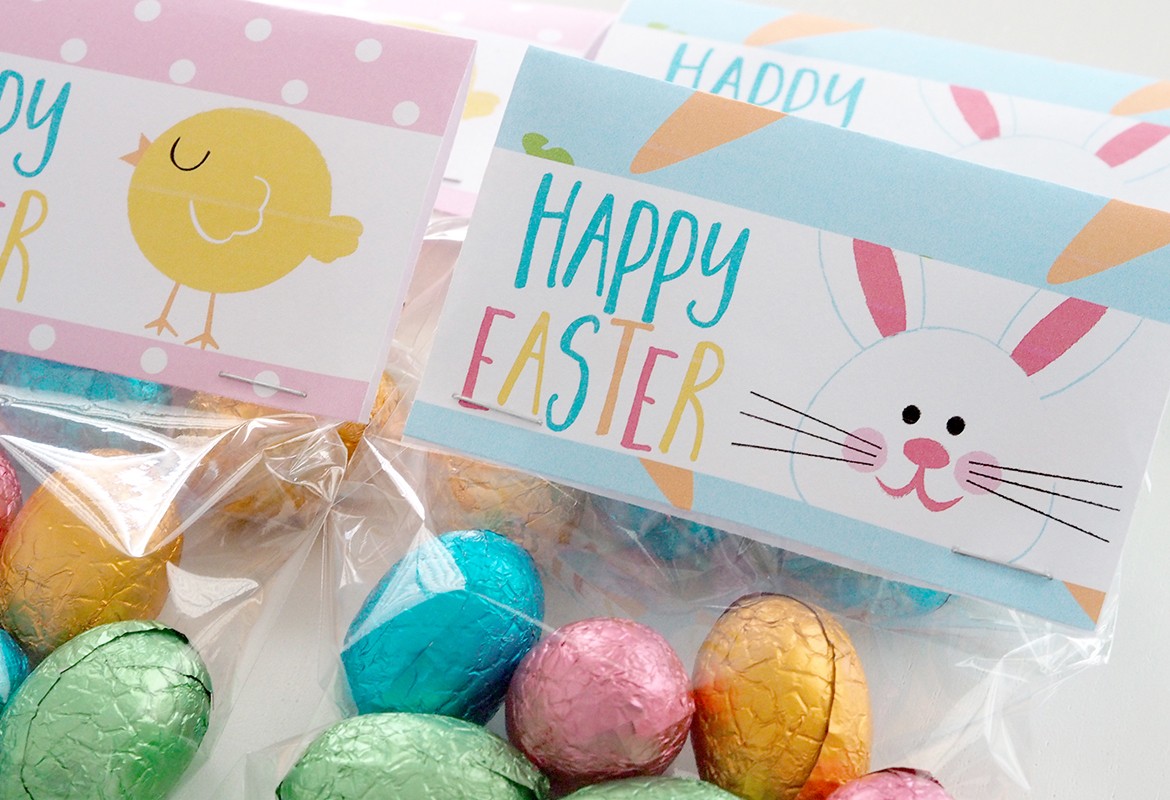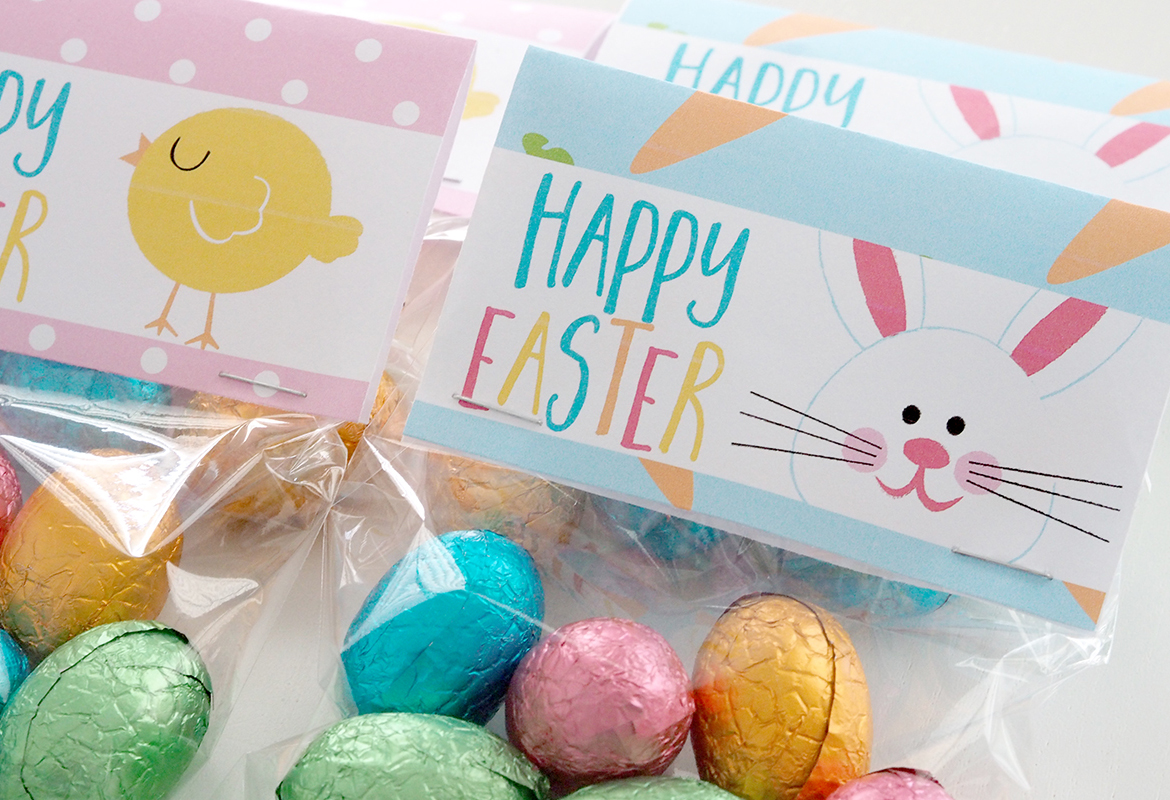 Want to get the kids off screens and being creative these school holidays? I have compiled my top 10 favourite Easter craft ideas that are fun, easy, and affordable. Continue Reading