If you have guests coming over this Easter, make this easy yet delicious Easter Grazing Platter, filled with meats, cheese, dips, hot cross buns, chocolate and more!
Grazing platters are so on trend at the moment and I think they are a fabulous way to feed a crowd with minimal fuss and effort.  Present your guests with an Easter Grazing Platter this Easter, brimming with the perfect combination of fresh quality seasonal fruits, delectable meats, creamy cheese and irresistible treats. Grazing platters aren't very hard to put together and they also present so well on a table!  I have put together a few tips for you to make the ultimate and most delicious Easter Grazing Platter to feed your guests.
What you will need for your Easter Grazing Platter
You can find all the ingredients you need for your Easter Grazing Platter at the grocery store, or you may already have a few ingredients in your fridge or pantry. Keep in mind that the freshness of the ingredients can make or break your grazing platter. You may want to include, but are not limited to:
Dips – have a selection of at least 2 dips, bright colours really pop on a grazing platter. Beetroot, basil and cashew, and hummus are my favourites!
Cheese – no grazing platter can go without gourmet cheese! Depending on how big you want to make your platter have a minimum of 2 or 3 cheeses. ie. brie, blue and hard cheese.
Crackers – crackers are a must!
Meat – cold meats such as salami or prosciutto.
Fruit – grapes, strawberries, blueberries, raspberries… choose lots of colourful fruits, make sure they are all bite sized.
Vegetables – carrot, celery, radish, cherry tomato.
Antipasto – olives, sundried tomatoes, marinated artichoke, roasted capsicum.
Chocolate – add some Easter eggs and/or pieces of chocolate and chocolate biscuits.
Nibbles – nuts, roasted chickpeas, marshmallows and hot cross buns.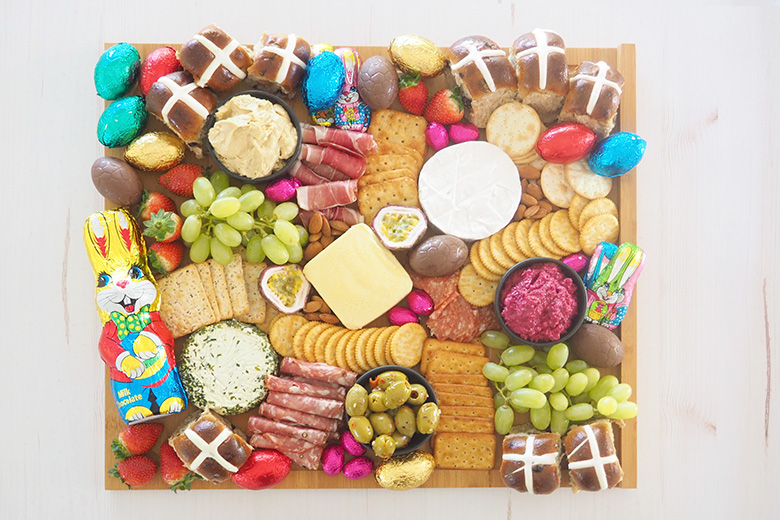 Steps to arranging your Easter Grazing Platter
If you don't want to invest in one big board, you can use several wooden chopping boards to make a variety of platters. Rule of thumb is to start with the larger items first and then fill the smaller items. In saying that, there is no right or wrong way!
Use a large wooden chopping board, these can be found in most homewares section, the bigger the better! However, you can use plastic platters from discount stores too, or a roll of brown paper.
Place cheeses spaced out towards the centre of the board.
Spoon dips and olives into small bowls or simply place in current packaging onto the platter. Place on board with space between.
Arrange a mix of crackers, swirling them through the middle of your platter, around the cheese and dips.
Place meats near crackers, roll prosciutto and slice and fold salami.
Add bunches of grapes.
Add buttered hot cross buns.
Add remaining fruits, bunching together. Slice passionfruit in half with sliced part facing up.
Fill gaps with the smaller fruit, nuts and chocolate.
Add spoons to dips and cheese knives into your cheese.
Dig in!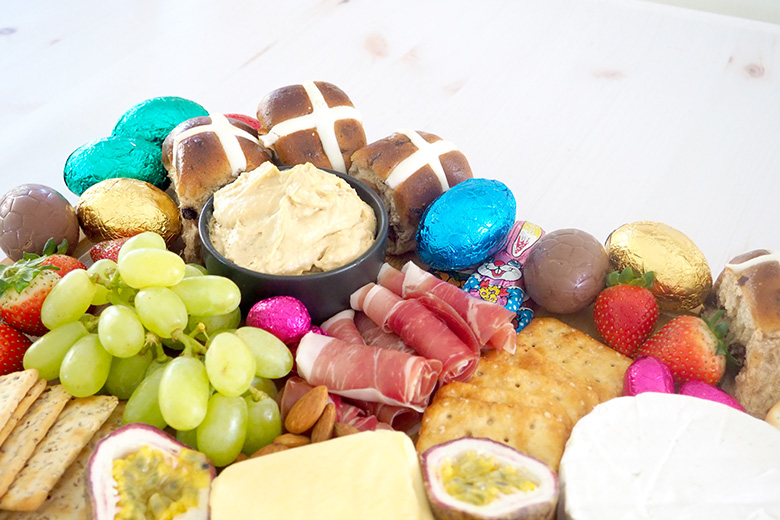 My shopping list to help with your pick up order
This is what I did for my platter, it saved me so much time.
Dips – hummus, beetroot dip.
Cheese – triple cream brie, classic cheddar and cream cheese.
Crackers – cracker, cheeseboard selection.
Meat – bertocchi salami, hungarian salami, prosciutto.
Fruit – grapes, strawberries, blueberries, raspberries, passionfruit.
Antipasto – olives.
Chocolate – chocolate bunnies, Easter egg hunt mix, popping candy eggs.
Nibbles – almonds, hot cross buns.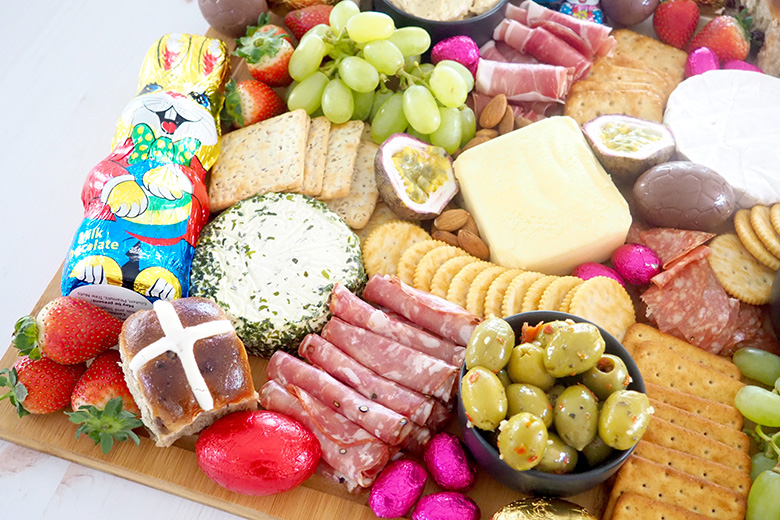 Top tips for building a grazing platter
When shopping choose items that are on special to help reduce the prices.
Choose in season fruit and veg to lower the costs.
It's recommended to take cheeses out at least an hour before serving. This allows it to come to room temperature.
Use a shopping list to know excatly what you need to buy.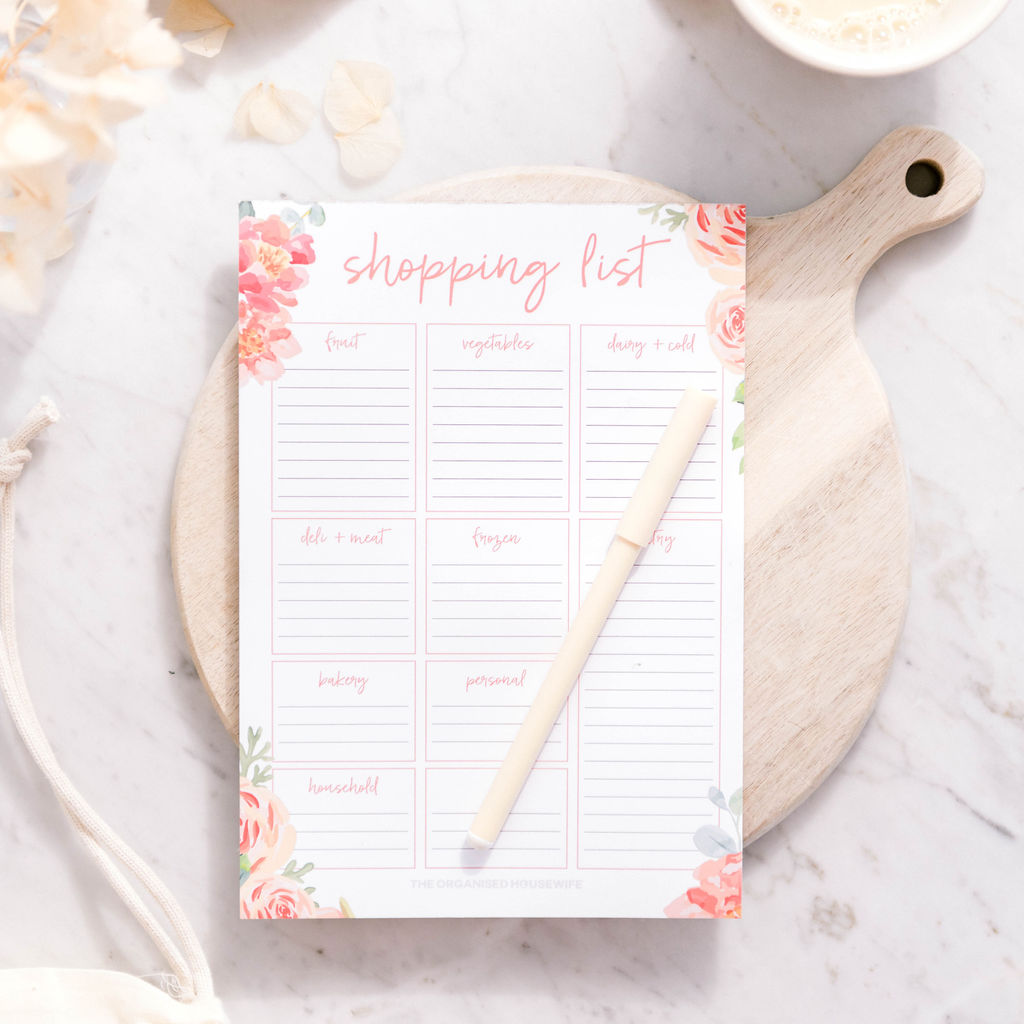 What is a must-have on your grazing platter?