Practical tips from the mouths of real mums, for how to reduce and manage your child's screen use around the home + FREE resources to help!
It's hard to choose what age your children will have a phone, if they will at all. Now my kids are teenagers, I personally like them to have phones so that I can contact them at all times. In saying this, phones can be dangerous and addictive so I've made sure to put restrictions in place for their usage of the phones. There was an interesting discussion on the TODAY Show a while ago about how kids and adults are on phones too much, and it made me wonder what screen time restrictions other parents have in place.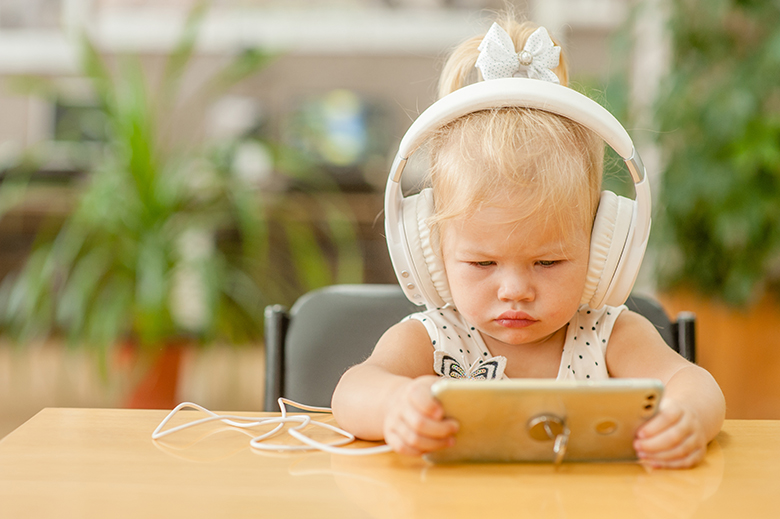 All three of my kids have had phones for a few years now as they all socialise on their own with their friends, and I want them to have the ability to call me. None of them have data on their phone, so they can't access any apps while out of the house – their phone is purely for phone calls and texts only.
Apps and Settings
I used to use an app called OurPact (available on iTunes and Android) which allowed me to restrict the amount of time they spend on their device, switching off specific apps at 8pm every weeknight and giving them a little longer on weekends. I felt a lot more confident in them having a phone knowing that I could keep track of their use.
A lot of this can now be controlled by setting up Family Sharing on Apple products (read more here) or by using a Family Link on any Android or Chromebook devices (read more here).
Screen Rules In My Home
The phone and iPad screen rules in my home are:
My kids don't have access to their phones or iPad's between 8.30pm-7.15am to ensure they get a good nights sleep and are ready on time for school.
No screens when they can see dinner is being made, to encourage them to come and help.
I keep note of all kids' passwords.
I can access their devices at any time.
No phones at the dinner table or while we are watching TV or a movie together. Instead we pop them all in a pile (on silent!) on a table away from the main living area, that way nothing disturbs our quality family time together.
  SHOP this Chill Diffuser with Bluetooth Speaker (how cool is that?!) here.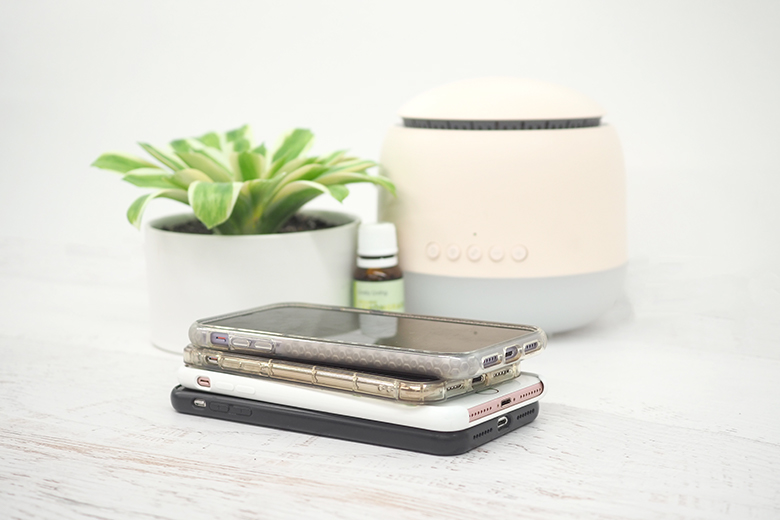 What Other Mums Do In Their Own Home
I asked our Facebook Community: "Do you have limits and rules in your home for when you, your partner or kids can and can't use their phones or iPads?".
Here are 10 ways these mums limit and manage their kids' screen time:
#1. We have no screens during the week – unless it's for homework or we're playing something as a family (Pokemon walk or Mario Kart battle) – Kate G
#2. No phones at meals (So your delicious meal will have to miss its photo op). No phones when out of the house (a bit old fashioned but you can call them back when you're home). No kids rules as of yet because they don't have phones (1yr and 3yrs) – Nicole T.
#3. No iPads through the school week and only an hour allowed on the Xbox. Definitely no devices at the dinner table for kids and adults. – Lesley R.
#4. No electronics whatsoever except the radio at 7 p.m. until the next morning. I use my phone to take pics and look up stuff on what I'm doing. When my kid gets older he will have limited screen time and no phone until about high school. – Christina L.
#5. My sons are 5 and 3.  No TV before school/daycare. No electronics in public. EVER. I feel they need to learn to be patient and learn about the world around them. If we are shopping we discuss the food. If we are waiting at the doctors we look at magazines, picture books, sing quietly. I REFUSE to have a kid that only behaves when they've got a screen in front of them. TV/devices are limited to an hour a day, usually after school before dinner, homework, bedtime routine etc.  So far so good, we've done it this way forever so there are no tantrums when it's switch off time. – Jess J
#6. No access before school. Free to play after school until dinner. After dinner at mum's discretion. – Anna J.
#7. NO phones to be used when out at lunch/dinner etc, or at other people's tables. My daughter had a friend over the other week, they're 20 years old, and we sat out the back to make s'mores. She spent all her time checking her phone and throwing in the odd comment here and there about other people. It was beyond bad manners, she's a lovely girl, but was clueless. – Taylor B.
#8. I allow time on the tablet in the mornings once they are ready for school, but it's for spelling or maths games only. If they spend time on a tablet after school it takes so much longer to get them to sleep! – Carrie T.
#9. Our boys are 14, 12 and 7. The rule is no electronics during the week unless it's for homework. They don't have any phones, just tablets and Xbox and PlayStation 4. They are allowed to play on the weekends but only after they have done some chores. – Kerry L.
#10. No electronic devices during the week of school, until Friday afternoon – as long as all chores are done. Weekends minimal time on screen and gaming systems. – Allison S.
---
FREE Resources To Help Reduce Screen Use
MINI PLAY MANUAL: This blog gives you easy ways to encourage more off-line play (with the whole family!) by transforming everyday toys into imaginative game-changers! Plus there's a FREE play manual to download.
  READ MORE: Easy Ways To Inspire Screen-Free Play At Home + FREE Play Manual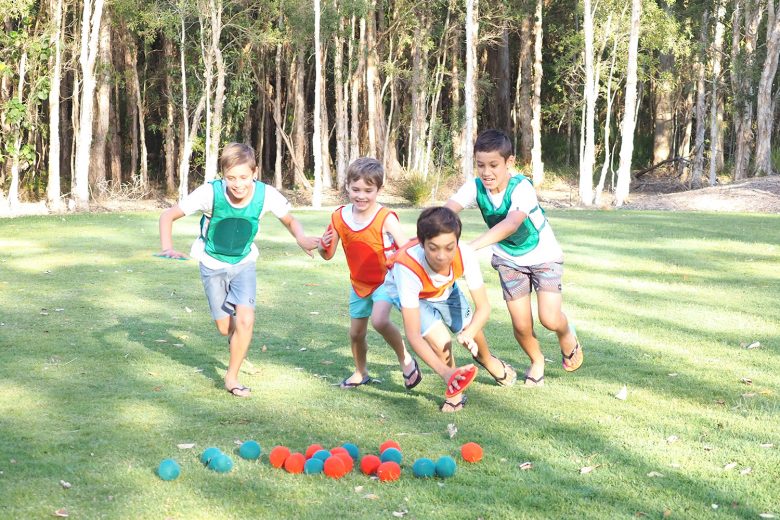 ACTIVITY PRINTABLE: An ultimate FREE go-to list of screen-free activities for when the kids say "I'm bored!".
  READ MORE: When The Kids Say "I'm Bored"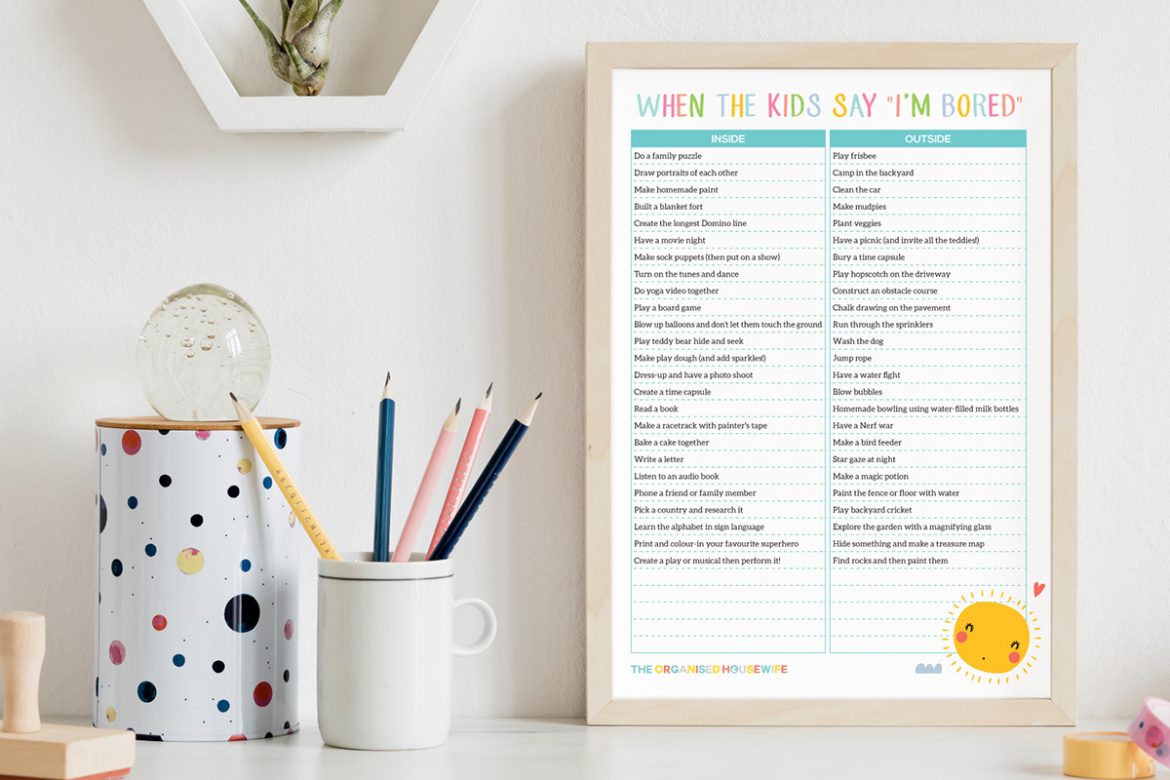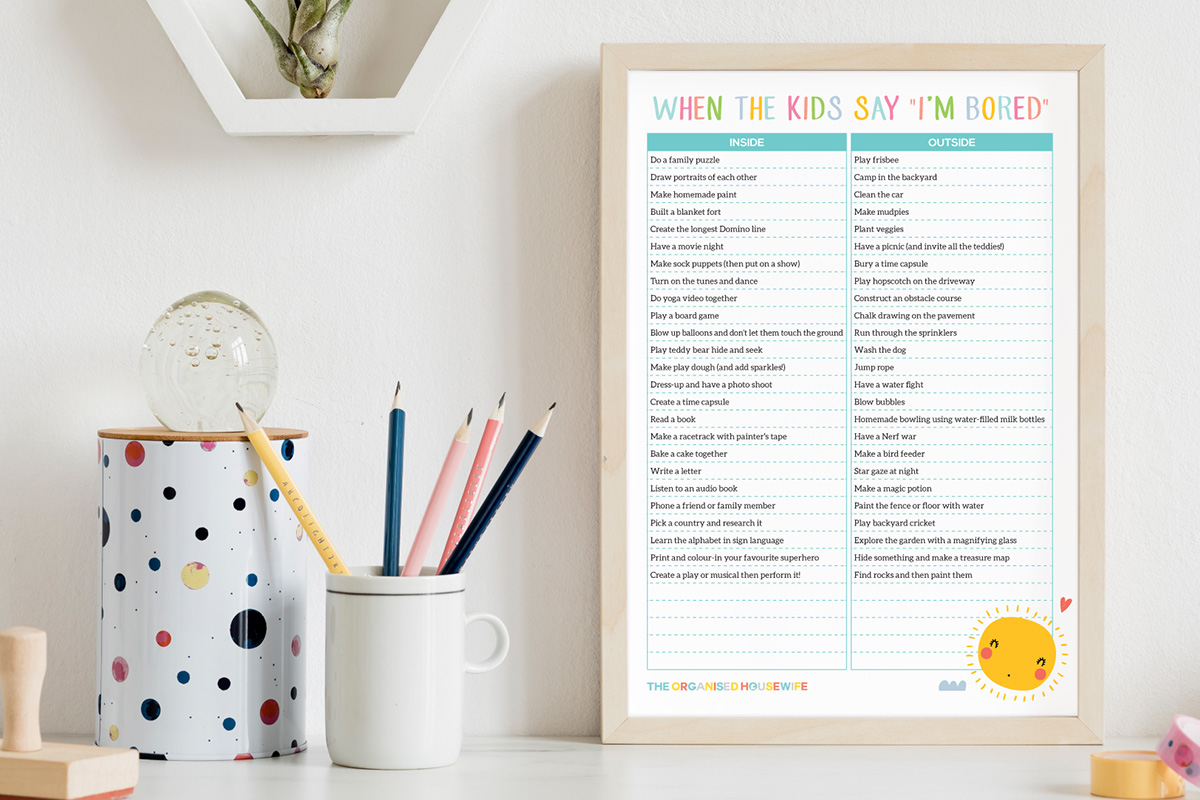 COLOURING PAGES FOR KIDS: This collection of FREE colouring-in printables will encourage the kids to get creative and off those devices for a while.
  READ MORE: Free Colouring Pages For Kids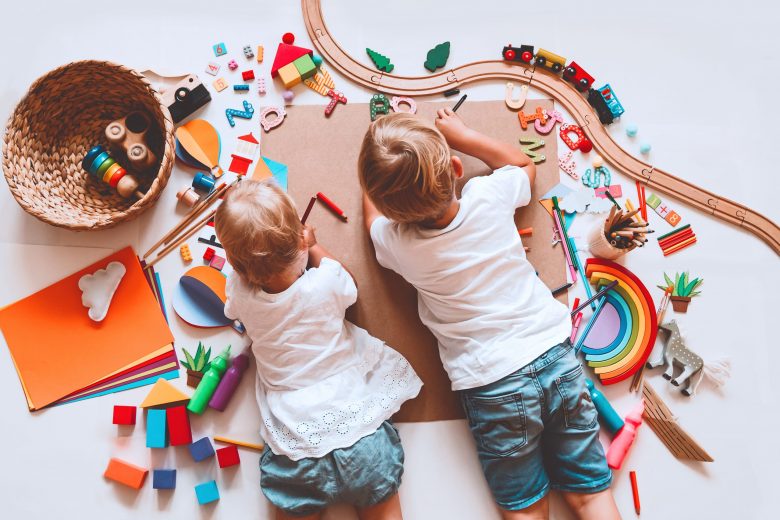 ---
Products To Encourage Off-Line Play
COLOURING & ACTIVITY SETS: creative, fun kits that include everything your child needs to create a masterpiece! This Paper Crown Kit is beautiful – but there are HEAPS of others to choose from too!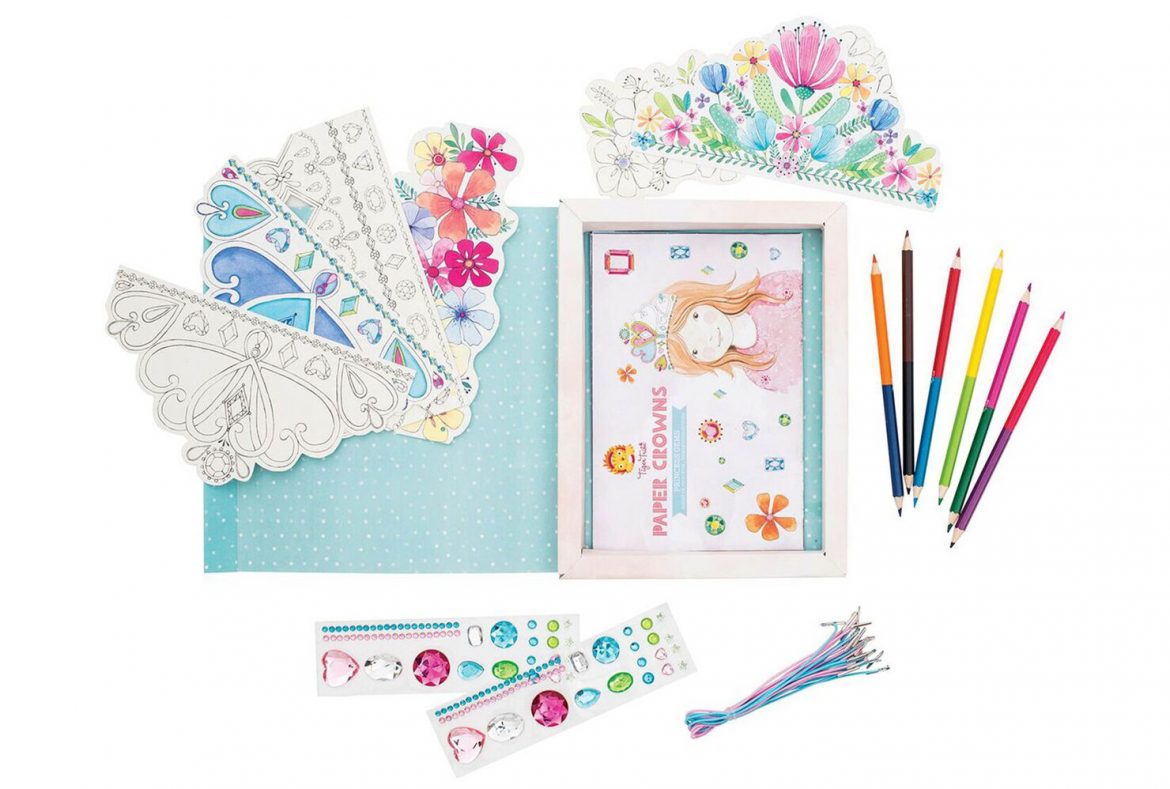 JIGSAW PUZZLES: 2020 has certainly seen the return of some pretty fabulous jigsaw puzzles, and we have a huge range available in the online shop.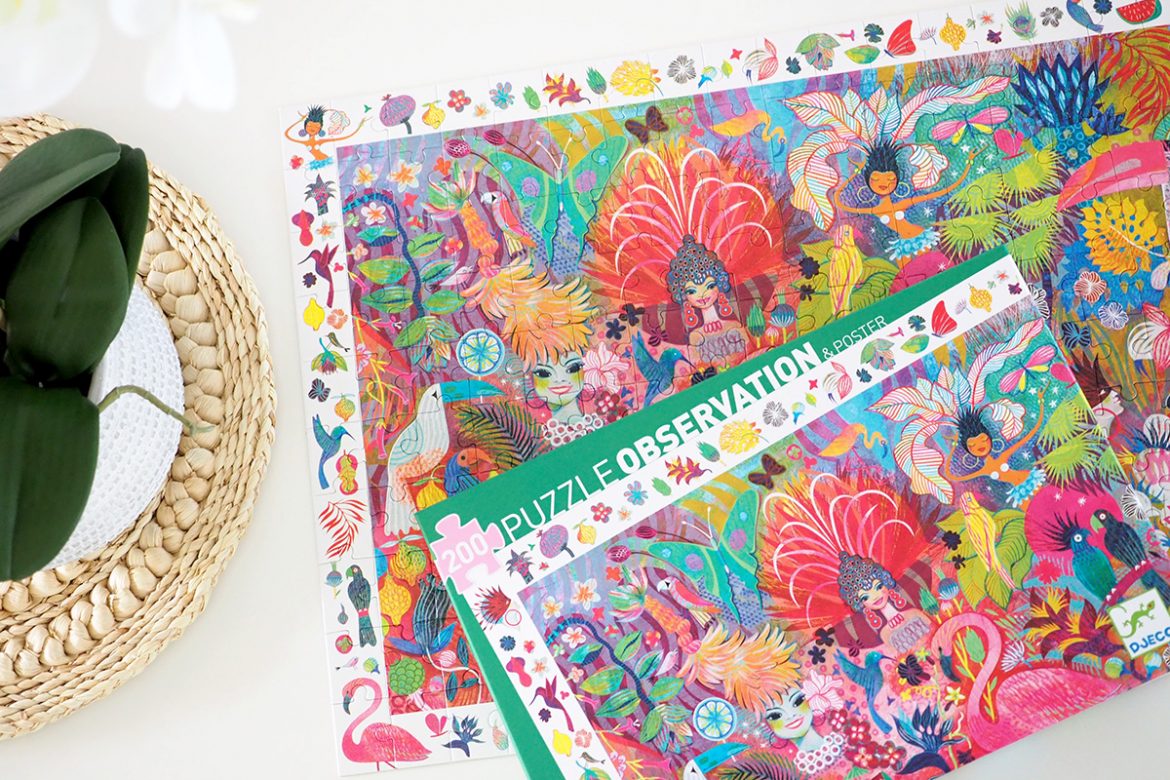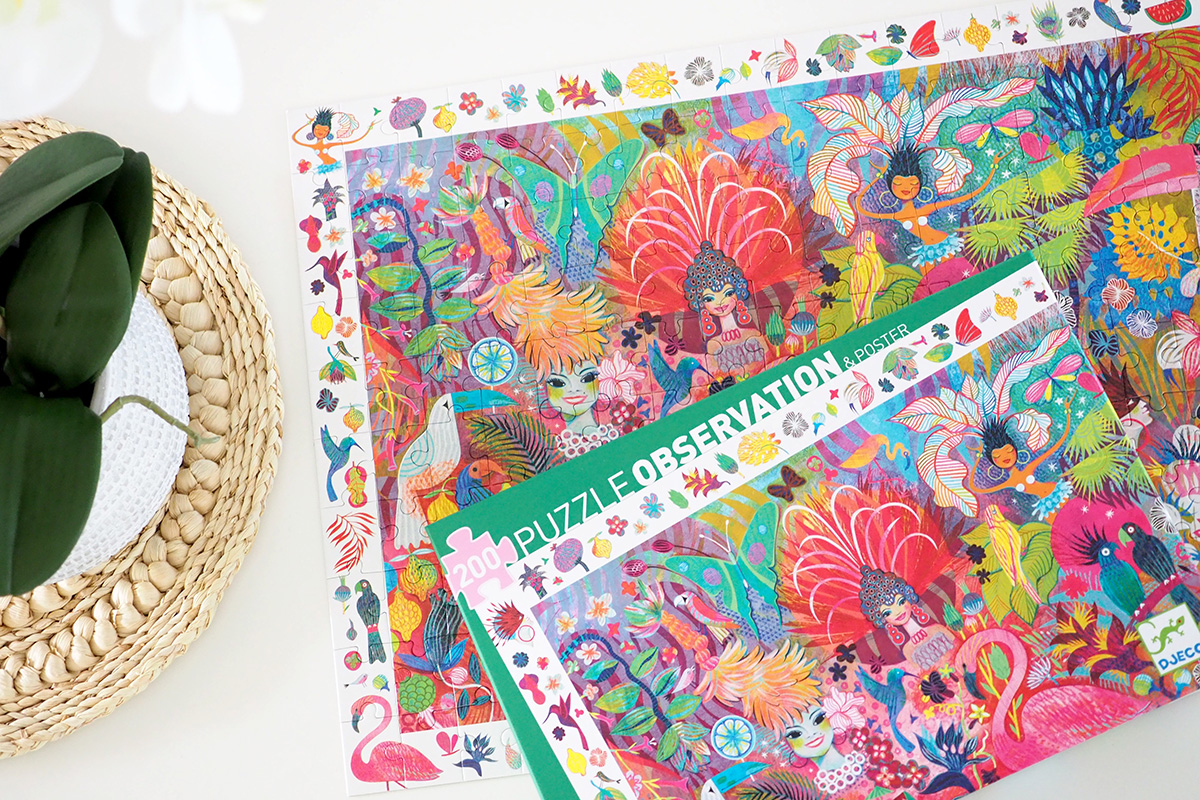 DIAMOND DOTZ: These are so much fun! My kids love them, and the end product is certainly something you'll want to put on display.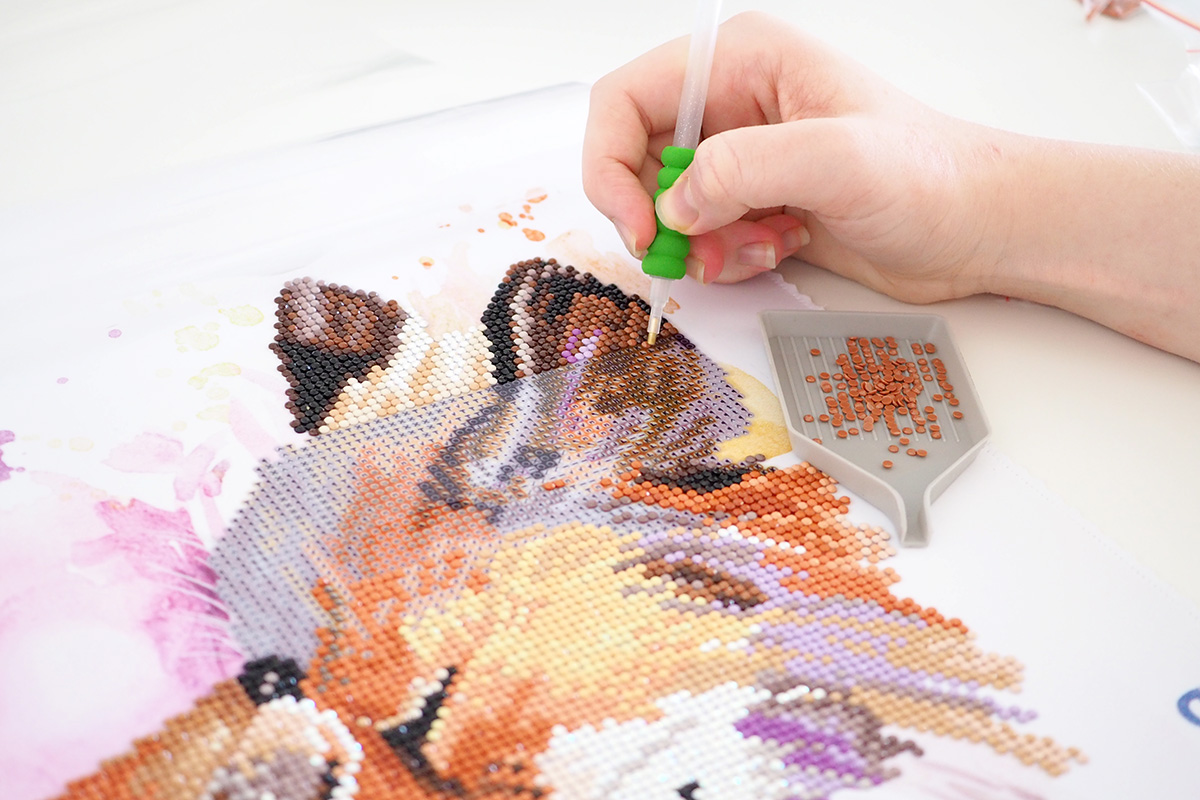 What rules for devices do you have in your home?
---
Pin this image below to Pinterest!