Lego storage ideas that'll keep your child's room tidy, whilst ensuring their Lego is still easily accessible. These ideas come courtesy of The Organised Housewife team & community.
My son loved Lego when he was younger, but storing it in a way that was tidy and conducive to play was no easy feat. When we bough a new Lego storage unit for my son's birthday I shared it with you all, and in return you shared your Lego storage ideas with me. Since then, many more genius Lego storage ideas have been born, and I am excited to now share all your fantastic ideas as well as a few new ones I've discovered too!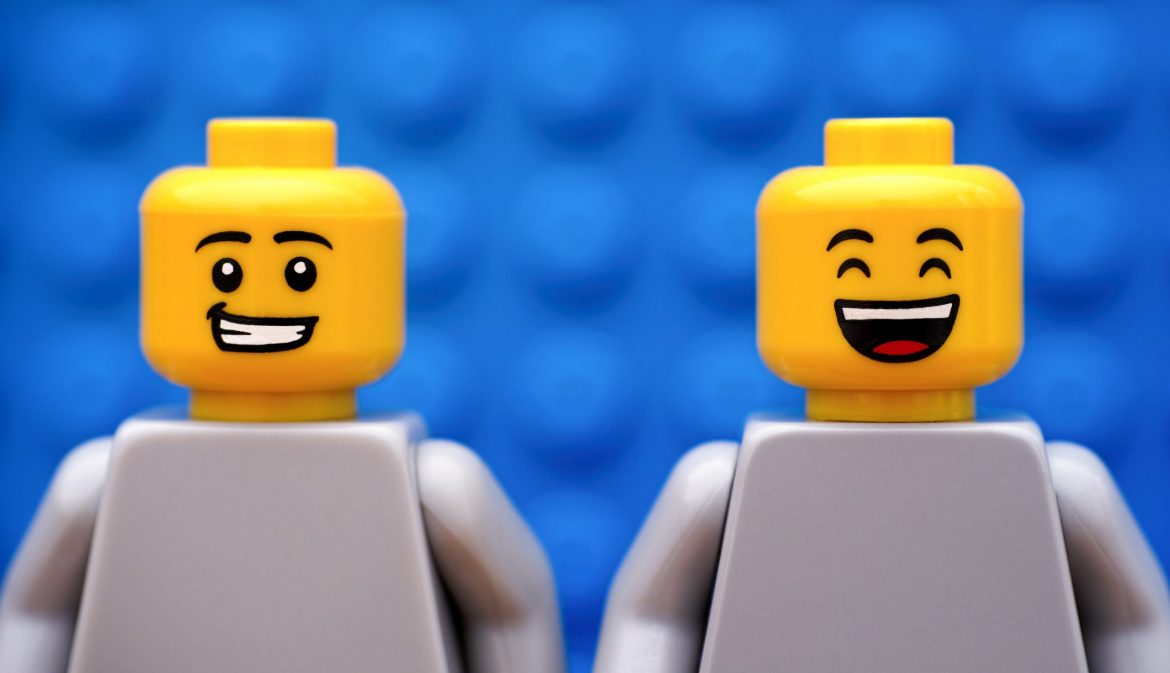 PURCHASE: These Lego Sorting Labels may help too!
---

---
Think Vertically! This Lego tape sticks to the walls, so you can literally leave lego creations hanging off the walls, which is a great way to free up your table and floor space.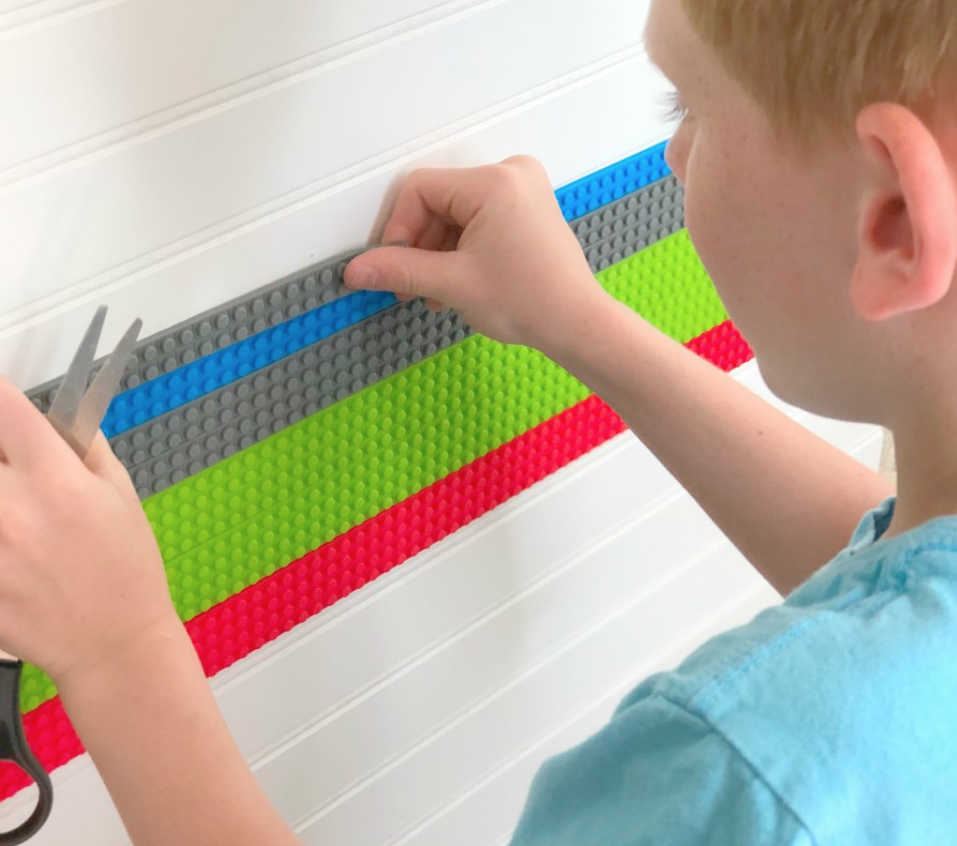 Image source: Teach Beside Me
Clean-Up Is In The Bag with one of these cleverly designed draw-string toy bags. A simple swoop of the bag and a pull of the draw-string and you'll have lego-free floors once again (and in half the time of a traditional clean up!).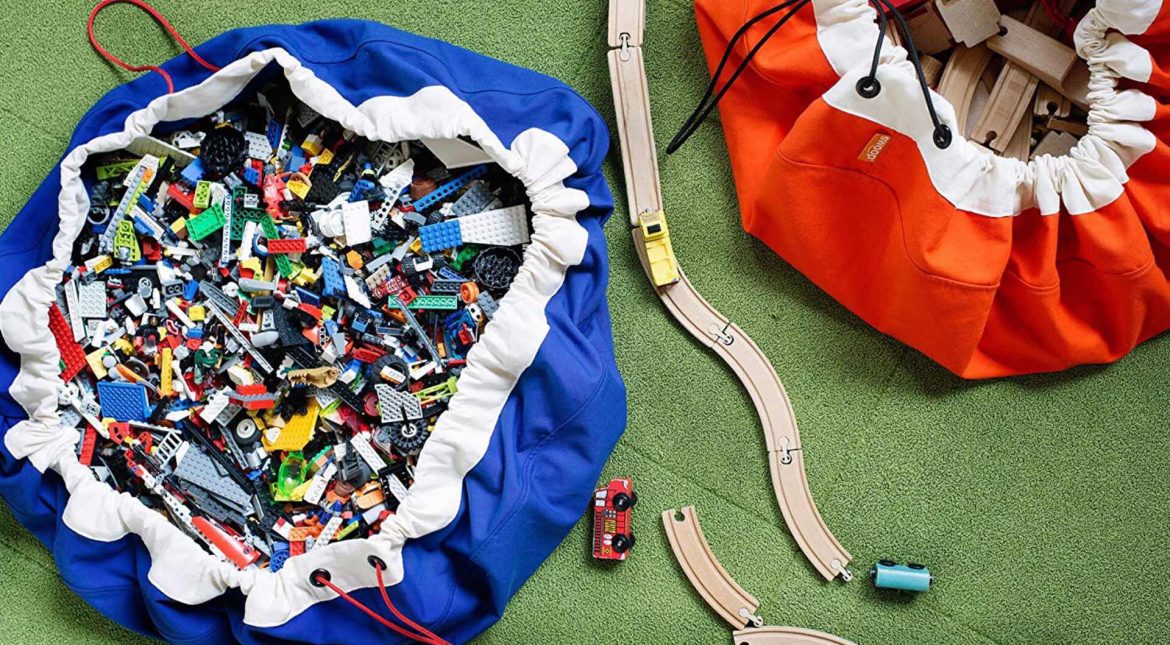 Image source: BuzzFeed
A DIY Lego Table is an affordable way to whip your stray Lego into shape, whilst providing a practical and user-friendly surface for your children to get creative with their Lego.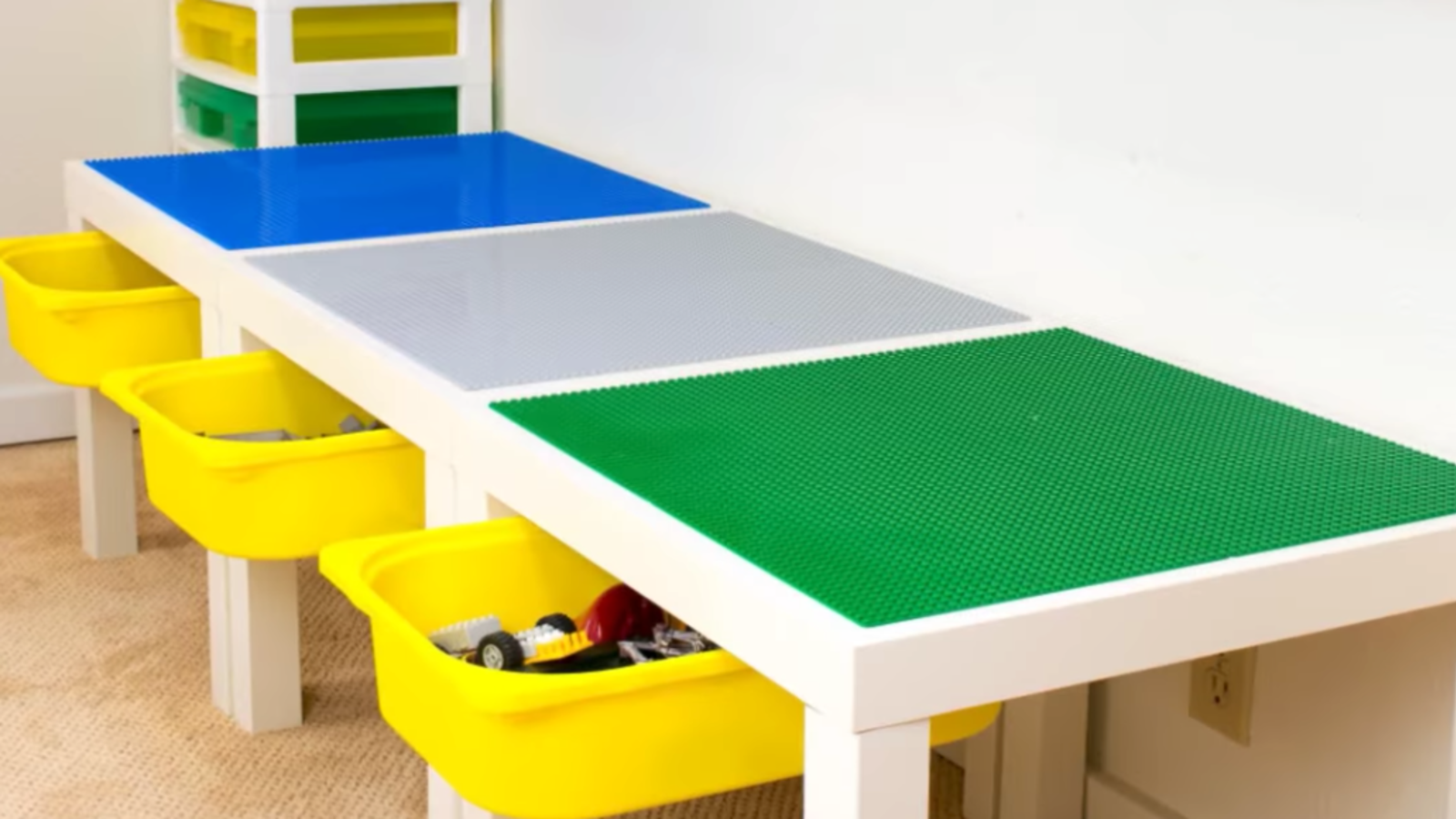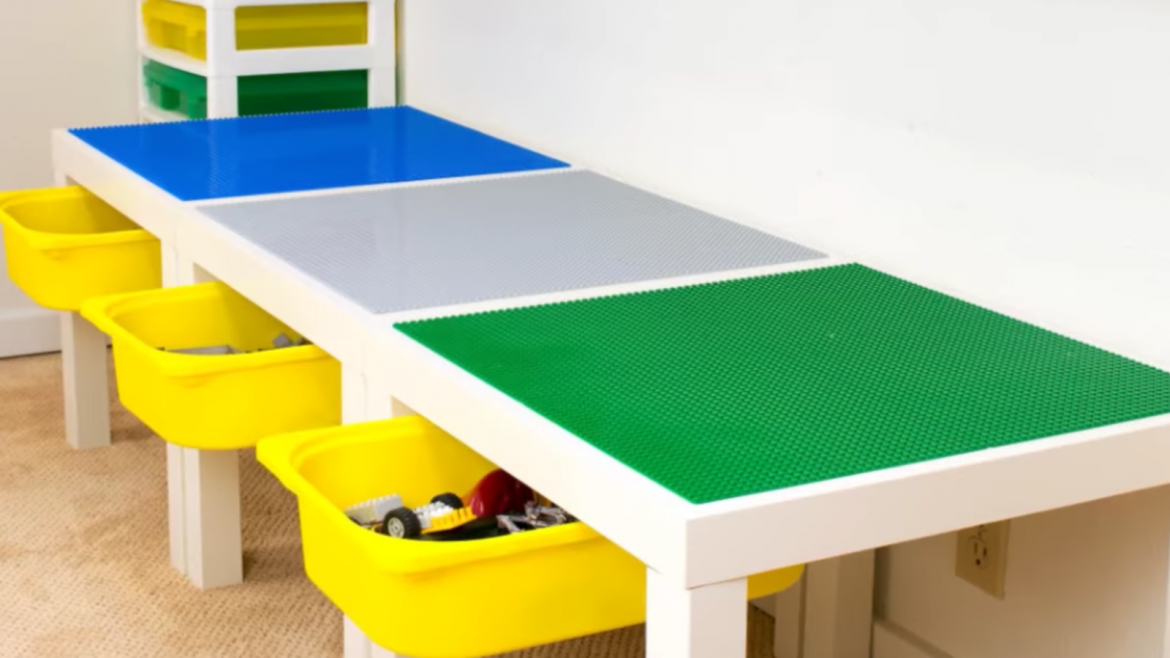 Image source: Life Hacker
Out Of Sight, Out Of Mind! Any parent of a Lego lover will relate to this idea – LOL! – with this sliding Lego table ticking all the right boxes.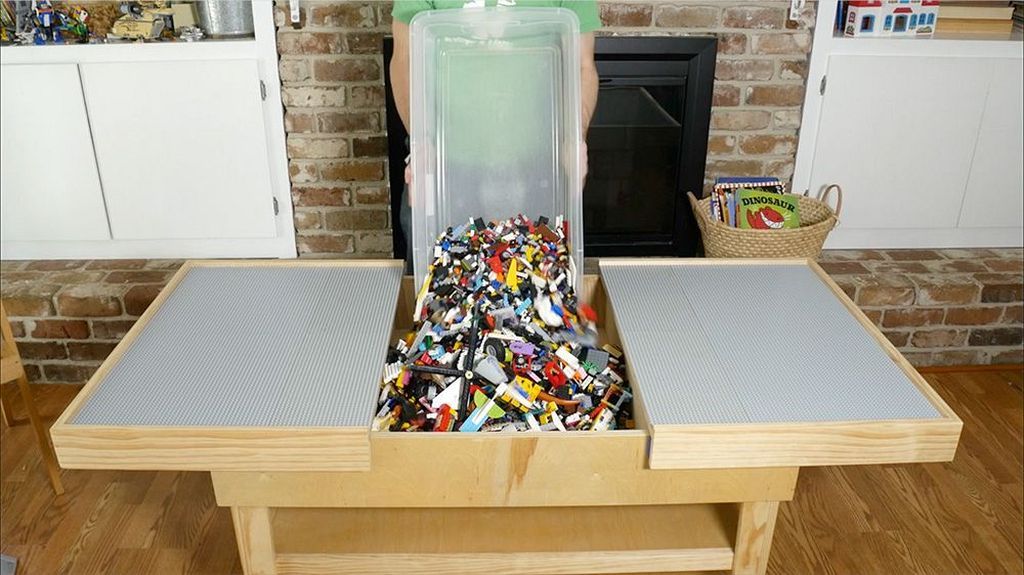 Image source: Craft Whack
A Filing Cabinet for Lego. This is a simple and effective way to sort Lego into colours, heads, arms etc –  a dream storage space for the child who is pretty particular about his colour combinations.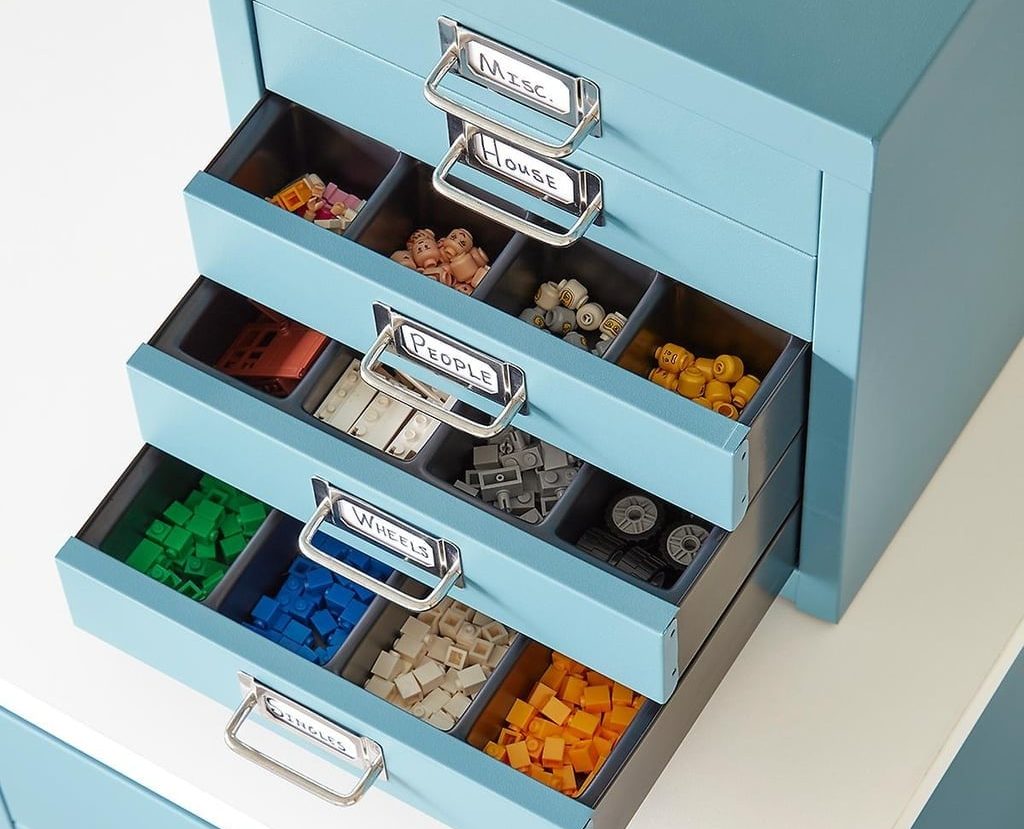 Image source: Popsugar
Readers Share Their Fantastic Lego Storage Solutions
Shared by: Paulette E – Ikea units on castors to roll out to living area when friends come over and roll back to their room so baby can't eat them.  Wow, this set up is awesome and so cleverly put together, I love the idea of it being on castors.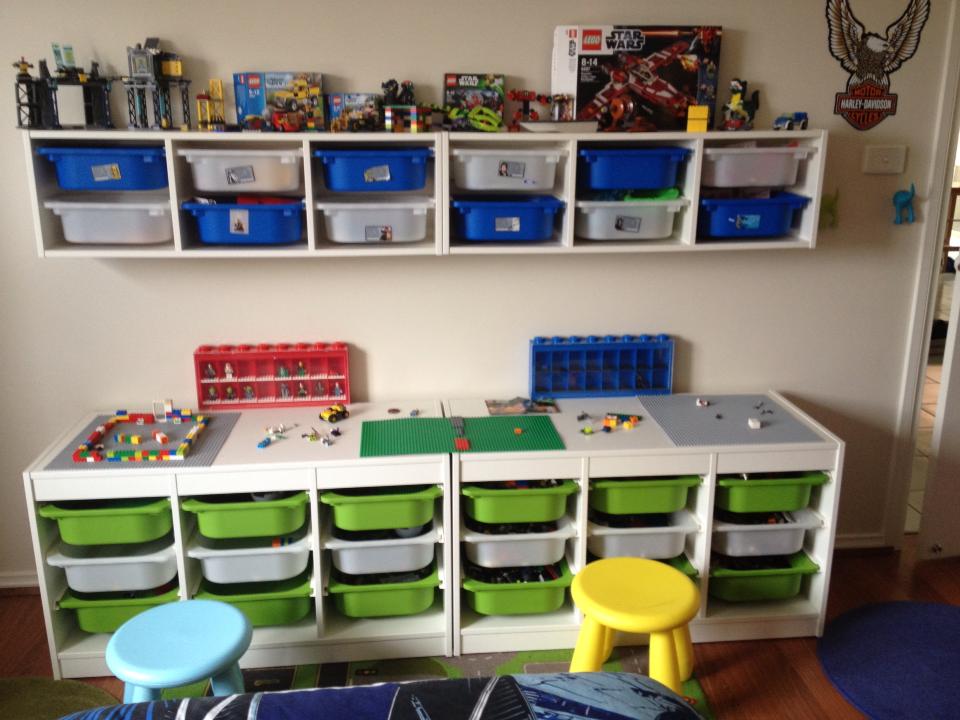 Shared by: Amy S – Hubby built a table into the corner for the city of Lego. There is more and plans to build a smaller second self above that.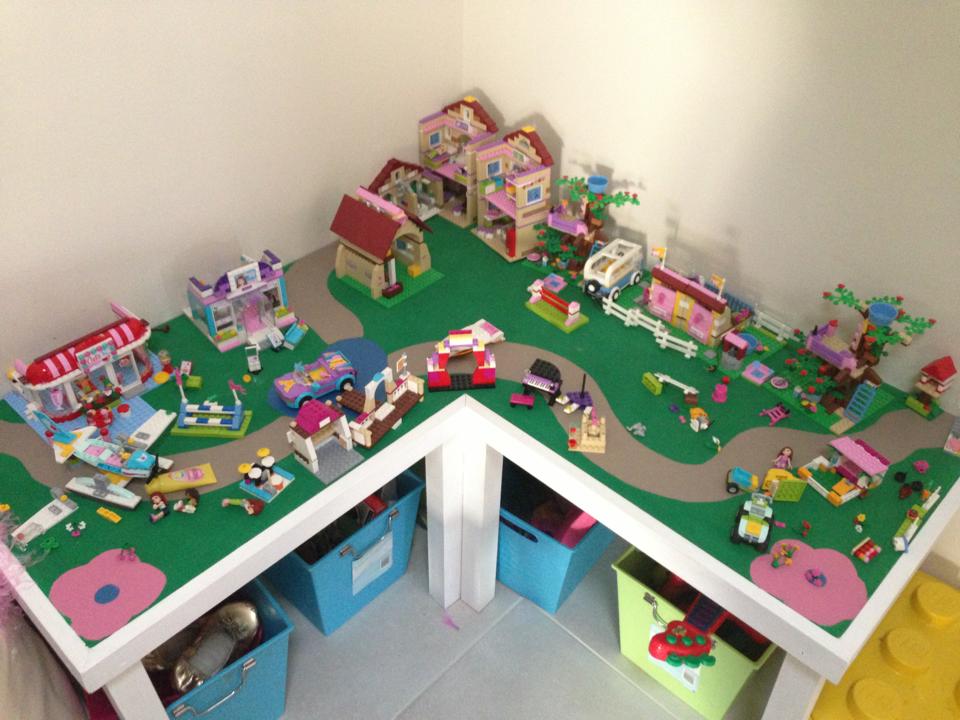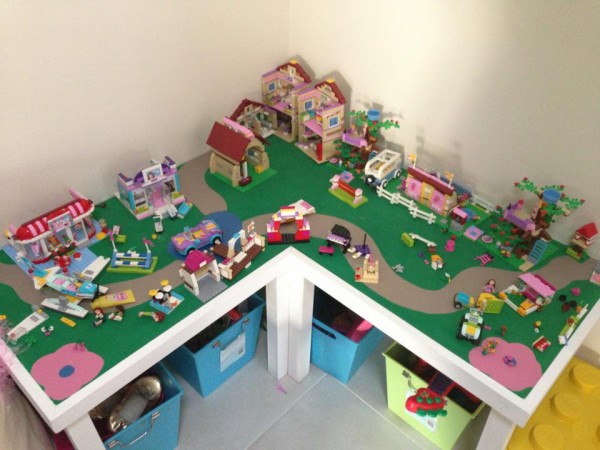 Shared by: Debb S – using Ikea expedit.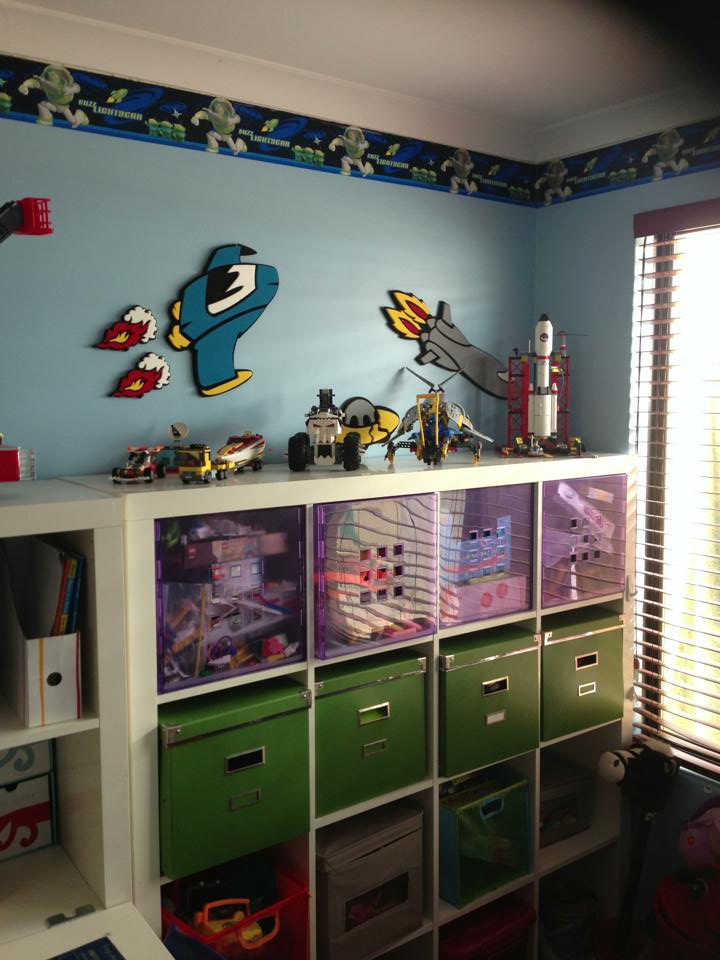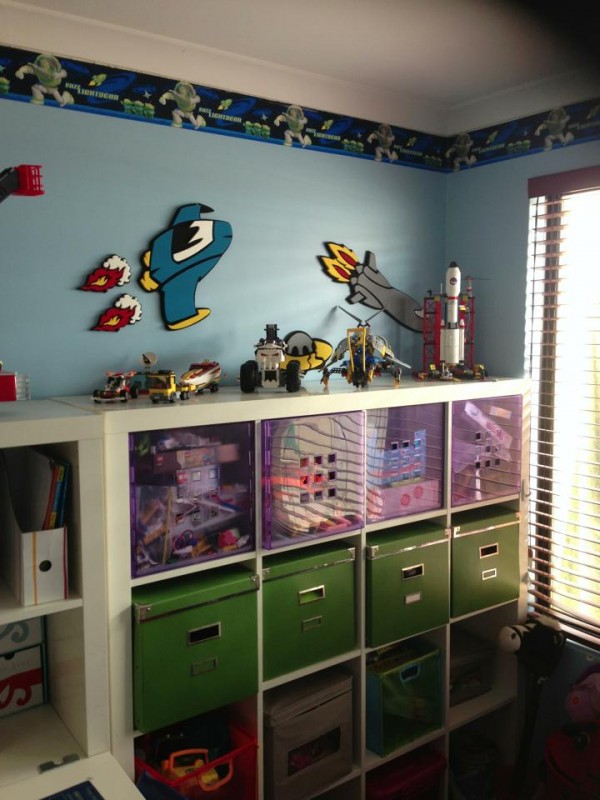 Shared by: Melinda G – using Ikea storage tubs.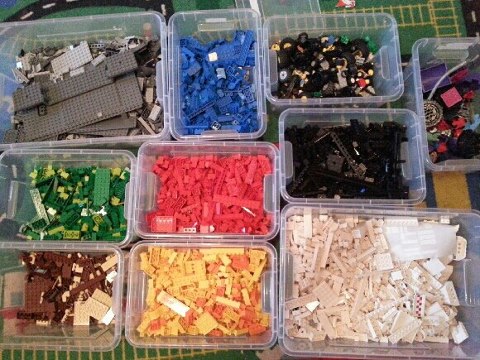 Shared by: Debb S – using the Ikea Dilling container (which fits perfectly under beds).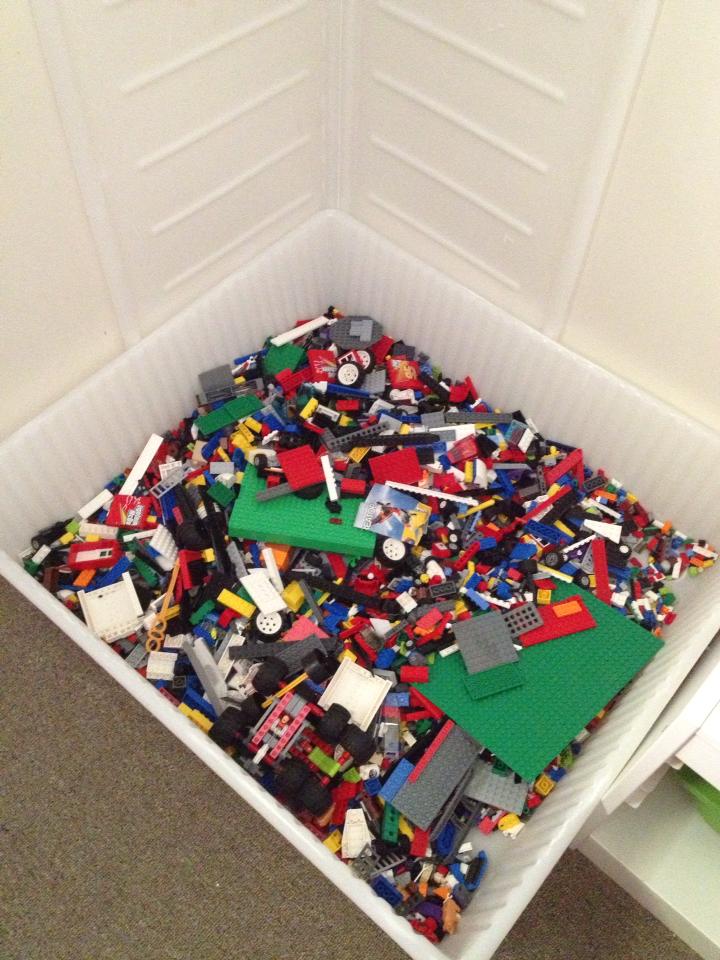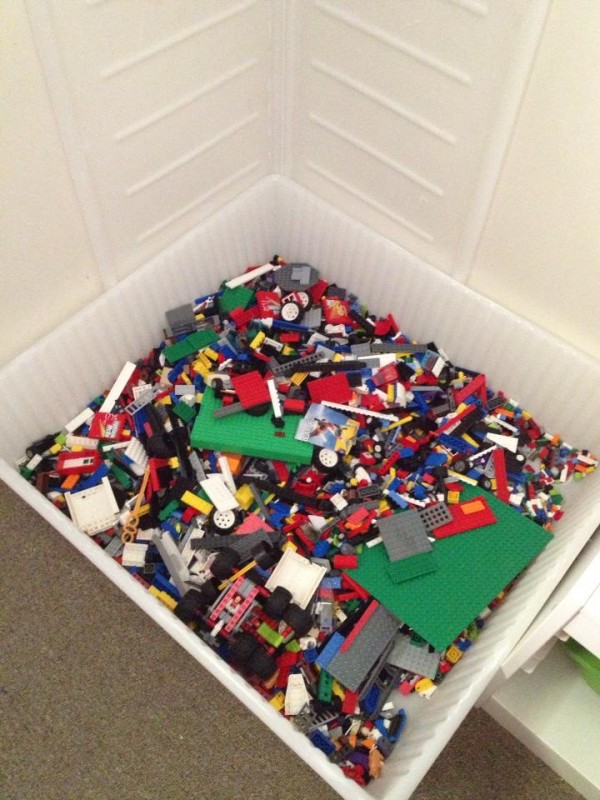 Shared by: Jessica L – Ikea expedit shelf  and Ikea samla tubs, sorted by colour.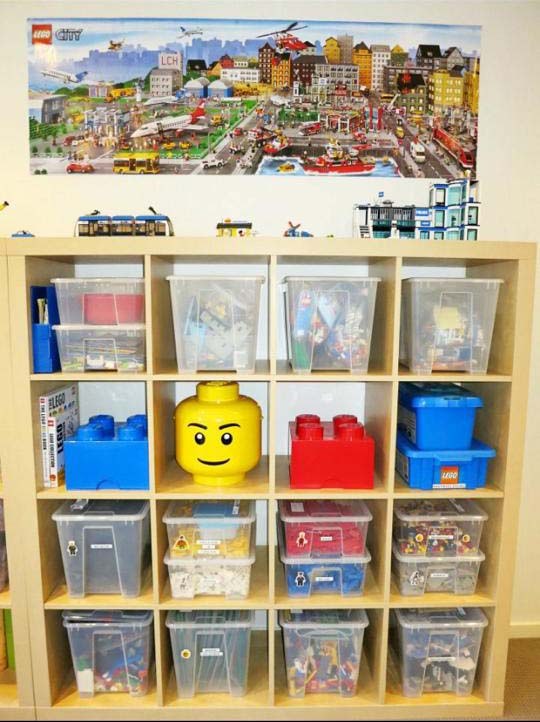 This isn't a readers lego area, but I wanted to share Roar Sweetly's lego station with you as it's so beautifully organised.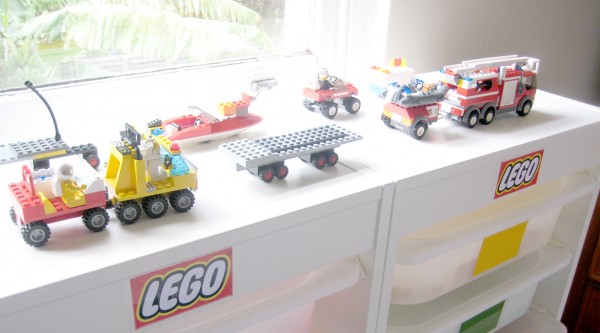 Shared by: Josslyn H – 2 drawer system from Kmart, sorted by colour, 5 drawers for people parts, animal pieces, ninjago/chima weapons and other bits and pieces.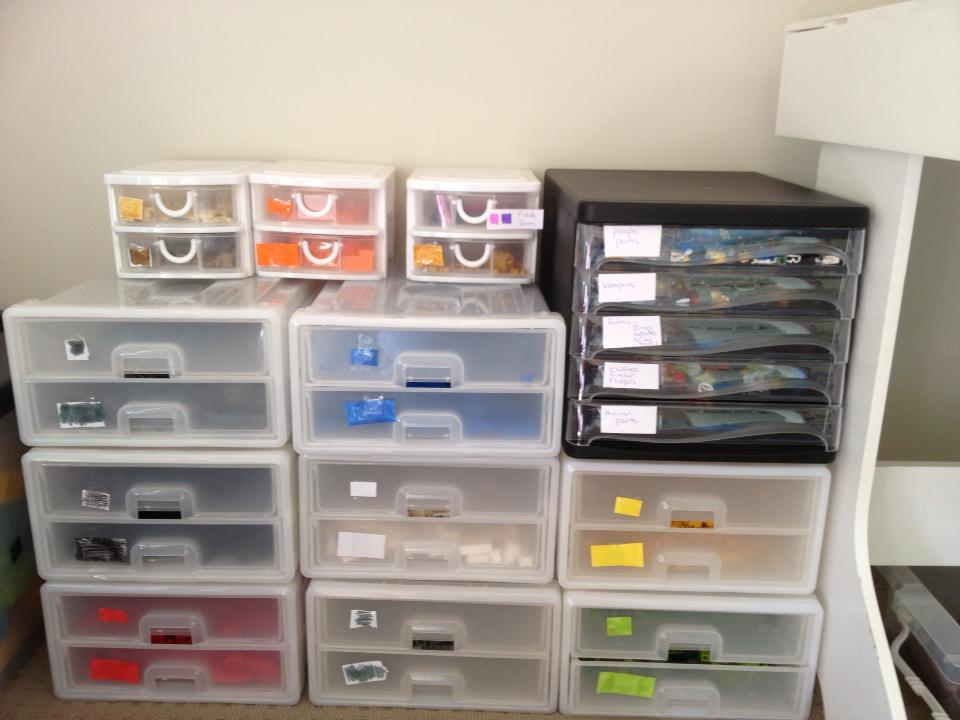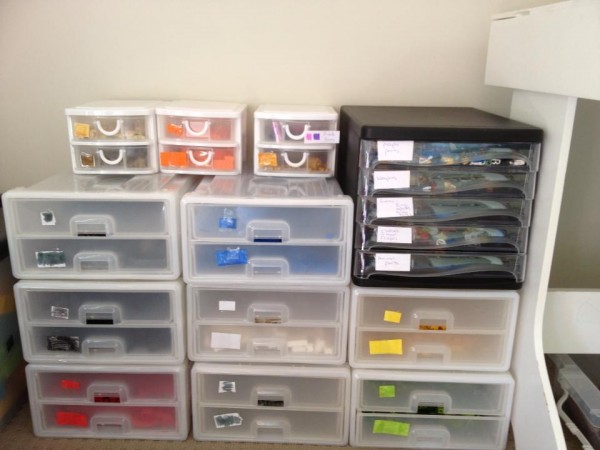 Shared by: Sandy A – Ikea shelving unit.  Each drawer has its own colour. Sandy is going to paint the wooden frame white.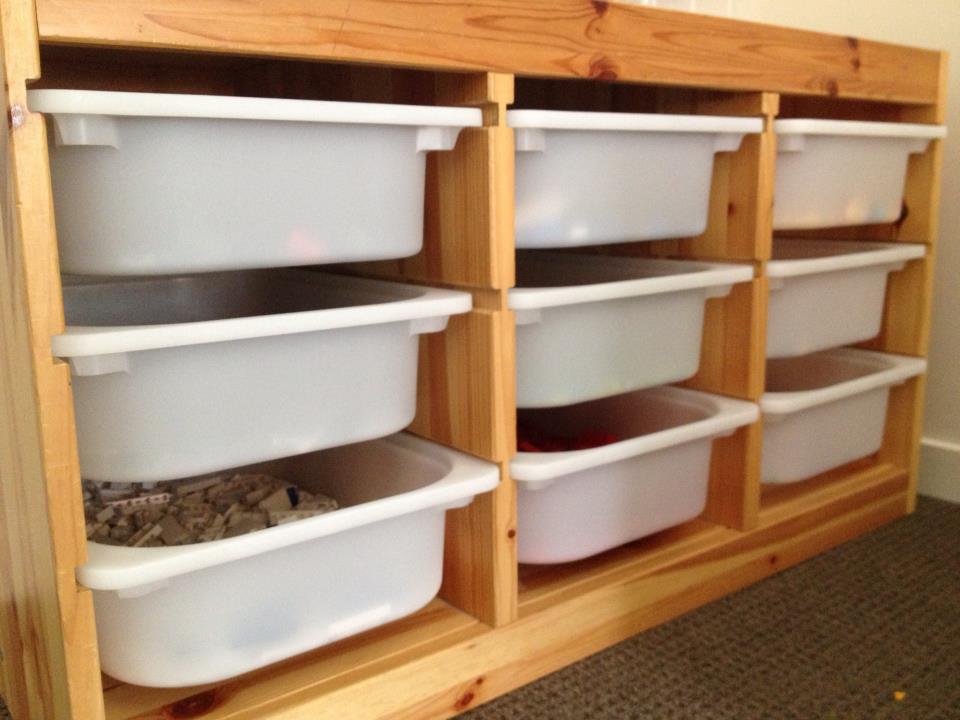 Shared by: Sandy A – inside the drawers, sorted by colour.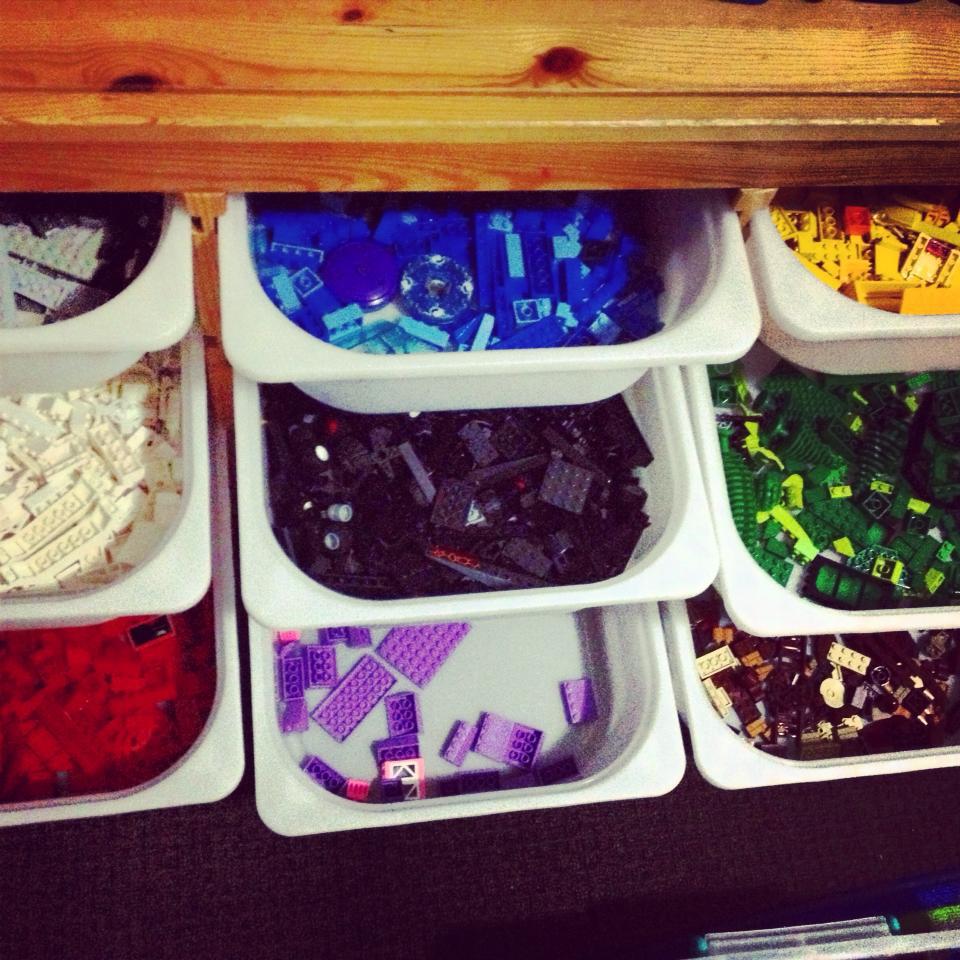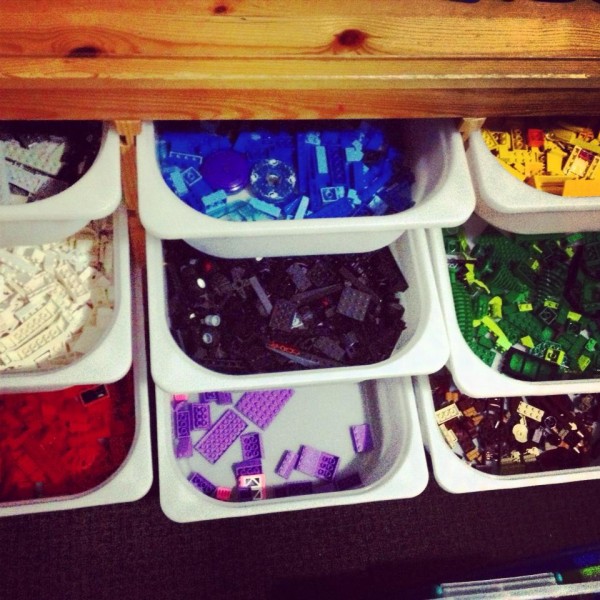 Shared by: Brandi M – Duplo storage, work in progress.  Brandi is going to add wheels, a top with lego boards and add labels to the tubs.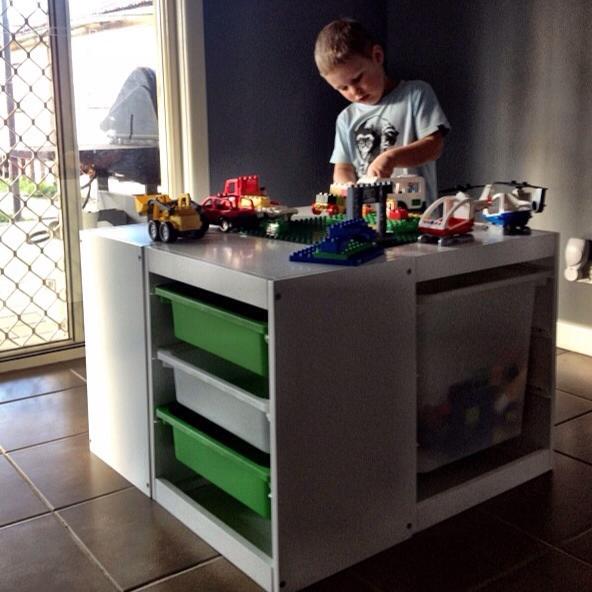 Shared by: Sandy A – Keep lego people in 3 tier tub from dollar store (I love this tub).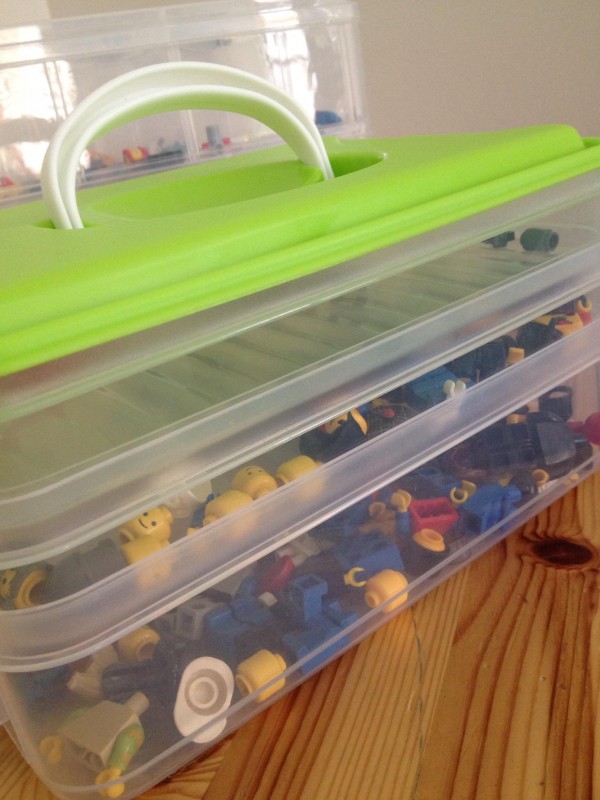 Shared by: Sabine G – sorted by colour in tall plastic drawer trolley.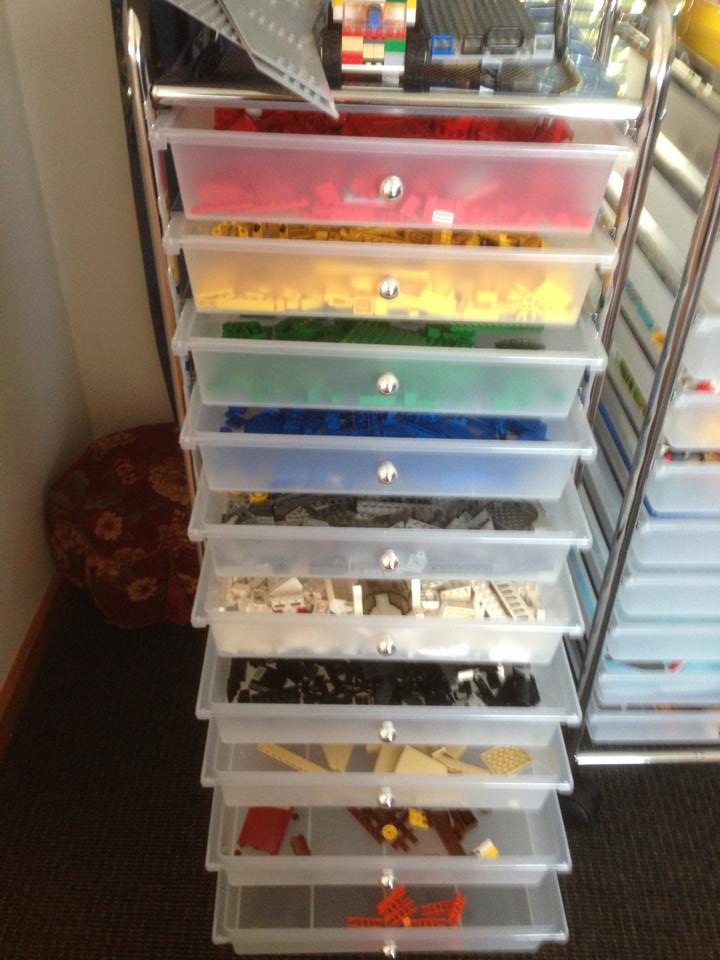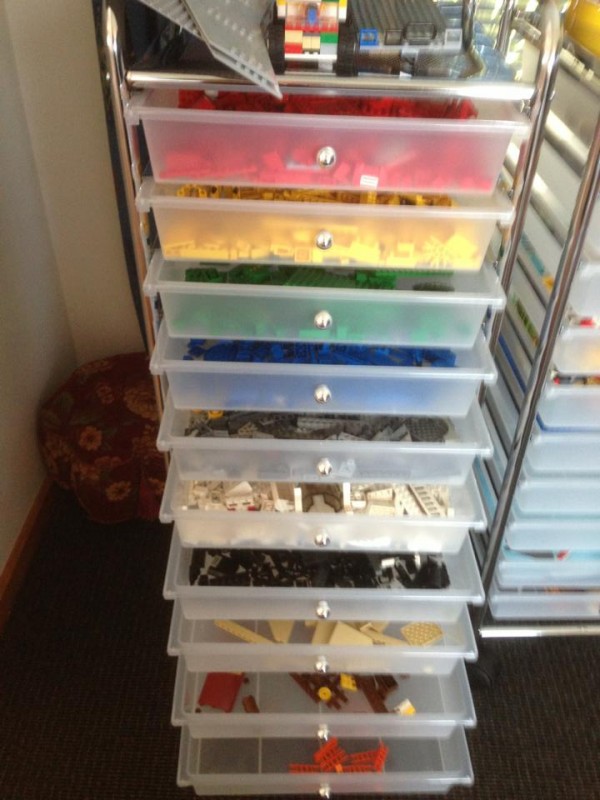 Shared by: Sabine G – these drawers are also good for storing the books and lego plates.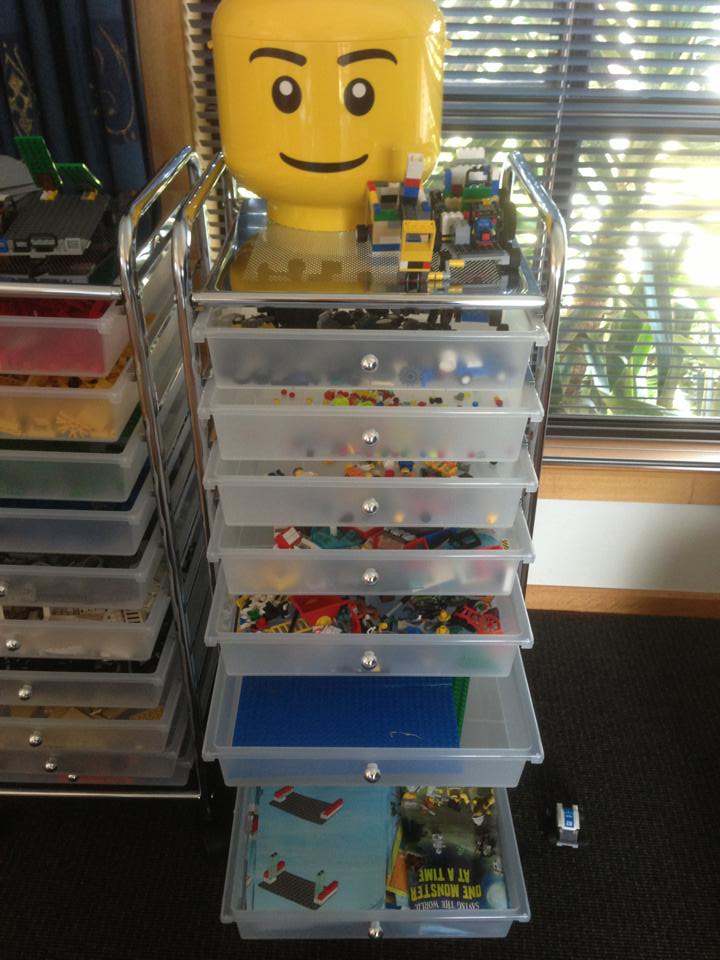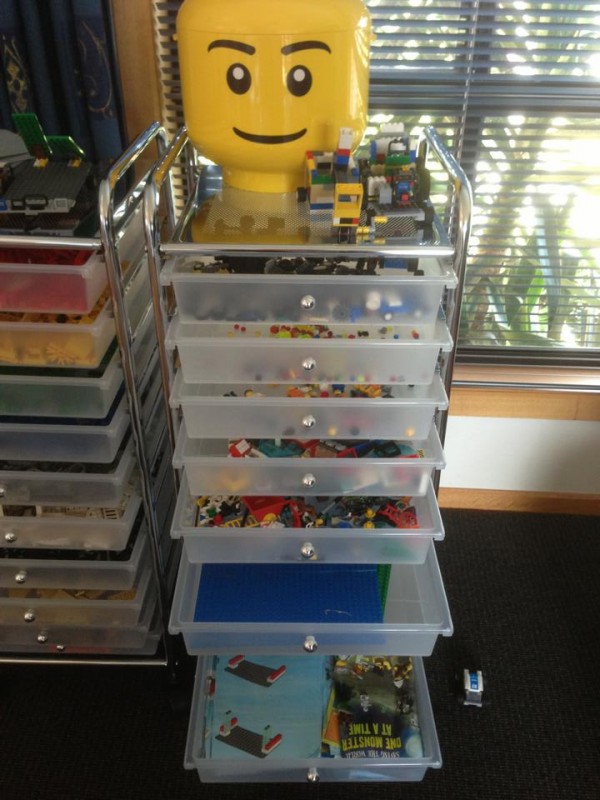 Shared by: Natasha H – Another Ikea unit, this unit appears to be a favourite.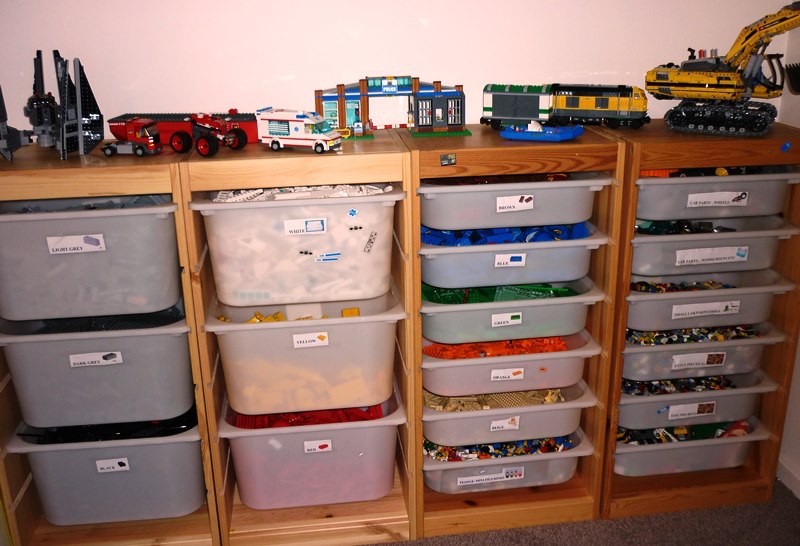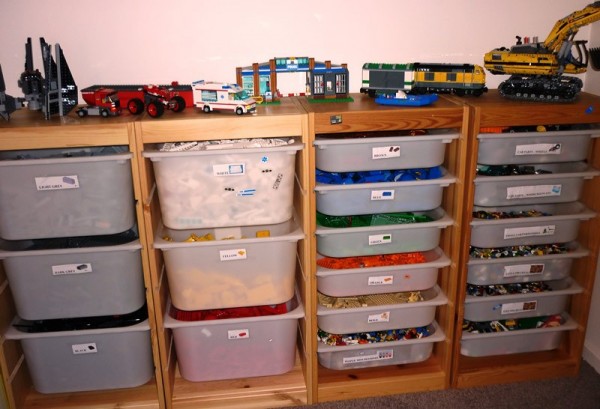 Shared by: Rebecca A – Cute labels, would make it easy to find what you're after.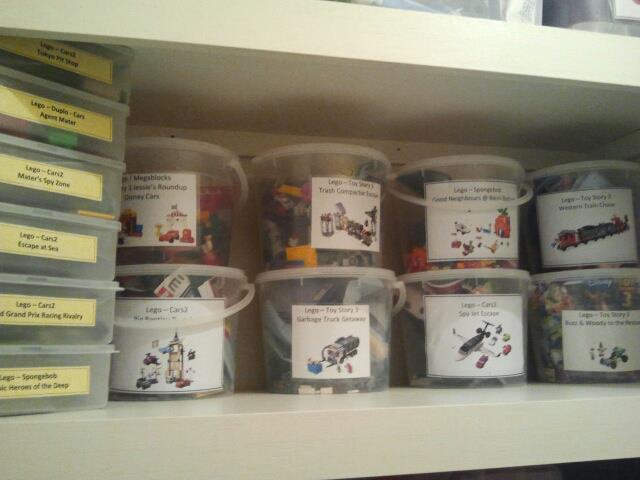 Shared by: Leanne S  – great lego area on wheels.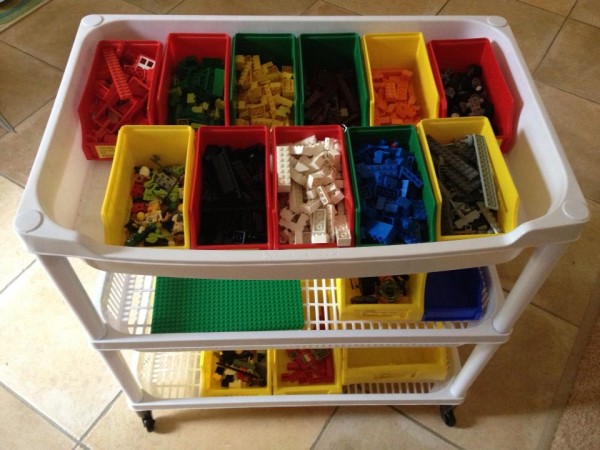 Shared by: Pippa S W – Sorted by colour, unit from Kmart a few years ago.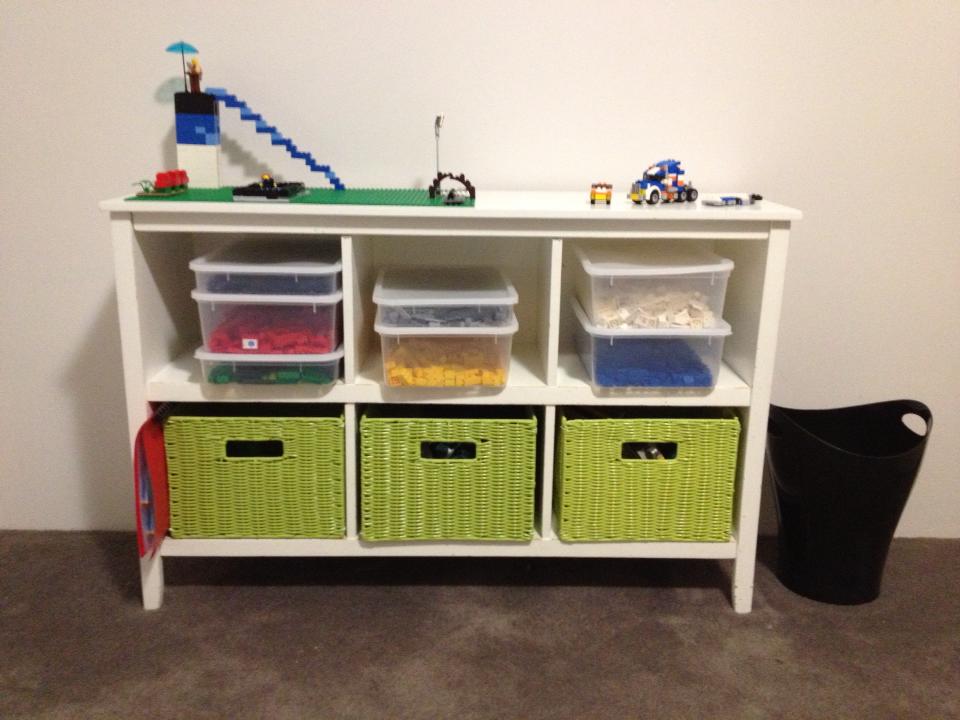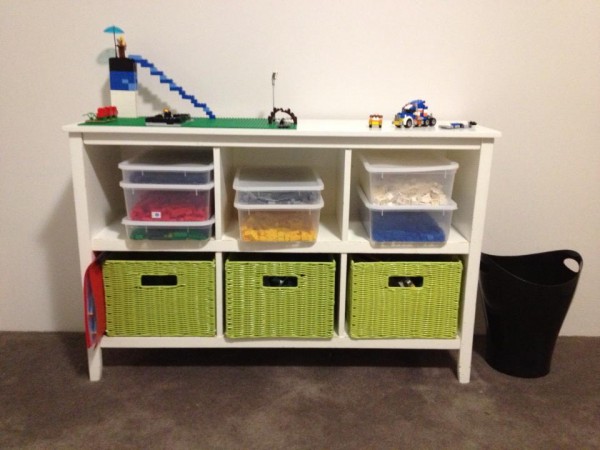 Shared by: Pippa S W – Sorted by colour, but we like to keep "sets" together as much as possible in zip lock bags with the booklets in them.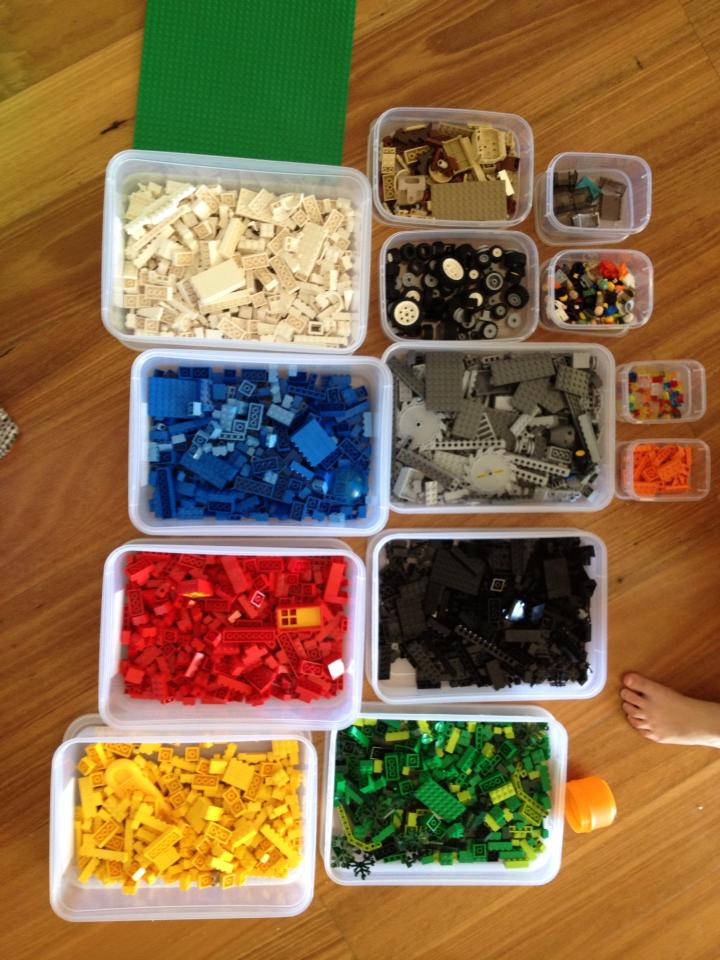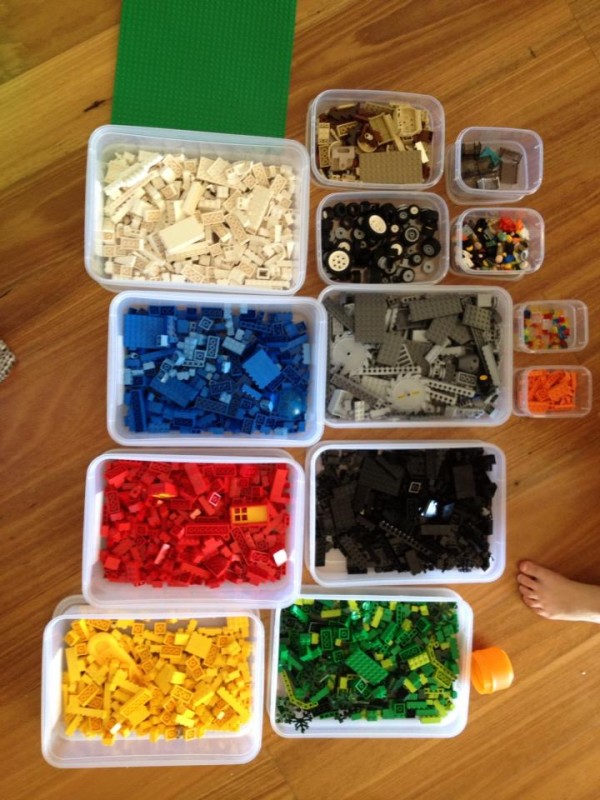 Shared by: Fyona R – Another great cubed storage idea.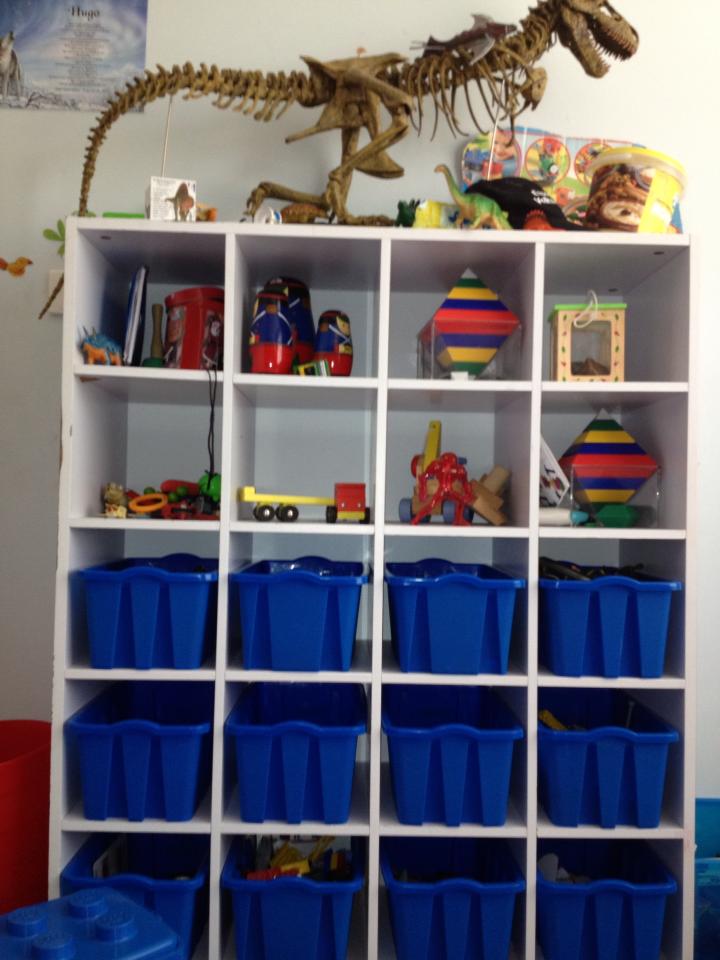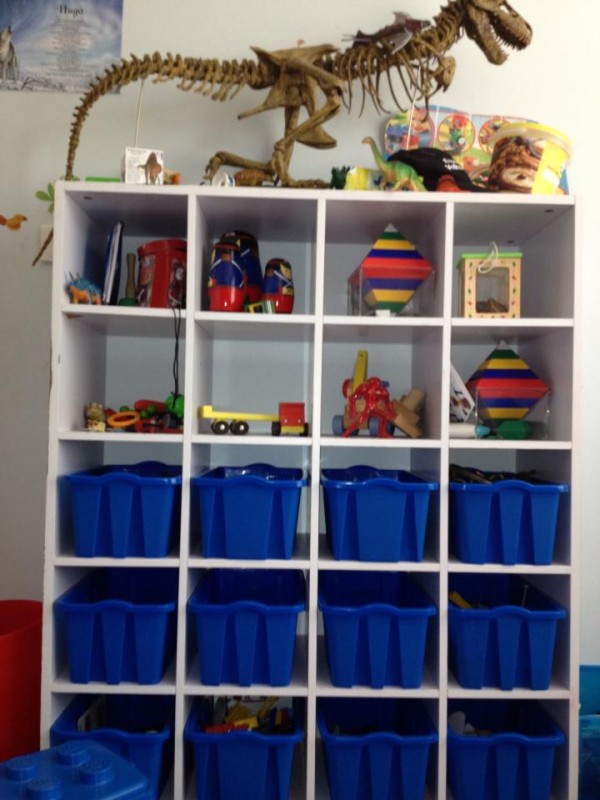 Shared by: Fyona R – this Lego table is very cool!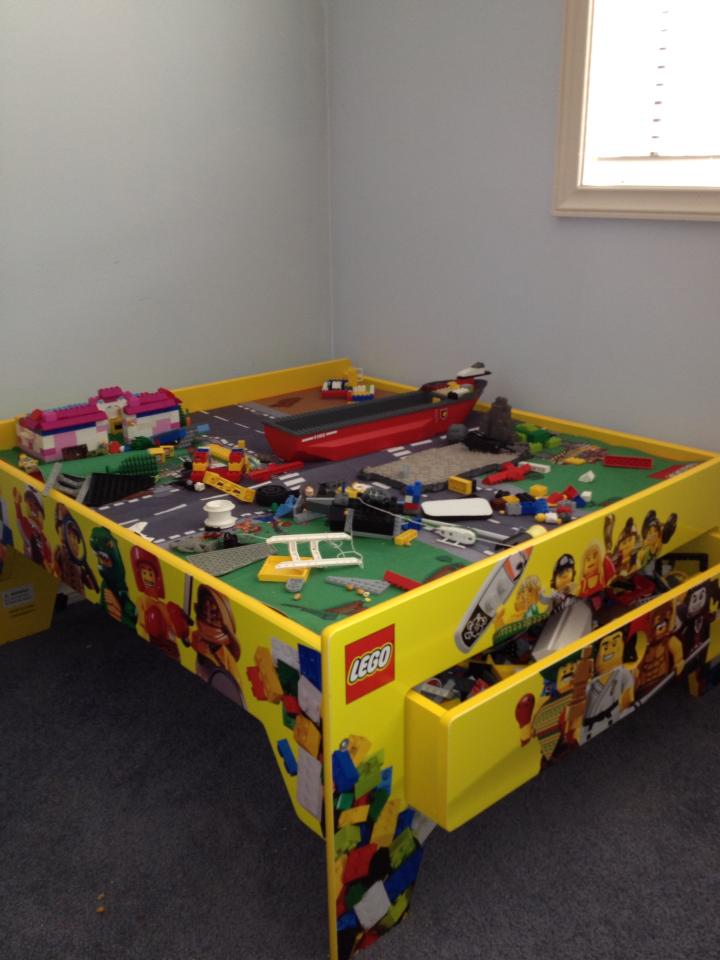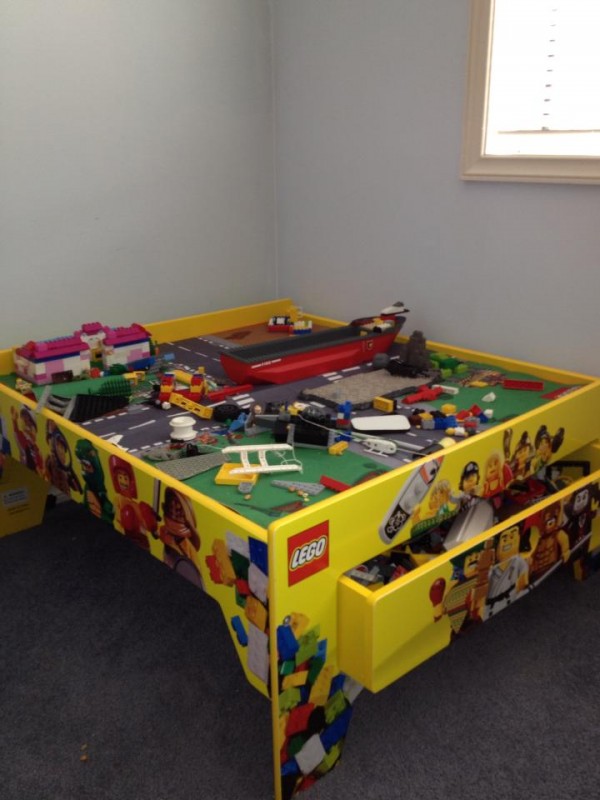 Shared by: Lisa B – Plastic drawer set.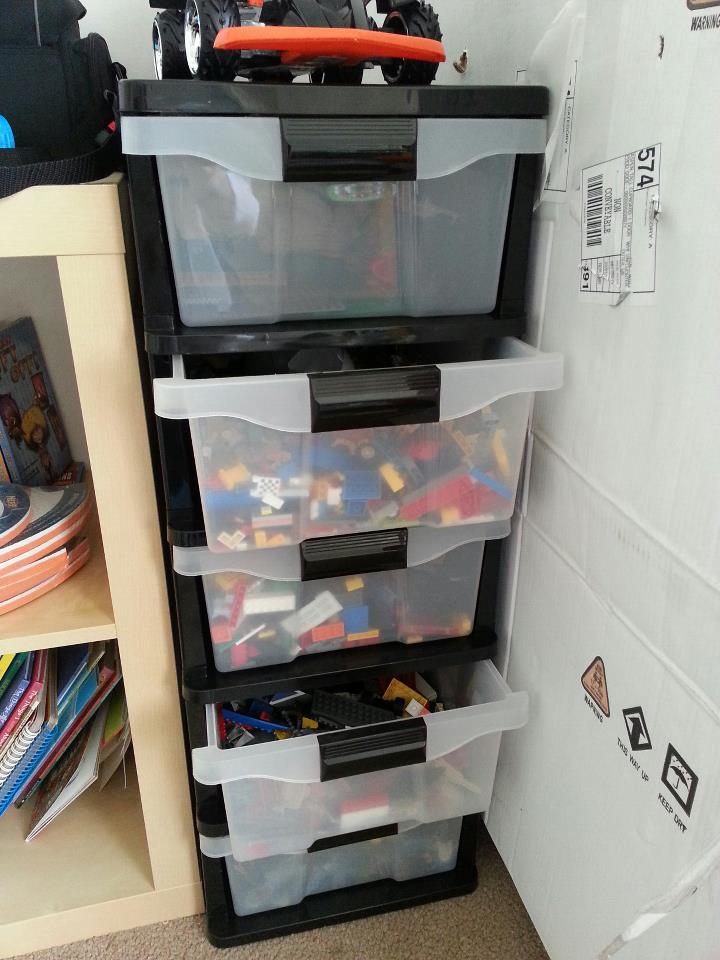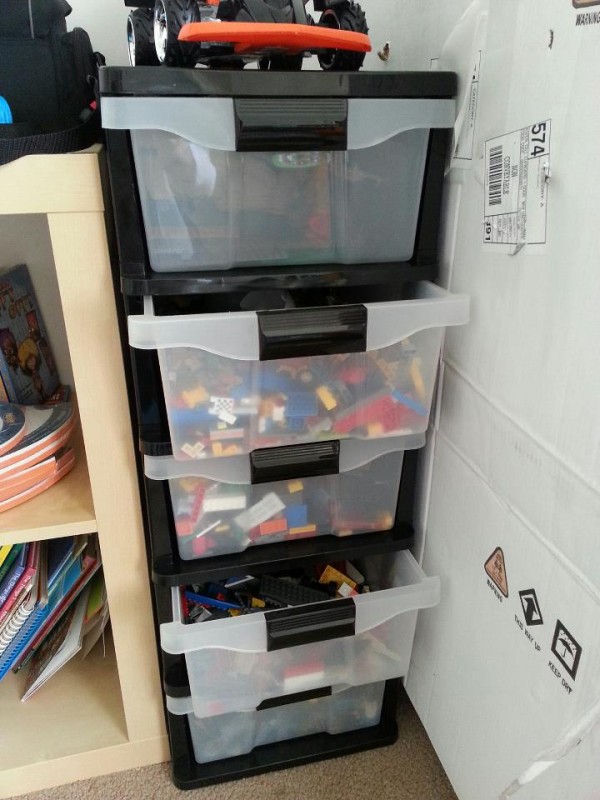 Shared by: Kirsten U B – Sorting lego by colour into plastic containers.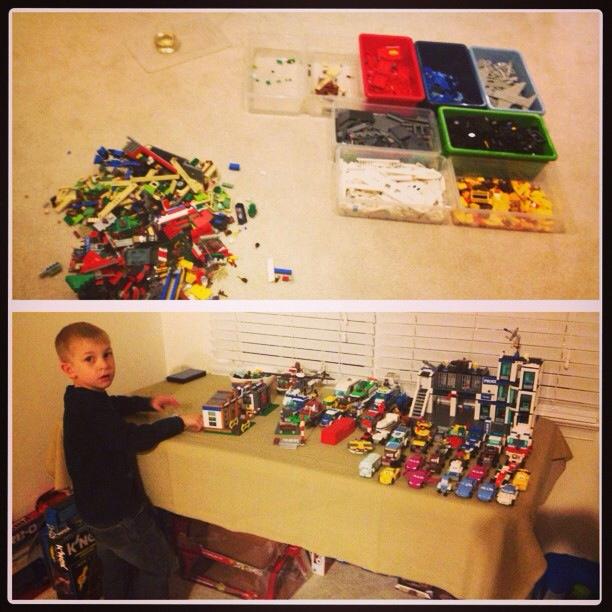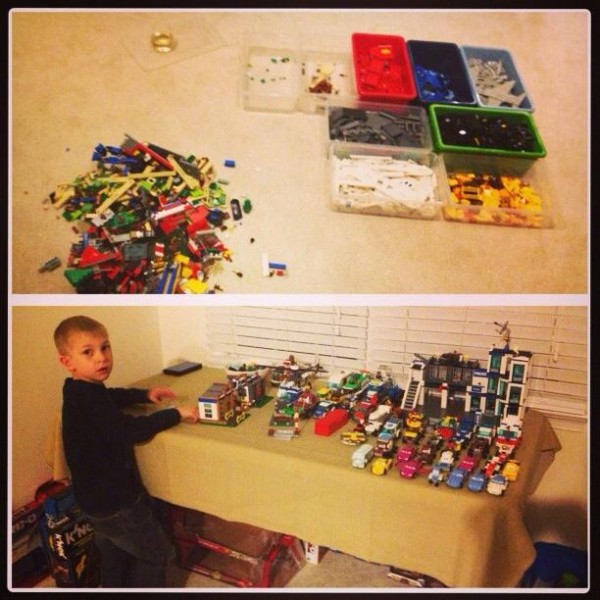 Shared by: Sonia J – Keeping manuals in clear tubs.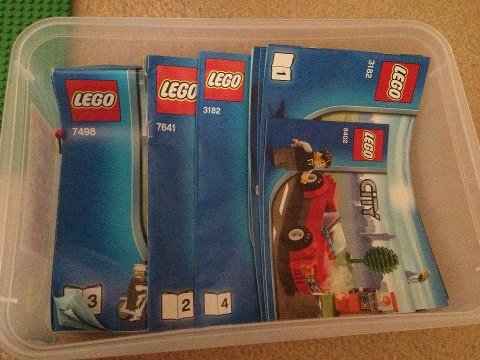 Shared by: Jane I – Homemade lego play track. Jane also sorted spare lego by colour into desktop filing trays.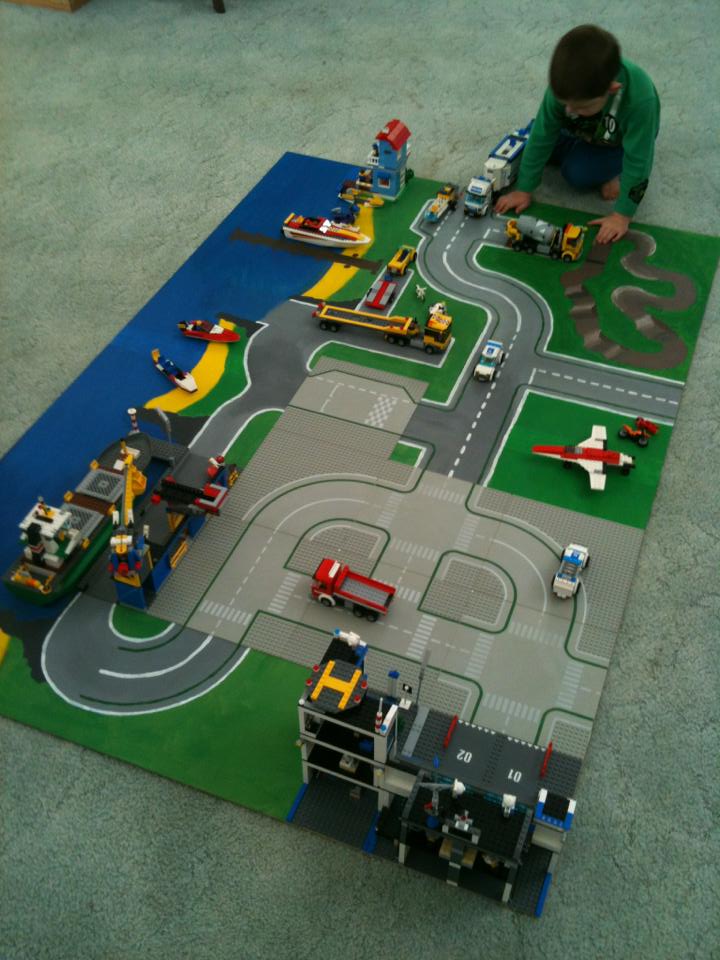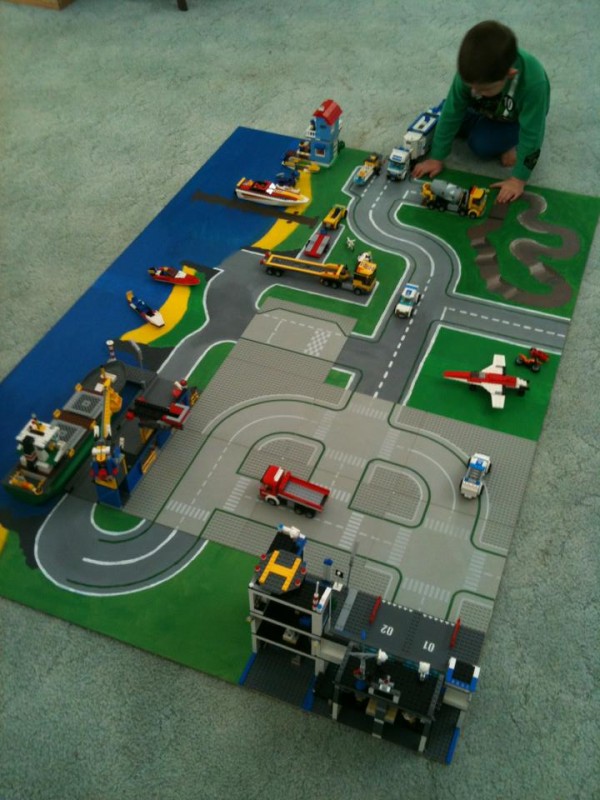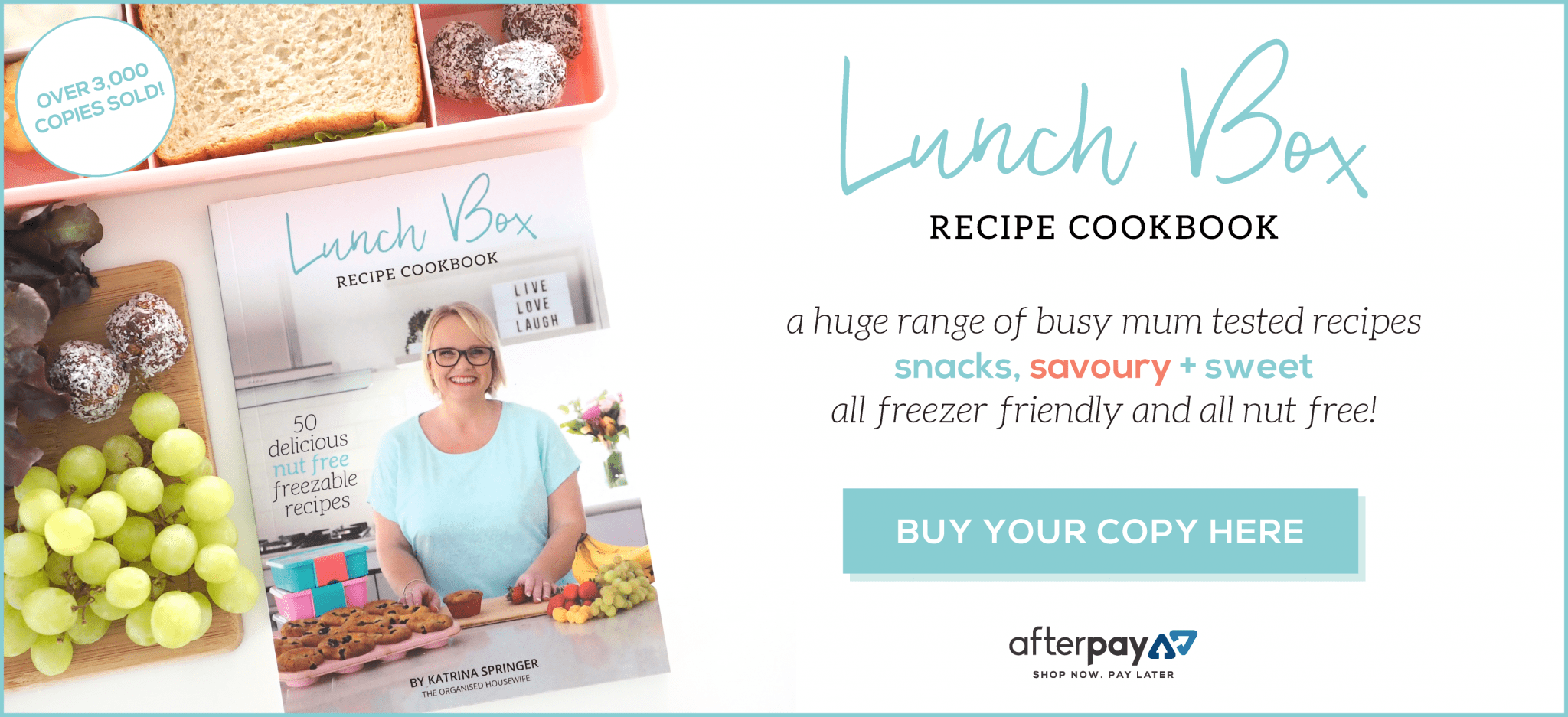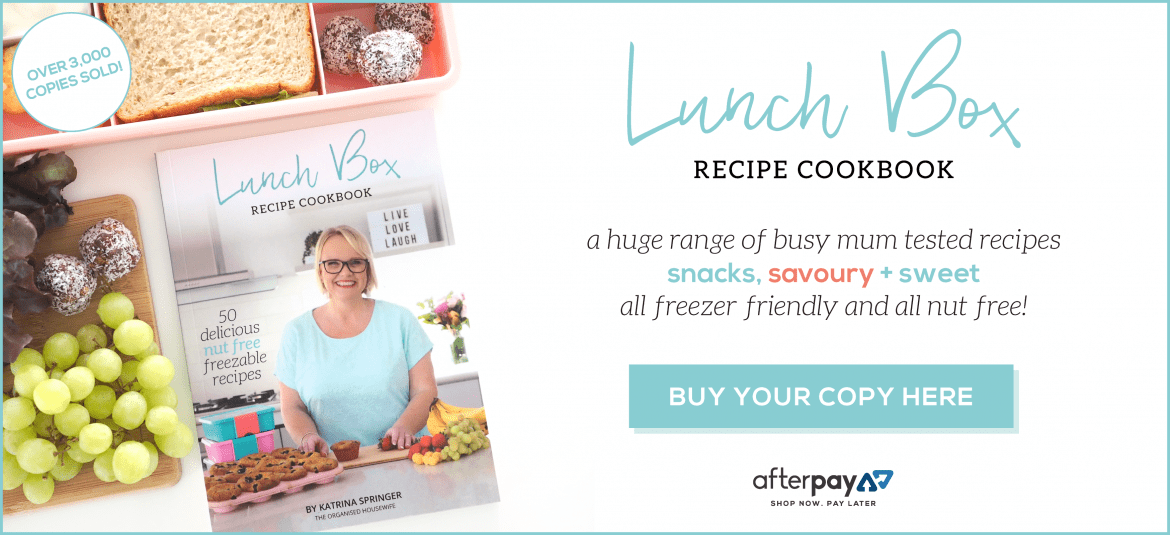 Shared by: Samantha M – storage tubs with dividers that fit under the bed (Howards Storage World sell something very similar).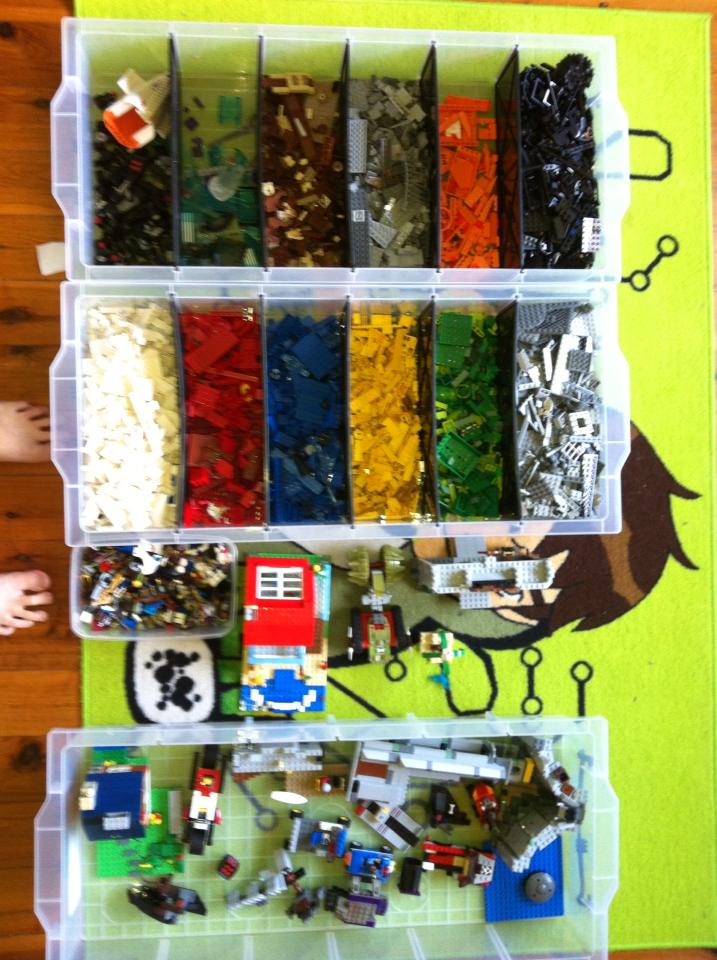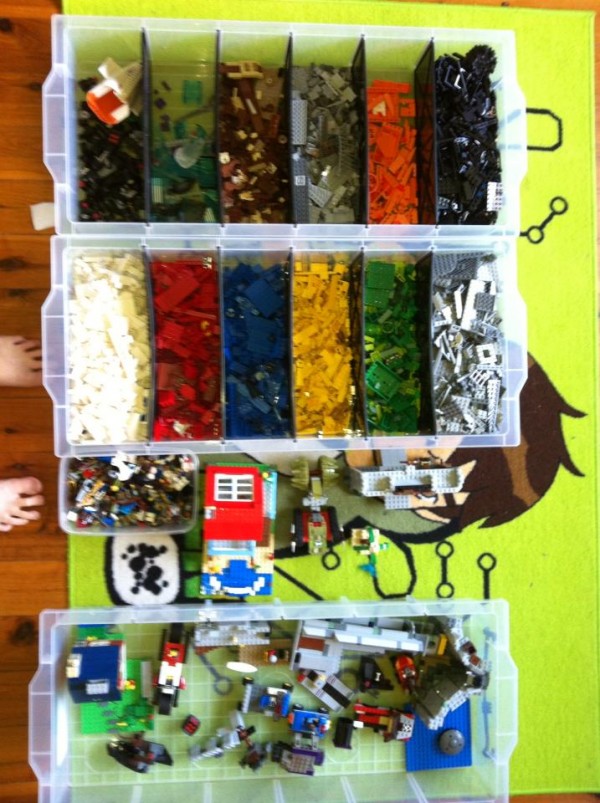 Shared by: Kylie M – Each row on the right side is colour coordinated and colour goes from single stud bricks on the left to the 2×4 stud bricks on the right. Then there is also spaces for things like figures, windows, wheels etc.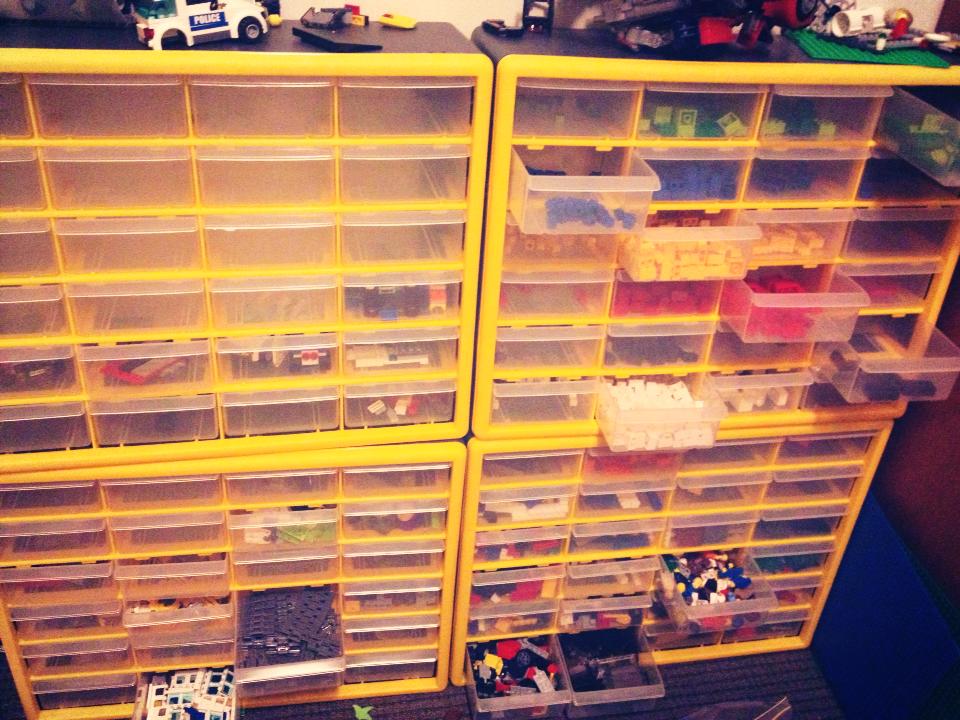 Shared by: Monique L – now this is a lego collection!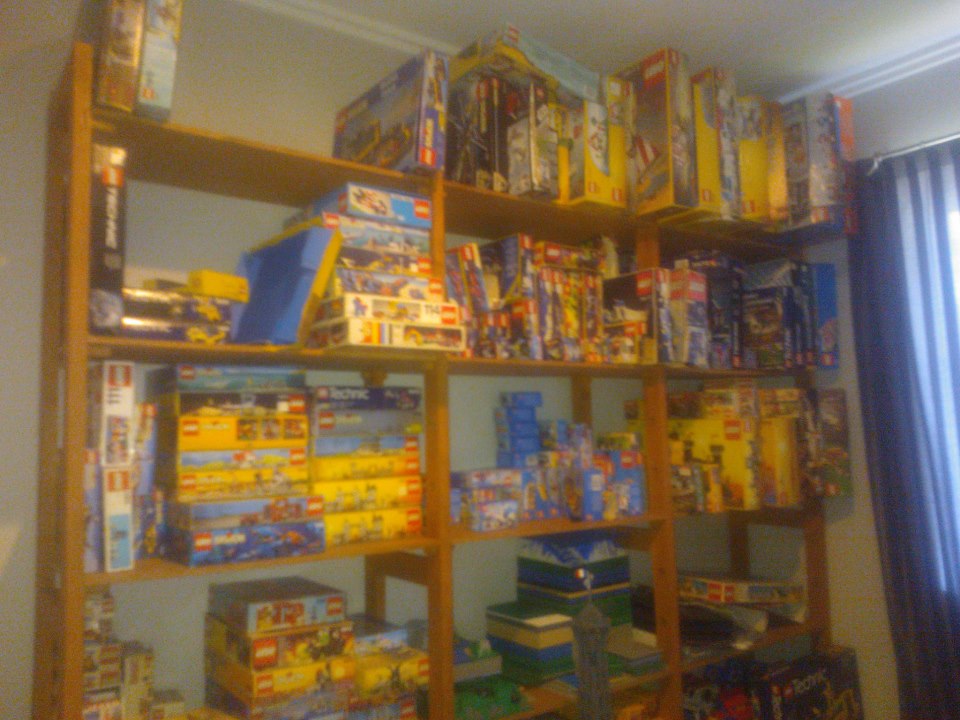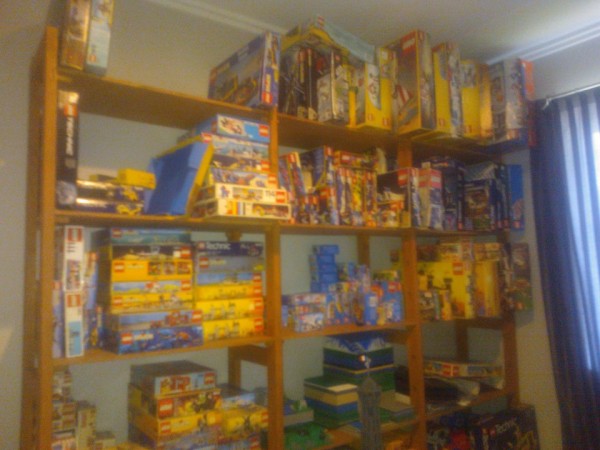 Shared by: Monique L – Sorted by colour in takeaway containers.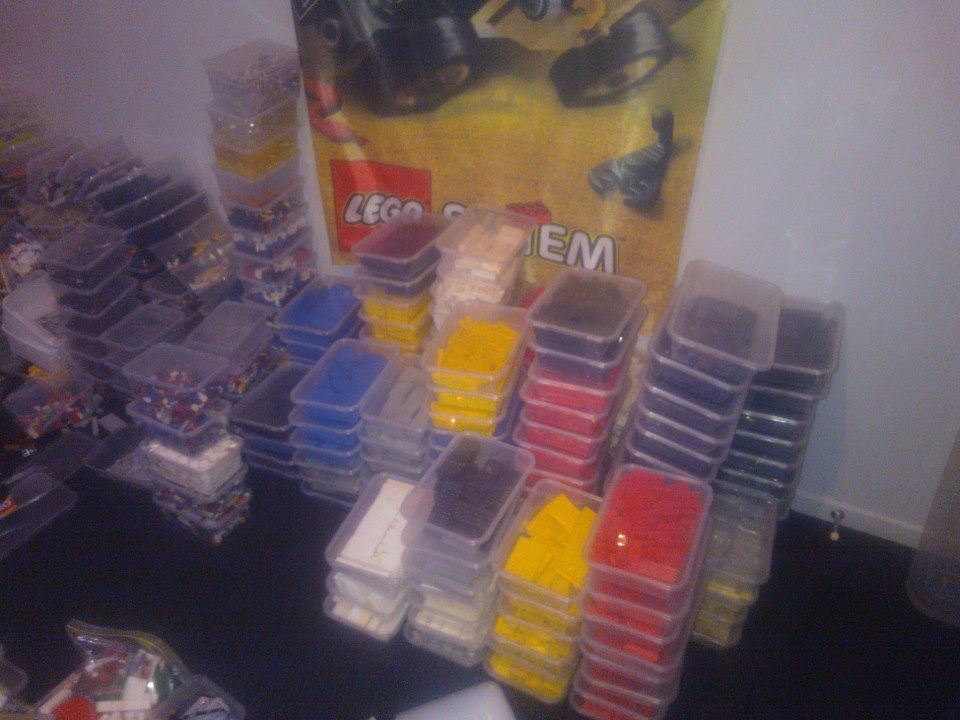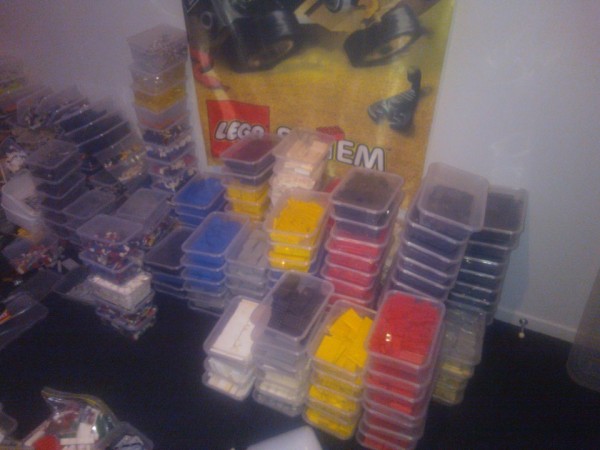 Shared by: Sonia J – Using the Sistema containers to store lego, built lego storaged in daughters wardrobe.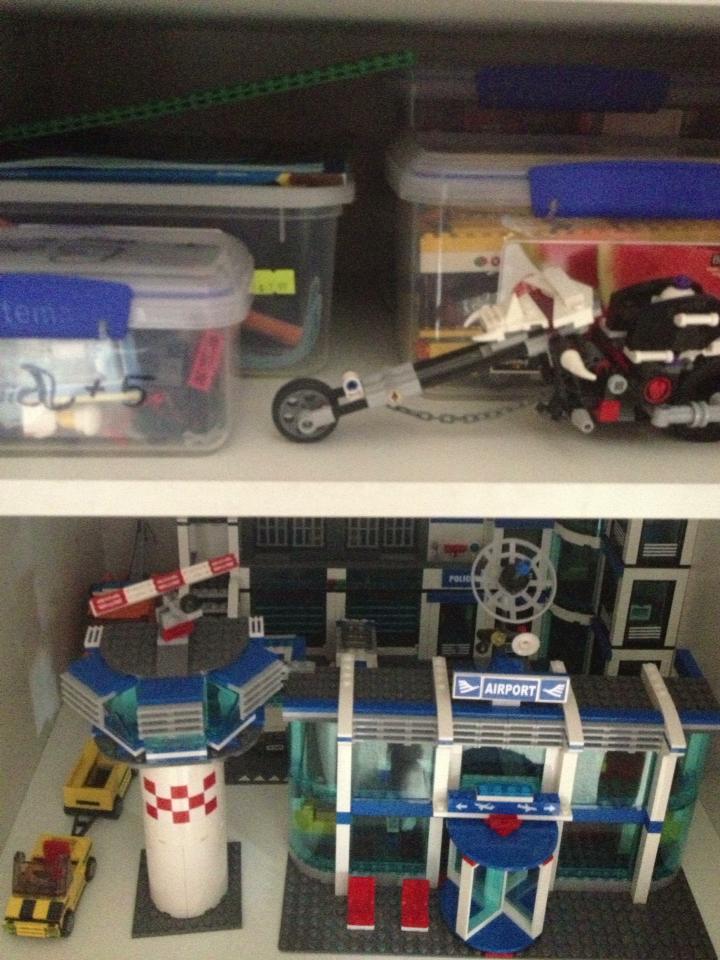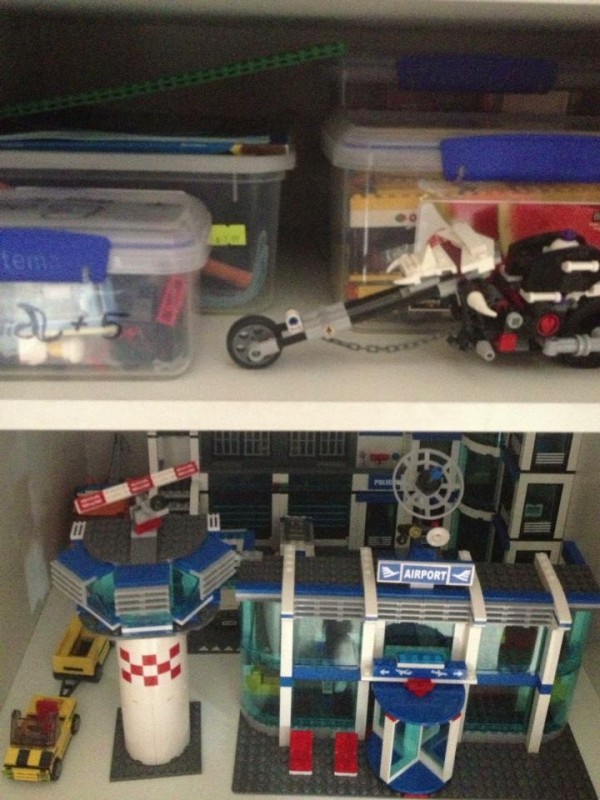 Shared by: Alison J S – Grandma made this lego bag which also doubles as a play mat.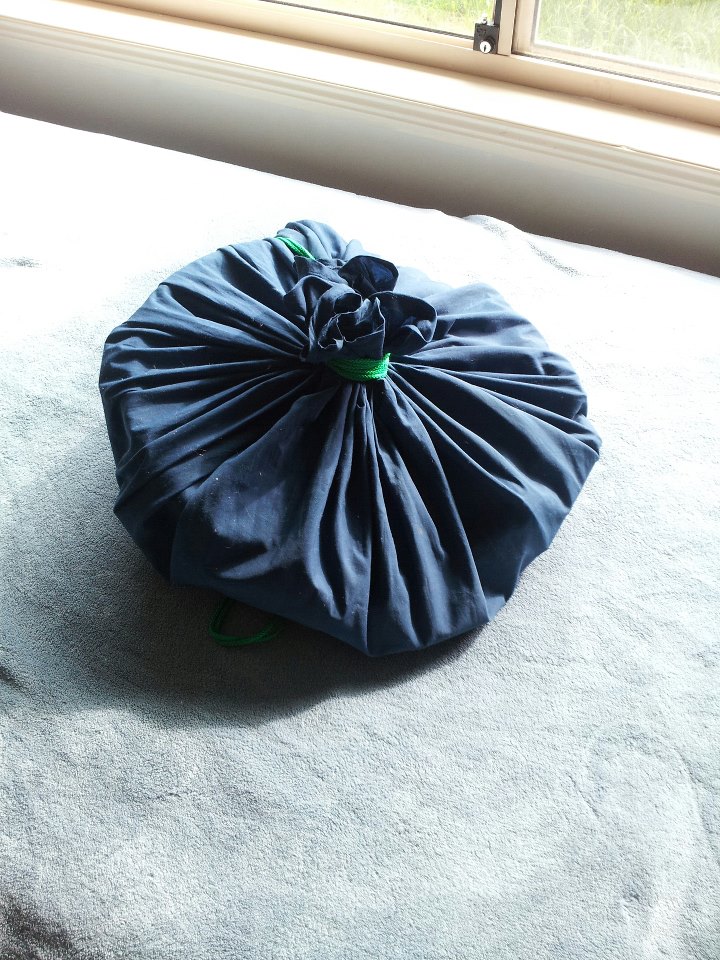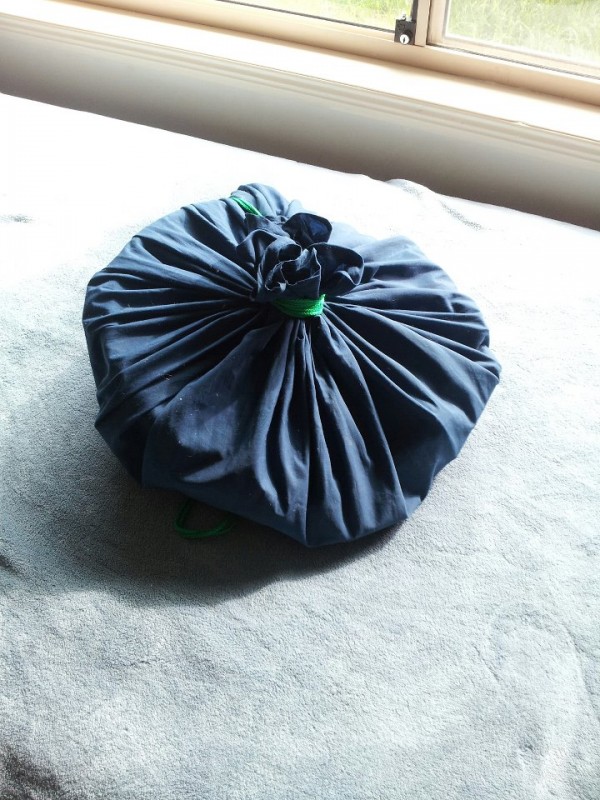 Shared by: Melissa A – Ikea Trofast sorted by colour.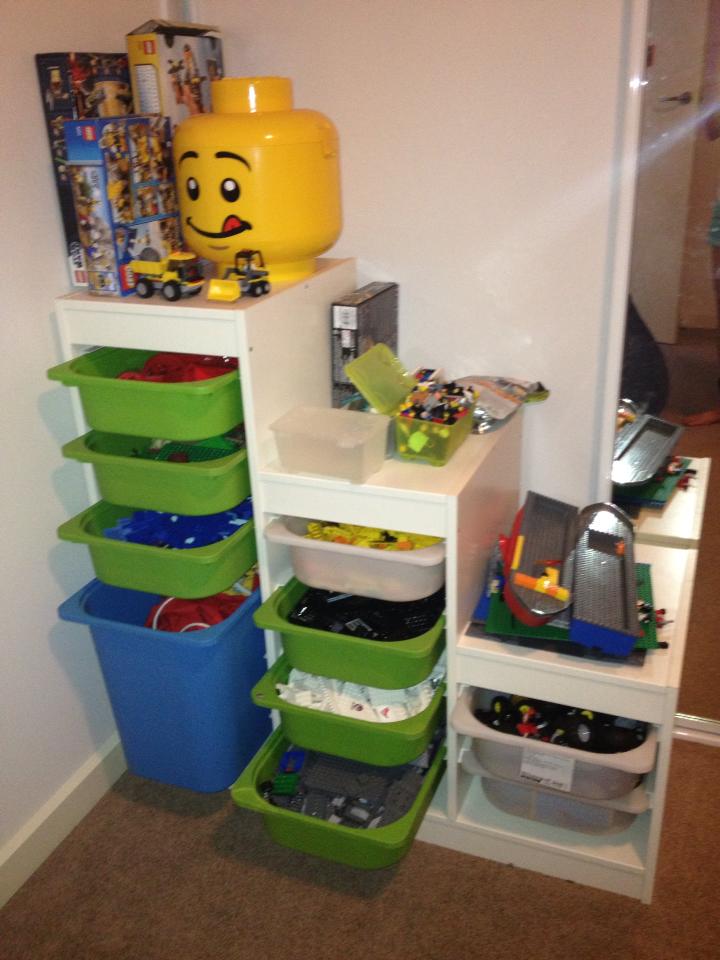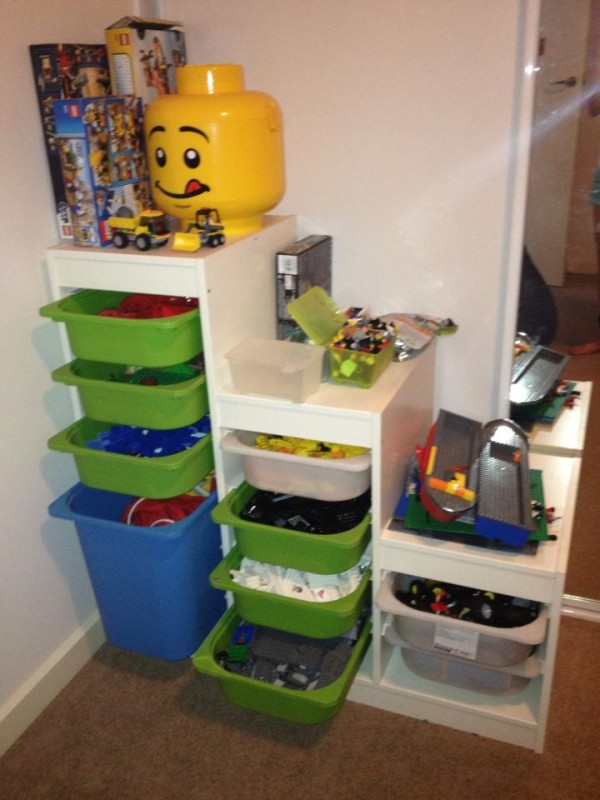 Shared by: Kirsten W – Home made lego table, tubs from Big W.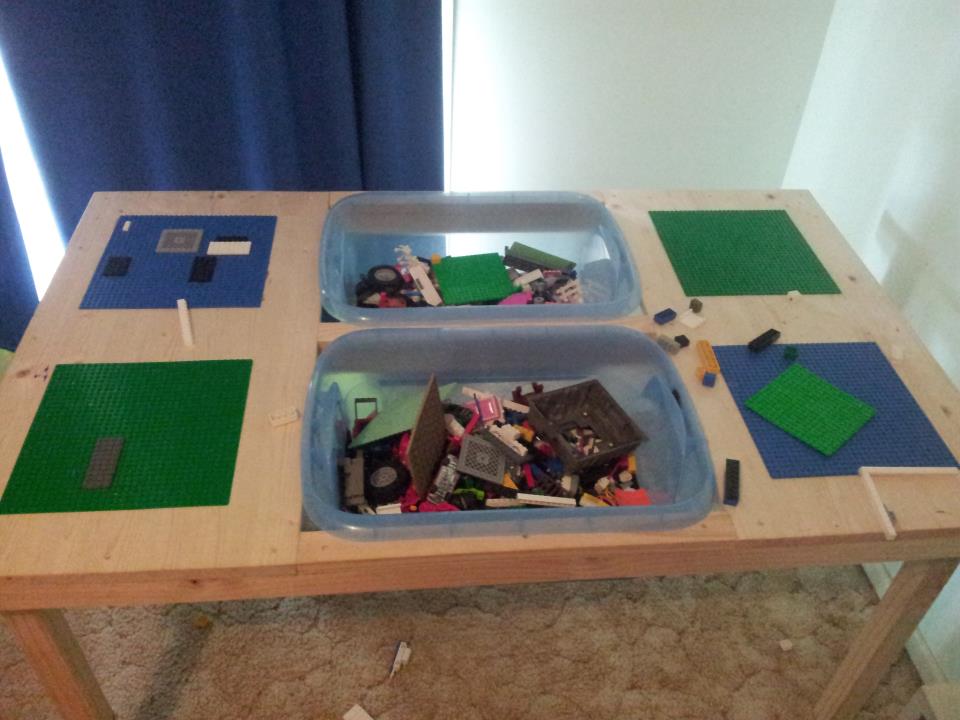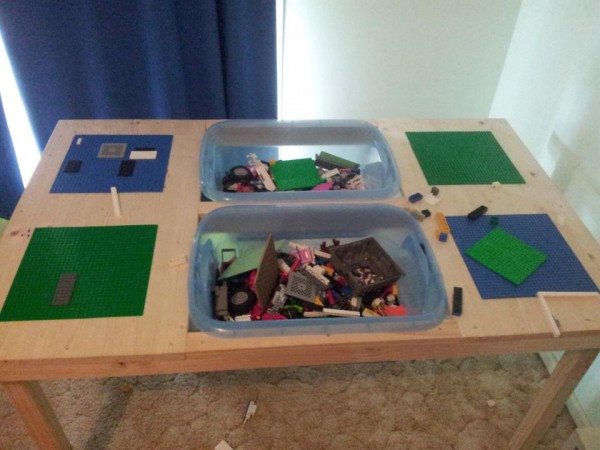 Shared by: Nikki J – Ikea expedit.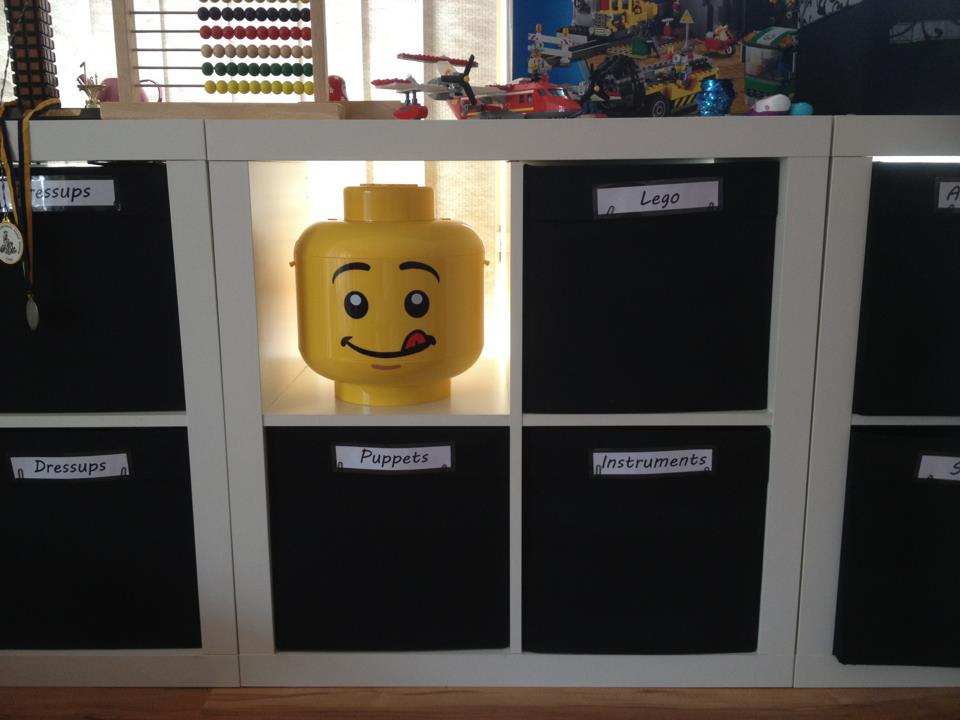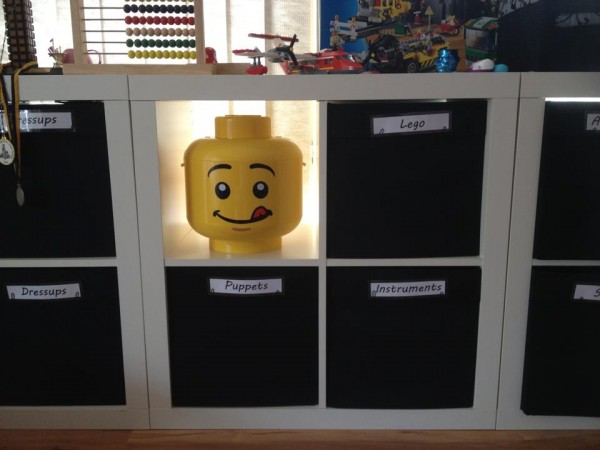 Shared by: Sarah N – This is a very organised nook, again Ikea Trofast system.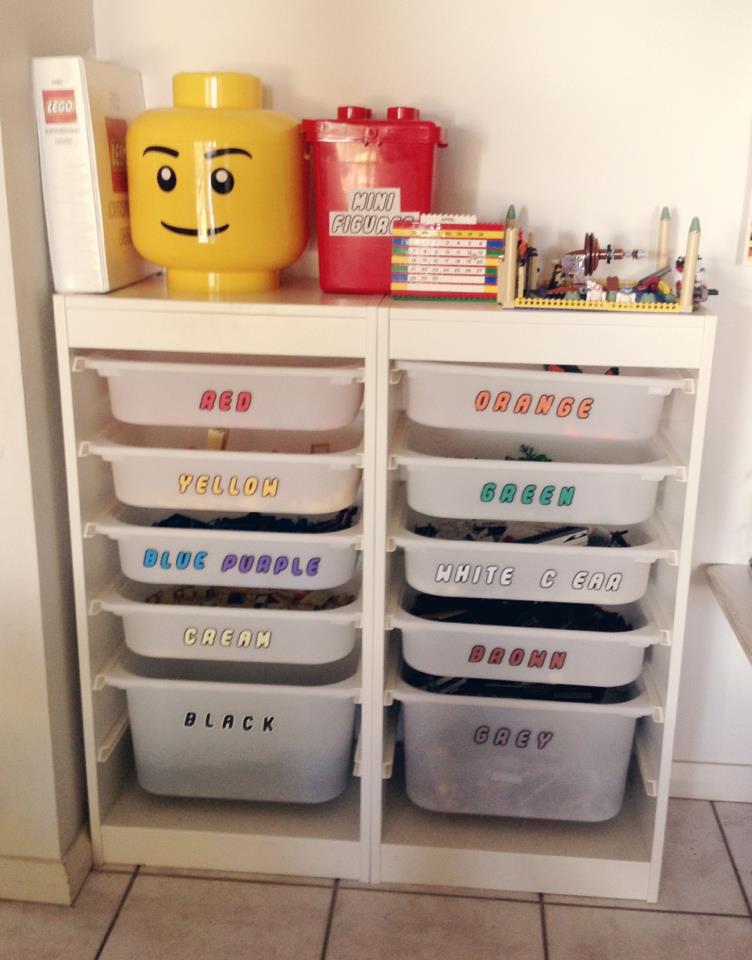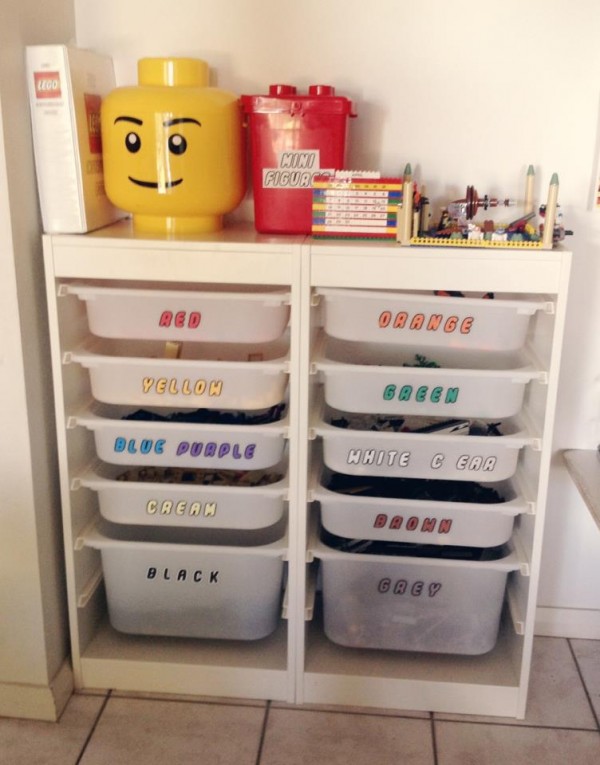 Shared by: Gabrielle B T – The ones that stay intact once built are put on a high shelf. The plastic storage boxes are from Bunnings.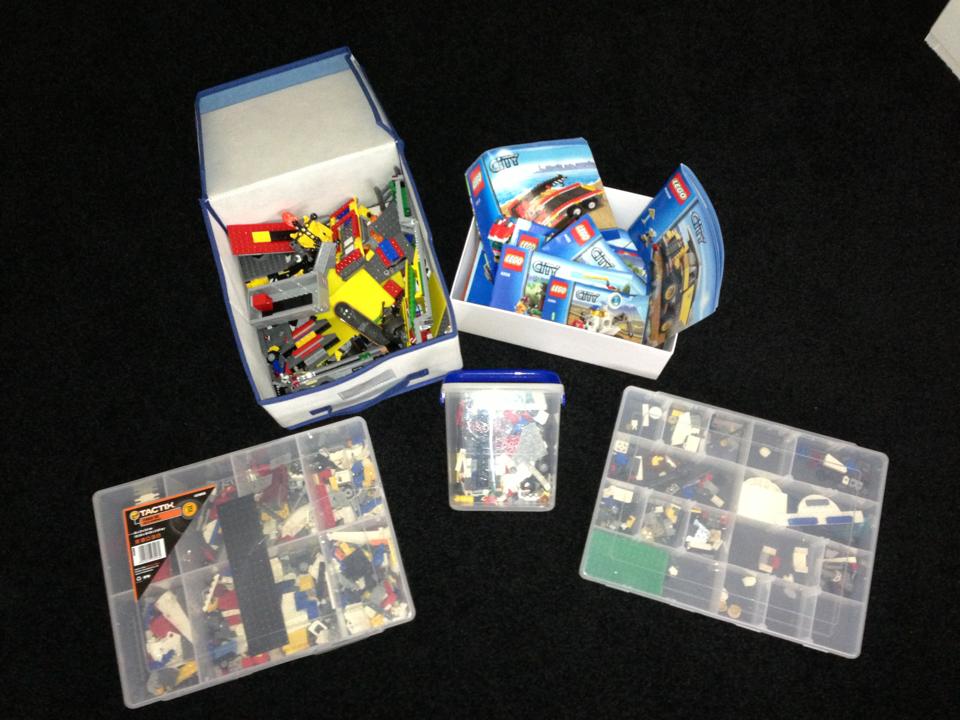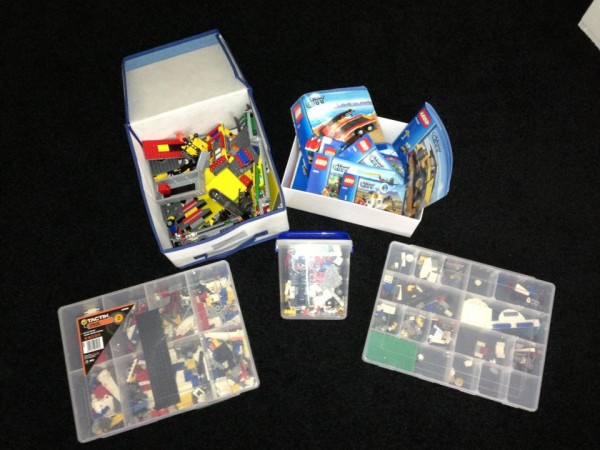 Shared by: Cindy V – Under the bed storage.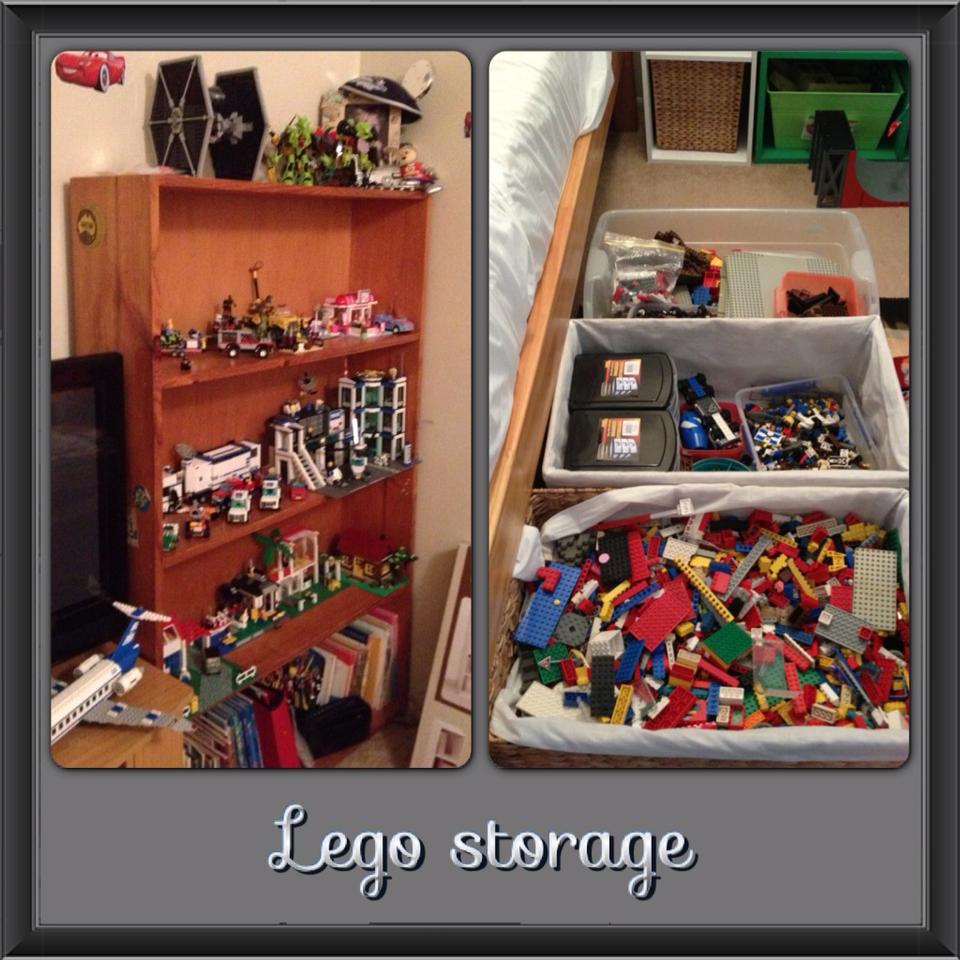 Shared by: Angela H – lego storage bag and play mat.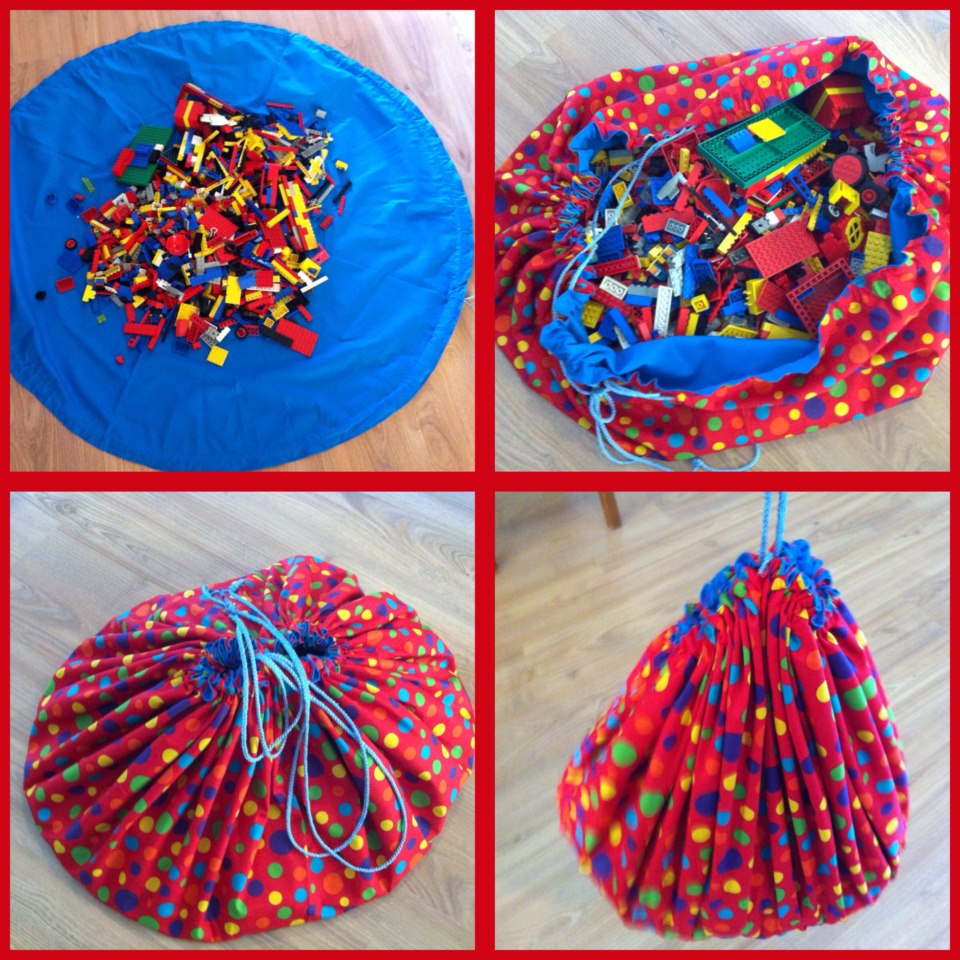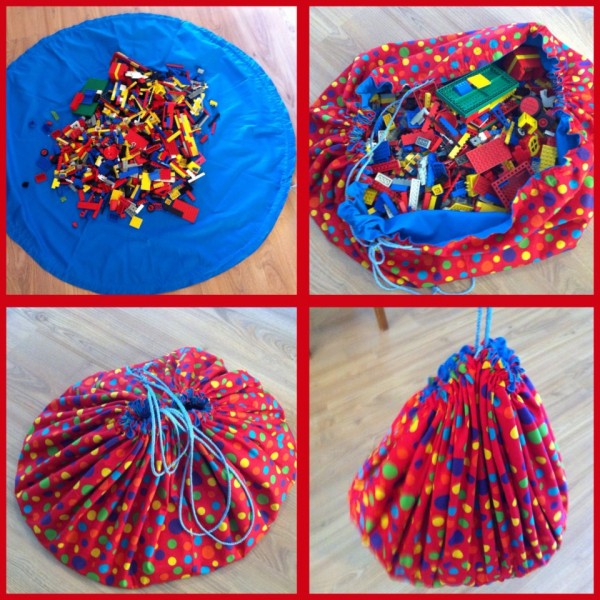 Shared by: Tash L – sistema plastic boxes to store Lego pieces.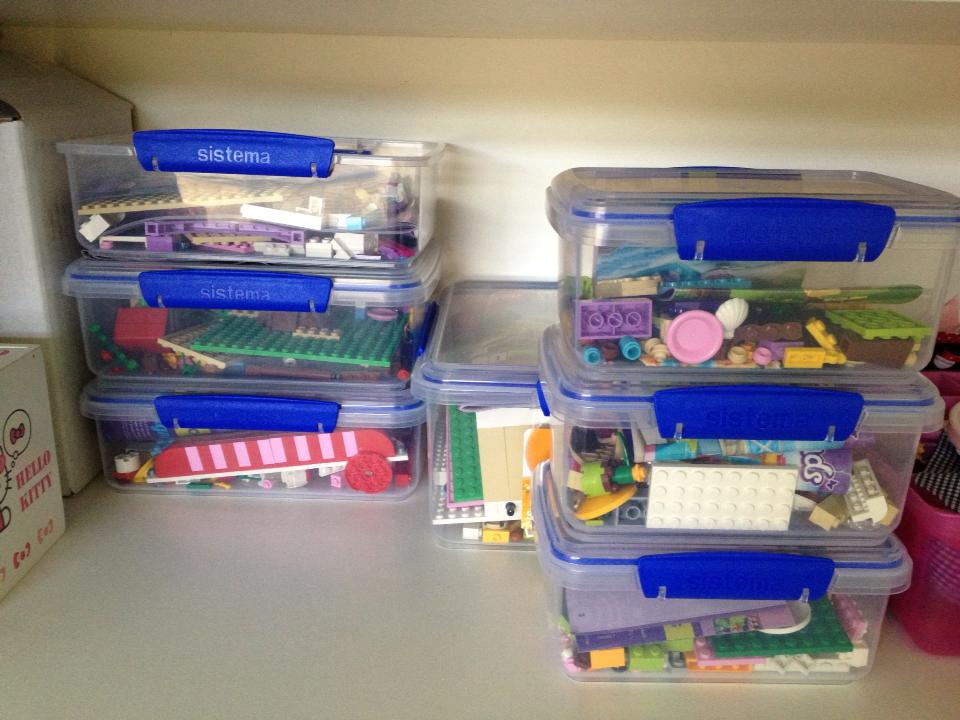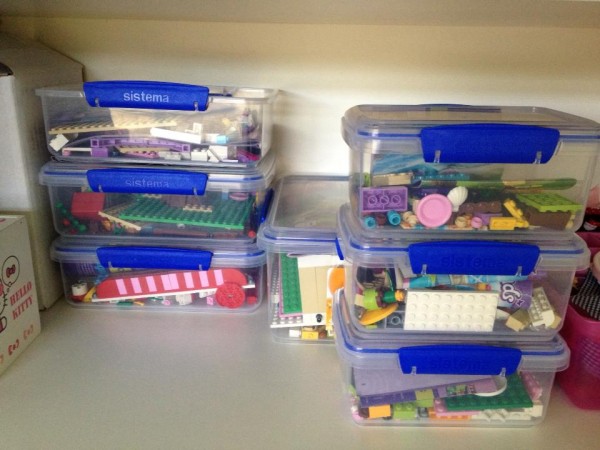 Shared by: Kirrily H – Purpose built Lego area built on top of bunk beds, strong wood supports both adult and child.  If guests come over they remove the wood and add in a mattress.  Pool noodle is placed at the end so no tiny lego pieces fall out.  I think this is a great use of space.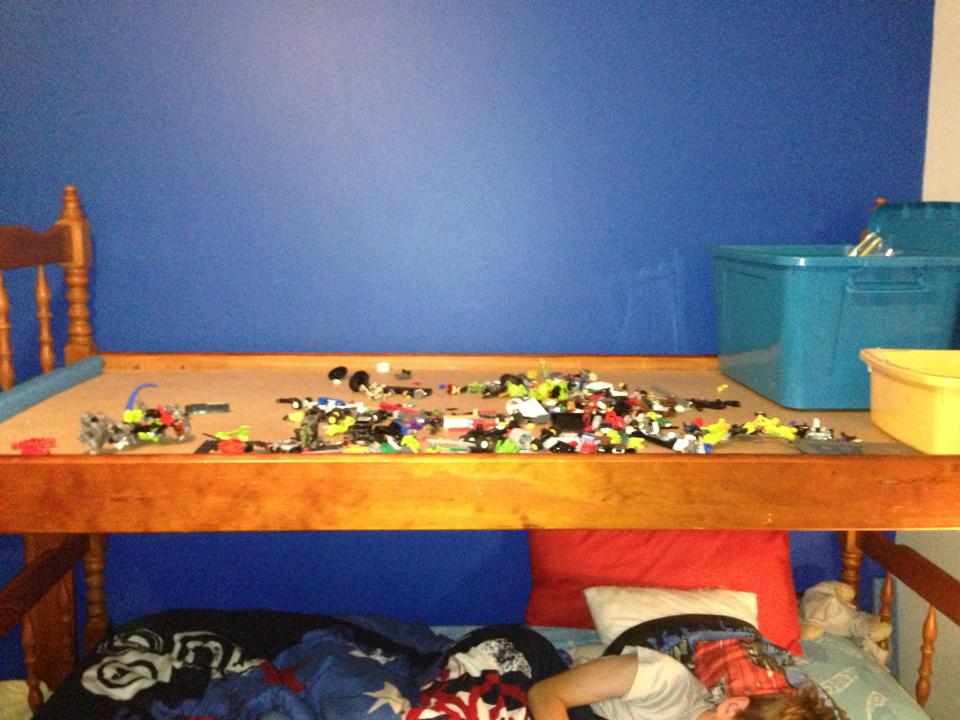 Shared by: Jasmine S – Lego table with storage box. Made by my hubby from a $10 Ikea side table, Trofast storage box and a couple of sliders. Holds a lot.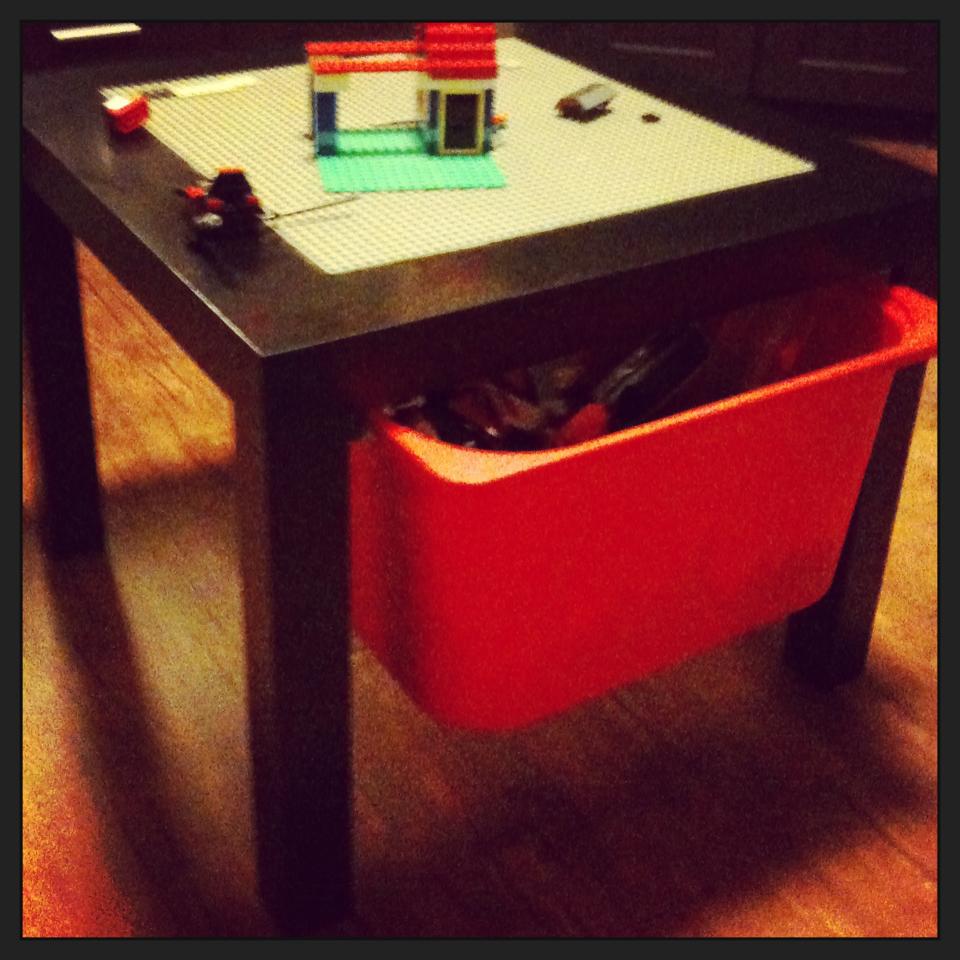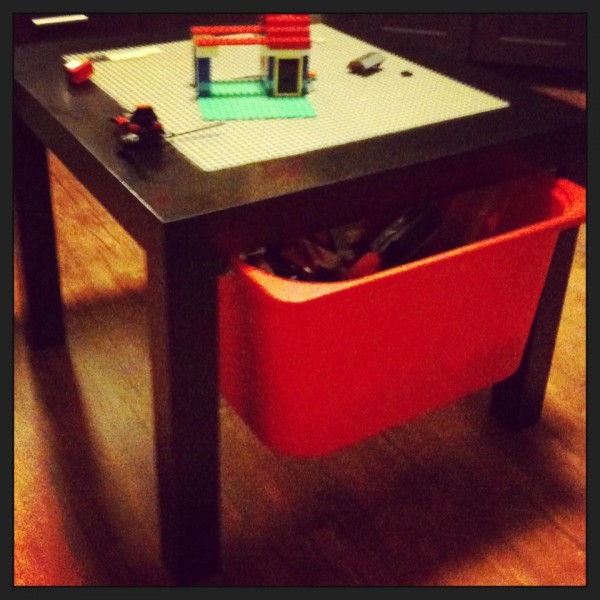 READ MORE: More Lego Storage Ideas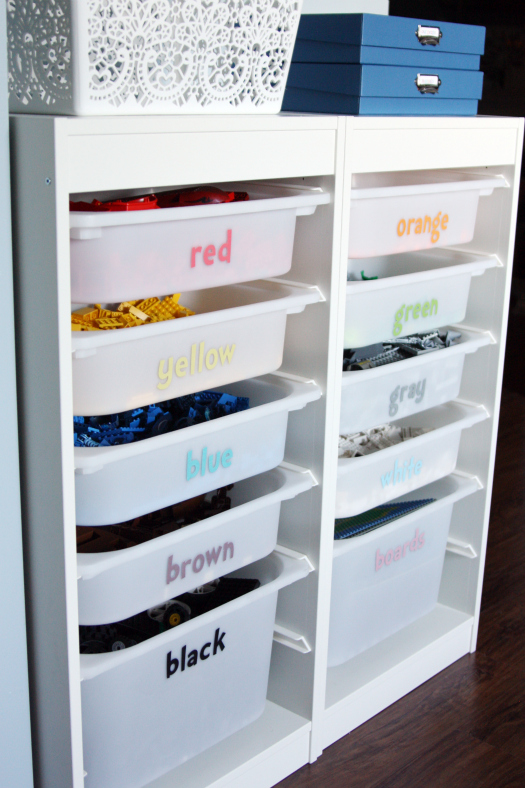 How do you store your child's Lego?
---
Pin this image below to Pinterest!
This post was originally published on 25th August 2017, and has since been updated.