Encourage more off-line play for your children by transforming simple and very affordable toys into imaginative and creative game-changers + PLUS get a free play manual!
This post is sponsored by IKEA
Kids don't play by the rules, and that's the fuel that lights their imaginations on fire! There is no end to the depths of their creative minds – and this is something as parents we should foster. Play allows our children to grow, learn boundaries, have fun, and build social connections in the REAL world (not the virtual). According to new research by IKEA, children should be spending at least three hours a day engaged in offline play*. So in a bid to show you just how easily this can be achieved, I took four boys, shelved the iPads and gaming consoles, and equipped them instead with two very affordable toys (both under $30!). The result was a lot of fun…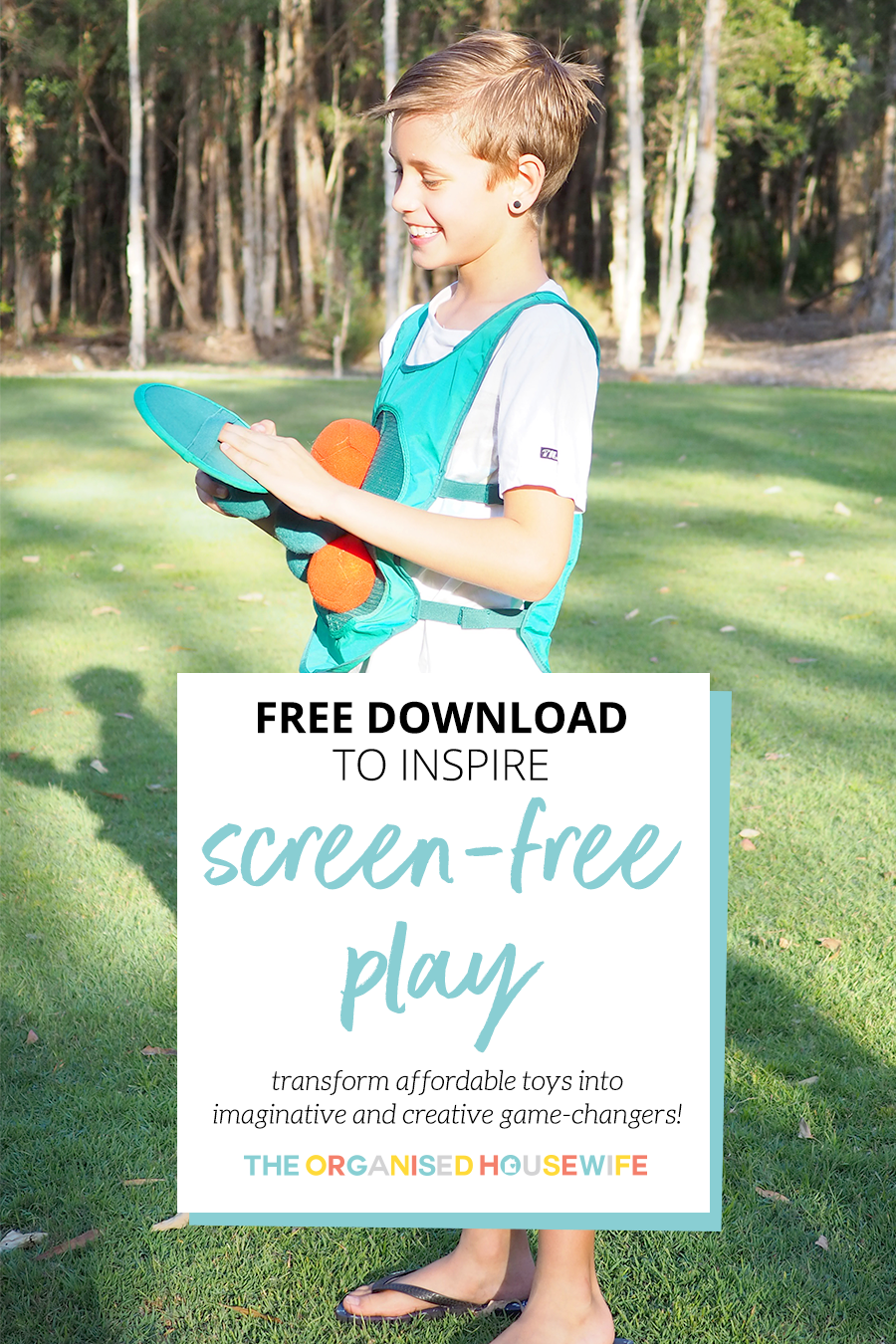 Play is imagination unleashed. It's a world made for children where magic is real and possibilities are endless! As a mother of three now teenage children, I have had the absolute pleasure of watching hundreds – possibly thousands – of creative scenes unravel in this magic world of play. There's one thing though, that I loved most about this: a child's ability to reinvent the most basic of games and toys, where the intended purpose of a toy can easily be thrown out the window and an even better game thought up instead!
The Toys
I equipped the boys with 2 toys that were really affordable – one $15 and the other under $30! – and readily available from any IKEA store…. you've got to love IKEA!  
The first was the LUSTIGT tag game with vest and balls. It included two velcro vests, velcro hand pads, and 10 soft balls (making it suitable for outdoor or indoor play!). Basically it was like the old school Grip Ball, but with softer balls and the addition of an awesome velcro body vest. I got two sets so each boy had a vest, and you wouldn't believe how excited they were to play with these, not to mention the games they came up with!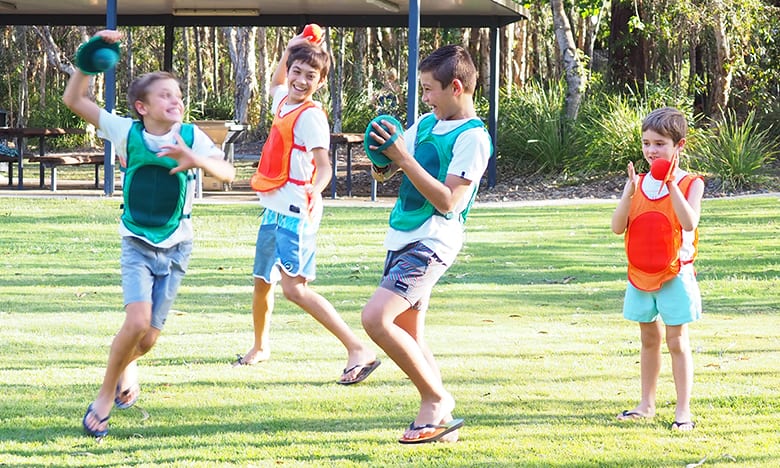 The second toy was the SÖTAST soft toy koala which came with a little baby koala. The very cool thing about this toy is that the eyes are sewn on, which means there are no small parts so it's suitable for kids as young as 18 months. You might think a stuffed toy provides limited play opportunities, but the youngest little guy in our group definitely taught me otherwise – he even thought up a game that got the whole family involved!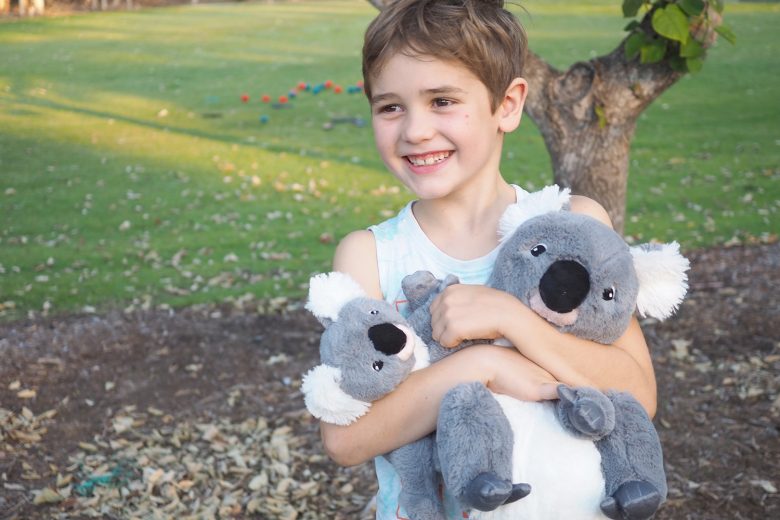 Game 1: Dodgeball
Naturally, the boys were excited to test out the velcro vests first, and quickly replicated a Dodgeball style game. They played this game wearing only the vests (not the hand pads). 
First, they laid all the balls in a line, then 2 opponents stood 2m away on one side, and the other 2 stood 2m away on the other side. They counted down "3, 2, 1, go!" and at the same time all boys ran towards the line of balls. They were allowed to grab one ball, then had to run back to their original line before throwing at their opponents. This continued until all balls were stuck to someone, and the team with the least balls stuck to them won.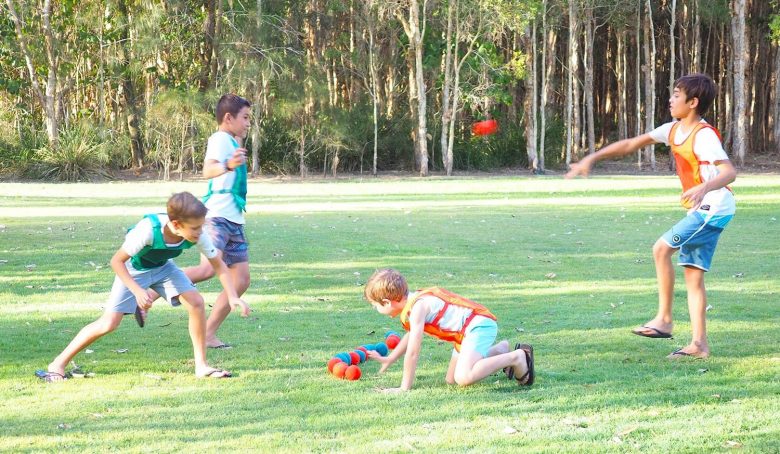 This game looked so amusing, that even the big kids decided to give it a whirl – although we had to use our imagination when getting the vests on the grown ups!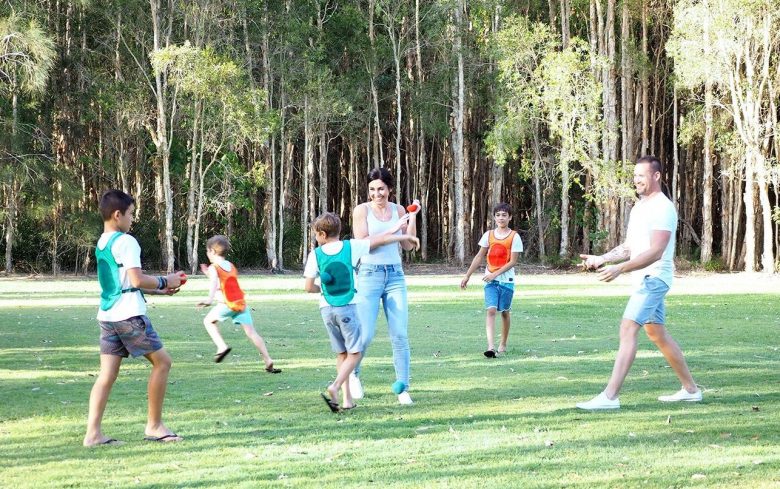 Game 2: Wrestle And Roll
The velcro vests were used again for this game, but in a very peculiar way. The boys put all the balls in a pile, then each child put their vest and velcro hand pad on. Starting from the same line, they have to run to the pile of balls and get as many to stick to them as possible – remembering that they only had one free hands to grab the balls. This meant the boys had to rely on wrestling and rolling over each other to get as many balls on their bodies and pad as they could. It was hilarious! When all balls were on the children, the winner was the one with the most balls stuck to them!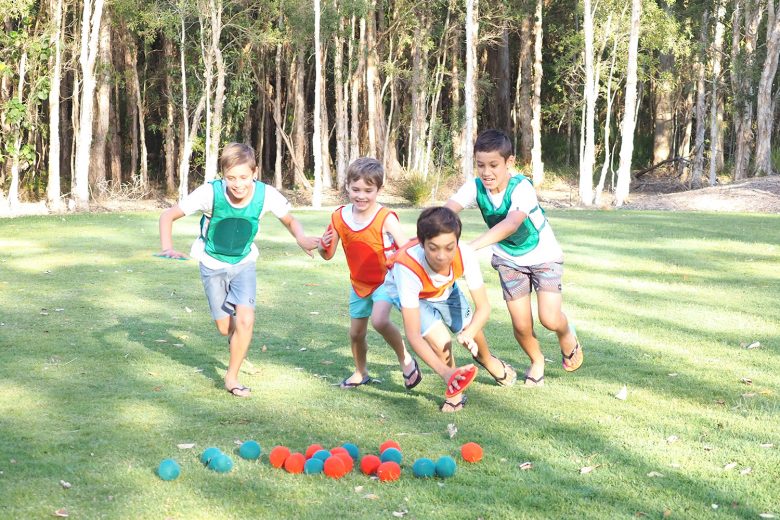 Game 3: Target Practice
The kids were getting tired now (that's always a win for any parent!) so the games became a little more subdued. In this game the boys got one child to wear a vest and two hand pads, with his arms held out to the side (pads facing the other boys). He had to stand still whilst the other three got to throw one ball each at him from a metre away. If their ball stuck to his vest they got 1 point. If the ball stuck to his hand pads that was 2 points. After each boy had thrown one ball, the child in the vest took a step back to make it a bit harder, and the others got another throw. This kept happening until all balls were used. The child with the highest points won, and the child with the lowest points had to wear the vest next game.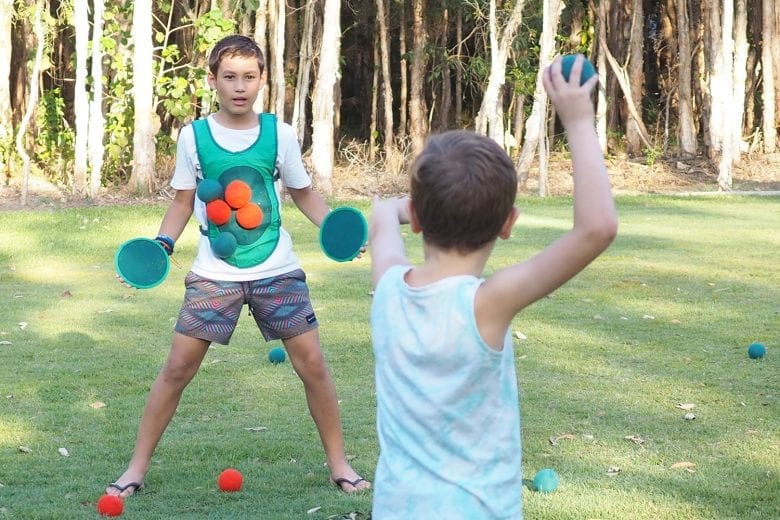 Game 4: Finding Her A Home
By now everyone was ready for a quieter game, and this was where SÖTAST the soft toy koala came into her own. The best thing about having a native Australian animal as a soft toy, was that it sparked lots of questions. What do Koalas eat, where do they live, how long do the babies stay with mum? This inspired us to go for a walk so we could learn more. We looked at Google along the way to find out some of these answers, and then set about searching to find the best home for our koala and her baby. We climbed trees, walked in nature, learnt lots, and had a good giggle too!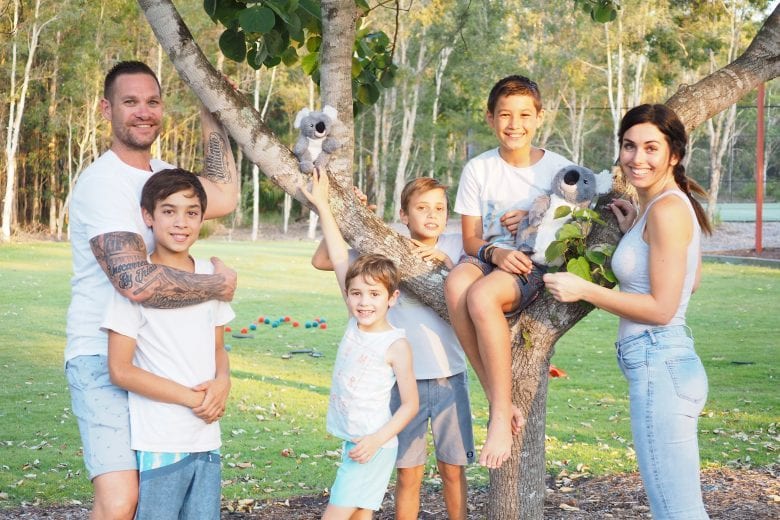 Of course after all this play the boys were ravenous, which painted the perfect opportunity for a teddy bear's picnic in the park. Whilst the older boys weren't overly impressed to be lunching with a soft toy, they did love the delicious muffins!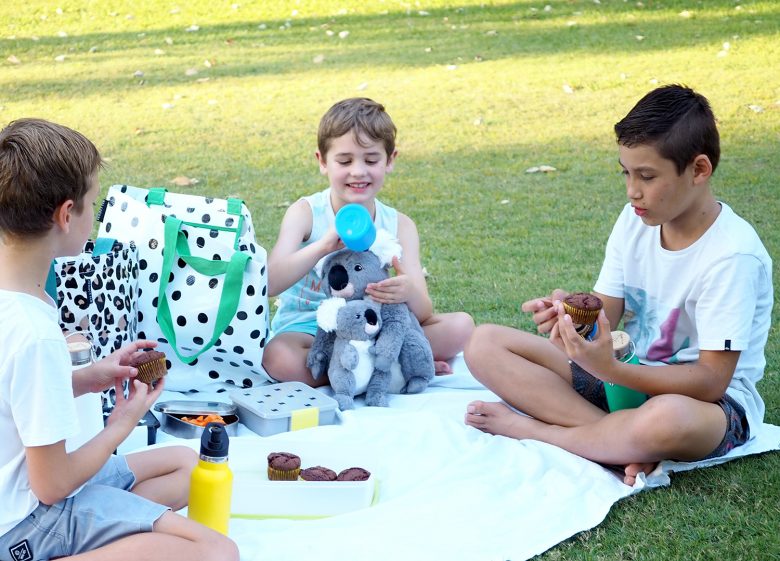 Now It's Your Turn
Here is a Mini Instruction Manuals For Play that features all these super fun games! Simply click to download, print, or save, so that you too can easily inject a little playtime into your children's day.
More Play Ideas
I went into this experiment thinking the boys would enjoy it and use their imaginations, but I honestly didn't anticipate the level of enthusiasm and joy that it actually brought. It was so nice to see siblings playing together so well, because we know at times they don't always get along.  
If you loved these play ideas and want even more, check out IKEA's inspirations worksheets that have been set up to help parents build even more play into the everyday – visit their website here.
WHAT GAMES CAN YOUR CHILDREN THINK UP FOR THESE TOYS?
This post is run in accordance with my disclosure policy.
*as recommended by leading child development expert, Brendon Hyndman.