This post is sponsored by Avery
Spring is such a beautiful time of year. Now winters over we can open the windows, wipe away the lingering dust and give the home a general spring clean, declutter and get the home into order. As someone who appreciates organisation and tidiness, one tool that keeps everything in order in my home is using labels on my storage, baskets and/or tubs. I use labels throughout my entire house, you can find them in my bathroom, kitchen, garage, laundry and even in my fridge… wherever you look really. I find if I have it labelled my family have no excuse to not put something back where it belongs, makes things more organised and gives everything a place to live.
I've been using Avery labels for many years, in the office to print address labels, labelling kids back to school supplies such as stationery, lunch boxes, school uniforms etc. Avery have created a range of labels beyond the standard address style labels you can feed through your printer, they also have a range for home organisation & storage, kitchen, pantry, garage and outdoor with a variety being freezer-safe, durable, self-laminating, cord tags, adhesive pockets, dry erase, chalkboard and multi-use labels. All with various designs to suit all tastes and styles within your home.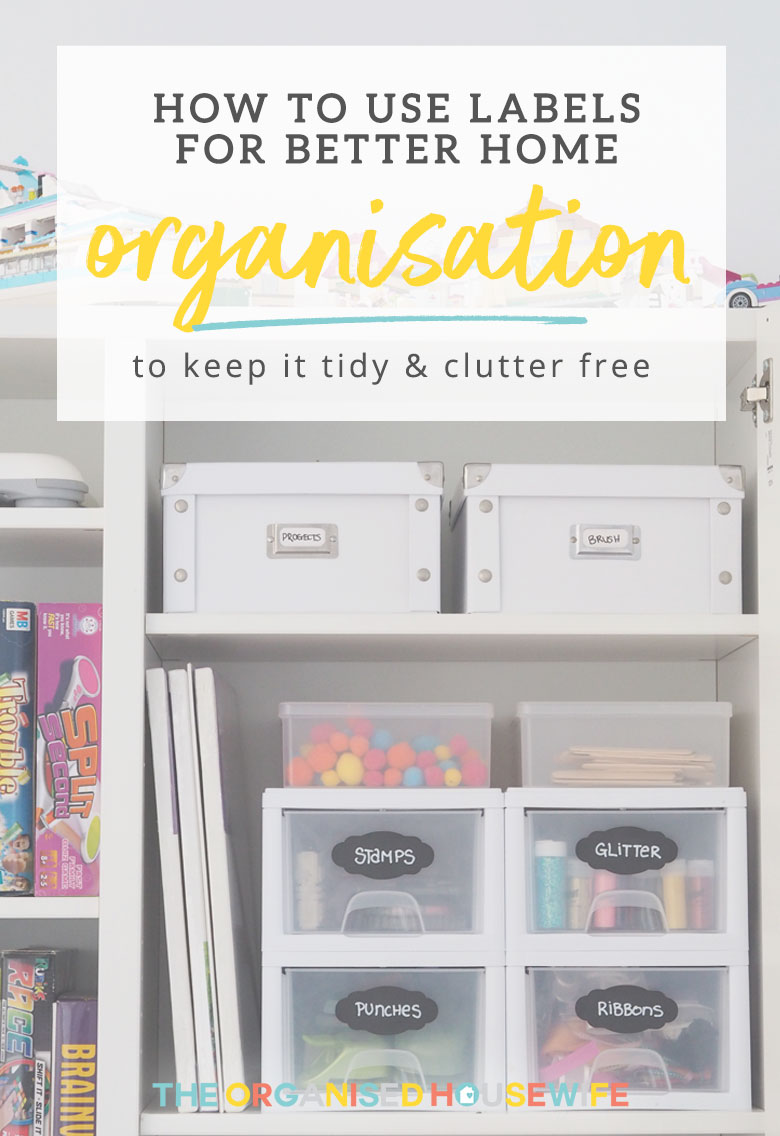 There are many benefits of labelling items around your home.
Teaches kids that things in the home have a certain place to live
Makes things easier to find and identify
Saves you time looking for things
Can decorate items and objects around your home
Makes it easy to distinguish between two of the same items
Looks nice and organised!
Below I have shared some of the things I label around my home using the Avery range. As you can handwrite on all these labels it is a quick and easy solution for instant organised gratification.
THE PANTRY
Without a doubt, this is one area that needs labelling.  Do you have an endless battle keeping the pantry tidy? Help make it easy to find something by grouping like items together and labelling the container/basket, from baking goods to pastas to oils and spreads.  It will not only make it easier for the family to find what they want, but also to return it back to the right spot to help keep the pantry tidy!
LABELS USED: Avery Rectangle Kitchen and Pantry Labels AV39029 – these removable labels are dishwasher, freezer and microwave safe, you can write directly only the labels with a pen or sharpie.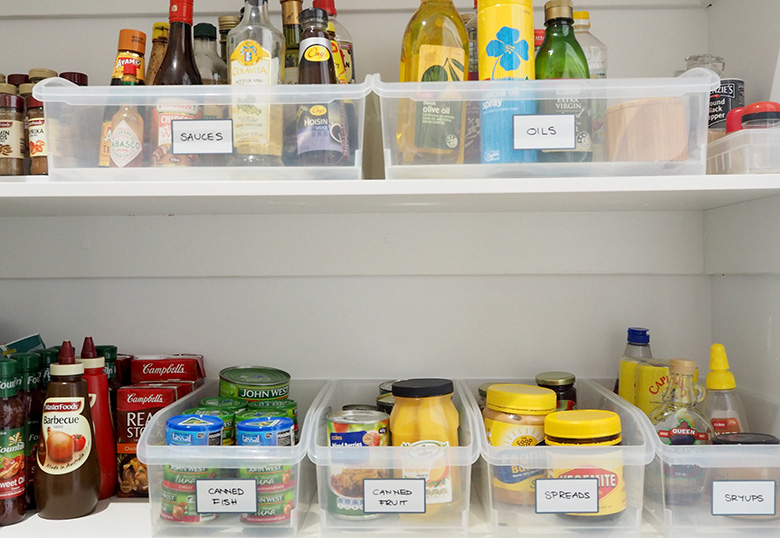 pull out storage: kmart
TEA AND COFFEE
I keep my tea bags and coffee sachets in modular canisters as they look tidier and easier to stack. However, I keep my Moccona Coffee in the jar it comes in as they are fabulous jars and keep the coffee fresh.  Albeit, Milo comes in a tin my kids often don't put the lid on properly and it goes hard, plus it looks nice and tidy in the canister with the tea and coffee. Although it's easy to see the contents inside, I label the canisters as it's helpful when they are empty to know what I need to add to my shopping list to restock.
LABELS USED: Avery Kraft Brown Scallop Labels AV39013 – made from 100% recycled materials these removable labels are environmentally friendly and stick to plastic, glass, metal and more without leaving a sticky residue behind.
canisters: howards storage world
UNDER THE KITCHEN SINK
Under the kitchen sink can easily become one of the messiest cupboards. A few years ago I cleared the clutter from under my kitchen sink, it really is an easy place to store lots of 'stuff'. Now I only keep what I use in this space, I find it much easier to keep tidy and clean. I label everything, to help the rest of the family easily know where to find items.
LABELS USED: Avery Square Labels AV39028 – I like that these labels have removable adhesive so you can take the labels off and change them when you need.  These labels are also dishwasher, freezer and microwave safe so you can use them on food containers that you may pop into the freezer to easily identify what you have cooked. Avery Rectangle Labels AV39030 – like the square labels these can be removed cleanly and are also moisture resistant and can withstand extreme temperature changes.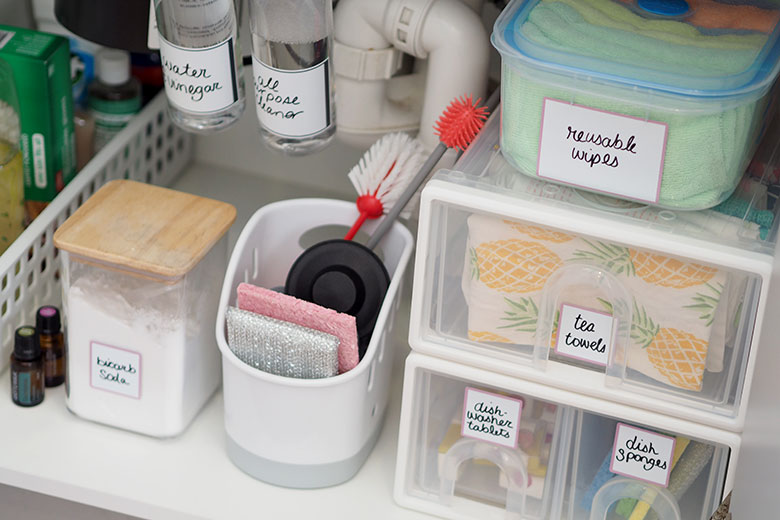 details of products used here.
UNDER THE BATHROOM SINK
The contents under my kids bathroom sink has changed over the years, from bath toys to facewash and razors. I use this plastic drawer unit to hold spare items such as razor heads, toothbrushes and floss, again labelling it so it's easy for the kids to locate what they need.
LABELS USED: Avery Butterfly Square Labels AV39012 – These labels which include a cute little decorating butterfly design are a stylish label for boxes, tubs, drawers etc. I cut the tops off my labels to fit nicely into the centres of these drawers.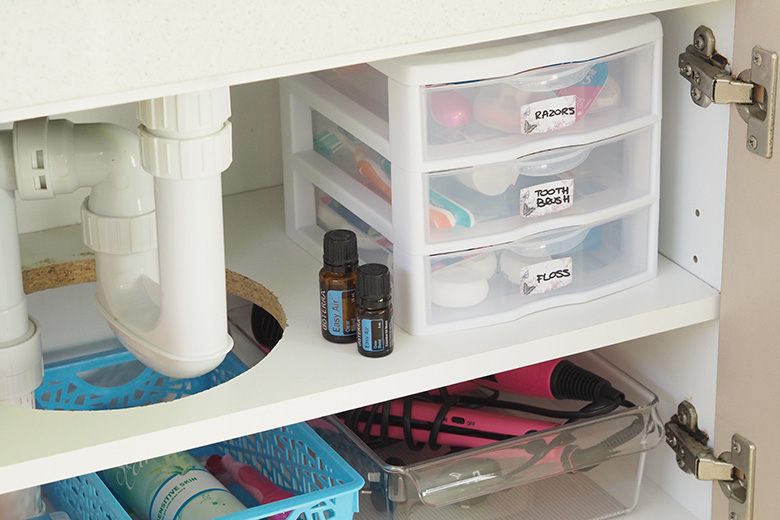 3 drawer unit: howards storage world, blue basket: dollar store, clear drawer: howards storage world
DIY SHOE SPRAY
Everyone gets stinky shoes at some point. My homemade shoe deodorising spray includes only 2 ingredients and is sure to fight off the smelly germs found in shoes and help prevent the odour from coming back!.
LABELS USED: Blackboard Style Labels, available in my store.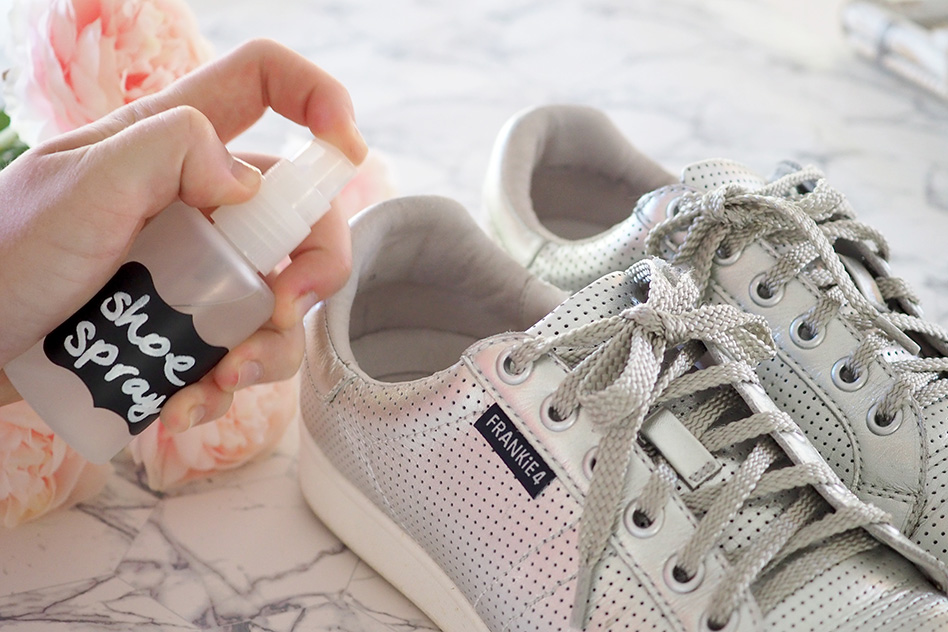 DIY HOMEMADE CLEANERS
I make my own Homemade Cleaners, not only are they budget friendly but they help to reduce chemicals within the home.  It's important to label all cleaning supplies to identify the contents.
LABELS USED: Avery Outdoor Self Laminating Rectangle Labels AV39034 – These are strong durable self-laminating labels that are UV, tear and water-resistant which makes them perfect for use on spray bottles. If liquid dribbles onto the label you don't have to worry about the ink running or label falling off.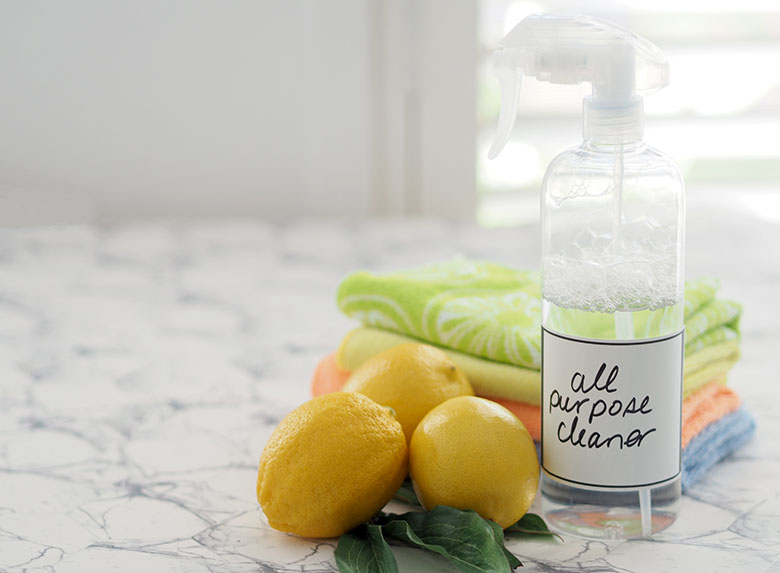 ARTS & CRAFT SUPPLIES
This would have to be one of the cupboards that I enjoy being organised and labelled. The kids access this cupboard all the time and having it labelled means that it should stay tidy!
LABELS USED: Avery Scallop Chalkboard Labels AV39101 – These are erasable labels when used with chalk or liquid chalk. They are a great temporary label to easily change if the storage is no longer relevant for that item.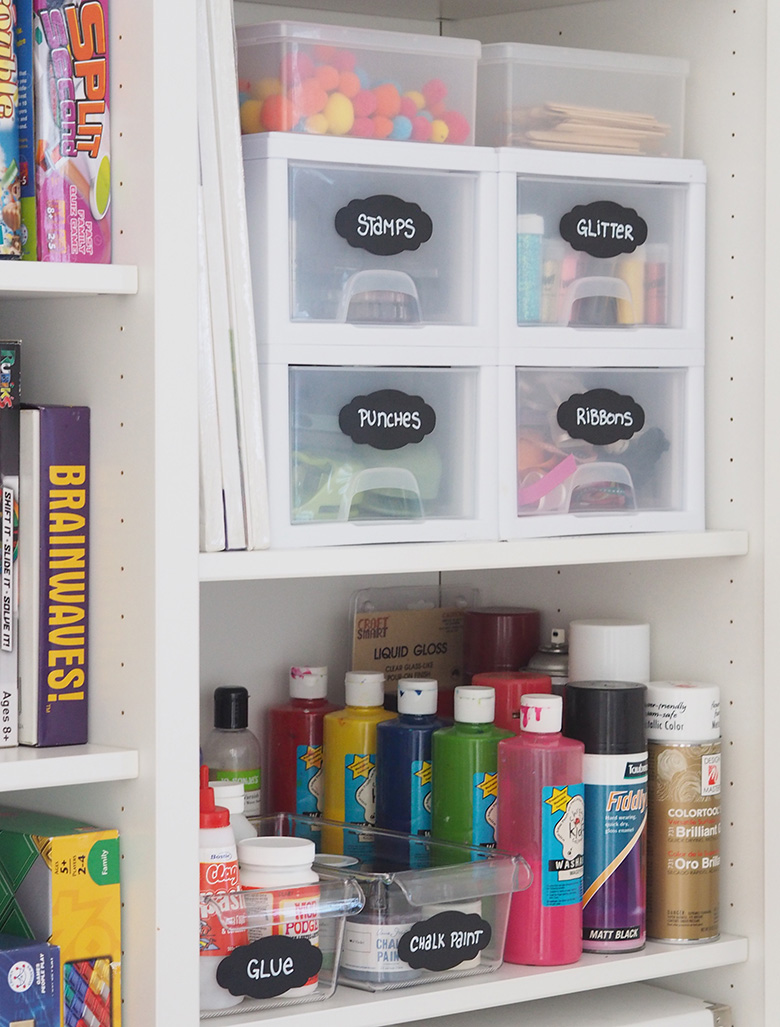 drawers and trays: Howards Storage World
THE FRIDGE
So I was told recently that I may be a little OCD as I also label everything in my fridge and freezer.  I wouldn't use that exact phrase OCD, I am just organised and like to have a place for everything.  In my fridge I have used the Avery Kitchen and Pantry Labels that can go through the printer in my fridge. I wash and wipe over these plastic containers often and the labels are still just as good as the day I printed them!
LABELS USED: Avery Kitchen Labels Assorted White 40 Pack – print your own design with many templates to choose from!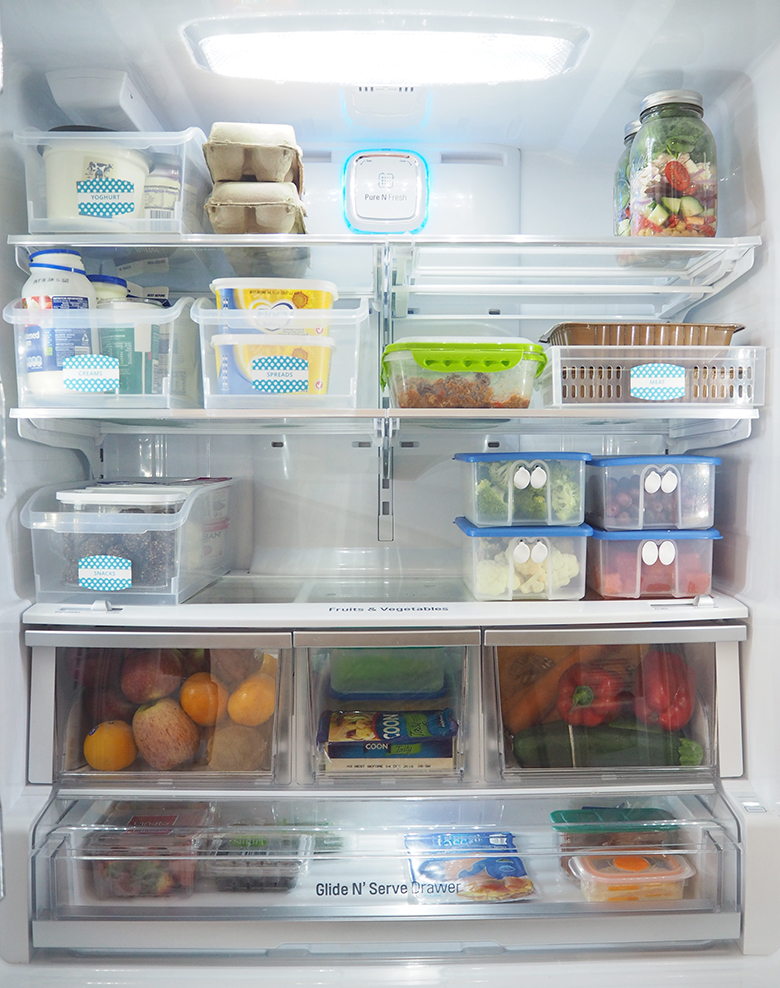 details of products used here.
PET FOOD
Now that we have a cat and dog, I need to label the pet food to make sure we feed them the right food!
LABELS USED: Avery Rectangle Chalkboard Labels AV39102 – these chalkboard labels are also ideal for temporary storage containers, the can be easily removed if needed and when used with the chalk or liquid chalk you can continually re-write on them, love that you can repurpose the labels.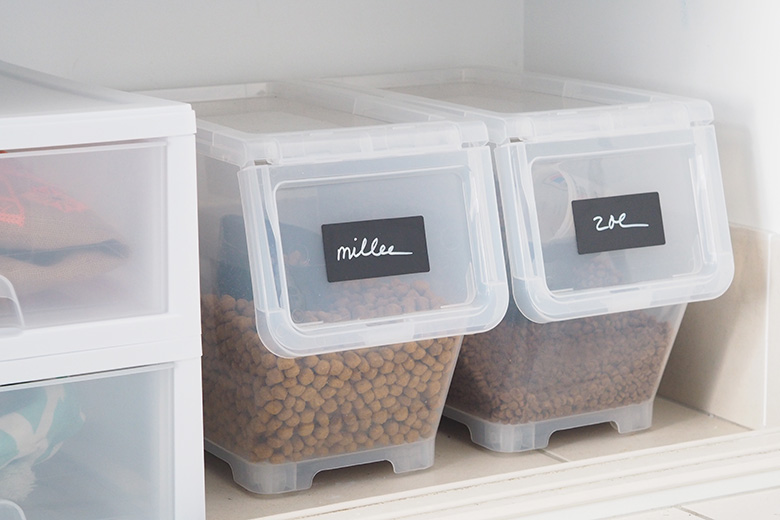 left: howards storage world, right: kmart
---

WIN 1 of 2 AVERY LABEL PACKS + $100 OFFICEWORKS VOUCHER!
This giveaway is now closed! Thank you to all who entered. Congratulations to Lee and Veronica. You will both receive a $100 Officeworks voucher and Avery Label Pack consisting of the products from the entire home organisation A6 and A4 range and kids labels.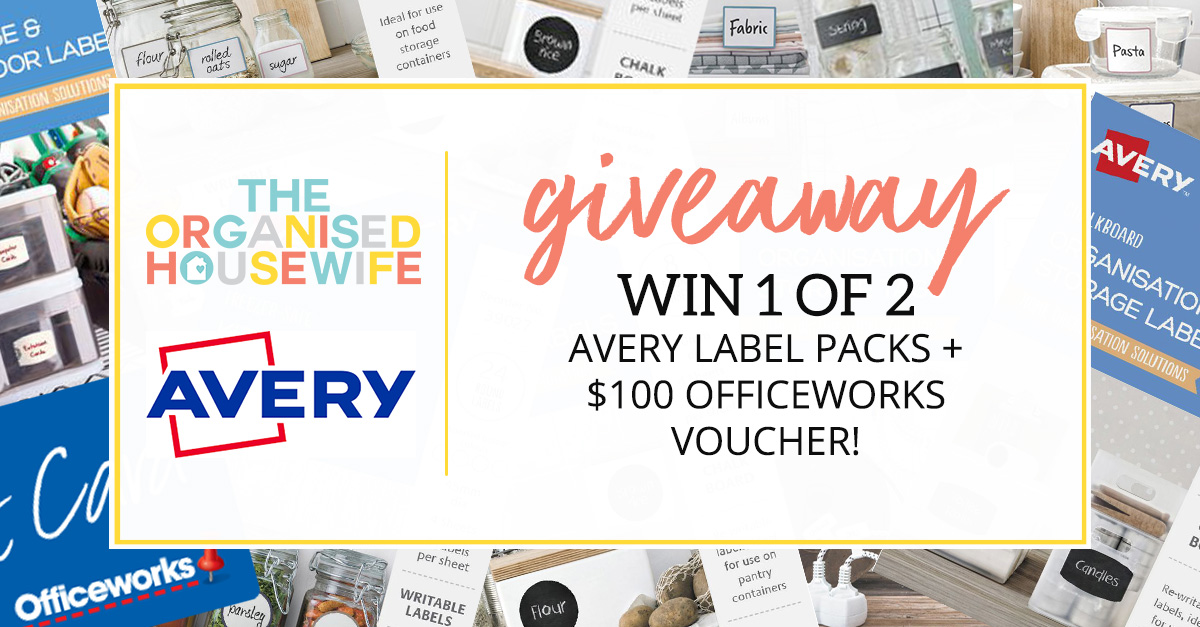 HOW TO ENTER:
Tell me in the comments below 'What is the one item/area in your home that needs labelling and why?'
---
GIVEAWAY TERMS AND CONDITIONS – This giveaway run in accordance with my disclosure policy, please read the terms and conditions below:

1. Entries must be made on The Organised Housewife blog, comments on social media are invalid.  2. Entries close 11.59pm AEST Monday 25th September 2017. 3. One entry per household and open to Australian residents only.  4. This giveaway is a game of skill. The judge's decision is final and no correspondence will be entered.  5. Total prize pool is valued at $400. 2 winners will each receive an Avery Label Pack and $100 Officeworks voucher. 6. Winners will be contacted by email, please ensure you leave your email address.  7. If I have not received a reply from the winner within 7 days the prize will be forfeited and awarded to the entry judged to be the next best.  8.  The Organised Housewife will take no responsibility for any delay, loss or damage to prizes sent to winners.