Make this DIY Natural Mattress Spray. This homemade mattress spray absorbs odours, leaves your mattress smelling fresh and clean, and helps to deter dust mites.
Two of my kids have dust mite allergies. They both suffer from it differently; my son's symptom is an itchy nose, but my daughter gets itchy eyes. It's important I keep their linens and mattress clean and take some preventive measures to eliminate dust mites. It's not uncommon to find dust mites in the cleanest of homes and surprisingly they don't just hide in dust. I have been making and using this natural mattress spray for quite a while to help deter dust mites. It's easy to make and only uses a few ingredients.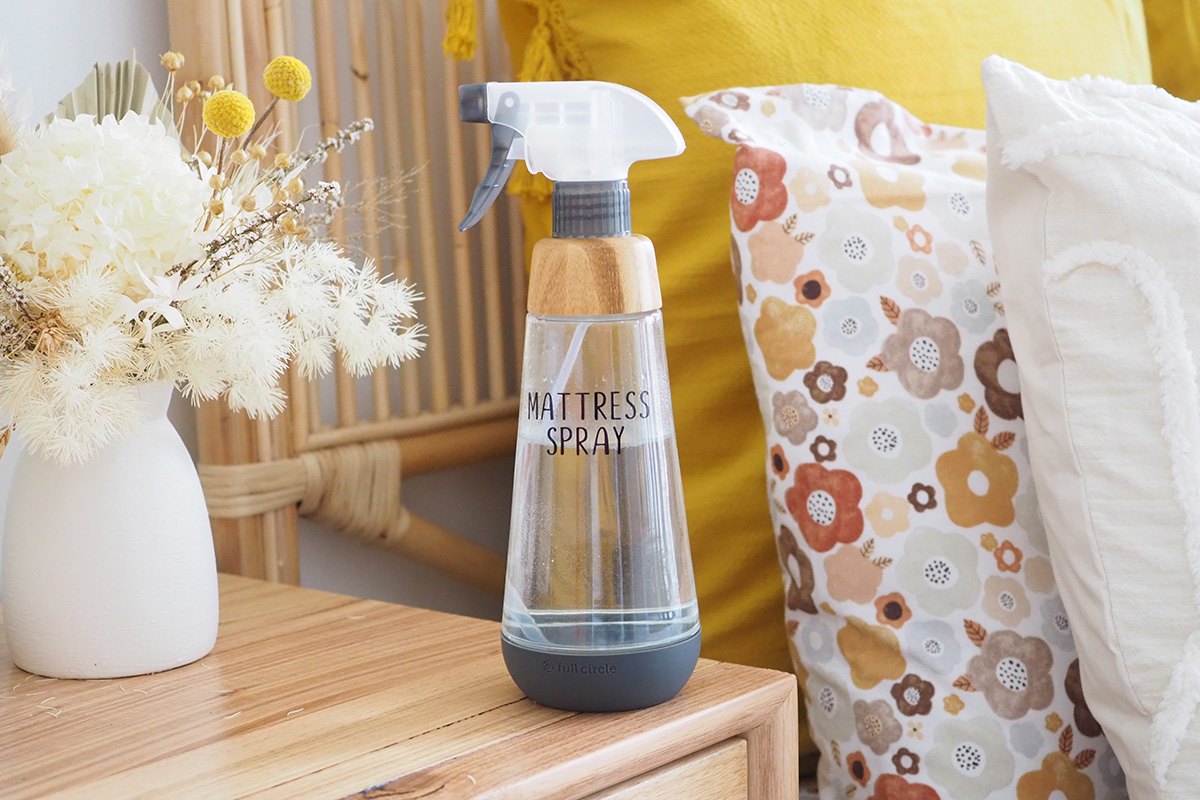 Dust mites are microscopic, virtually invisible insects. They live on animal and human skin scales and thrive in warm temperatures and high humidity. Their droppings contain a protein-like substance that is known to trigger asthma, eczema and other allergies.  Scary fact ~ there can be up to 10,000 of these little insects per square meter in an average home (I shudder at the thought).
Dust mites like to hide in places like:
Soft teddies
Doonas/Quilts
Sheets
Sheepskin/ woollen underlays
Mattresses
Pillows
Curtains
Carpet
Floor rugs
A little gross right!!  So this is why it's important that I keep all their mattresses fresh and clean. I love my essential oils and making my own recipes, my natural DIY Mattress Spray is super easy.
I made your mattress spray yesterday, as I have a toddler and preschooler who have had accidents while toilet training and OMG I was amazed!! It absorbed all the odour and left their mattresses smelling lovely! Thank you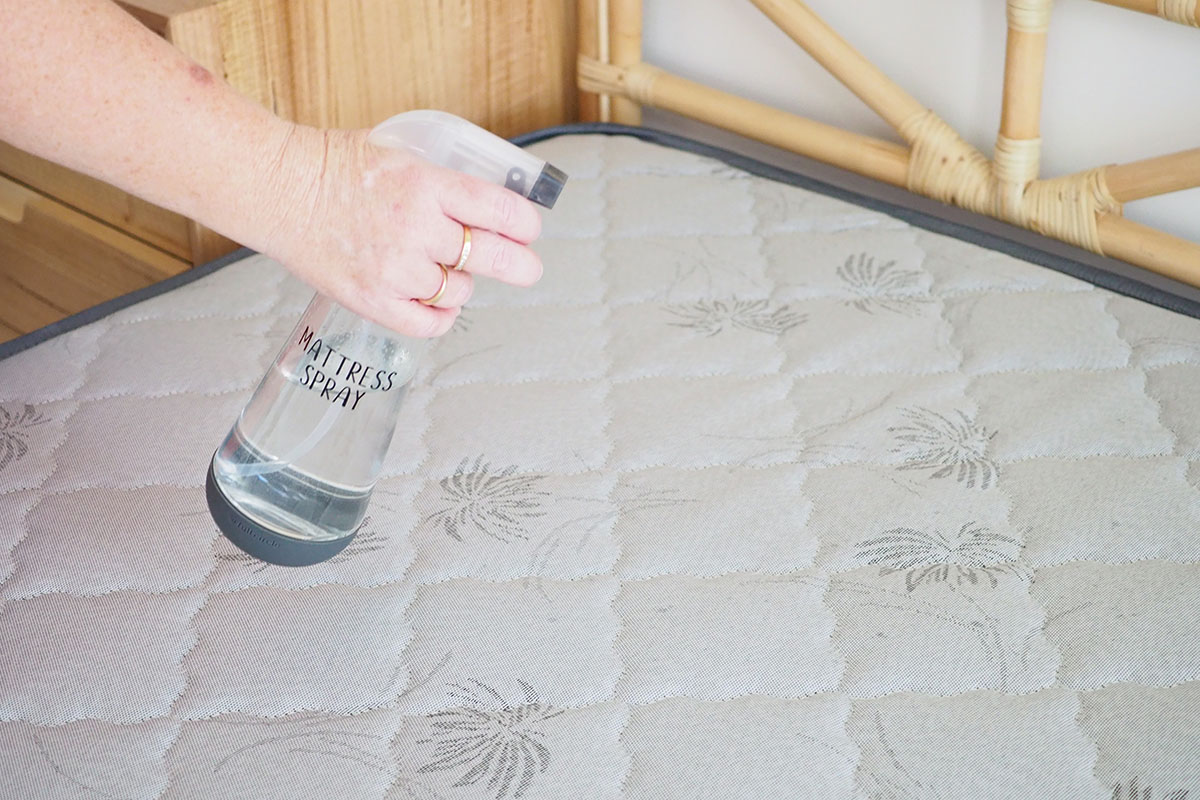 To naturally deter dust mites from mattresses, to reduce dust mites and keep the mattress fresh.
Remove all linens from the bed and wash. I add a few drops of Lemon Eucalyptus Essential Oil to the wash.
If possible, open the windows in the room to let in the fresh air.
While the linens are being washed, spray the DIY mattress spray onto the bed. This will absorb odours, help deter dust mites and leave the mattress smelling fresh.
Leave the mattress as long as you can to absorb the spray and air dry.  I like to leave mine for a few hours.
Vacuum the top and sides of the mattress to remove dust, dirt, dust mites, dead skin cells, hair etc.
The ingredients I use in my Natural DIY Mattress Spray
This is my natural DIY Mattress Spray; so easy to put together and being that I love essential oils I have everything to make this recipe here at home.  The essential oils I use are common oils I use frequently, more details below.  I love this recipe as it uses all natural ingredients, and please don't be deterred by the vinegar, the smell will disappear very quickly.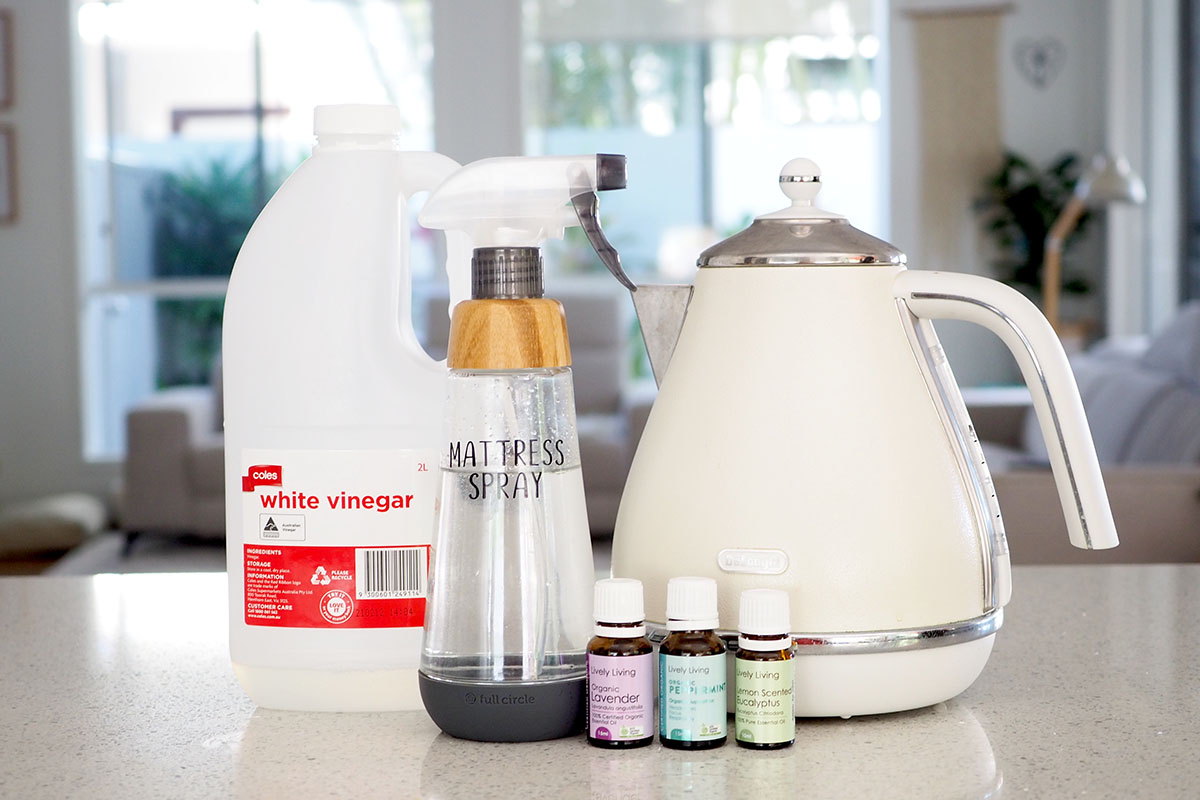 SPRAY BOTTLE – I have glass spray bottles available here.
VINEGAR – mild natural disinfectant and helps deodorise fabrics.
LEMON EUCALYPTUS ESSENTIAL OIL – has purifying properties that can be beneficial for the skin and for cleansing surfaces and the air. Available to purchase here.
LAVENDER ESSENTIAL OIL – is well known for its natural antibacterial properties and I also like to use it in the mattress spray to promote peaceful sleep. Available to purchase here.
PEPPERMINT ESSENTIAL OIL – repels bugs naturally. Available to purchase here.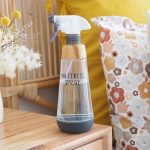 YOU WILL NEED
500ml spray bottle (approx doesn't need to be exact ml)

1 cup cooled boiled water

1 cup vinegar

8 drops lemon eucalyptus essential oil

8 drops lavender essential oil

8 drops peppermint essential oil
Instructions
Pour water and vinegar into spray bottle.
Add essential oils.
Shake bottle to combine.
Spray Natural DIY Mattress Spray direct onto the mattress and allow to sit for a few hours.
Notes
Remember to shake the bottle before each use.
How often do you clean your mattress?
DIY FRONT LOADER WASHING MACHINE CLEANER
Make this DIY Front Loader Washing Machine Spray Cleaner. Help clean and prevent soap scum, mould and bacteria in your front loader washing machine, with this spray cleaner that you can make yourself at home from natural non-toxic ingredients.  Continue Reading