Follow along in the weekly cleaning series where I give you a task along with steps on how to clean an area/item in your home.  Most of these tasks will be easy, from light switches to toys, towels to stinky shoes, cleaning many of the forgotten areas or things in your home.  View previous cleaning tasks here.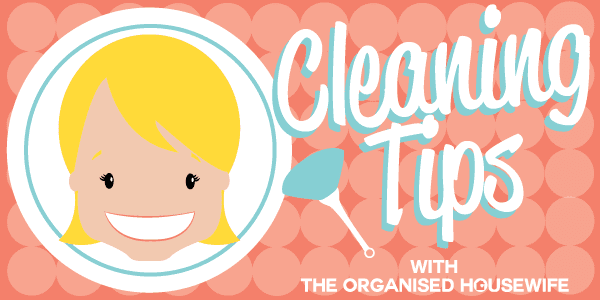 Set yourself up with a cleaning kit to help you through the challenge, you will find what I keep in my cleaning kit here and use these cleaning checklists to help you remember regular cleaning tasks and create a routine to suit the time you have available.
This weeks cleaning task:  
How to clean walls
With a mixture of children and pets the walls in the home can get quite dirty and dusty.  Similar to last weeks task (cleaning the windows) I don't regularly clean the walls.  If I see it looking dirty I will then grab my 'wall cleaning equipment' and give the wall a wipe down.  However this is something you could add into a fortnightly/monthly routine cleaning a different wall each time.
I've shared below my tips on how to clean walls along with some frugal cleaning recipe ideas.
Wall Cleaner
Diluted sugar soap in a spray bottle (1/2 sugar soap and 1/2 water); or
Natural Wall Cleaner Recipe – 1L water, 1/4 cup vinegar or 3 parts water to 1 part vinegar
At the moment I use sugar soap as I purchased a big bottle years ago and I'm still using that same bottle, I find it works well.  However, I have also tried the water and vinegar solution which works just as good, and of course would be a budget friendly option.
It's also important to never use too much soap on the walls as the residue is hard to remove and will attract dirt and dust.
My very clever wall cleaning device
An old white sock, that's it, nothing very fancy at all!  Spray sugar soap onto walls with one hand and wipe over with a sock on the other hand.  This quickly and easily picks up all dirt on the walls.  I find it easier to glide the hand flat over the wall.  Alternatively you can use a cloth.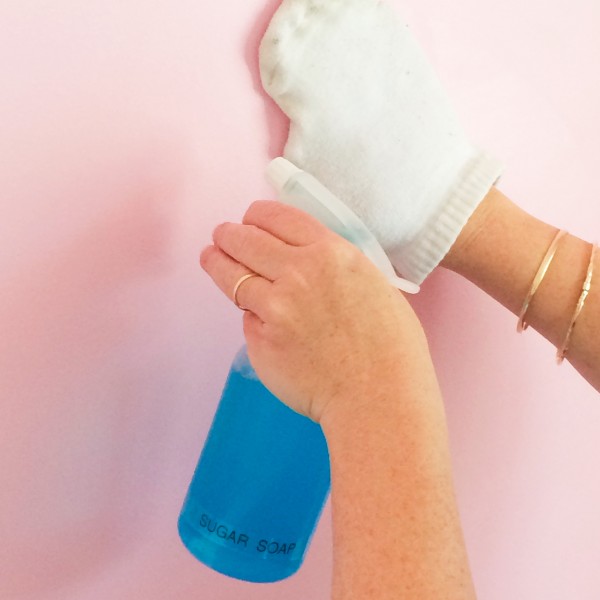 Spray the cleaner at the top of the wall and work your way from side to side down the wall, catching all drips as you go.
Removing sticky residue from wall
For any sticky marks you find on the wall simply use tea tree oil and a textured sponge/cloth (I'm using an ENJO fruit and veg cloth), the rough texture helps to pick up the glue.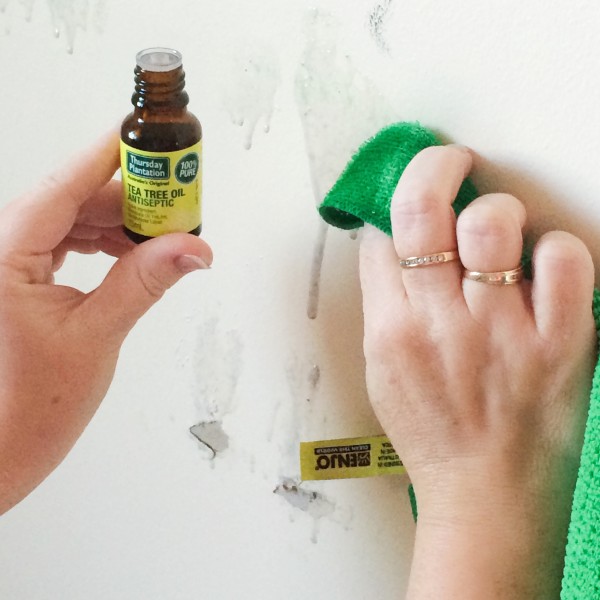 Removing grease from walls
The acidic properties in lemon juice will assist in cutting through grease and grime on walls.  Add a good splash of lemon juice to your wall cleaning solution.
Stubborn Marks
Wipe over stubborn marks on walls such as ink, pen and shoe scuffs with the following solutions:
Baking soda scrub recipe – 1/4 cup baking soda and 1 tablespoon water. Mix together to make a paste.
Gumption is used for hard water stains around the bathroom sink and tub, stubborn marks on the walls, cleaning the ceramic stovetop, pots and pans.
Using a cloth dab gumption or baking soda scrub onto the dirt area, leave for a few minutes, then wash with wall cleaning spray.
Declutter Task
Sort through one pile cluttering an area next to a wall you want to clean.
How did you go with this task, please let me know!