Kat's Cleaning Spray is easy to make, budget friendly and uses 3 ingredients to clean dirt and grime from surfaces. 
There are lots of surfaces cleaners on the market but not all of them always do the job. Some people want chemical free cleaners because they have young families or they are sensitive to some chemicals or they just want to use cleaners with no toxins. 
Sarah Stewart, reporter from the
Today Show Sydney
contacted me and asked if I had an alternative to store bought cleaning sprays. I have a home made cleaning spray which works wonders for me – I call it Kats Cleaning Spray. This recipe has dishwashing detergent in it to clean dirt and grime off surfaces. The cleaning spray is also non toxic and effective along with contributing less plastic adding to landfill! The best thing about this cleaning spray is, it only has 3 ingredients you'll easily find in your home!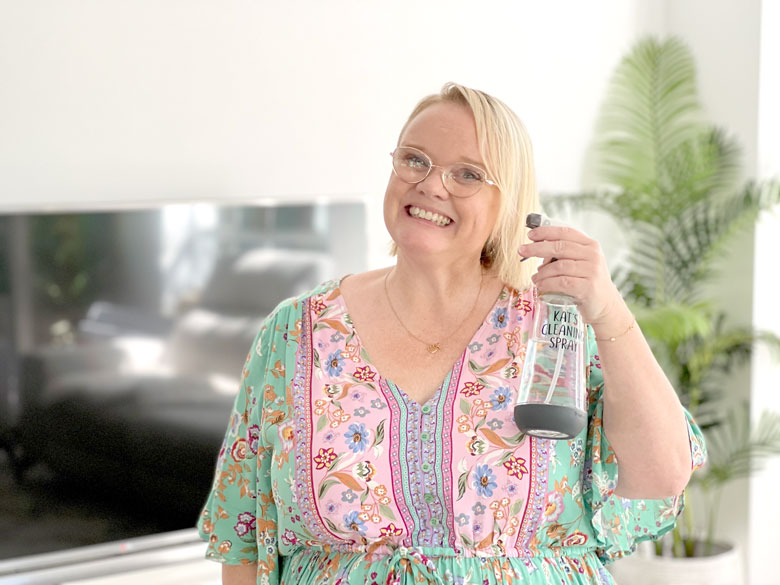 This homemade, natural but effective, cleaning spray can be used to clean:
dirt off windows
bench tops in the kitchen
all surfaces in the bathroom bathroom
general surfaces, lightly spritz onto cleaning cloth to wipe away dust
clean spots off carpets
walls and skirting boards
light switches, lightly spritz onto a cleaning cloth to wipe away dust
door handles
appliances around the home
rubbish bins
kitchen and laundry sink
clothes line, just add a few drops of peppermint oil essential oil to deter creepy crawlies
shower, screen and tiles
bathtub
upholstery, lightly spritz onto a cleaning cloth the wipe
mattress, lightly spritz onto a cleaning cloth the wipe
Add 2 teaspoons oil to shine and protect wooden furniture, lightly spritz onto a cleaning cloth the wipe. 
Glass Spray Bottle
Whether you're making your own eco-friendly cleaning solutions or buying your cleaning products in bulk, this Full Circle Glass Spray Bottle will put an end to single-use plastic bottles destined for the landfill. I love this reusable glass spray bottle as it has a wide neck for easy filling and silicone base to protect glass and prevent any sliding.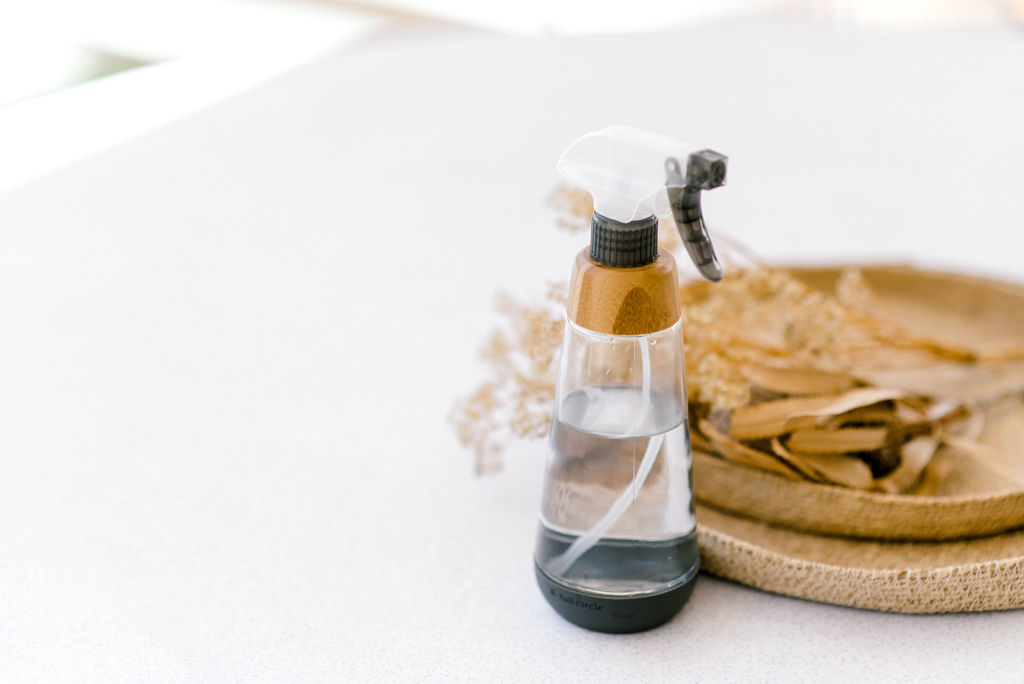 Print
Kat's Mould Be Gone Spray
     

1 cup water

     

1 cup vinegar

     

1 teaspoon dishwashing liquid
Instructions
 In a spray bottle, combine all the ingredients and shake gently to mix.