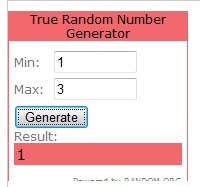 Congratulations to Natalie, you have won your choice of giveaway below from Frog Cottage Designs!!
Extended 2 Week Challenge – Thankyou to Deb from Frog Cottage Designs for not only sponsoring this weeks challenge and donating a lovley prize, but for thinking of the idea for the challenge too. 
Do you have old fabric stashed away?  Have you thought "I will use it one day", but never have. Yes this is me…I have a container full of fabrics purchased with great intentions, some I have had since high school home ec. classes and some inherited from my grandmother.  I haven't completed this challenge yet, however I plan on doing so.  I have loved googling for ideas on how to use unwanted fabric, I'm inspired to make something…mmm but what?
THE CHALLENGE:
Sort through your stash of fabrics
Create three piles - 1.definitely won't use  2. designated project  3. like but don't know what to make pile
Dispose of your 'definitely won't use pile', see ideas below.
Put all designated projects on your to-do list, hopefully this will prevent your fabrics for sitting there for another 12 months and tomorrow's post.
Make something using your 'like but don't know what to do with' fabric, see idea's below.
Take a photo of what you made and upload to The Organised Housewife facebook page wall, or email me the photo and I can upload for you.
Definitely won't use pile:
Donate to charity
Donate to a charity, project specific to making clothes or quilts
Donate to a nursing home
Donate to local school or kindy
or use as gift wrap
Like but don't know what to do with fabric:
Make one of the following for yourself or as a gift for grandparents, teachers, neighbours or friends.
Cover a notebook - buy a hardcover notebook, cover book just like using contact paper, however use good quality craft glue to stick down edges.  To hide the material edge and give it a neat appearance, cut out 2 pieces of cardboard slightly smaller than the size of the cover.  Cover each piece with same material, glue pieces to back of front and back cover.  Add a nice pen and you have just made a gorgeous little Christmas gift.
Pin cushion - Instructions HERE at Paper.String.Cloth
Christmas Trees to decorate your house – Instructions HERE at Jolly allsorts
Ipod cover – Instructions HERE from Dog named Banjo
Camera case -Instructions HERE from Sew Mama Sew
Glasses case – Instructions HERE at Amazing Mae
Canvas Wall Art - Use a gorgeous bit of fabric to cover a canvas.  Great YouTube video HERE
Heat Pack - Instructions HERE from Livestrong.com
Bookmark - Instructions HERE from 7 Layer Studio
THE GIVEAWAY:
Deb is giving away one of the lovely prizes below, your choice.  Another great way to use your fabrics!!
patchwork and applique wall hanging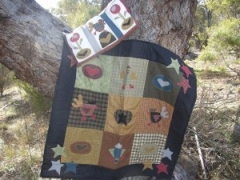 Teacup Teddies – Redwork stitchery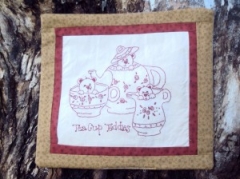 Miss Bella Rose, raggy doll pattern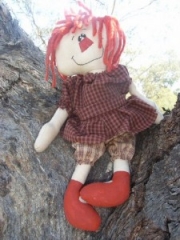 Deb designs and sells her own patchwork stitching and raggy doll patterns. She also sells limited fabric doll hair etc to make raggy dolls. Her business is mail order only. Deb is starting a new blog soon, so keep an eye on her website for more details.
Please stop by Frog Cottage Designs website – http://www.frogcottagedesigns.com/ for loads of applique, patchwork, stitchery and raggedy doll patterns.
HOW TO ENTER:
Complete the challenge. 
Like –Frog Cottage Designs on Facebook, don't forget to tell her The Organised Housewife sent you!
If you don't have Facebook, your task is to email me kat@theorganisedhousewife.com.au advising 'I have completed The Organised Housewife challenge' in the subject.
Take a photo of what you made and upload to The Organised Housewife facebook page wall, or email me  -   kat@theorganisedhousewife.com.au the photo and I can upload for you – This is not mandatory, but I would love to see a photo.
Finally, leave one comment only below advising you have completed the challenge and 'likes' and tell me what you have made with your fabric.
Remember:
if you are commenting as anonymous please leave your contact info in case you win.
Please remember ONE post only. Duplicate posts will be removed.
I won't reply until after the challenge so I don't muck up the random.org winner pick.
Winner will be chosen on Wednesday, 24th November 2010 at 12:00pm (QLD time). Any entries received after this time will not be considered. Open to Australian residents only. Winner will be chosen using random.org. Winner will be notified via email.  I will also announce winner at the top of this post.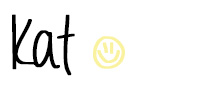 Love these ideas? Sign up for updates....It's FREE!