Acknowledging that you have clutter and need to make some changes is the biggest step of all. Clutter can be anything from overfilled drawers, too many clothes in the wardrobe to a room filled from floor to ceiling with things you may consider special. My Mum was a hoarder (she had rooms filled with 'precious stuff' floor to ceiling) and she struggled immensely with purging as she felt that she would one day need it, despite not having a purpose for it at the time of purchase.  Unfortunately, my Mum passed away, leaving my dad, brothers and I to go through it all.  Whilst I have my home organised and don't collect too many things I do understand the pain that comes with parting with items that you believe are special to you.  I know how much my Mum's clutter affected her mindset and happiness, which is why I really want to help others to make a home a place that they enjoy.  I've shared 5 steps to help you start to clear your clutter- they aren't steps on how to organise the space, but steps on how to make a start.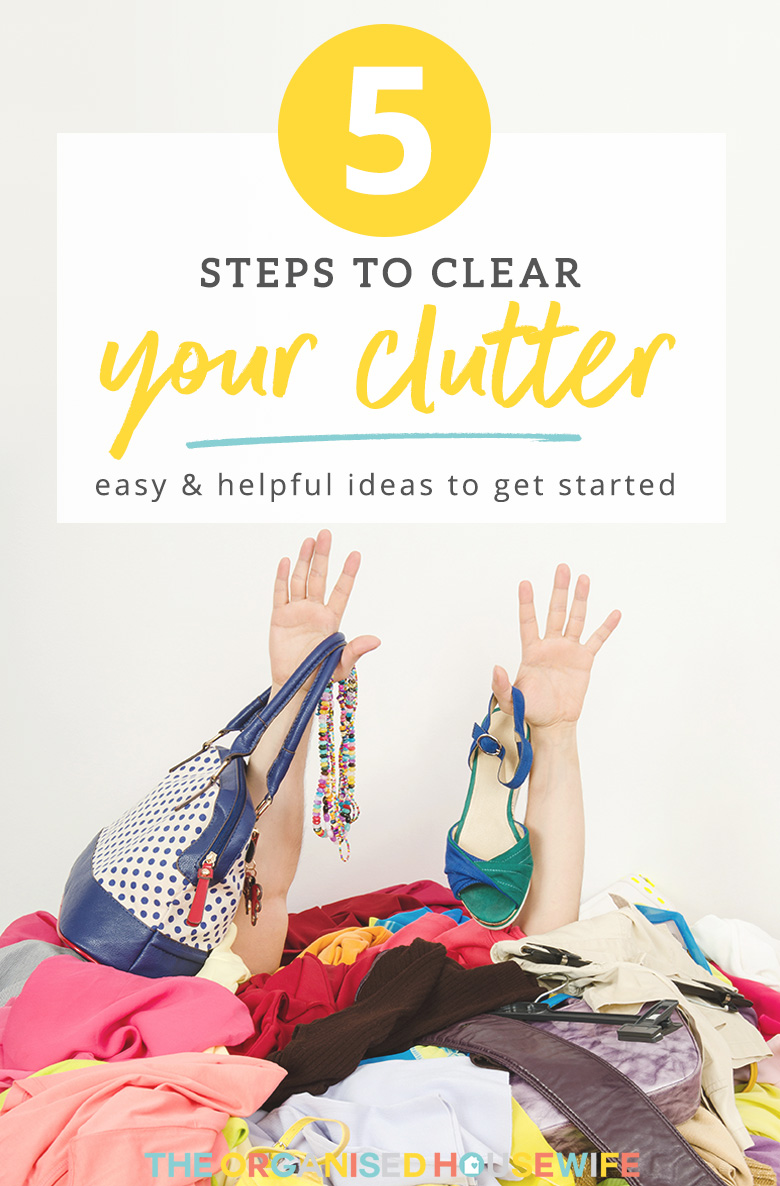 1. Get organised
To start decluttering you will need a few things:
4 STORAGE BOXES: Gather together a bucket, bin, bag or storage container and label each… charity, sell, rubbish, keep.  I have a set of these labels available as an instant download from my shop here.
GARBAGE BAGS OR BOXES: have these on hand so that you can throw out the rubbish and hand items to charity straight away.
CREATE A TO-DO LIST: Help prevent overwhelm by looking at the room, area, cupboard/drawer and create a to-do list of everything you want to do, achieve, clean or buy before you start. Download my FREE To-Do List, subscribe to my weekly newsletter by entering your details in the form below.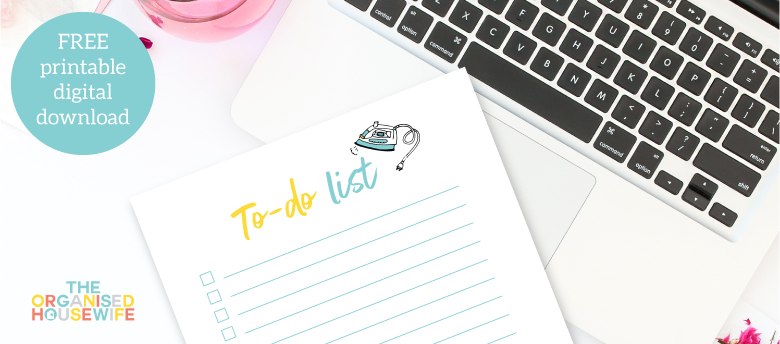 [activecampaign form=51]
2. Create some time
Don't overwhelm yourself by dedicating a full afternoon or day to decluttering.  30 minutes a day is all it takes to make a start. Devote some time each day purely to decluttering one particular area or room.  Set aside 30 minutes one day this week in your calendar to make a start.  Commit to it, DO NOT PROCRASTINATE!
3. Concentrate on one area
Start small, try starting with a drawer, wardrobe or a small room like a pantry or laundry.  But don't choose the most cluttered room, this can be too overwhelming.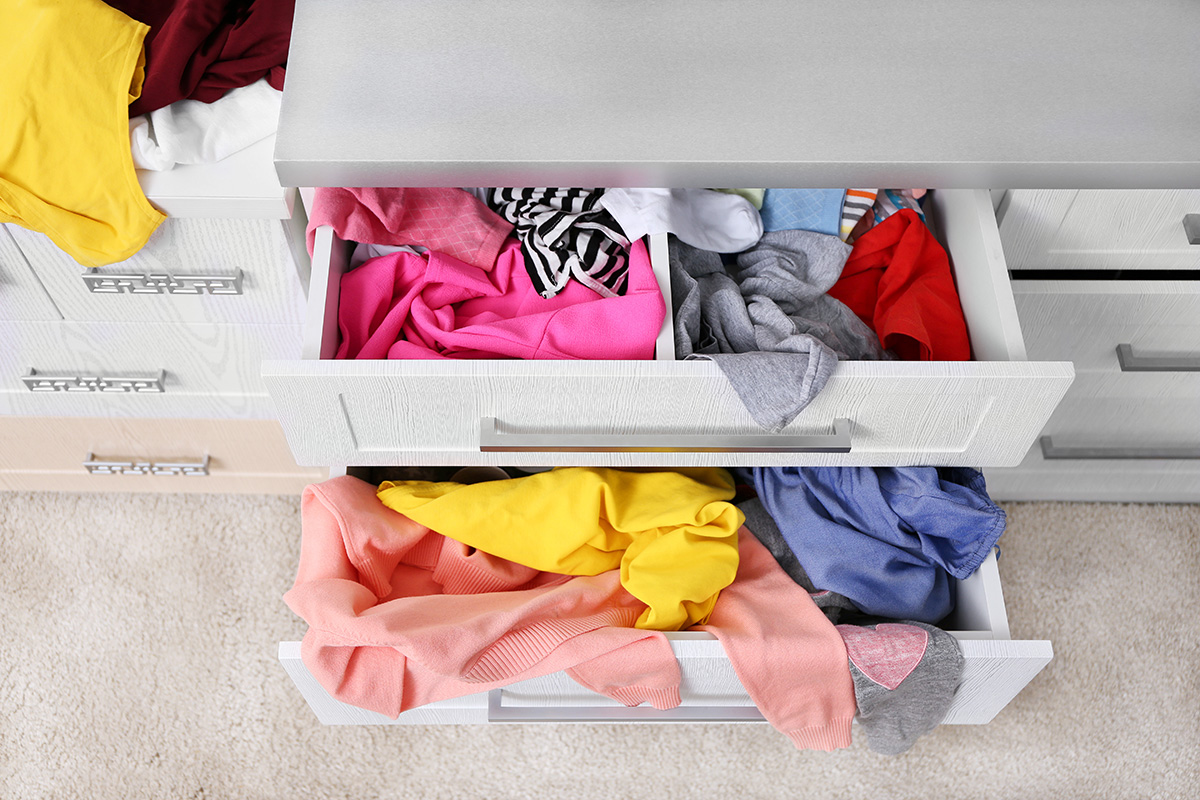 Divide your clutter amongst the labelled boxes, when each one is full transfer to a garbage bag.  Place rubbish directly into the bin.  Place charity bags in the garage ready for a trip to the charity store/bin.  Your sell box may contain items that you would like to sell on eBay, list these items before you start the next room.  Remember to finish one area before you start another.  When you have finished the room, unpack the keep box designating each item to its new home.
  SORTING LABELS:  Use these labels to label your areas/storage containers to help organise, purging excess items and throwing away rubbish. Gather together a bucket, bin, bag or storage container and label. Available from my shop here.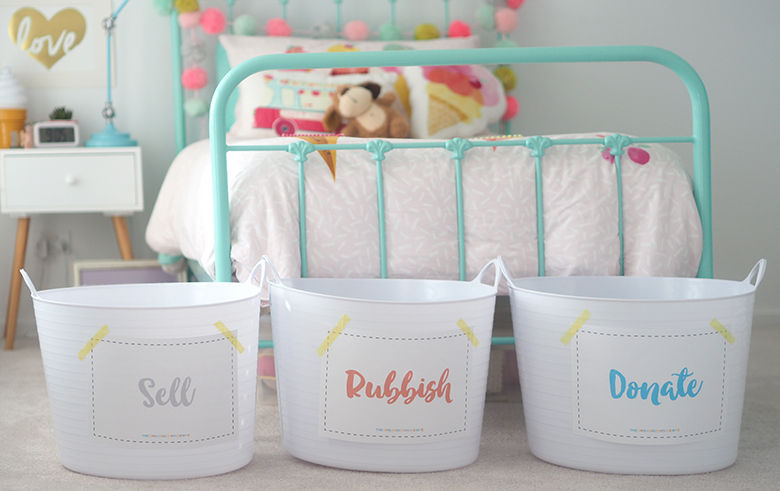 4. Stay motivated
Clearing the clutter will boost your mood and you will start to feel energetic and be more positive about the direction of your household.  You may even find it becoming addictive! You will start to feel a lot more relaxed living in an uncluttered house.
5. Stay in control
Keep on top of your clutter, don't allow it to take over your life again.  When bringing a new object into the room/area/draw create a home for it.  Always return all items back to their home.  Soon it will become a habit, and you will find it a lot easier to find your belongings.
Remember:
If you haven't used it within 6-12 months, more than likely you won't use it, donate to charity.
If it gives you negative feeling or makes you feel sad, donate to charity.
If something has sentimental value but it's in a box in the top of your wardrobe, more than likely it will stay there.  You are not attached to the object you are attached to the memory of the person that gave you the object.  Give it to charity or somebody you know that will cherish the item.
If it is expired, throw it out.
If you have double of items, eg…2 toasters, give one to charity.
Out with the old, in with the new.  eg. brand new bedsheets = old sheets to charity
Give yourself permission to throw out items that are rarely used.
Old toys and games can be donated to the local childcare centre.
If you know you need to make some changes in your home, be proud that you've read this….. that is a fabulous start!!
---
You may also enjoy reading
CLEANING TIPS – Follow along in the weekly cleaning series where I give you a task along with steps on how to clean an area/item in your home each Tuesday.  Most of these tasks will be easy, from light switches to toys, towels to stinky shoes, cleaning many of the forgotten areas or things in your home.  See cleaning tips here.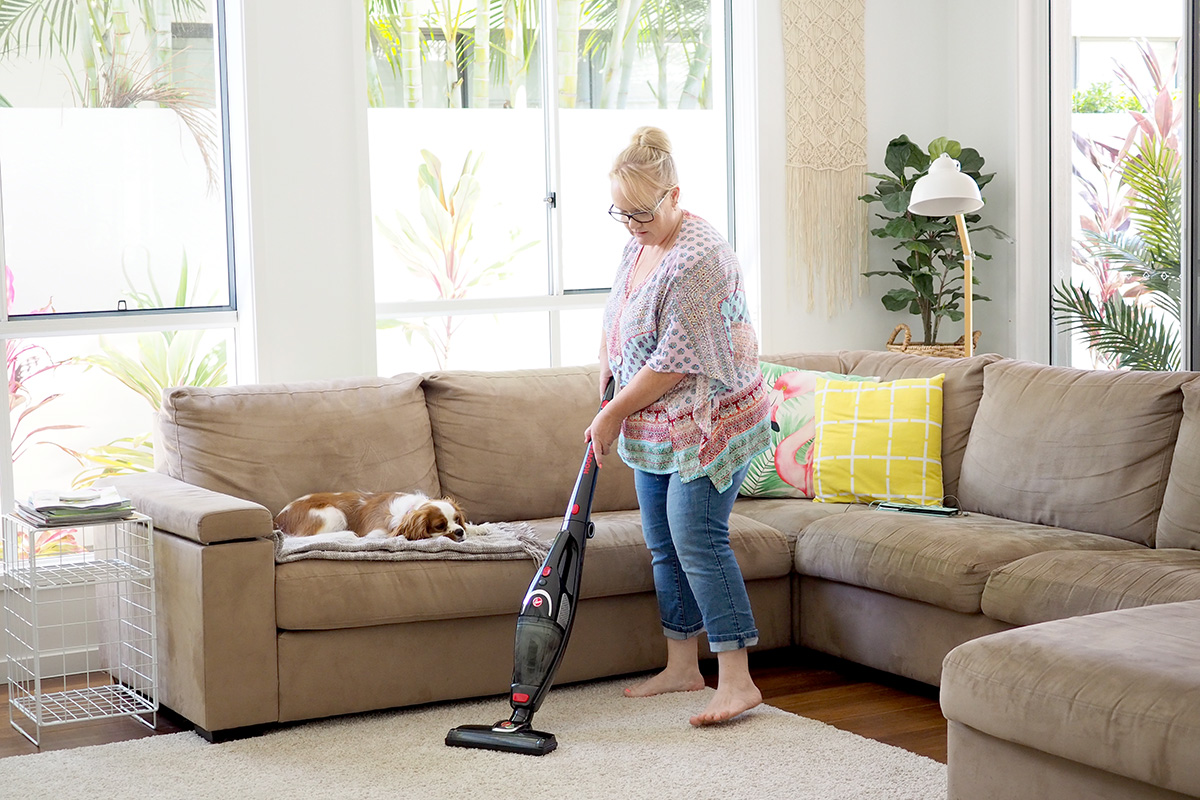 CLEANING CHECKLIST – A cleaning checklist which includes daily, weekly, monthly, quarterly and annual tasks.  This checklist will help you remember cleaning tasks and create a routine to suit the time you have available. This checklist is available as an instant download here.