Decluttering the shower
What do you keep in your shower?  Do you have way too many product bottles?  Do you really use them all?  Today I would like to you to take a look inside your shower, throw away or put into the cupboard what you haven't used for 2 weeks or more.  If you rarely use it, store it under the bathroom sink to keep your shower clutter free, you will find it easier to clean. 
Handy Shelf
I found this wonderful corner shelf at Big W recently, it suctions onto the wall.  Perfect, as I can keep the shampoo and conditioner off the floor to prevent mould forming.  It's also at a height easily accessible for the kids.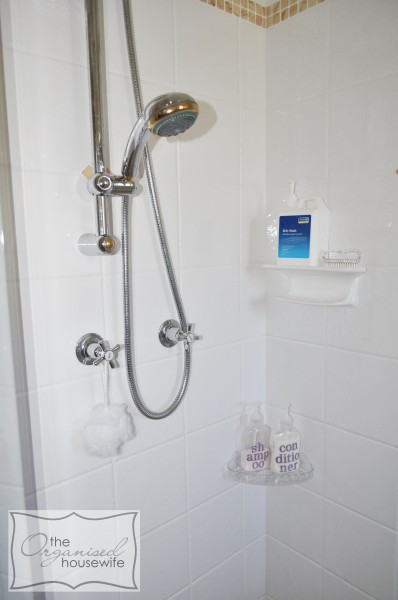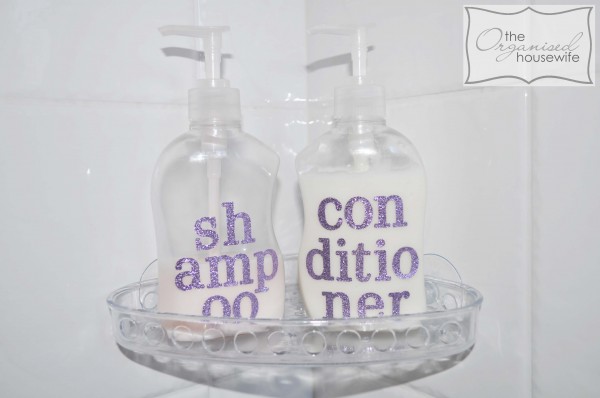 Less shampoo and conditioner waste
Do you find the kids squeeze too much shampoo from the bottle, therefore wasting most of it?  Create your own little pump dispensers.  1-2 pumps is all they will need.
What you will need:
2 x liquid soap dispensers
Shampoo and conditioner
Vinyl craft letters (I used Making Memories glitter letters)
Product to remove sticker, either:

De-Solv-it (found at your local supermarket or hardware store)
Bosisto's Eucalyptus oil
Baby or cooking oil
Nail polish
Instructions:
Peel label from soap dispenser
Saturate the sticky residue left from sticker using your preferred product, stand for at least 1 min.  Rub off with a cloth or paper towel.
Decorate each dispenser differently so kids will know the difference between shampoo and conditioner.
Fill dispensers each with shampoo and conditioner, using a funnel if needed.