Ok, today isn't Wednesday, but I wanted to still give you a decluttering task this week.  Today let's remove some items from the little laundry cupboard that holds all our cleaners, chemicals, washing powder etc.  Last year I put a challenge out to readers to remove all old cleaning products they no longer use.  If you are new to the website or haven't completed this task do so while you are decluttering this cupboard.
Do you have an excess amount of  carpet cleaners, a few bottles of half empty floor cleaner or products you are holding on to but don't particularly like?  Go through this cupboard and throw out 3 or more things you no longer use and have been sitting there for at least a year untouched.
My list of 3
I had a few too many microfiber clothes I really didn't need, I gave them to a friend
Old shoe polish
A mouse trap, ok, might jinx myself but we have never had a mouse in this house, and now we have Millee our cat, she should catch it anyway.  Eew makes me queezey just thinking about it.
Here is my cupboard that store the laundry detergent and spot cleaners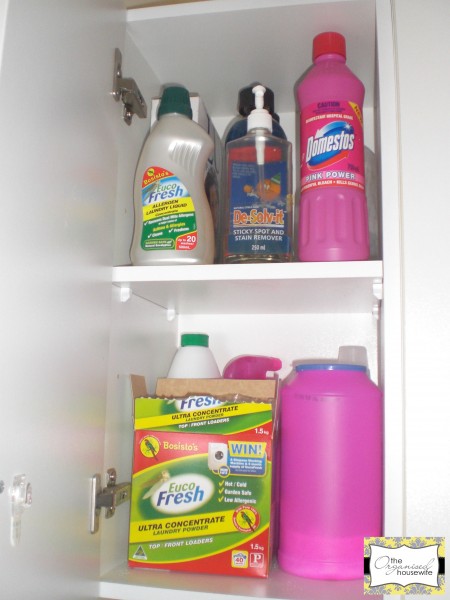 Top shelf in the picture below stores carpet cleaner and other items which are not used regularly.  In the white boxes I have spare bulbs in one and shoe items in the other like spare laces, shoe polish, shoe brush etc.
The bottom shelf holds my all purpose cleaner, floor cleaner, wipes, air freshener, microfibers clothes etc.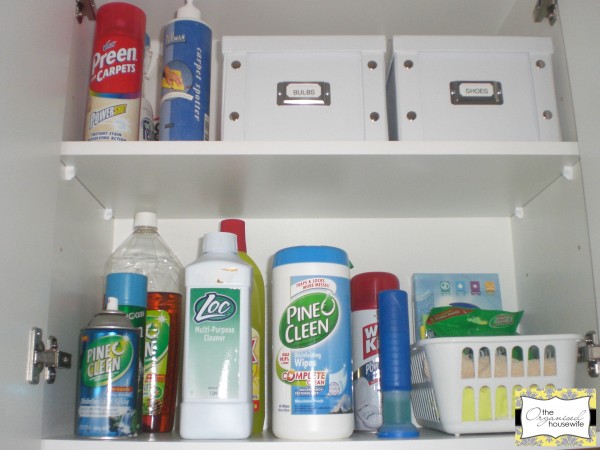 Please let me know….what is your list of 3?