2 Ingredient Pizza Bases, doesn't get much easier than this.  Just add whatever you have in the fridge, one of my kids is happy with just cheese, another ham and cheese and then Mr nearly 13 wants the lot, ham, cheese, capsicum, onion, olives if I have them.  This 2 ingredient pizza base recipe is the same as my 2 ingredient scroll recipe, so very easy to make, will only you 5 minutes roll out. I sometimes make this towards the end of the week, when I have run out of bread and have some extra deli meat and vegetables that need using up.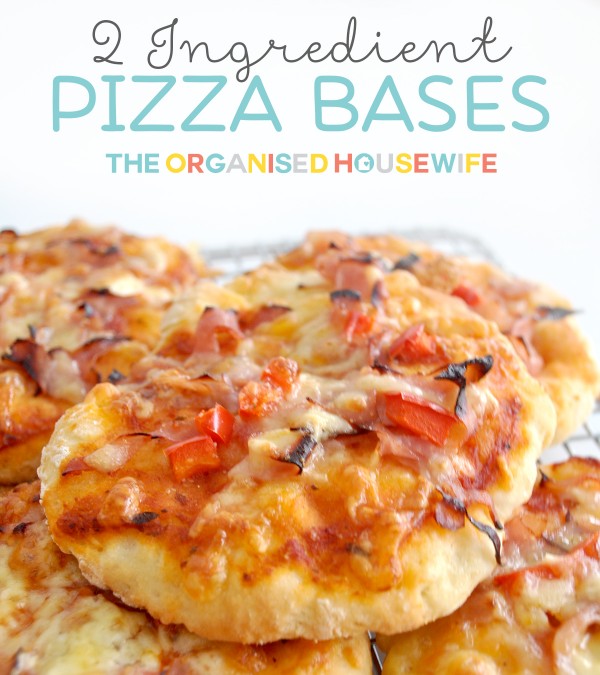 Share your lunchbox pictures
I've been stalking a few pages on facebook recently and watching mum's posting pictures of what they are packing in the kids school lunch boxes, they are wondering if they have packed enough or too much. It's been fun actually I'm enjoying seeing what others have packed their kids.  Feel free to share pics of your kids lunchboxes with me, post them on my facebook wall or tag me in your photo on instagram @theorganisedhousewife.
Hope you can find some inspiration for some of the lunchboxes I've packed my kids over the years.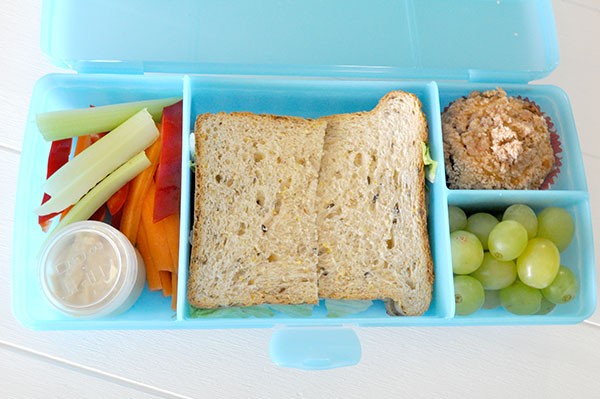 2 Ingredient Pizza Base
Make dough as per the recipe below, which is basically equal parts self-raising flour to greek yoghurt, but you may need to play and add more flour if your mix is too wet. Use a rolling pin to roll into rounds.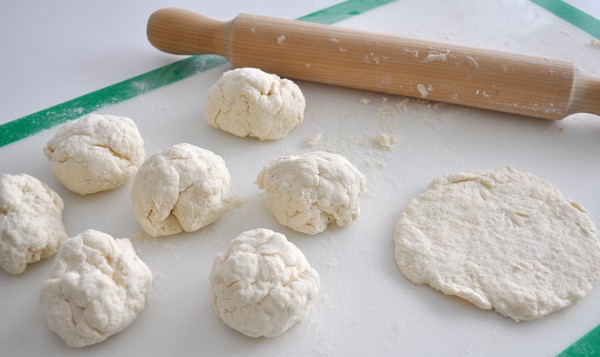 Add your desired toppings.  I smear a little pizza sauce over the base then top with ham, capsicum, onion and cheese.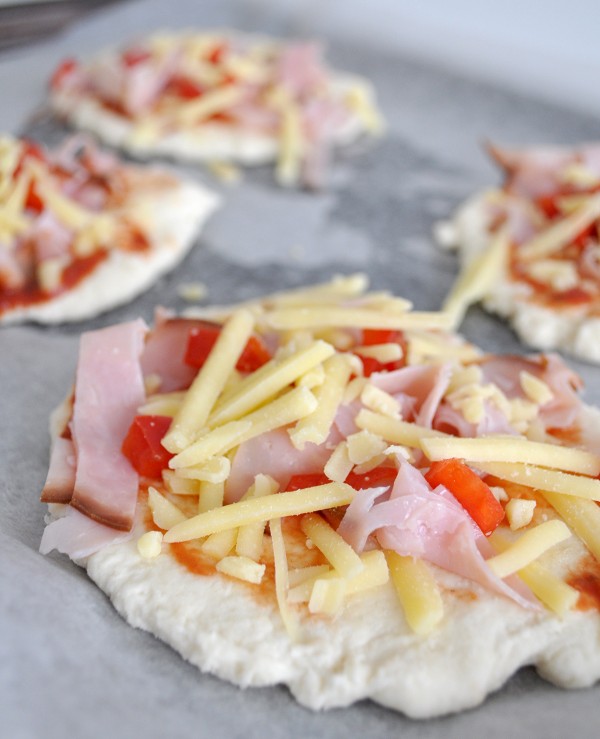 Options are limitless really, try salami, bacon, spinach, fetta, basil, mushroom, cherry tomatoes, chicken, left over sausage or mince.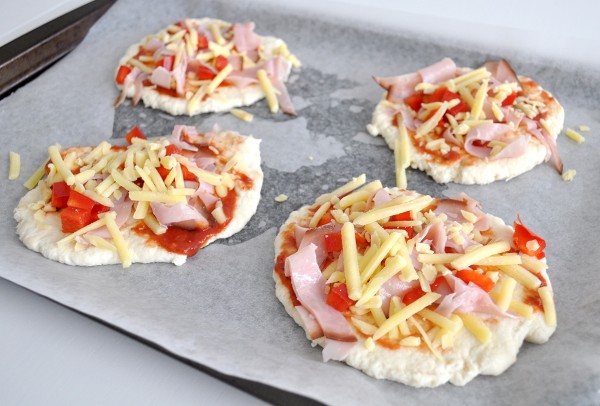 Place in the oven on a lined baking tray and cook until cheese has browned, allow to stand for a few minutes then place on an oven tray to cool slightly before eating.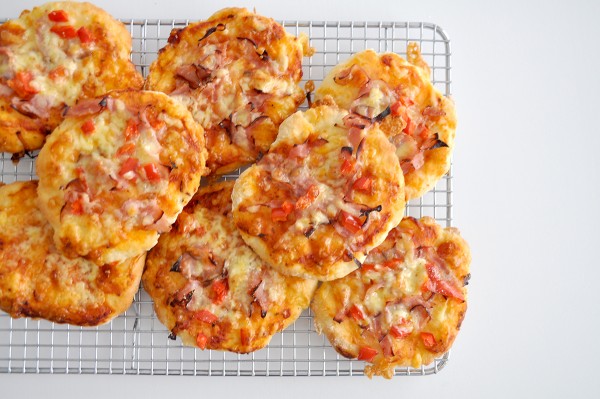 I store them as shown below in an airtight container, take them out of the fridge when I pack the kids lunches (either that morning or the night before) and they are defrosted by morning tea time.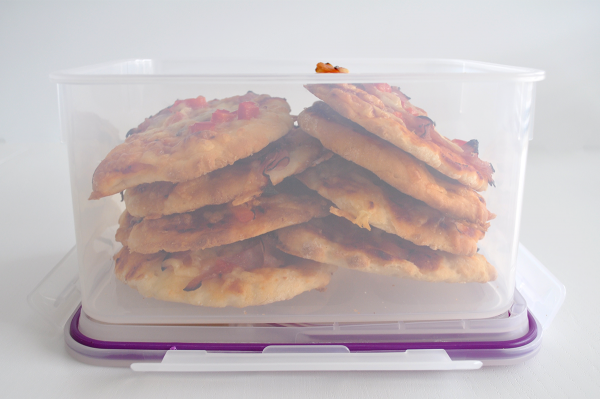 2 Ingredient Pizza Base

| | | |
| --- | --- | --- |
| Prep Time | Cook Time | Total Time |
| 15 mins | 20 mins | 35 mins |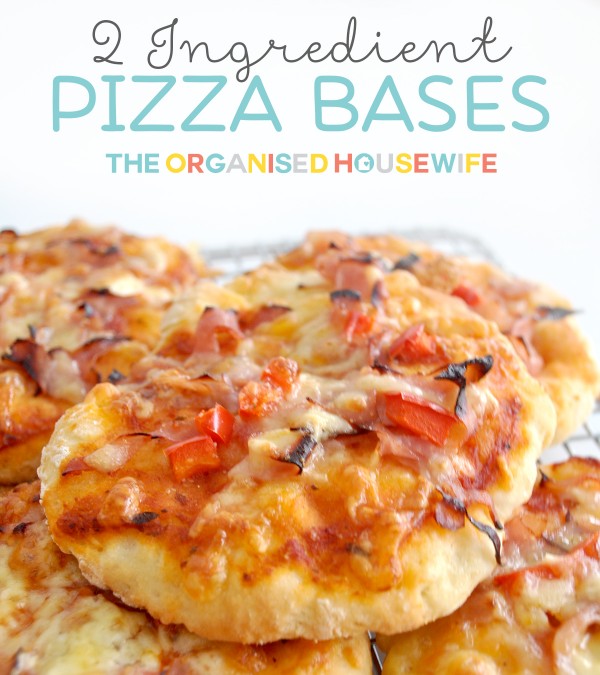 Ingredients
1 cup Self Raising Flour
1 cup Greek yoghurt
Instructions
Preheat oven to 180C.
Mix flour and yoghurt and make a ball.
Sprinkle extra flour on bench, knead for a few minutes, adding more flour if mixture is too wet.
Divide mixture into 8 balls, roll dough into small rounds.
Add your desired topping.
Bake 15-18 minutes or until golden.
By Kat – The Organised Housewife


Super easy pizza scrolls – These super easy pizza scrolls are just that.  They make for a great lazy weekend lunch, plate to share or lunch idea for the kids school lunch box.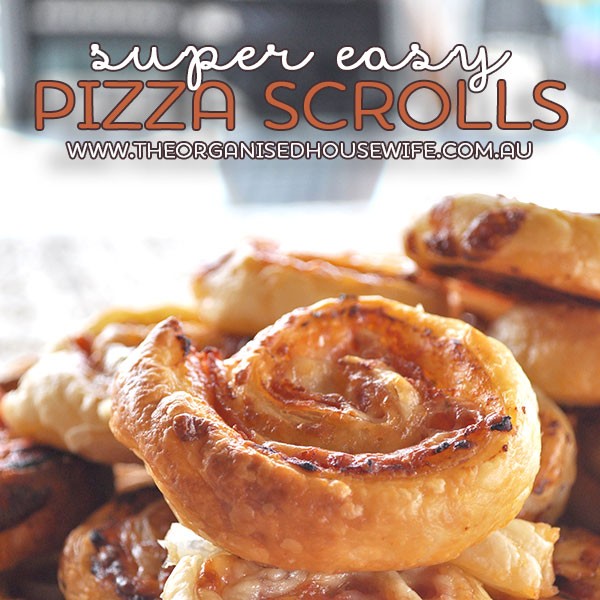 2 ingredient lunchbox scrolls – Only 2 ingredients needed to make these super easy scrolls. Quickly make the kids some scrolls for their school lunchbox flavoured in so many different ways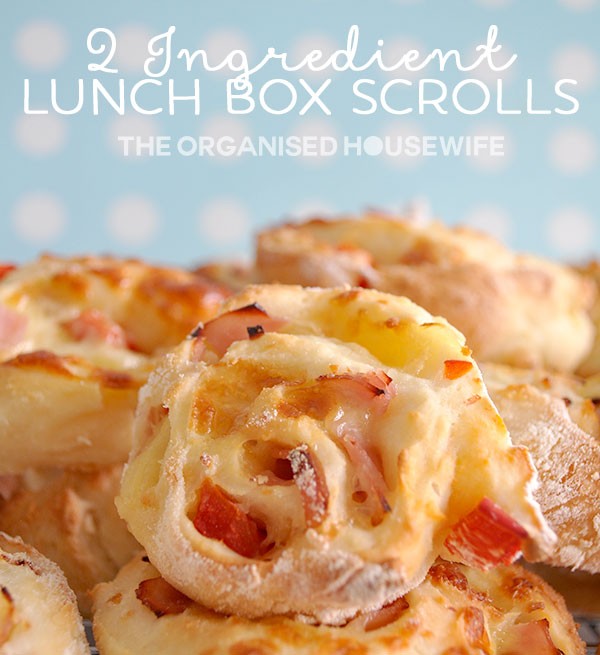 50+ Freezer Friendly lunchbox ideas – Loads of freezer friendly lunch box ideas. Plus tips on how to freeze and defrost. This will save you so much time when packing lunches for the kids.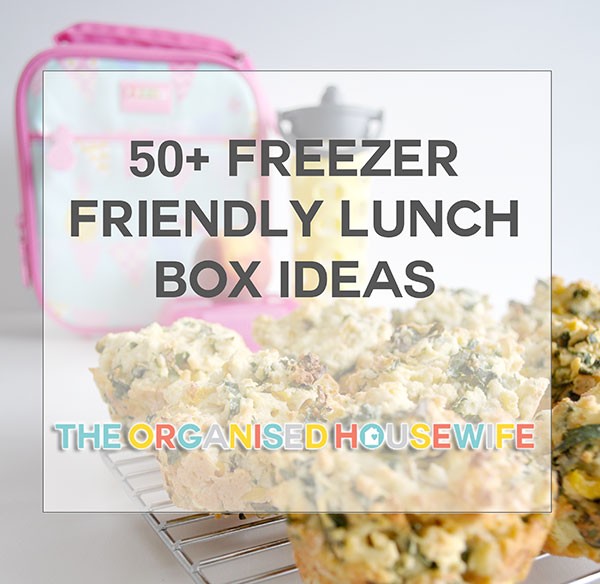 Cheese and Vegemite Scrolls – Step by step instructions on how to make these easy and delicious cheese and vegemite scrolls, a great recipe for lunchboxes.