This is Part 2 of 'The Twins Parties – 2 Parties in 1 Day' series, view Part 1 here
Lego Party Printables are available in my shop here.
Now that I have made the big decision to throw 2 parties in 1 day for the twins we had to come up with themes. Miss 9 wanted a Rainbow party, she loves colour and pretty things and Mr 9 wanted a Lego Star Wars Party (he is lego mad).
I asked them what type of cakes they wanted, Miss 9 was happy with anything that had a rainbow across it and Mr 9 wanted a lego brick. So cake was sorted, but after this discussion I got thinking I really needed these party themes to compliment each other, the rainbow colours and grey's (Lego star wars is blacks, grey and white) didn't work together. Thankfully this was easily fixed as Mr 9 didn't mind having colour thrown into the mix and change to having a plain Lego party. Perfect, both party themes worked really well together. I needed to create this party so it wasn't too much effort to change from the Rainbow to the Lego theme.
I have listed below my pre party day prep tips
Theme:
Rainbow Party & Lego Party
Time:
With much consideration we had the 1st party (rainbow) from 10am-12pm. Giving us one hour between to rest, have lunch and change a few decorations over. Then the next party started at 1pm-3pm. This was perfect because as of 3pm I was tired and needed an hour to tidy then relax.
Food:
Ask for help, my lovely friend Carissa offered to make Miss 9's cake and she insisted on making cake pops.
Make a few basic foods/snacks that will be suitable for both parties
Have all food ready the day before, details of our food choice in coming posts
I used the 100+ cookies recipe, I split it in half and decorated the cookies differently for each party. For the Rainbow party I rolled dough in 100's & 1000's, for the Lego party I added smarties
Premake what I could:
Jelly Cups
I started making the jelly cups 4 days prior as I wanted to layer them in the cups. Remove a shelf from the fridge, place all empty cups on the shelf, add spoons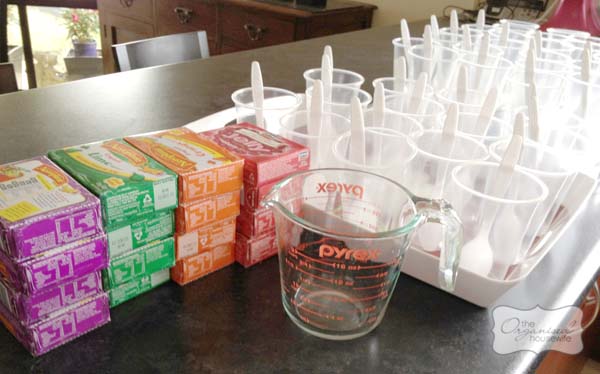 Make first colour of jelly, pour the same amount of jelly into each cup, place shelf with cups back in fridge to chill. I used a glass measuring cup that I purchased from Wheel & Barrow.
After you put 1st layer in fridge make the jelly for the next layer, allow it to cool before adding onto of the 1st layer jelly. Cooling the jelly will stop the first layer from melting.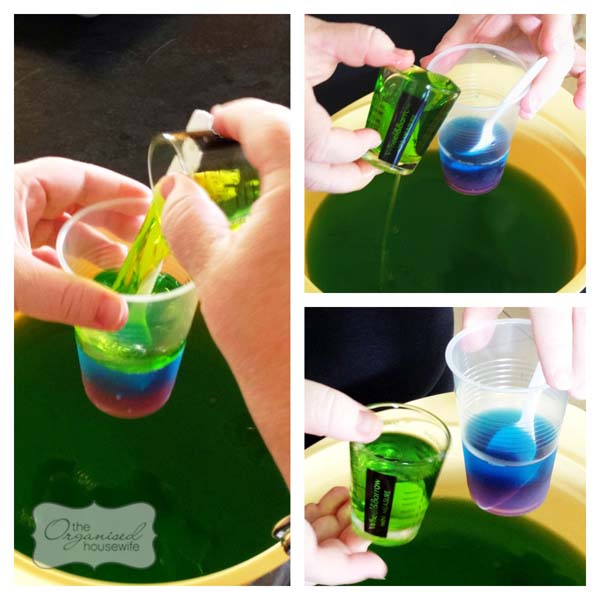 Sweet Test Tubes
Filled the sweet test tubes from Ah-Tissue with mini m&m's. More details about the Test Tubes can be found here at Ah-Tissue: Webiste | Facebook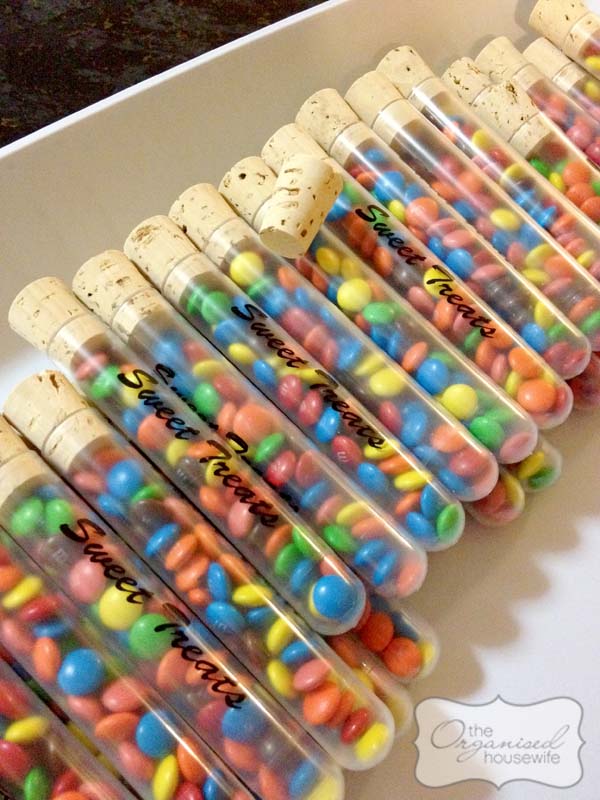 Decorations:
We draped different colours of fabric from the roof to be similar to a circus tent
I chose a neutral colour that I could use suitable for both parties. White was my colour choice for tableclothes and backdrop for the food table
I didn't use themed plates and accessories, as cute as they are. Instead I purchased colourful plates in green, red and blue, and colourful serviettes
I used a printable birthday banner, more details in tomorrow's post
One major decoration piece for each party:
Tissue Paper Pom Poms
I was so grateful when Daneve from Ah-tissue sent me some Tissue Paper Pom Poms, we fluffed these up the day before took 45 mintues to fluff them all up, so much easier than making them! The 'shallow tubtrugs' from Howards Storage World came in very handy.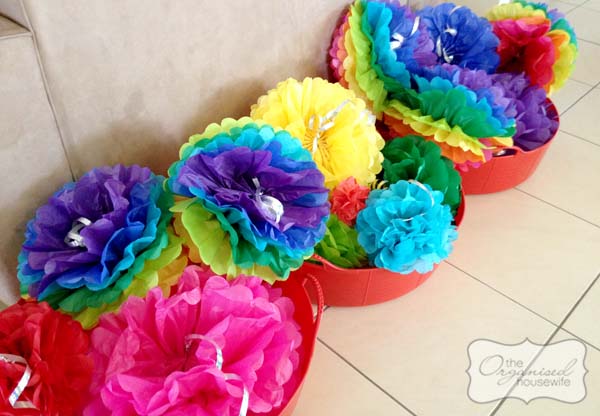 String Balloons
I knew I wasn't going to be in any mood of blowing up balloons on the party day, so the day before the party with the help of my balloon pumper (found in most discount shops) we pumped up the balloons, threaded them on string, kept high away from the cat. My very clever friend Carissa gave me this tips.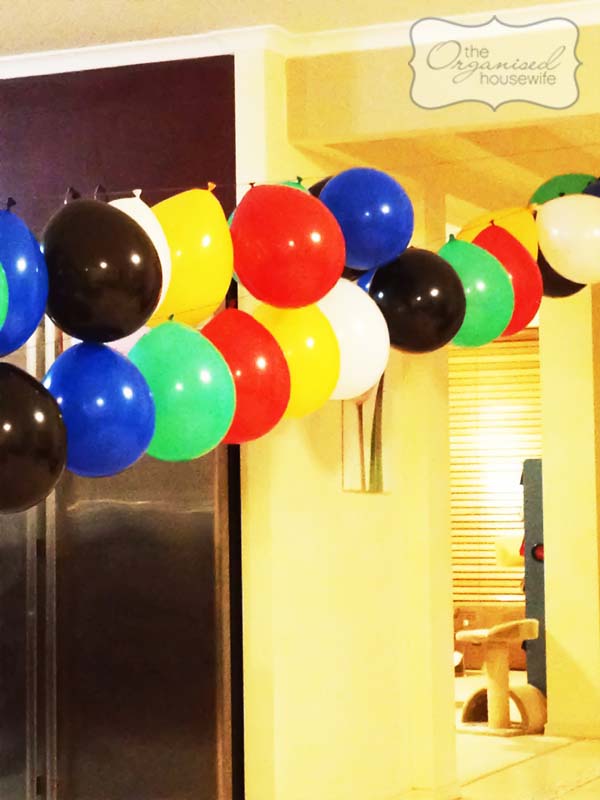 Sign
I didn't want anybody coming through the front door, rather to go around the back through the side gate so the kids made a sign which they put on the garage door.
Tips:
Ask for help, I thought I could do it all but am very thankful to have a friend and my mum help the day before
Label all cups with kids names so they don't get mixed up
Fill the sink and wash as you are baking, this saves so much time at the end when you are out of energy
Olivia from Star Concepts gave a great suggestion of making the cake a week or so before and freezing it, then defrost and ice when you are ready. LOVE THE TIP!!
Games gifts wrapped
Games thought of and ready
Music playlist created by the birthday boy/girl
Loot bags can be made well in advance
Kmart are selling packs of cute stationery (5 sets per pack) with pencil, small notebook, pen and eraser. I added one each of these and some glow sticks to the loot bags, no sugar included as I don't like the kids coming home with so many lollies.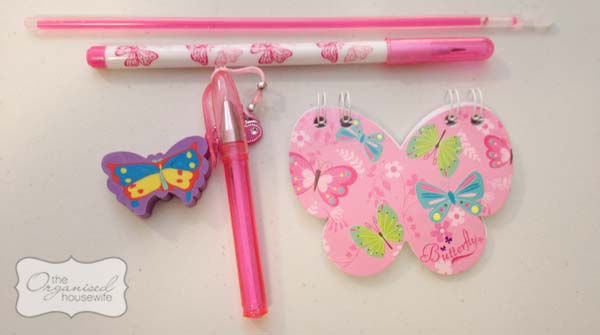 What is your best pre party pre tip?