There is so much involved in buying a new home, in Part 1 of this series I shared my tips on where to look for a home and what to ask the agent when you find one and Part 2 gives you tips on what to look for in the house, cracks in ceilings, check the lighting etc.  Once you have determined that this is the right home for you, what is the next move? In Part 3 Tips for Buying a New Home I list the hidden costs of buying to take into consideration when choosing an offering price plus our frantic timeline we had when we found the house we ended up buying.
Determine the price to offer
We used the realestate.com.au app to view recent sales histories in our area. Researching the sold homes close by helped us determine an estimated sale price. 
When considering your offer, remember all the hidden costs of buying a house, the asking price of the home, isn't the final purchase price, you need to consider:
stamp duty

legal fees

removalists

possible home repairs

house insurance
bank valuation
registration of title
adjustments for rates and body corporate fees
Take into account the extra expense of repairs/renovations to the house and the resale potential.  You don't want to put a lot of money into the house, if you're not going to recoup it when you sell the home.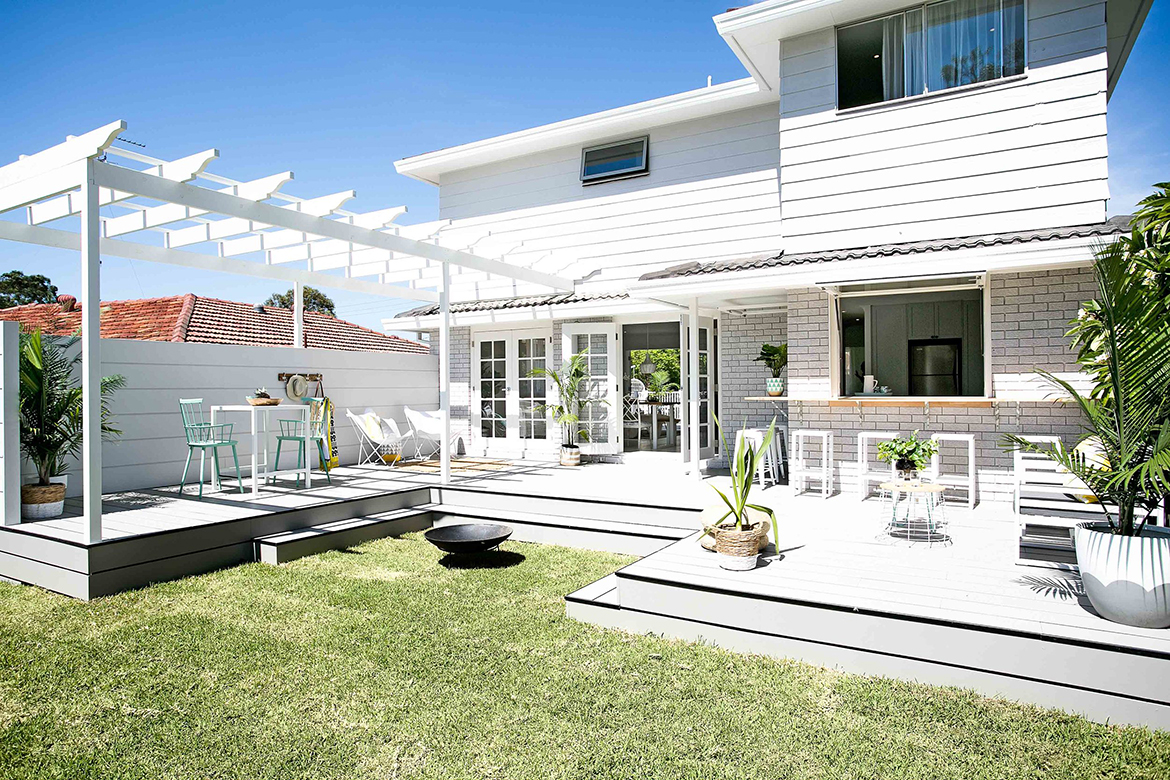 or if you are extremely clever like three birds renovating (credit to image above), you can renovate and make money!!
Adding conditions to the contract
Put in your offer to the estate agent, along with any conditions you have.  ie. when we sold our house we received offers asking if particular items could stay, i.e. the trampoline (which I was happy to leave behind, as it was a great feature in the garden), ensuring that the dishwasher and outdoor shed stays. Another common condition is asking for a longer settlement period than the usual 30 days and a guarantee that you can do a walk-through of the home 24 hours before settlement (this will make sure the home has been vacated and left in good condition). Don't be afraid to ask for settlement to be on a specific date that suits you.
House valuation
We purchased our new house at auction, we engaged a valuer to come and provide a valuation on the house to give us an idea of how much it was worth, as we didn't want to offer too much at auction and then find the bank wouldn't give us the money.  Also, we didn't want to overpay at auction and then lose money when we decide to sell.
Pest and Building Inspection
Pest and building inspections are typically done on a property after a contract has been signed, however, if the house is going up for auction, you need to get the pest and building done before this. Pest and building inspections are for your benefit, to know as much about the condition of the property before buying.
Be present during the inspection as you will learn a lot about the house. If the pest and building inspection finds major faults speak with your lawyer and don't be afraid to revise the offering price to reflect the repairs that need to be made. If the seller won't agree to either fix the issue or reduce the price you may decide to walk away from the sale, which you can do without penalty if the contract is subject to satisfaction of a pest and building report.
Our timeline of buying our new house
This was a manic week, one of the most stressful weeks Scott (my hubby) and I have endured together.  Thankfully we didn't have to rush around with getting finances in order, we had pre-approval just in case a situation like this arose, we were ready to go!
Saturday – viewed house for the first time
Sunday – real estate agent was so kind to allow us a second look through, we were certain we wanted it!
Monday – was a public holiday so we couldn't do anything
Tuesday – booked in the property valuation and a pest and building inspection to be done on the new home.  
Wednesday – property valuation complete.  We got this to ensure we didn't over pay for the house at auction.
Thursday – we started freaking out, real estate agent was in our ear telling us there were heaps of interested buyers… aah.
Friday – pest and building complete, the house is A-OK! I can recommend my lovely friend Trudy and her hubby who run a family business Inspex.net.au on the Gold Coast and in Brisbane. We also had a third inspection that evening.
Saturday – auction day, we couldn't sleep a wink.  We got to the house early so we could see how many people were registered for the auction.
Sold, the house is ours!!!
---
Do you have any extra tips to add when offering a price for a new home?
---
In the next post to this series, I will share what the next steps are now that you have a new home.