Recently I wrote about my New Sorting Clean Laundry Routine.  I am looking at buying a new washing machine and am considering a front loader. I asked this lovely community what you thought of Front Loader Washing Machines, as I have heard many mixed stories, particularly that they harbour a lot of mould around the door seal. I got so many great responses that I thought it would be a good idea to collate them all here and share them with you.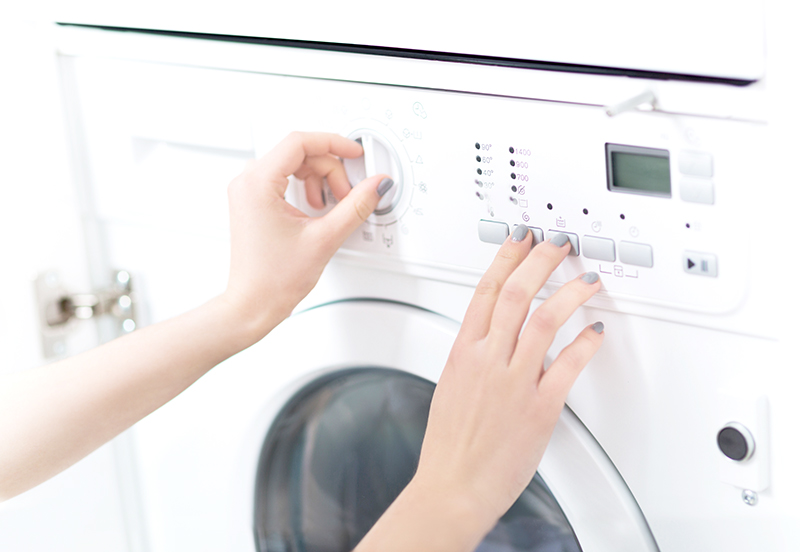 More tips: How to clean a front loader washing machine.
Front Loader Washing Machine Tips
I am very happy with my front loader Kat. When I first got it (about 4 years ago) I compared one of the kids school polos washed in my old machine (top loader) and one washed in my new and there was a definite difference e.g. no bobbles! Even my husband was amazed. Having said that I know some of the new top loaders have different agitators now so they wash more like a front loader. The things I love are saving water, cleaner clothes (as explained above) and the delayed timer switch – put washing in the night before and set the time when you want the load finished, so great to get up the next morning and the washing is ready to hang out. I have never had a mouldy door, but I never use fabric softener, I am pretty sure it is the cause of mould in washing machines. I have been using a front loader for 10 years. ~ Sarah
I was worried about hearing that front loader doors developed mould also, but I was advised to always use warm water to prevent it – and have never had a problem in 5+ years of using a front loader ~ Vanessa
We have a front loader and it used to be that if the clothes sat in the washer all night they would get a funky mouldy smell. Kind of like old gym gear? We now add a tablespoon of Canesten Hygiene Laundry Rinse in with smellier washes (eg gym clothes) and just every now and again if we think we need it. Smells all gone. I find our front loader SLOW which is why we wash overnight. Check washing times. Shortest full wash takes owner 1.5hrs on ours. ~ Jennifer
I always leave the door and detergent drawer slightly ajar after each load. This allows everything to dry out, no mould and no musty smell. Love my front loader and dryer sitting on top! ~ Adrienne
I leave my front loader door open between washes to prevent mould developing and musty smells. I don't use fabric softener. I am also on the Gold Coast (north). I love the front opening, but found the machine was very low, making me bend too far to load and unload. (I'm not a spring chick any more!). We now have it sitting on a square table with the dryer above (I do need to use a step to put clothes in the dryer, and get clothes out though – I have short legs!! Lol!) ~ Helen Davey
I love my front loader – wish I'd had it when my four children were young! It saves water, is gentler on clothes but cleans better and has features like delayed start and short wash. I hardly ever use the long cycles as the washing rarely needs it! My only negative would be cleaning the rubber door seal as it constantly holds water and becomes a grime catcher. I'd love other people's hints to prevent this? ~ Roz
I have a dark purple hand towel. After each load I wipe the excess water & grime out from the seal. And then leave the towel hanging over the door, leaving it open between loads prevents mould. :)… the towel over the door dries between loads, and I wash it with the towels 🙂 ~ the purple towel
---
Do you have any advice about Front Loader Washing Machines?
Which brand would you recommend?
---
I'm still on the fence deciding whether to invest in a front loader or the old faithful top loader.