These homemade reusable antibacterial wipes are the perfect solution for an economical, low-cost, and non-toxic cleaning solution around the home.
I noticed we use a lot of paper towel and wipes in our household and in my mission to be frugal and reduce our grocery bill I am trying to find cheaper alternatives, like using my own homemade all purpose cleaner. Over the past few months I have been using reusable homemade antibacterial wipes, although I do still use the disposable variety for cleaning the toilets.
These have been fantastic to have on hand for wiping up spills in the kitchen, to grabbing a cloth and doing a quick clean of light switches, or wiping up dust while on the phone (I can't sit still when chatting on the phone).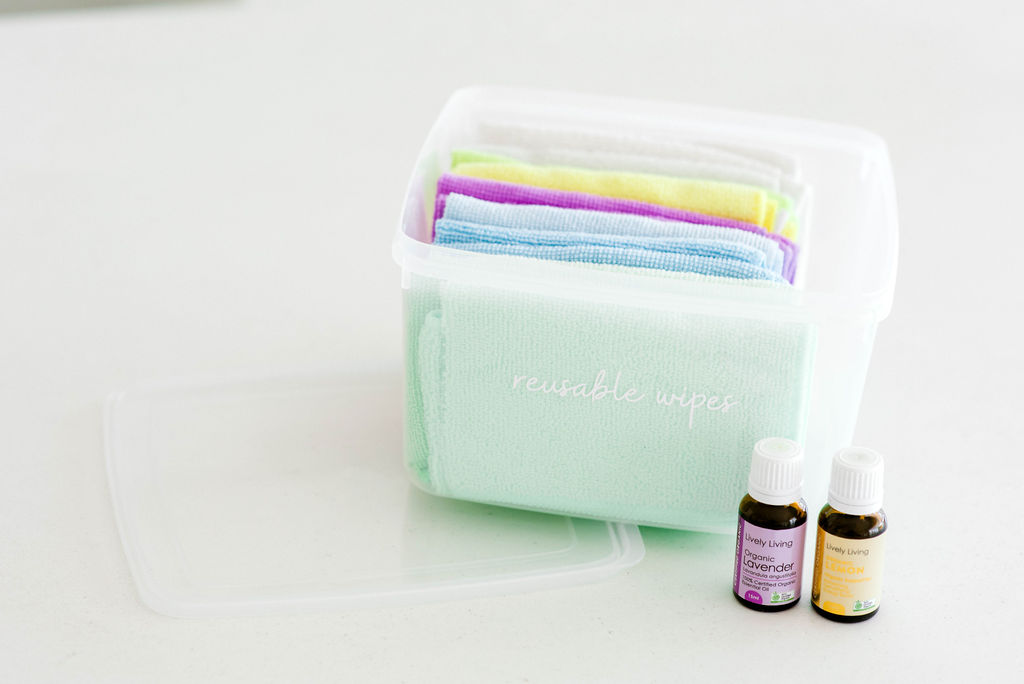 Reusable Antibacterial Wipes Can Be Used For:
The uses really are endless for these wipes. I call them my miracle wipes as they clean just about everything. I used a wipe recently to clean one of my kid's formal school hats – it got all the dirt out and I didn't have to take it to the dry cleaners!
floor spills
bench tops
dusting
stove top
sink
microwave
skirting boards
fridge
clean taps
light switches
cleaning toddlers face and hands after eating
wall
and so much more
---
Reusable Homemade Antibacterial Wipes
When I first started making these I used a large airtight glass jar and some all purpose microfibre (or you could be even more frugal and use old t-shirts), plus my own antibacterial solution. This only held 6-8 wipes though and I was using them far too quickly! So I have since doubled the recipe which gives me enough wipes for a full week.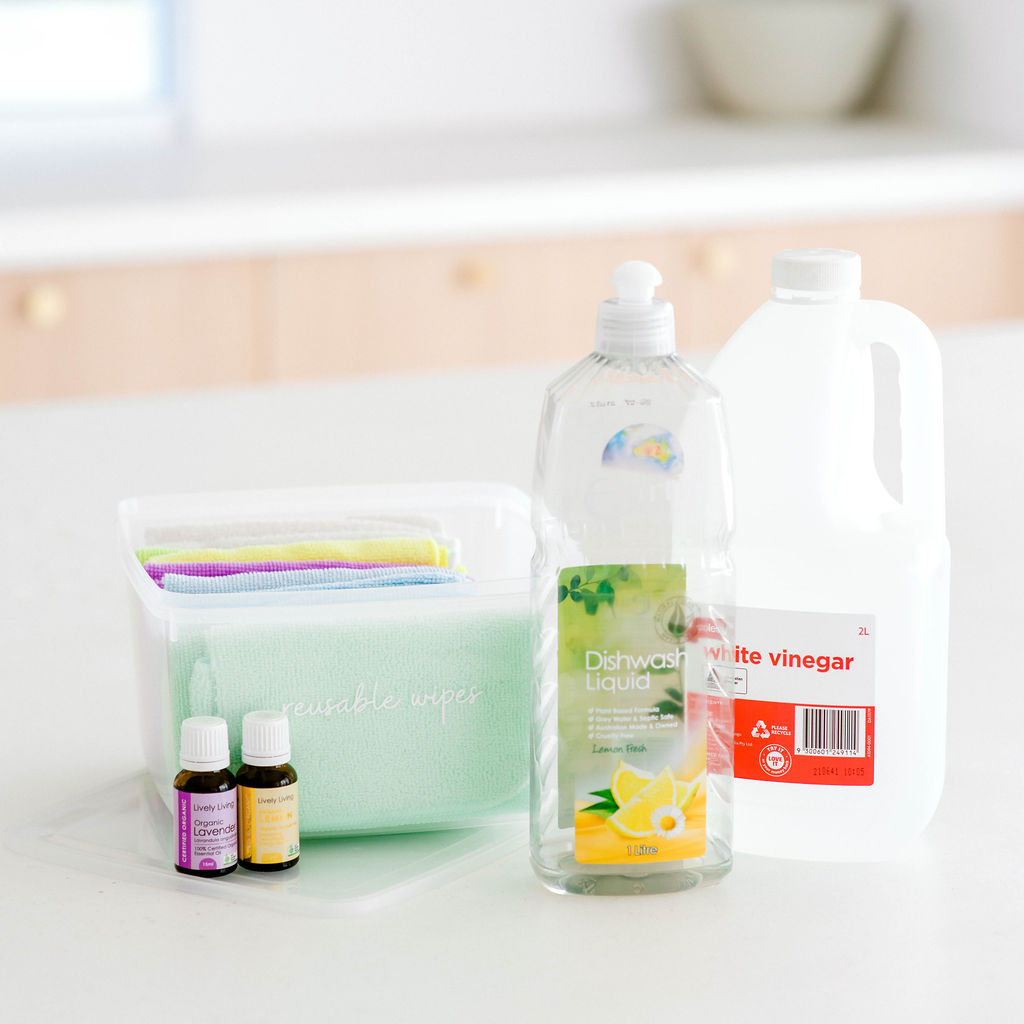 Creating these antibacterial wipes is simple! I fold the cloths in half, then thirds and pace them in the container and pour the liquid mix (recipe below) over the cloths. When I need to use them I pick out a cloth, wring out as much liquid as I can, use it, rinse and then put in the laundry to go through my usual kitchen linen wash.
The amount of wipes I make usually lasts me a week. I have never found them to ever go mouldy. I live on the Gold Coast, QLD which can get quite humid at times.
You will need to mix the following into a jug to make the liquid:
WATER – I use cooled water from the kettle
VINEGAR – mild disinfectant, cuts through grease, de-scaler, glass cleaner
DETERGENT – will help lift dirt and grime. Preferably use a mild dishwashing detergent like Koala Eco Natural Dish Soap, which has is non toxic, kills 99.9% germs, has no phosphates, ammonia, chlorine or synthetic chemicals. 
LAVENDER OIL – is well known for its natural antibacterial properties, available in our shop here.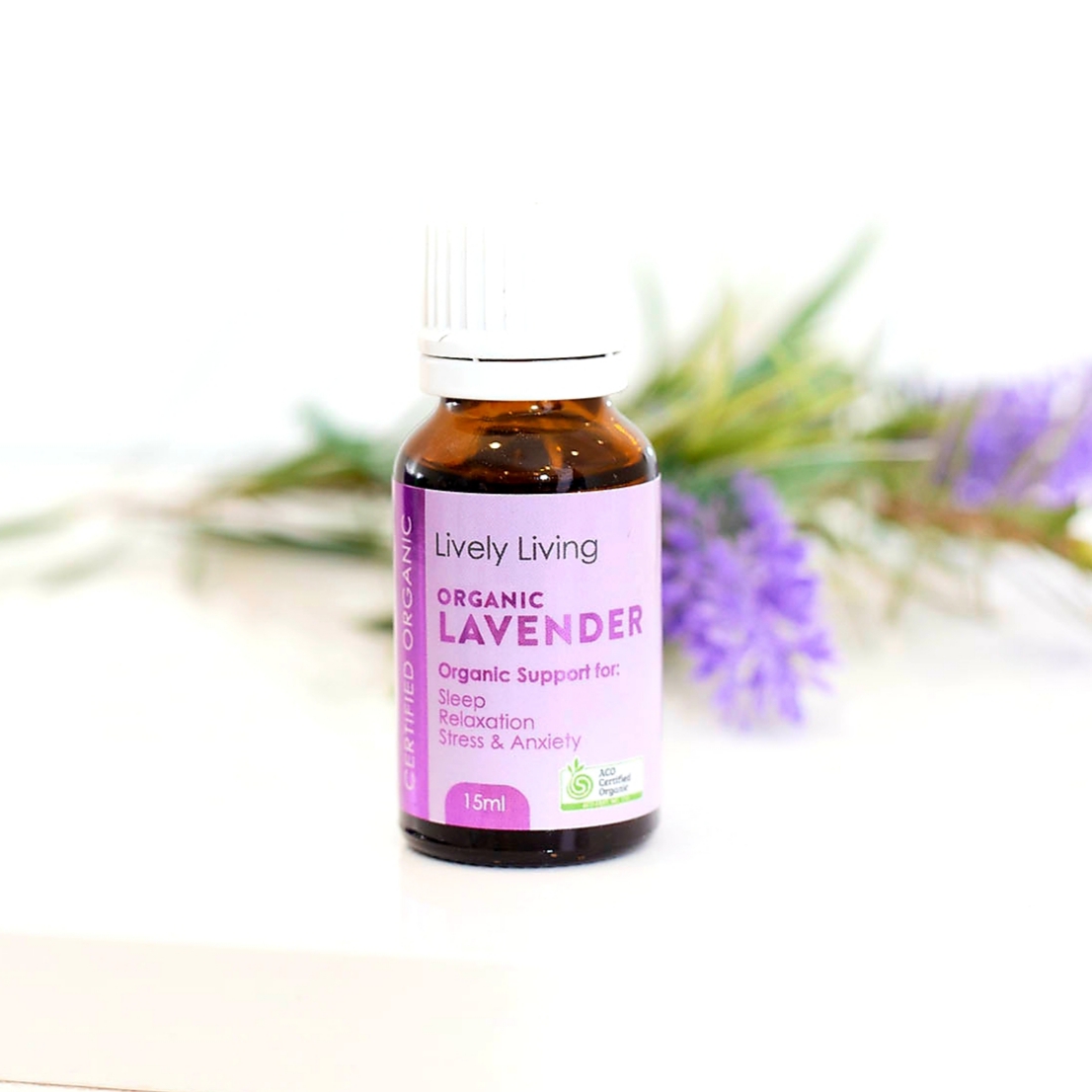 ANOTHER ESSENTIAL OIL – for those that are not fond of the lavender scent (me!!) add an additional few drops of your favourite essential oil. I love the Grapefruit Pure Essential Oil or Lemon Essential Oil it has such a refreshing scent.
AIRTIGHT CONTAINER – To store the wipes in and keep them from drying out. I use this Stackable Container.  
LABEL – so everyone in your home knows where to find them, available in my shop here.
To make it easier for you – I have put together a DIY Homemade Wipes Value Pack in my shop with everything you need to make this!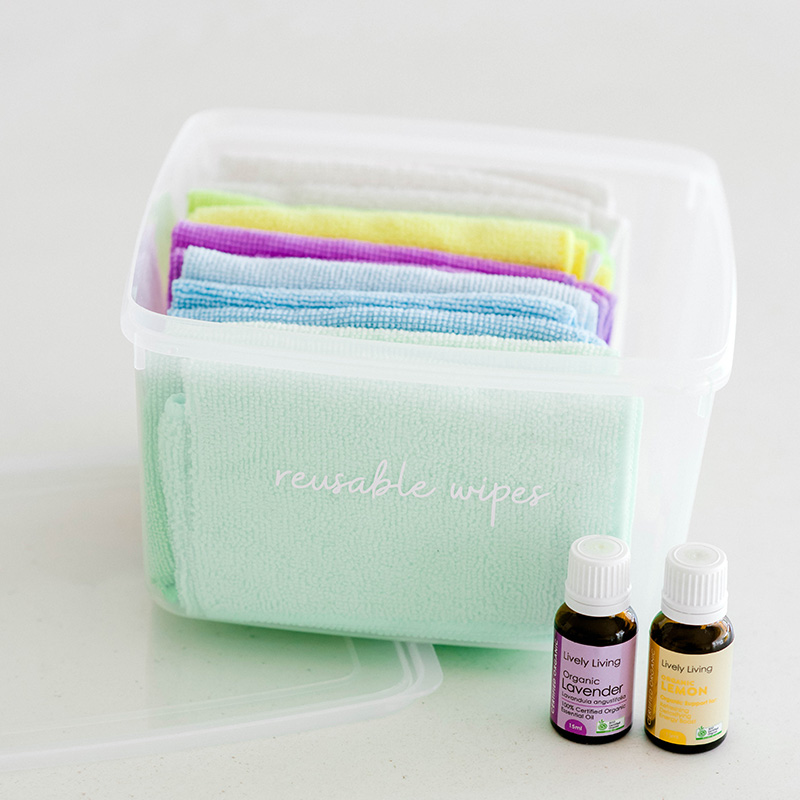 FAQ's
Store your wipes out of the sunlight. I keep mine under the sink, see how I organise under my kitchen sink here.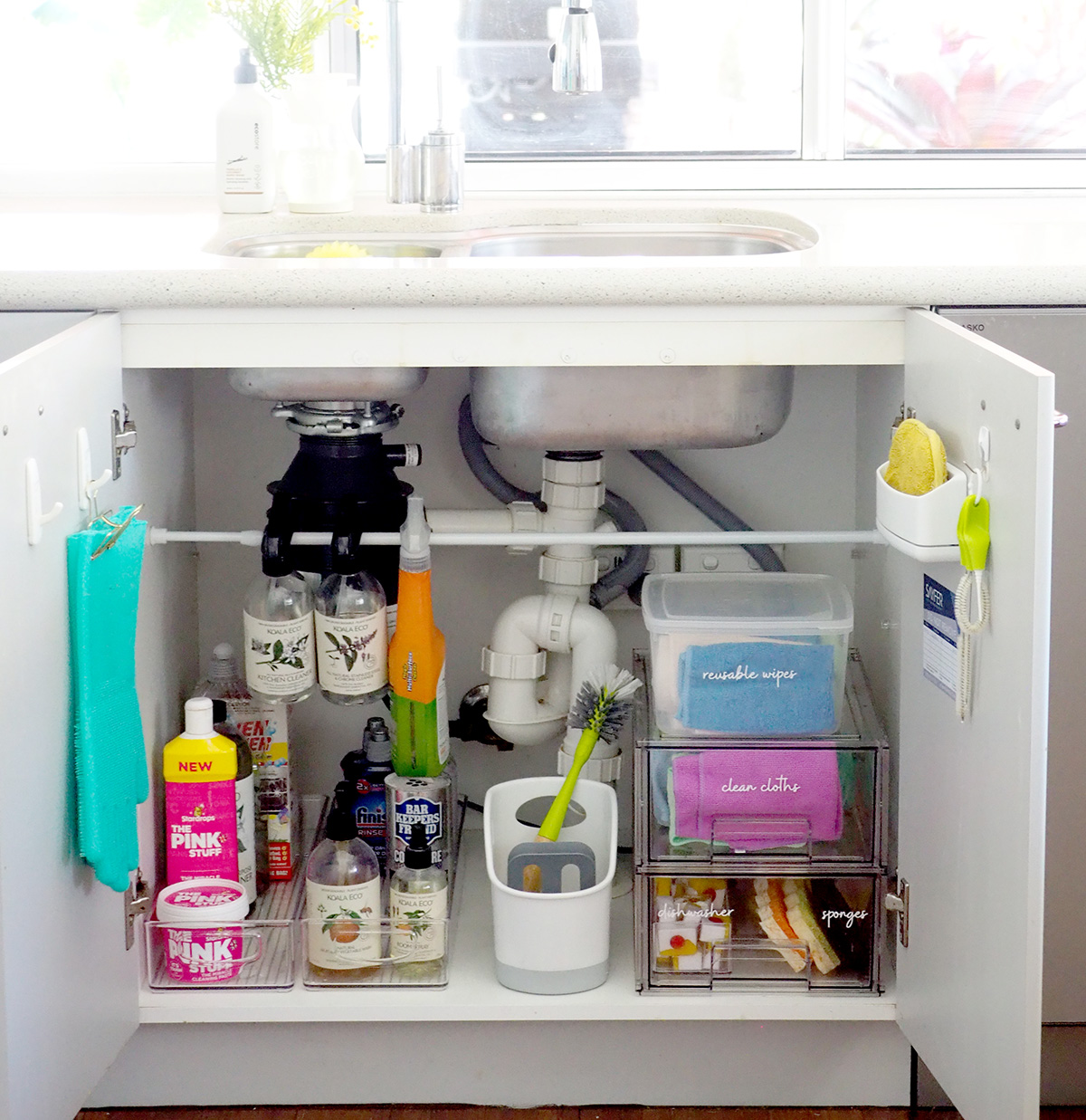 SINK TIDY – Keep your kitchen sink organised and clutter-free with this space-saving sink tidy that helps give you more space under your sink (or keep on top of the sink tidy) and helps you to air your sponges and brushes with fewer germs. When washing up, the Sink Tidy will keep sponges and washing up liquid together in one convenient place.  Sink tidy is available in my shop here.
CLEAR DRAWERS – Keep everything tidy and organised, ideal for sponges, clean cloths and dishwasher tablets. I've used the large drawers from our range here.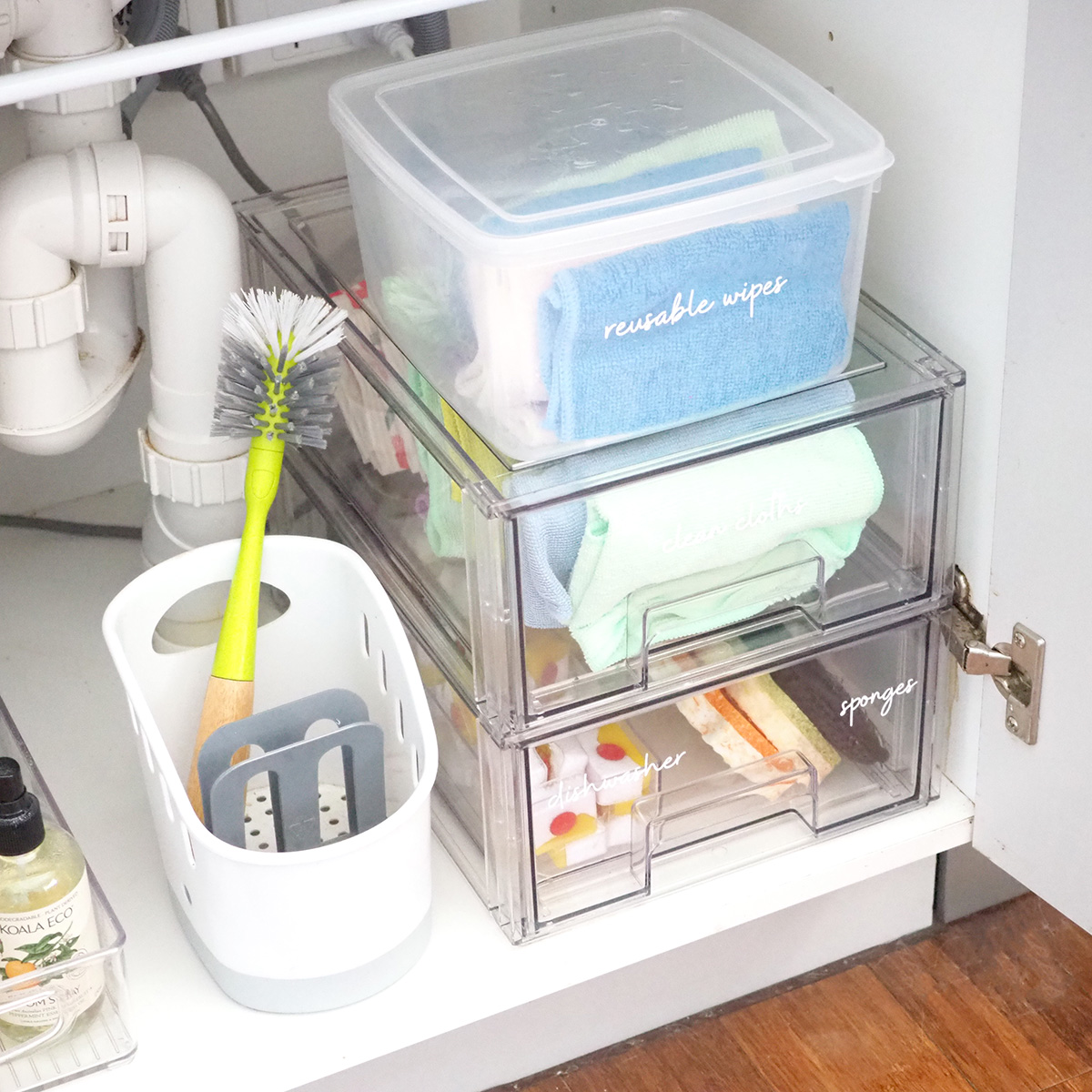 Reusable Homemade Antibacterial Wipes
These homemade reusable antibacterial wipes are the perfect solution for an economical, low-cost, and non-toxic cleaning solution around the home.
1 cup

water

1 cup

vinegar

12

drops lavender oil

5

drops of your favourite essential oil

2 teaspoons

detergent
Micro-fibre cloths
Large airtight container
Instructions
Place cloths into large container
In a jug combine water, vinegar, essential oil and detergent, mix to combine
Pour liquid over cloths
Seal container