I'm very excited, a few of my favourite essential oils are now available here in Australia.  I carry Neroli in my handbag and use it often as I suffer from panic attacks, they hit me with big pains in my chest.  I usually can feel them come on so I roll some Neroli on my neck around my ears and have felt it calm me down within as little as 30 seconds. Copaiba is another one of my new favourites, I put in the diffuser to help calm me, however, it has so many more benefits like helping my hubby ease his arthritis pain.
I've listed all the new products that are now available below along with their benefits.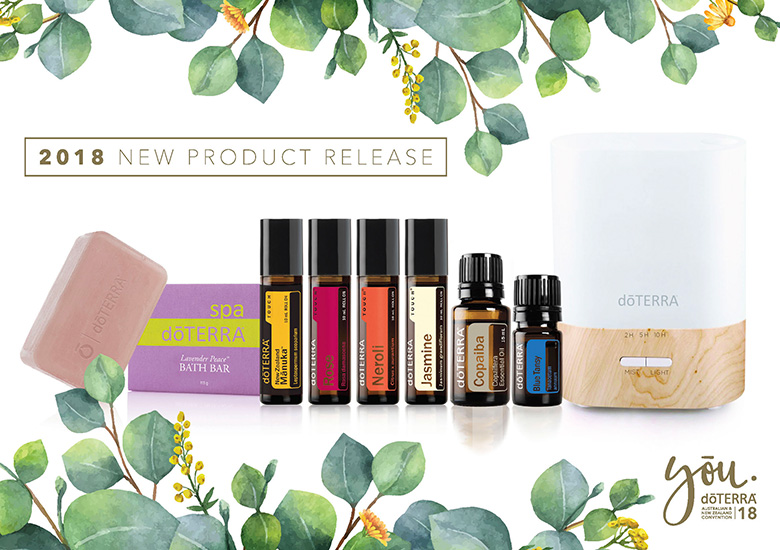 NEROLI TOUCH 10ML ROLL ON
Retail $92.00 | Wholesale $69.00
Neroli essential oil is derived from the flowers of the bitter orange tree. Neroli is known for its calming, uplifting aroma which may instill relaxation and promote spiritual and emotional well-being. Neroli Touch can be applied to pulse points throughout the day for an uplifting scent or used when you require a calming effect on the emotions.
enables a sense of calm and ease
positive, uplifting aroma
soothes skin
COPAIBA 15ML ESSENTIAL OIL
Retail $69.00 | Wholesale $52.00
Derived from the resin of the Copaiba tree, Copaiba essential oil promotes the appearance of clear, smooth skin and reduces the appearance of blemishes. Copaiba oil is widely used in cosmetic products including soaps, creams, lotions and perfumes.
copaiba is soothing and calming to the emotions
diffuse to create a calming atmosphere
combine with a carrier oil to promote the appearance of a clear, smooth complexion
JASMINE TOUCH 10ML ROLL ON
Retail $82.00 | Wholesale $62.00
Jasmine Touch combines Jasmine Absolute with Fractionated Coconut Oil for gentle application and an uplifting aroma. Regarded as the "King of Flowers", Jasmine Touch is ideal to use as a personal fragrance throughout the day.
reduces the appearance of skin imperfections
promotes a healthy-looking, glowing complexion
an uplifting aroma with a pleasing scent
ROSE TOUCH 10ML ROLL ON
Retail $146.00 | Wholesale $110.00
Rose Touch combines Rose essential oil, one of the most precious essential oils in the world with Fractionated Coconut Oil. Rose Touch can be used to moisturise the skin, reduce the appearance of skin imperfections and promote the appearance of an even skin tone and healthy complexion.
reduces the appearance of skin imperfections
helps moisten the skin
emotionally uplifting aroma
BLUE TANSY 5ML ESSENTIAL OIL
Retail $186.00 | Wholesale $140.00
Blue Tansy is an annual yellow-flowered Mediterranean plant found in Northern Morocco. Blue Tansy can be diffused to create a positive, uplifting atmosphere or added to your favourite moisturiser or Fractionated Coconut oil and massaged into your skin after a long day of work or intense exercise to aid the body in the natural recovery process.
helps reduce the appearance of blemishes
uplifts mood when diffused aromatically
provides a soothing sensation when applied to the skin
LUMO DIFFUSER
Retail $138.00 | Wholesale $104.00
The Lumo diffuser features a maple wood base and several light setting options inspired by natural elements. The Lumo diffuser can run 2 to 5 hours continuously and 10 hours intermittently.
LAVENDER PEACE BATH BAR
Retail $13.00 | Wholesale $10.00
The Lavender Peace Bath Bar provides a unique feel, lather, aroma and cleansing experience. Unlike regular soaps which may contain harsh surfactants, this bath bar with naturally derived ingredients leaves skin feeling clean, smooth and soft.
enjoy a rich, cleansing aromatic experience
use in the shower before a restful sleep
provides a unique, luxurious spa experience
MANUKA TOUCH 10ML ROLL ON
Retail $126.00 | Wholesale $95.00
Manuka essential oil has been used for centuries for its plethora of benefits. It has a rich, spicy, herbaceous fragrance that can promote feelings of relaxation. Combined with Fractionated Coconut Oil in a 10mL roller bottle, Manuka Touch is convenient to have on hand to apply directly to your skin.
apply to pulse points to promote relaxation
promotes the appearance of smooth, healthy-looking skin
apply to the bottom of your feet before meditation
HOW TO BUY ESSENTIAL OILS
I've included the prices of the oils above along with the wholesale price as you can see how much you can save with doTERRA's wholesale program, along with many other benefits.  
PURCHASE WHOLESALE 25% OFF – There's no minimum spend and there's never any obligation to make another purchase if you don't want to. You do NOT need to place an order every month or on-sell to friends or family, you simply get to save 25%. Click here to order and get 25% off.

Please email me if you have any questions, I'm more than happy to help you.
Have you used any of these oils, which is your favourite?