Cleaning the oven would have to be one of my least favourite jobs too.  But I love to bake and doing it in a clean oven is preferable. I am sensitive to harsh chemicals so I prefer to not use commercial oven cleaners when I can.  
What to use when cleaning the oven
Natural cleaning products
Or ready-made cleaners
Sponges and Brushes: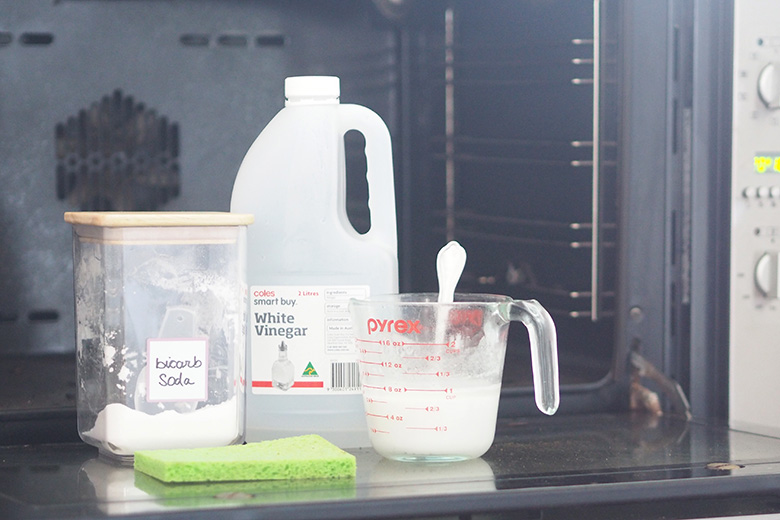 Quick Clean
Use a multipurpose cleaner and a non-scratch scouring sponge to clean over the interior and door to remove any grease and grime.

For stubborn marks use cleaning paste, dab onto the area, sit for 5 minutes then remove with a damp cleaning cloth. 

Clean the exterior door with a multipurpose cleaner and a cleaning cloth. If your oven is stainless steel. polish with stainless steel cleaner.
Deep Clean
1. SOAK THE OVEN SHELVES AND SIDE RACKS
Place an old towel or a sheet in your bathtub to help prevent scratching the tub. Place your shelves on top of the towel and sprinkle Oxi Power Laundry Stain Remover over top.  Fill the bath with HOT water enough to cover the shelves.  Leave for a few hours or overnight to help loosen the grime.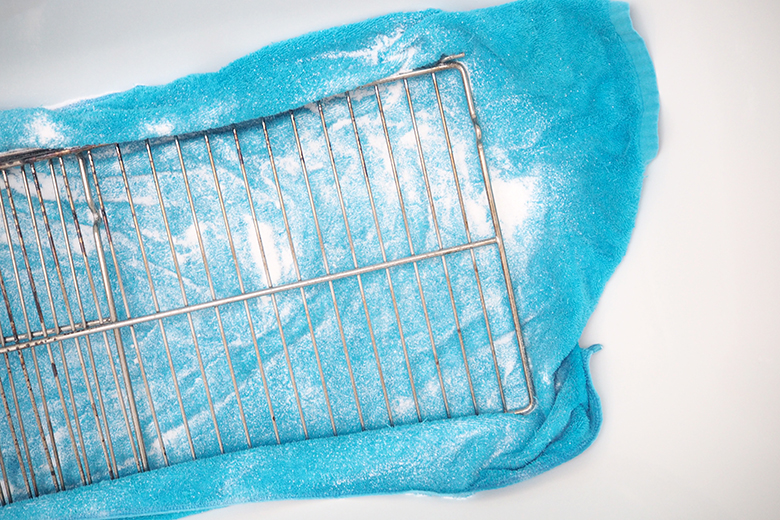 2. REMOVE BAKED-ON FOOD ON THE BOTTOM OF THE OVEN
If your oven has a self-clean setting, run this to help make the cleaning process easier. Once the oven is switched off and cooled down clean with multipurpose spray and cleaning cloth. For stubborn baked on grime use cleaning paste, dab onto the area, sit for 5 minutes then remove with a damp cleaning cloth. 
I have to admit as much as I love using natural cleaning products, there are particular food spills that I can not remove naturally and at times I do need to use oven cleaner to help remove those extra stubborn baked on spots.  
3. CLEAN THE OVEN DOOR
Spread oven cleaning paste over the oven door, stand for 30 minutes then use a non scratch scourer sponge to remove the grime.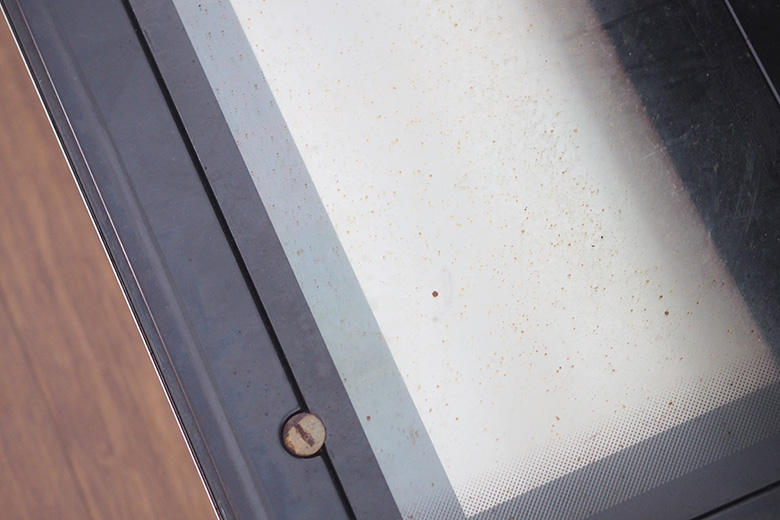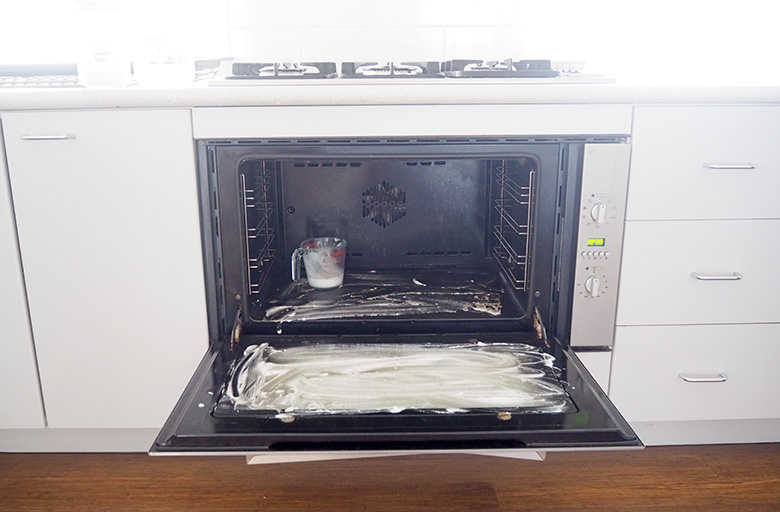 4. ONE LAST WIPE OVER
Spray the oven interior, and door with vinegar to wipe away any leftover cleaning paste. Rinse cloth, wipe again to reveal your sparkling clean oven and door.
5. CLEAN THE OVEN SHELVES
After the shelves have been soaking overnight, gently scrub the shelves with a scourer or grill cleaning brush. Empty bathtub. Fill a bucket up with water and pour over the shelves to rinse off, then allow to dry.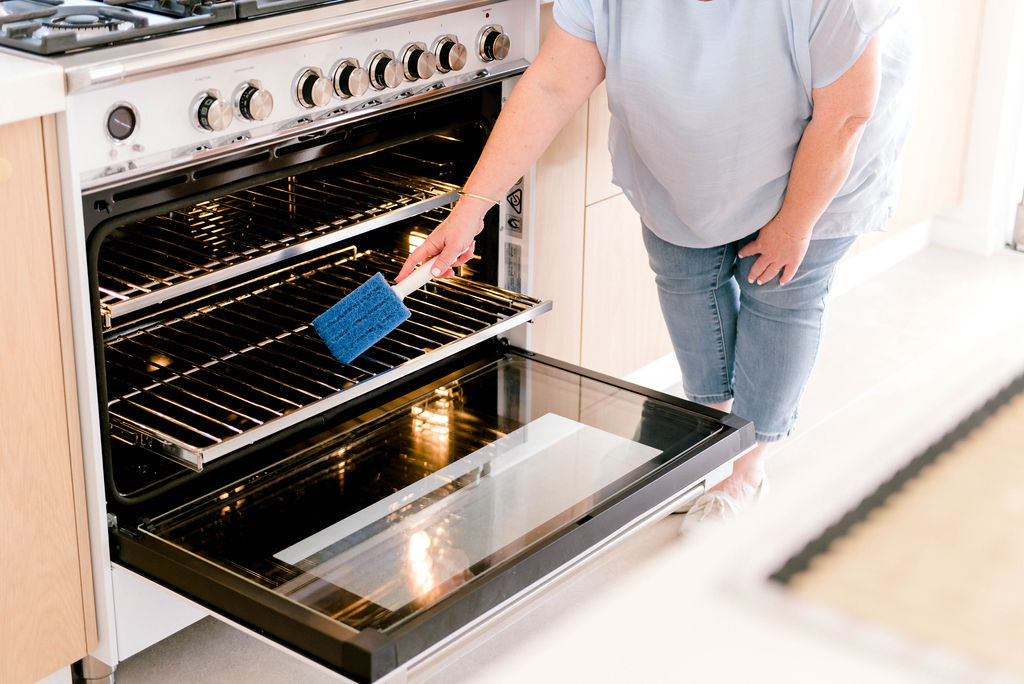 6. REPLACE THE OVEN RACKS
Place your racks and shelves back into your beautifully clean oven!
7. CLEAN THE EXTERIOR OF YOUR OVEN
Use a multipurpose cleaner to remove any food spills and fingerprints and polish stainless steel with stainless steel cleaner. 
When cooking pies or casseroles that may spill over, place the dish on a baking tray so you will clean the spill on the tray rather than having to scrub the oven.