This post is sponsored by AnyLock
You all know that like to have a container in my pantry for everything, pasta, dried fruits, nuts etc. But sometimes the containers won't fit the full packet, and there are many different types of nuts, as an example, it's impossible to have a container to fit everything which results in many open packets in my pantry.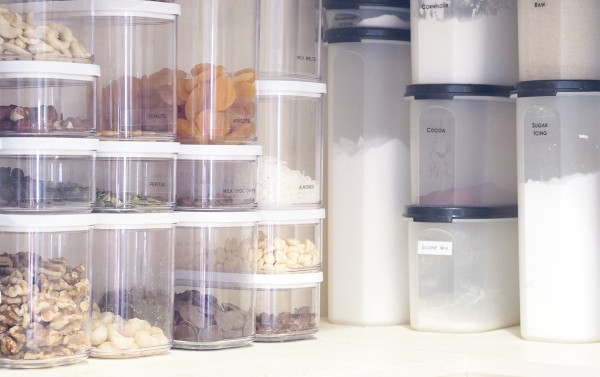 I have quite a few open packets of excess food or those that don't have a container at all to go into.  In haste I fold over the packet to enclose the contents, but most times they flip back up and air get's in making the contents stale.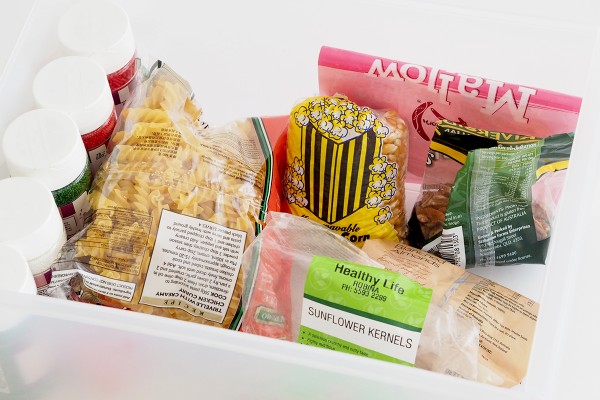 What to do with open packets in pantry
I have found an organised solution for all my open packets.  I have a little set of drawers at the bottom of my pantry for all the extra packets (found in the office section at Ikea, $15 each).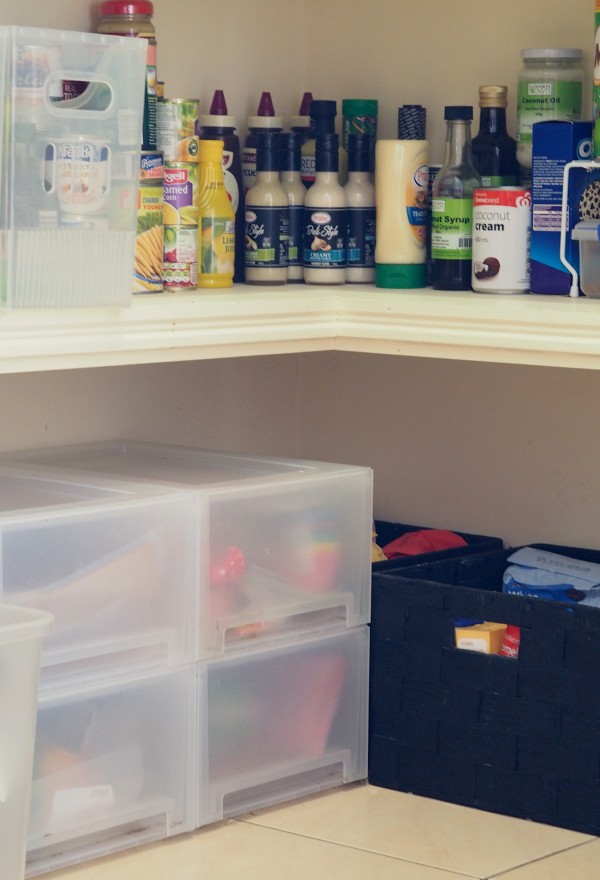 But then… AnyLock contacted me asking if I would like to try their sealing rods? Absolutely, I was very curious. Must quickly add, I'm impressed!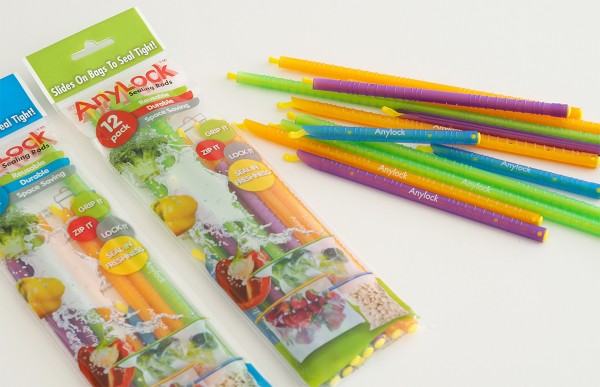 AnyLock sealing rods create a waterproof and airtight seal which will keep foods fresh and the contents sealed in well.  The rods are reusable and come in a variety of sizes.  They are great for those that struggle using the ziplock bags, I know there are days I can't seal them properly or get a good grip to open them with arthritis in my fingers.
Prevents spills
Seals in freshness
Keeps food fresh and odour-free
Reduces food wastage
Leak-proof
Saves space in cupboards and pantries
Reusable
It's the revolutionary, new choice of food storage
No need for bullclips – AnyLock has virtually unlimited uses about the home and office when it comes to seal and protection.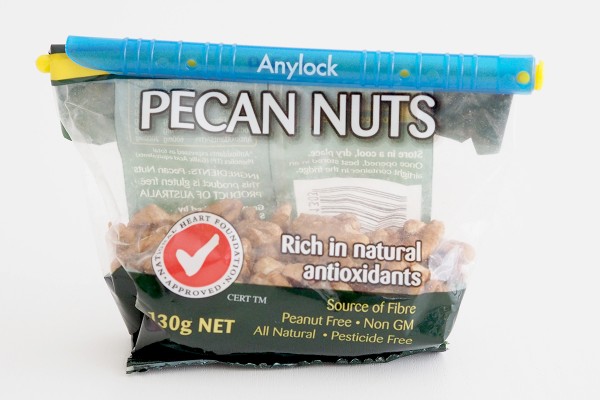 How to use AnyLock sealing rods
Fold over and crease the open end of the bag
Place the inner yellow guide under the edge of the bag fold
Slide the sealing rod across the top of the bag, feeding the bag between the inner guide and the outer sleeve.
Uses for AnyLock sealing rods
Unlimited uses in the kitchen for all different packet food such as nuts, dried fruit etc.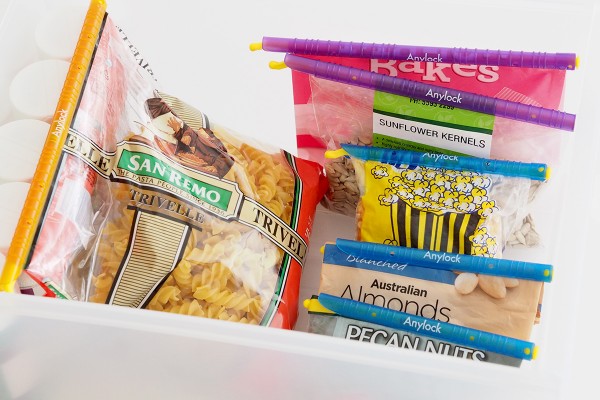 I used to put my corn in freezeable containers, but I have started to run out of room in the freezer as I have a build up of left overs and baking for lunchboxes on the shelves and find storing the frozen vegetables easier in the drawers, but there are times corn is turned upside down and goes everywhere. The AnyLock is really easy for the kids to use too, you know, for those nights they like to cook dinner!!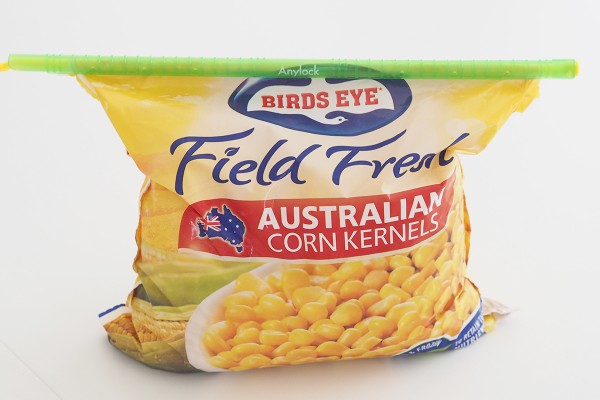 Such a simple idea with many uses, not just for the kitchen, you can use in the bathroom too, for the cotton balls that won't fit into the jars.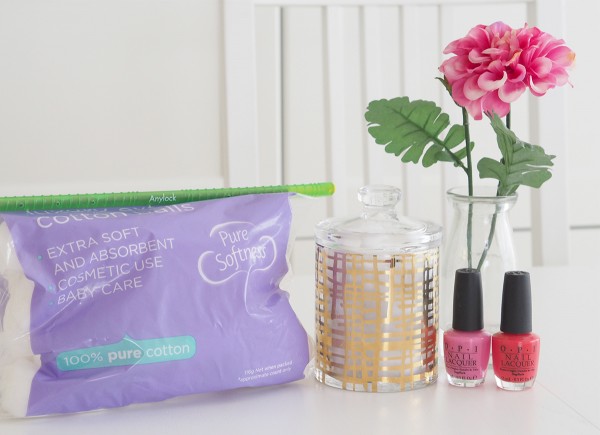 We only use half the crystals when filling up our cats litter tray, the AnyLock can seal the bag so if knocked over between cleans it won't spill! This is the back of the bag below, you can see how you fold it over and simply slide on the rod.
And… use to seal up packets of fertiliser, will stop the shed from smelling.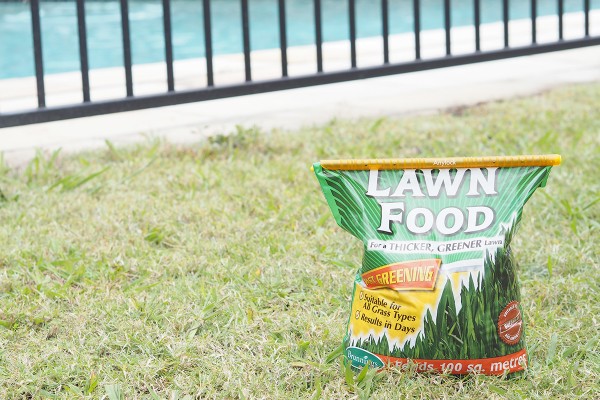 Other ideas:
cereal
coffee
chips
really the list could be endless.
I'm really impressed, they are simple to use, slide on and off with ease, yet airtight and waterproof and a variety of sizes to suit most bag sizes.
Available from
You can find AnyLock sealing rods from, Big W, Spotlight, House and anylock.com. Pack of 8 $10, pack of 12 $15.


WIN 1 of 20 ANYLOCK (8 PACK) BAG SEALS
THIS COMPETITION IS NOW CLOSED. Congratulations to: Chandini G, Liz, Allison, Kristi M, Mellanie, Donna L, Charmaine H, Nellie, Kim, Maureen, Vicki O, Janine B, Linda M, Bree, Christina, Robin L, Christine, Nikki S, Amy, Nicholle S.
HOW TO ENTER
Share in the comments below:
What is the most disorganised area in your pantry?
GIVEAWAY TERMS AND CONDITIONS
1. Entries must be made on The Organised Housewife blog, entries in facebook comments are invalid.  2. Entries close 11.59pm AEST Wednesday 4th November 2015.  3. One entry per household, open to Australian residents only.  4. This giveaway is a game of skill. The judge's decision is final and no correspondence will be entered into.  5. Total prize pool is valued at $200.00  6. Winners will be contacted by email, please ensure you leave your email address.  7. If I have not received a reply from a winner within 7 days the prize will be forfeited and awarded to the entry judged to be the next best.  8.  The Organised Housewife will take no responsibility for any delay, loss or damage to prizes sent to winners.
This post was coordinated by The Remarkables Group and run in accordance with my disclosure policy.