Create a cleaning kit which contains everything you need for cleaning all areas of your house. Keeping all your essential cleaning supplies together in a portable container, makes going from room to room to clean so much easier!
Whenever I am going to give my home a good clean, I am always appreciative of having my cleaning kit ready to go to carry around the house with me. It makes cleaning that one step easier. I have all my essential cleaning supplies together in a caddy which makes it easy to carry my cleaning kit around to each room in the house.  It saves time not having to run back and forth for different cleaning products.
I am a huge fan of DIY Homemade Cleaners which I usually keep in my Cleaning Kit, but I've been a bit busy lately and haven't had a chance to make any up. I've been using a few ready-made cleaners and find them really effective. There is an abundance of cleaning products available, it's hard to know which ones you really need. I have curated at Organised HQ the very best cleaning products that I like and recommend. In my cleaning kit, I like to only keep on hand the absolute essential items that I use and need. I've put together a list below of Household Cleaning Kit Essentials.

What I have in my cleaning kit:
Bicarbonate soda/baking soda
Together bicarb soda and vinegar are a great combination for cleaning the shower, around the basin taps, the oven, really almost everywhere.  I keep my bicarb in a powdered sugar shaker, available in my shop.  Shake out the required amount onto the surface, then spray on vinegar; allow to sit for a few minutes before wiping away.
  Read more: My homemade carpet cleaner.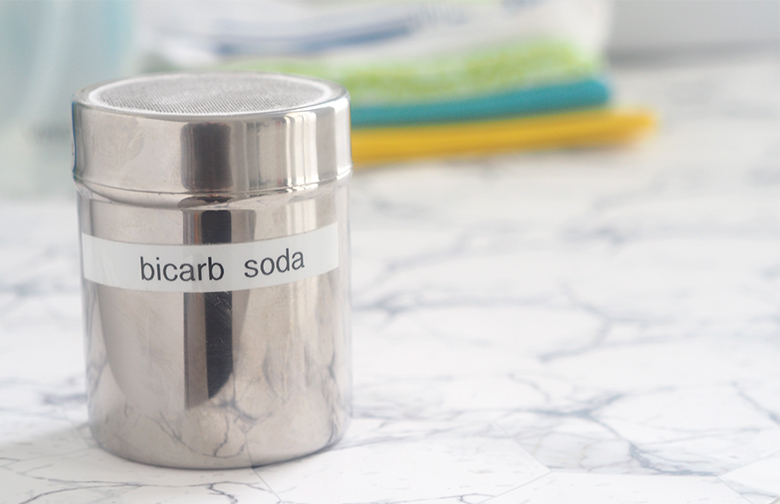 Vinegar
I purchase a big bottle of white vinegar (the same variety as you get in the cooking isle) add equal parts water and vinegar into a spray bottle.  Remember to label your bottles.  Vinegar is such a versatile product. Don't be put off by the odour I promise you it will disappear in a few minutes.  I use a splash of vinegar and hot water to clean my floors.
  Read more: 20 uses for vinegar around the home.
Pink Stuff Multi-purpose and Bathroom Cleaners
The Pink Stuff Multi-purpose cleaner has become my go-to multi purpose cleaner when I don't make my own. It is non-toxic and made from natural ingredients. I find it leaves everything streak free and it really works well on stains and grease. The same can be said for the Pink Stuff Bathroom Cleaner. I find the way it foams seems to be really effective in tackling stubborn bathroom issues like soap scum and limescale.
  Read more: How to clean the walls.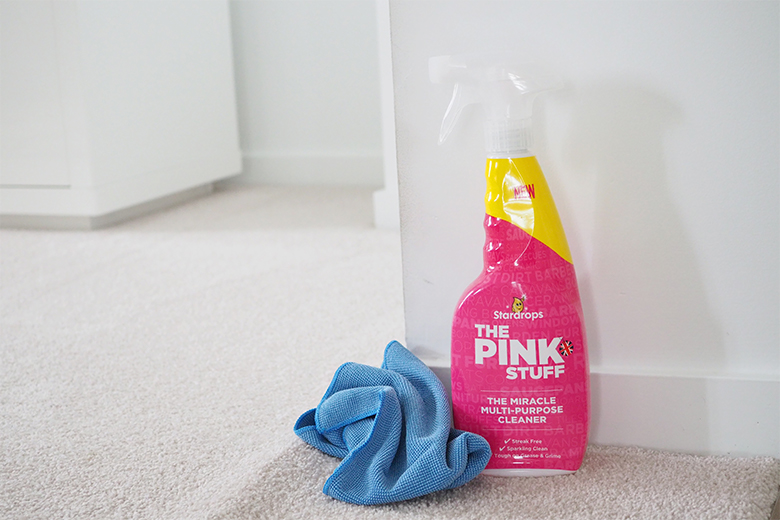 Pink Stuff Cleaning Paste
This stuff is absolutely amazing on stubborn stains. It's great for hard water stains around the bathroom sink and tub, stubborn marks on the walls, cleaning the ceramic stovetop, pots and pans – I couldn't live without it now! Wipe the paste onto toothbrush or cloth to remove dirt and stains.
  Shop here: Pink Stuff Cleaning Paste.
Antibacterial surface cleaning wipes
I use disposable surface cleaning wipes to clean the toilet lid, seat and top of the bowl, as the antibacterial wipes will kill germs.  I also use my reusable homemade antibacterial wipes in the kitchen to clean up spills, find my reusable wipes recipe here.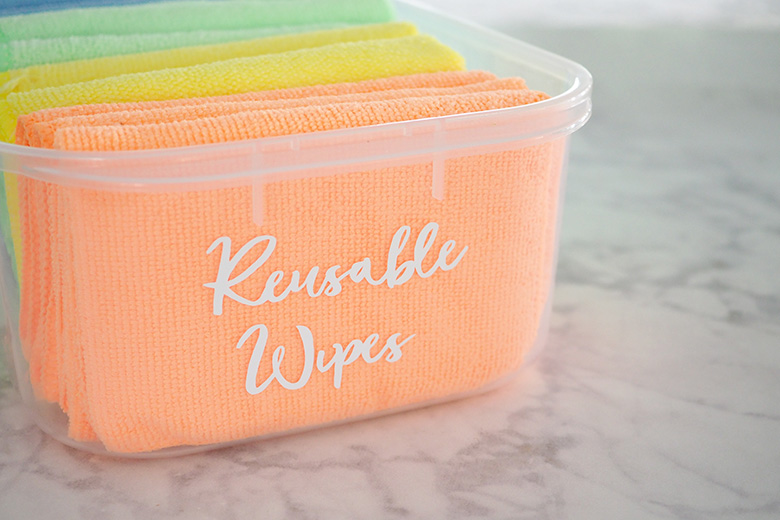 Blind Duster
This is a very handy little cleaning tool as it makes cleaning the slats on blinds so quick and easy! It cleans both the top and bottom of each blind slat in one go.
  Shop here: Blind Duster.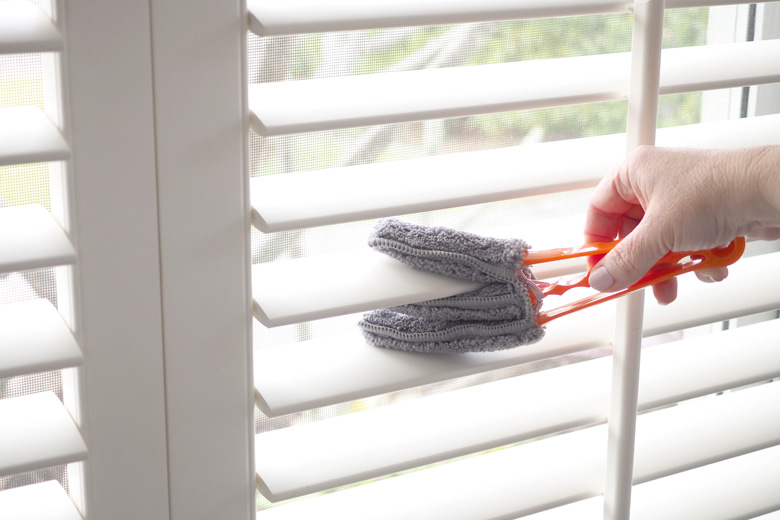 Microfibre duster
I love this duster as it actually picks up dust rather than spreading it. The handle bends which is helpful for dusting hard to get to spaces. You can throw the head part of the duster into the washing machine to clean it when needed.
  Shop here: Microfibre Duster.
Cleaning Brushes
I keep a couple of handy cleaning brushes and toothbrush in my cleaning kit to help tackle those tricky hard to clean spots. I really love this grout cleaning brush as it works perfectly to use to really scrub the grout between tiles. This window track cleaning brush really speeds up cleaning those tricky spots, I find I can get those areas cleaner much more quickly. I find a toothbrush or these mini cleaning brushes is also a handy addition to a cleaning kit as well for those tough to reach spots.
Microfibre cloths
I have used microfibre cleaning cloths for quite some time now. It's much more eco-friendly as they are reusable and you can just pop them in the washing machine once they are dirty. They work well for all general purpose cleaning tasks, as dusters and there are glass specific cloths.
  Shop here: Household Value Pack Microfibre Cloths.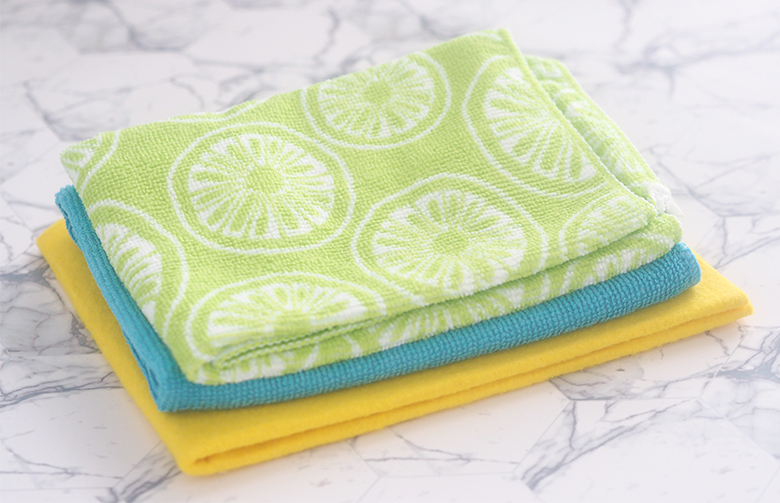 Cleaning Caddy
I love the colour of this caddy, available now at Organised HQ.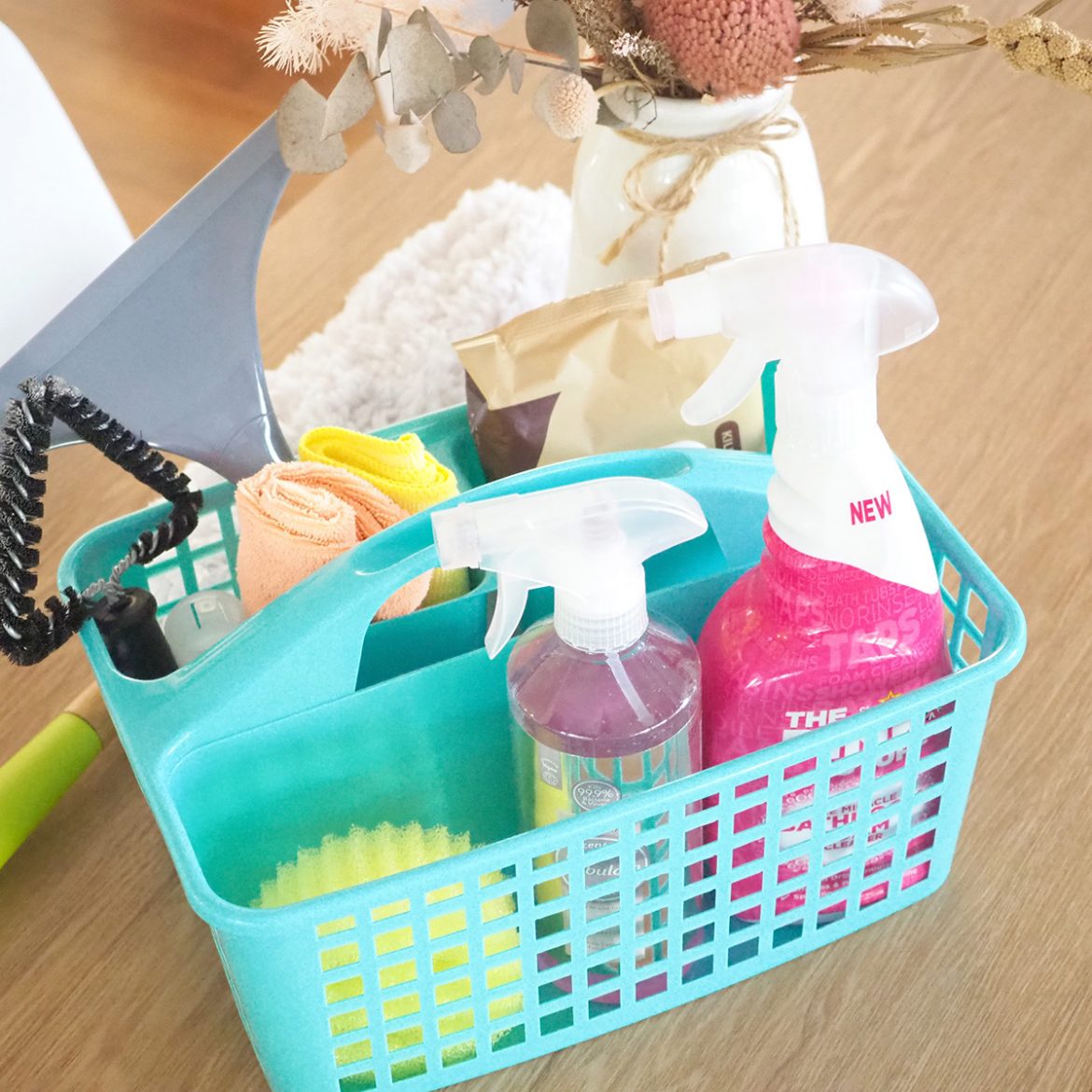 ---
CLEANING CHECKLIST
A cleaning checklist which includes daily, weekly, monthly, quarterly and annual tasks.  This checklist will help you remember cleaning tasks and create a routine to suit the time you have available.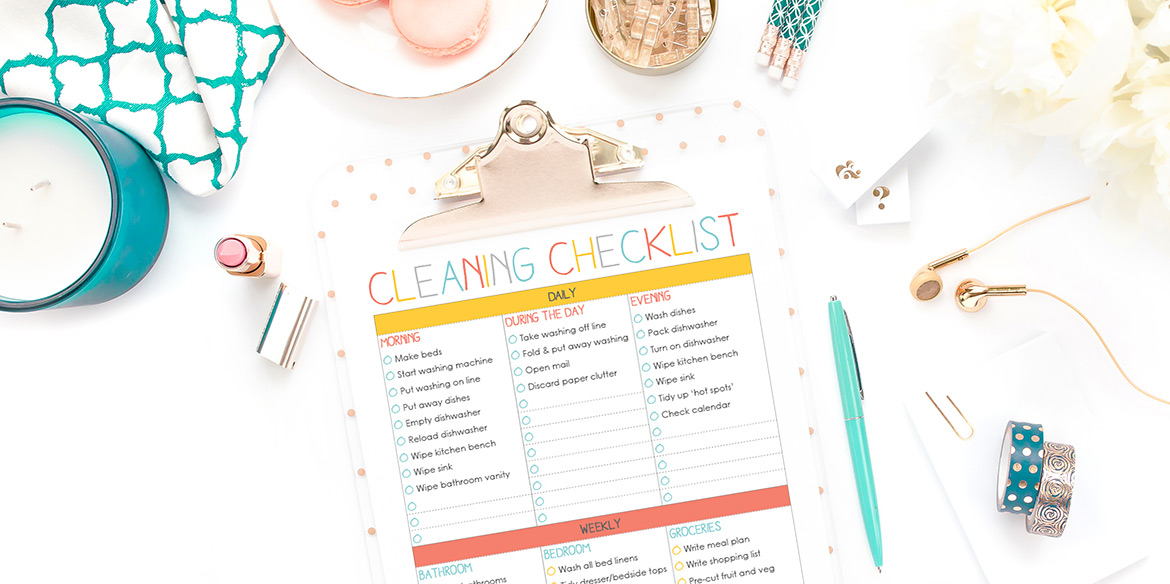 ---
What do you put in your cleaning kit?
---
Pin this image below to Pinterest!