This post is sponsored by Britex
The best way to keep your home clean is with a regular cleaning routine, vacuuming floors, cleaning bathrooms and a general tidy up weekly. It's the bigger tasks that tend to get neglected and bypassed in the weekly cleaning routine. I asked some members of The Organised Housewife community recently what were some of the cleaning tasks in their home they ignore or keep putting off. Interestingly at the top of the list was cleaning the fridge and some had never deep cleaned their carpets. To help you I've put together steps on how you can clean each of these areas that often get neglected below. So, let's gather your cleaning kit, put on your rubber gloves and give some of these areas a good deep clean to give them a refresh and make them sparkle again.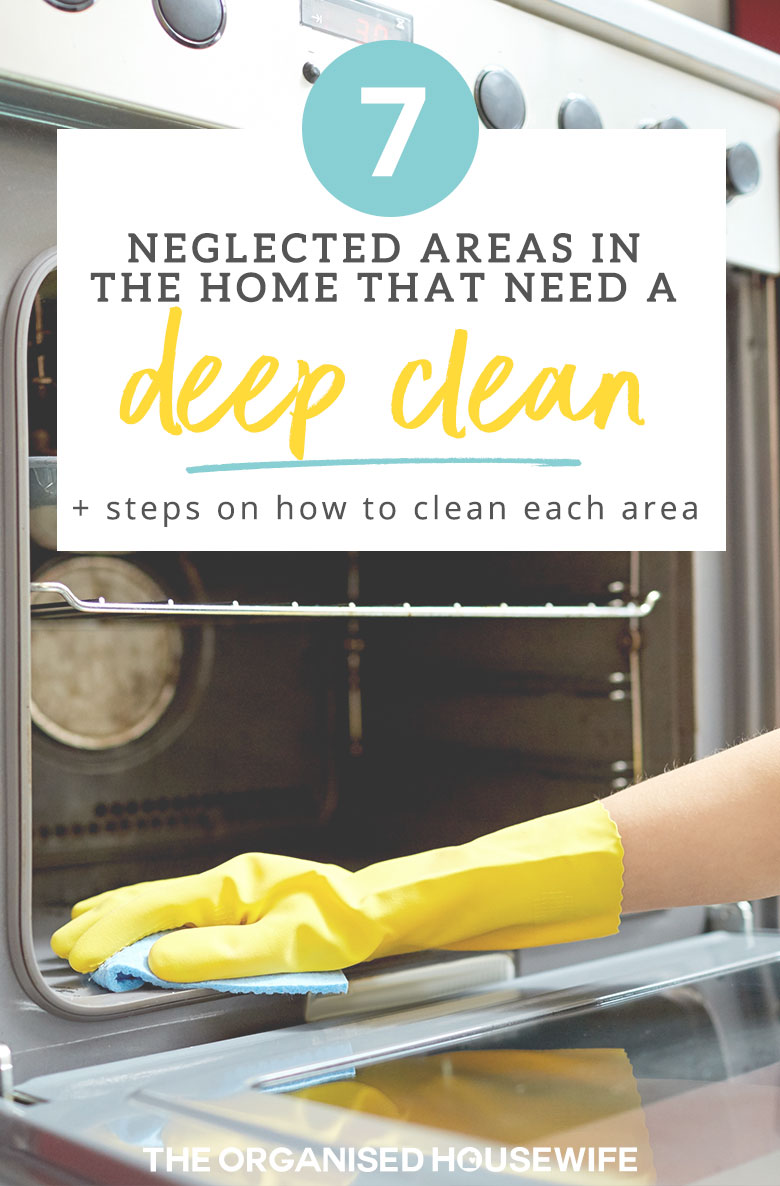 How to clean inside the fridge
Clean every 3 months.
The fridge is one of the hardest working appliances we have in our home, it is on all day, every day, keeping our food cold. The fridge is prone to food spilling onto the shelves, and if gone unnoticed it will dry up or start to smell. Therefore, it's important to give the fridge a good clean to ensure it continues working efficiently.
To clean inside the fridge: Read my steps here.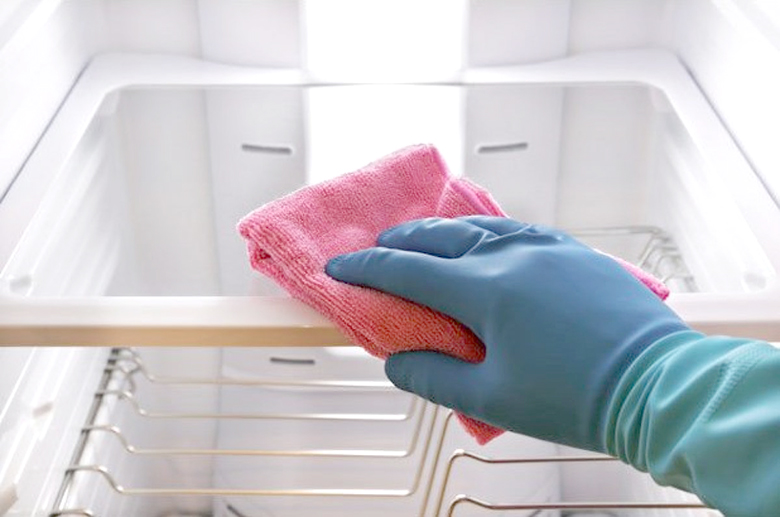 How to clean the stove range hood
It is recommended to clean your range hood filter every month, but realistically I do mine every 3 months.
The purpose of the stove range hood is to collect fumes and grease from your cooking, so you can only imagine how much grime it catches. Keeping the filter clean improves power efficiency and allows the range hood to work effectively.
To clean a metal range hood filter:
Sprinkle into sink 1/4 cup of baking soda and 1-2 tablespoons dish detergent, mix with a kitchen brush.
Fill your kitchen sink with boiling water.
Remove the filters from the range hood and place into sink, covering with water.
Soak the filters for 15 minutes.
If your sink water is filthy, empty sink and refill, adding detergent.
Using a kitchen brush, scrub the filters to remove any trapped grease.
Rinse the filters thoroughly in hot water to remove any detergent and grease.
Air dry the filter.
Place filters back into rangehood.
Wipe over the rest of rangehood with all-purpose cleaner and paper towel to remove grease and dust build up.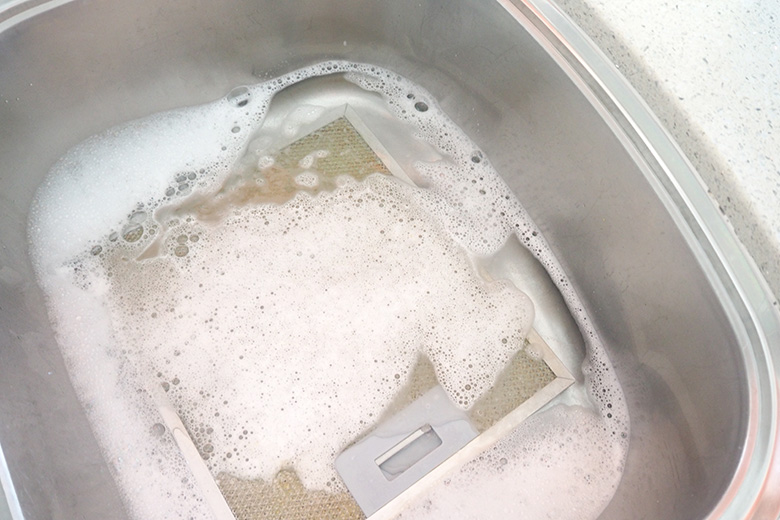 How to deep clean carpet
Regularly clean your carpets weekly, but give them an annual deep clean.
Despite our best efforts to keep our carpets clean, spills and accidents happen. Most commonly we spot clean our carpets when we find stains on them, which may eventually lead to darker patches in your carpets. Surprisingly even with regular vacuuming, you may not realise the dirt coming through windows, on feet and shoes and with the daily traffic the overall appearance of the carpets start to dull slightly too.
We put new carpets into our home when we moved in here nearly 2 years ago. It has lost its new feel in some areas we walk daily and being we have pets and kids with dust mite allergies I wanted to give it a good deep clean. This will refresh them, remove the stains, allergens and other nasties lurking in the carpet fibres making it last longer and look better, like it was new again!
I hired a Britex DIY Carpet Cleaner for 24 hours to give our carpets the deep clean. I picked it up just after school drop off from our local Bunnings and came home and cleaned the hallway and bedroom floors so they'd be clean before the kids got home from school. Then that evening I cleaned my office floor and the lounge (more detail below) so it had time to dry overnight. Then next morning before I returned it I quickly cleaned the kids retreat 'not so much a toyroom when you have teens' and the staircase.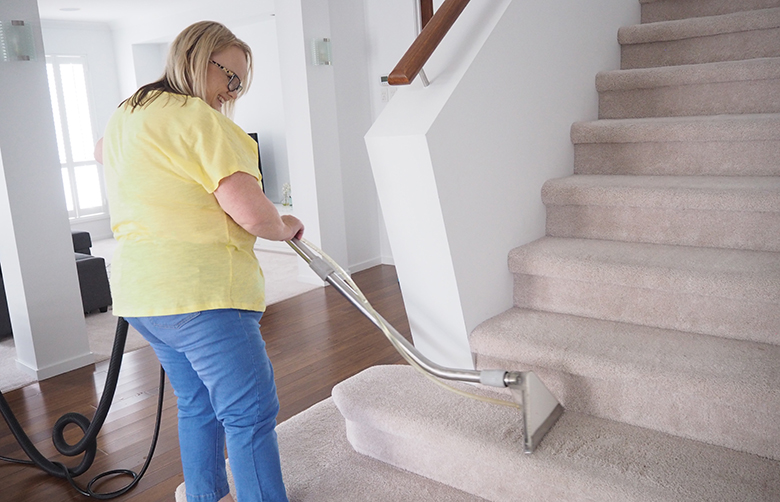 To deep clean the carpets:
Plan a day in your calendar where you can spend time deep cleaning your capets. Plan to pick up the Britex Carpet Cleaning Machine as early as you can in the morning to make the most out of a 24-48 hour hire time.
Hire the Britex Carpet Cleaning Machine from your local Bunnings, Woolworths, Coles, or IGA. Find your local hire store here. You will need to take 2 forms of ID & your mobile phone. Unfortunately, you can't book/hold a machine, so there is no guarantee there will be one available to pick up. So after I dropped the kids at school I sat in the car park and quickly rang around a few stores I knew had them for hire and went directly to who had one available ready to be picked up.
Decide if you want a 24 hour or 48 hour hire. This would depend on how much time you have to use the machine and if you are removing all furniture from the carpets to give your carpets a complete clean.
Remember to get some carpet cleaner and defoamer when you pick up the machine. Make sure you have enough Britex carpet cleaner for the areas you want to clean. Britex recommends a 1L bottle will clean approximately 60m² of carpet (or 3 average sized rooms) and for every 1L of carpet cleaner, you will also need 1 bottle of Britex Defoamer.
Put all your pets outside. The Britex formula is low allergenic and safe for animals, however you don't want their little paws on the carpets until they are dried.
The Britex Machine is really easy to use, very much like a vacuum cleaner. If you need to move it up and down stairs this is best done when it doesn't have water in it as it's much lighter.
Concentrate on the areas with stubborn stains, you may need to go over these areas several times.
Remember to start in the far back corner of a room and work your way to the doorway so you aren't rolling the machine or walking on the damp carpet.
Carpets will be slightly wet after you have cleaned them. They will be dry and safe to return your furniture back to within 2-4 hours.
It's recommended to use the Britex Carpet Cleaner with their range of Carpet Cleaner and Defoamer solutions. The water and cleaning solution from the machine washes the fibres in the carpet, then the machine extracts the solution and water from the carpet along with dirt, debris, oil and allergens making the carpets look as new again. The defoamer prevents foam overflow that an be caused by a build-up of old detergent residue left in carpet from previous cleaning tasks.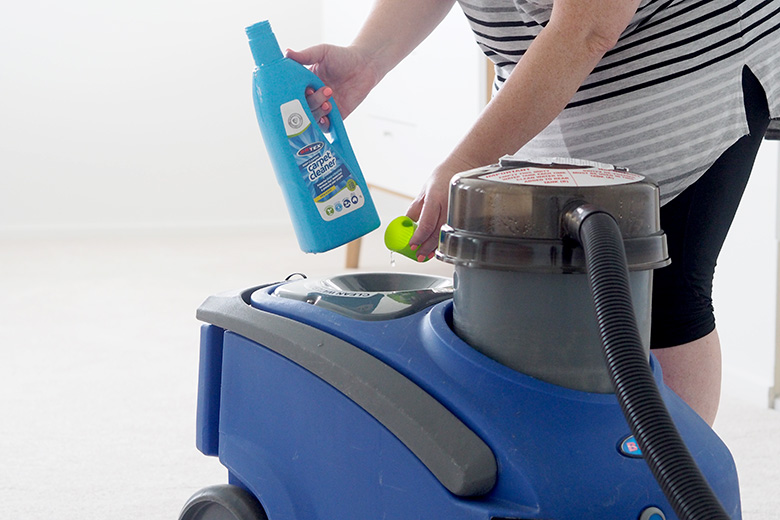 The strong vacuum removes any excess moisture from the pile which helps dry the carpets within 2-4 hours. I emptied the water several times while cleaning our carpets and was so surprised how filthy the carpets were, even when I vacuum them once a week. That would be the dirt that gets trapped in the carpet fibres and not picked up with a general clean.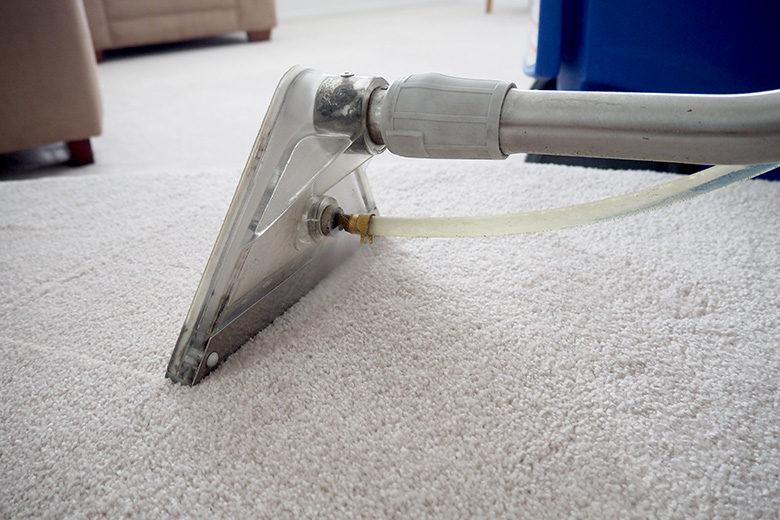 I cleaned our carpet on a rainy day, turned on the ceiling fans and they were dry within 3 hours. I only cleaned the right half of the area below as I was interested to see if I could see a difference in the carpet. ie. if the right side looked cleaner or dulled the carpet as I've used a machine in the past that did this. I am very impressed and happy with the end result, it picked up a stain that was on the carpet with little effort and the carpet looks as good as new!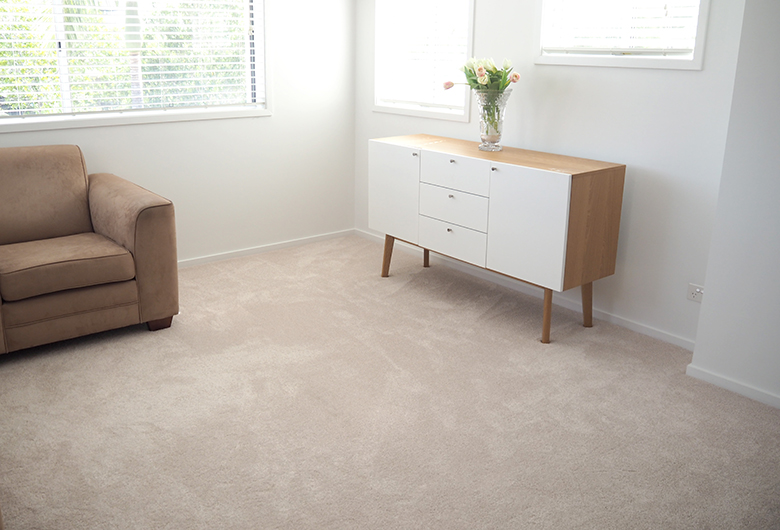 The Britex machines offer high-performance and a low-cost cleaning process that delivers professional results, with the added bonus that the handle and trigger aren't heavy making the machine easy to use.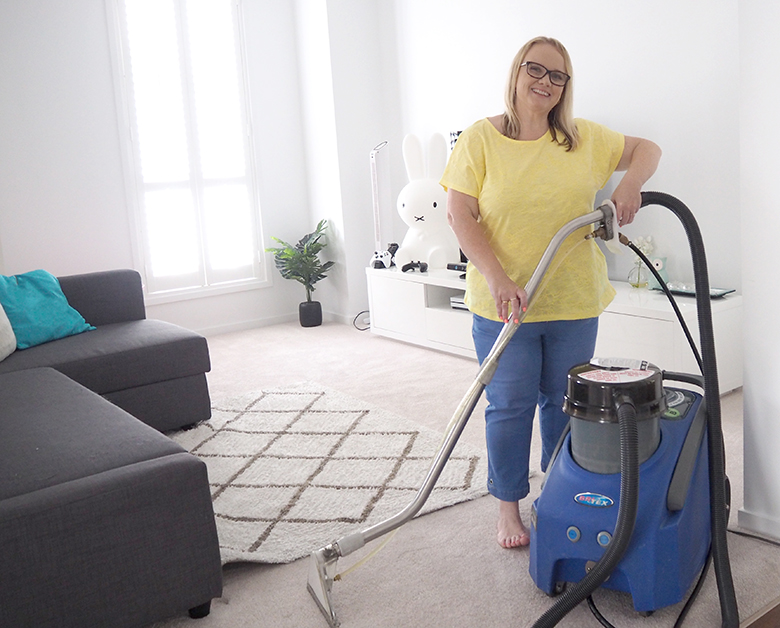 I didn't stop at carpets, keep reading to see what else I cleaned while I had the Britex machine.
How to clean away dust bunnies
Clean every 3 months
Dust can build up very quickly, especially those areas that the vacuum cleaner or broom can't reach easily. Areas such as under beds and lounges behind TV units and the fridge can collect bunnies which can irritate allergies and affect the efficiency of appliances.
To clean away dust bunnies
Remove what you can from large heavy furniture piece to allow you to move it away from walls to then vacuum behind it.
Use a step stool to clean ceiling fans.
Most fridges have stoppers on the wheels to prevent them from moving when you open and close the door. Unclip the stoppers so you can easily move out the fridge and vacuum behind. I can't stress enough how important it is to do this regularly. You will notice an improvement in your refrigeration efficiency when it's dust free.
Use a step stool and brush attachment on the vacuum cleaner to suck up all the dust in air conditioning vents.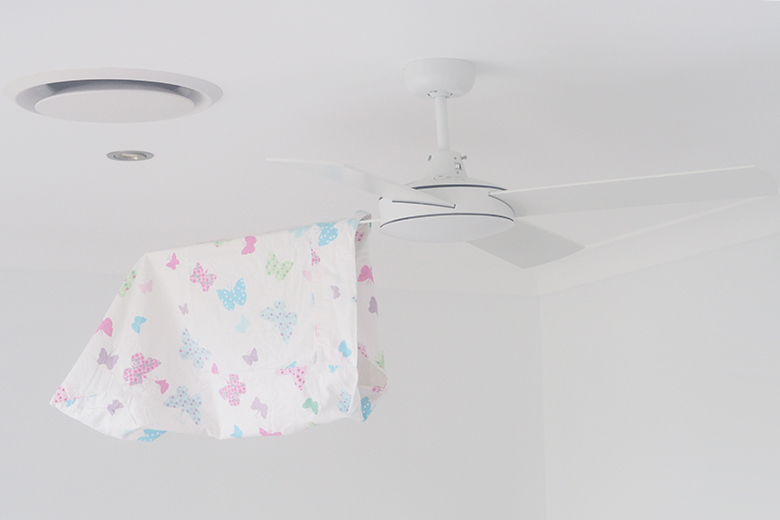 How to clean the outdoor patio
Clean every 3 months
Give your outdoor patio and furniture some TLC, remove and dust, bird dirt, cobwebs so it's ready for all your spring and summer entertaining!
To clean outdoors
I simply put all furniture out on the grass and give it a good hose down.
Fill a bucket of water with some dish detergent and using a cleaning brush give it a scrub to remove any caked on bird dirt and use a cloth to wipe over flat surfaces.
Rinse off with hose and dry in the sun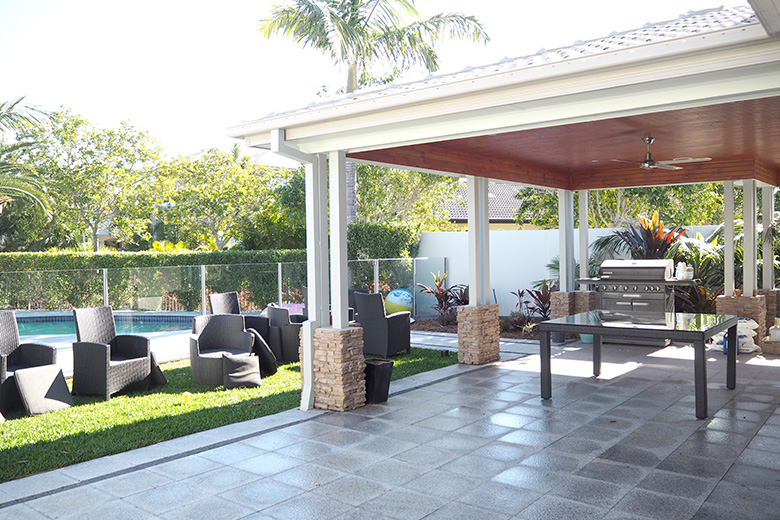 How to clean the oven
Clean every 3-6 months
Ideally, it's a good idea to clean the oven every 3 months. This has to be one of my least favourite chores and I honestly don't do it as often as I should. Along with a little elbow grease, my method is to soak them in a solution of ingredients which you are more than likely to have in your cupboards already.
To clean the oven: Read my steps here.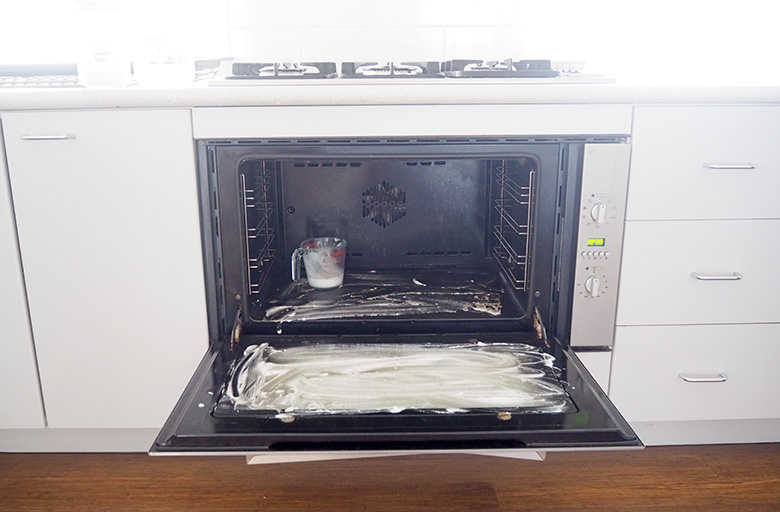 How to clean upholstery
Clean annually
Between, pets, food, dust, dirt, sweat and just everyday life, the lounge can get quite grotty and over time you may not even realise it. Each year it's ideal to give your upholstery a good clean to remove stains and keep it smelling fresh.
Our puppy Zoe is now jumping up and laying on the couch, slobbering it, which leaves little stain marks. That face is so hard to get cranky at. If you follow me on instagram stories you'll hear my 'I'm trying to be cranky ooh I love her so much' puppy voice.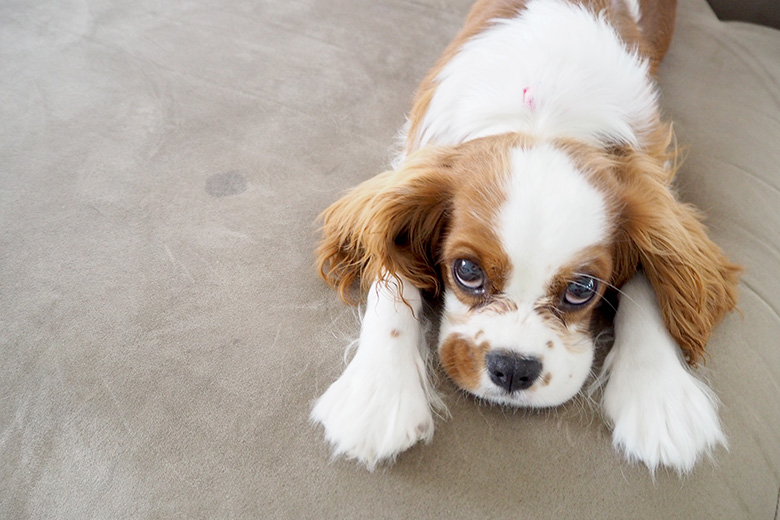 So while I had the Britex Carpet Cleaner out for hire I picked up the upholstery attachment (no extra charge) and cleaned my lounge suite too. The Britex Upholstery Cleaning Solution is safe to use on a wide range of fabric items such a the lounge, fabric covered dining chairs, fabric car seats to clean, deodorise, revitalise and protect the fabric.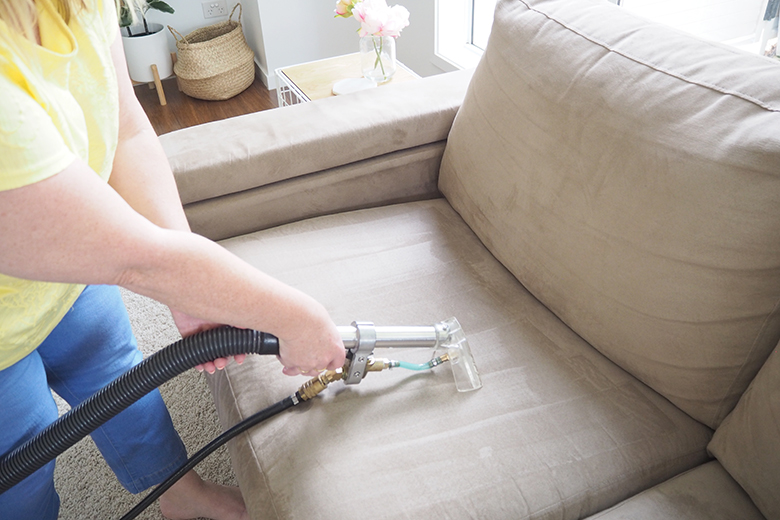 The Australian made Britex Upholstery Cleaner contains a unique Spotguard® formulation which can protect your precious upholstery against stains and spills long after the carpet has been cleaned.
To clean fabric upholstery:
It is a good idea to spot check in an inconspicuous area before cleaning the whole lounge, just to be safe.
For stubborn spots pre-treat the area with Britex Spot n Stain remover.
Use the Upholstery wand in one direction.
Try not to saturate the cushions.
Dry in sun if they are removable, but this isn't necessary.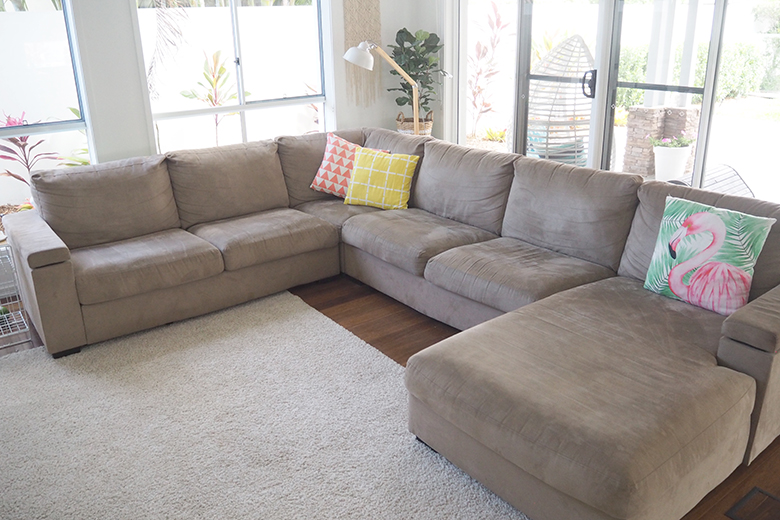 I am really pleased with how easy it was to clean the marks off the lounge. It's now slobber/stain free… for now! I've put a little blanket on there to teach Zoe this is her place to lay (see how that goes).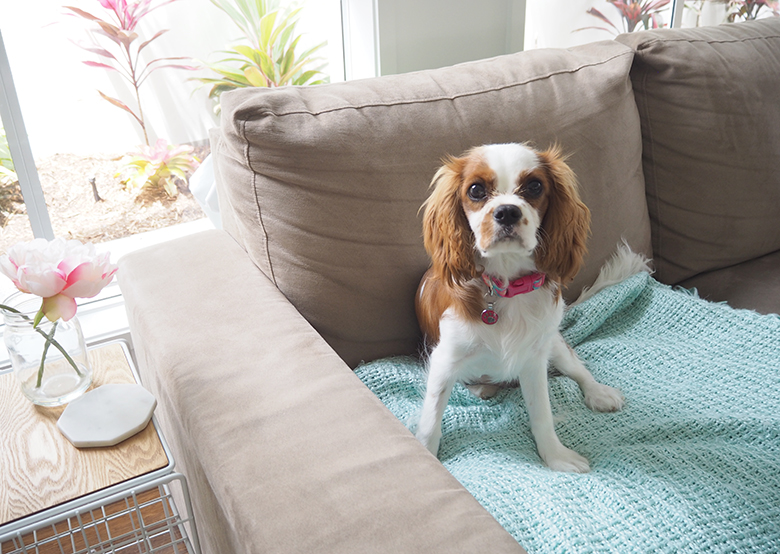 For more information, the Britex machines offering high-performance and a low-cost cleaning process that delivers professional results every time on carpets and upholstery, visit their website here.
What is one cleaning task in your home you neglect?
This post brought to you by Nuffnang and Britex and is run in accordance with my disclosure policy.