It's official I now have a household full of teenagers.  My youngest turned 13 this week and the twins are 15 next fortnight, it's crazy how quickly kids grow up> I feel like I have been mourning it, I loved having little ones around the house. However in saying that I am also enjoying this age, conversations are different and much more in-depth, we are enjoying the same TV shows, they are taking on more responsibilities and they are becoming more independent socially and here at home.  My kids have been cooking in the kitchen for some time now with my supervision when they were younger, but since their tween-age years (that in-between year of 8-12) they'd make their own snacks while on holidays or for after school.  At this age it's good to start with some basic easy ideas and one of my favourites for my kids was MAGGI 2 minute noodles.  But as they have gotten older and my boy in particular, hungrier, we've worked out some clever and quick ways to jazz up 2 minute noodles, easy for them to make and is a tasty solution for an after school snack.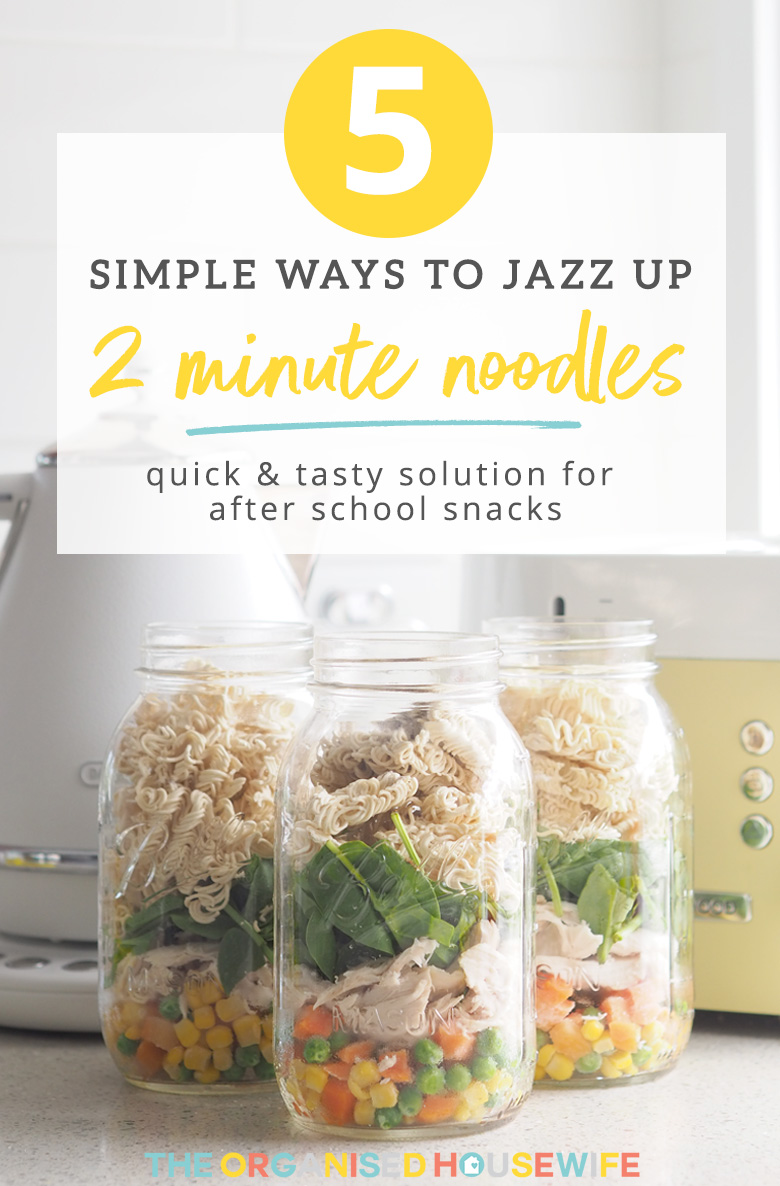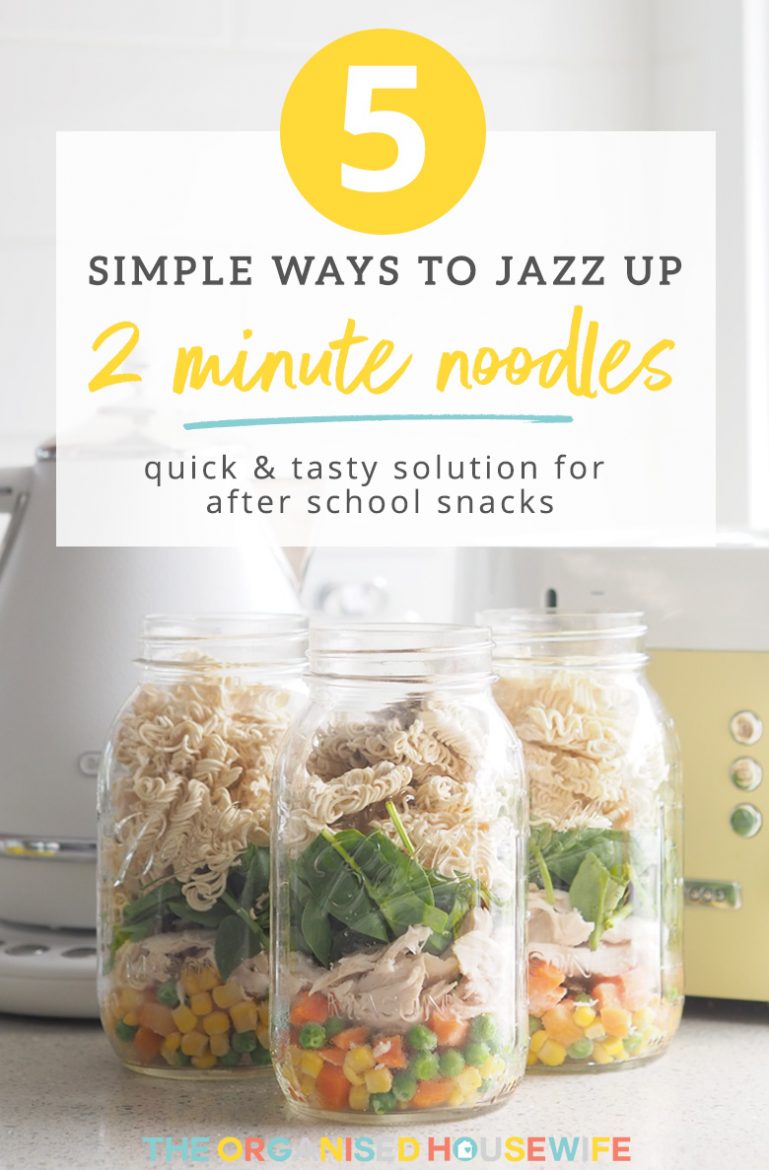 MAGGI 2 Minute Wholegrain Noodles contain invisible wholegrains, are a source of fibre and you can easily boost the nutrition by adding plenty of vegetables and lean protein, as you can see in my recipes below. They are versatile and easy for the kids to independently make some healthy, delicious and tasty afternoon snacks and meals.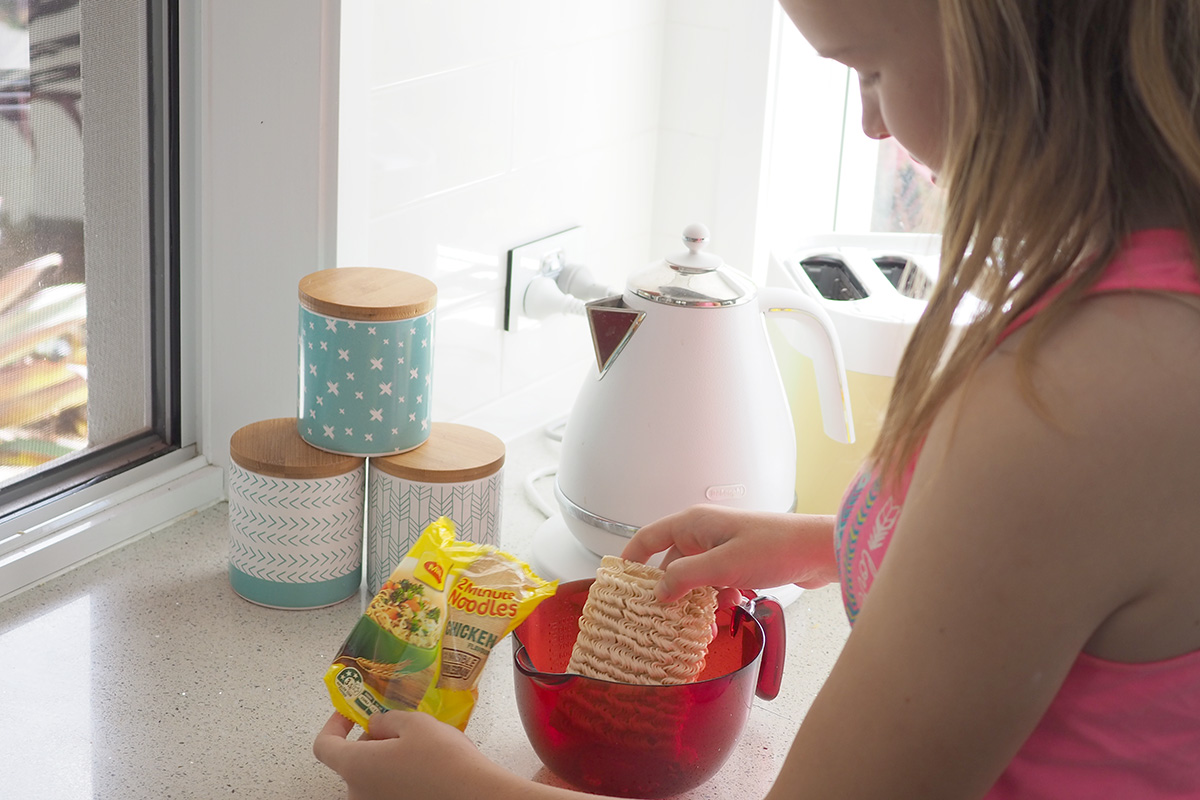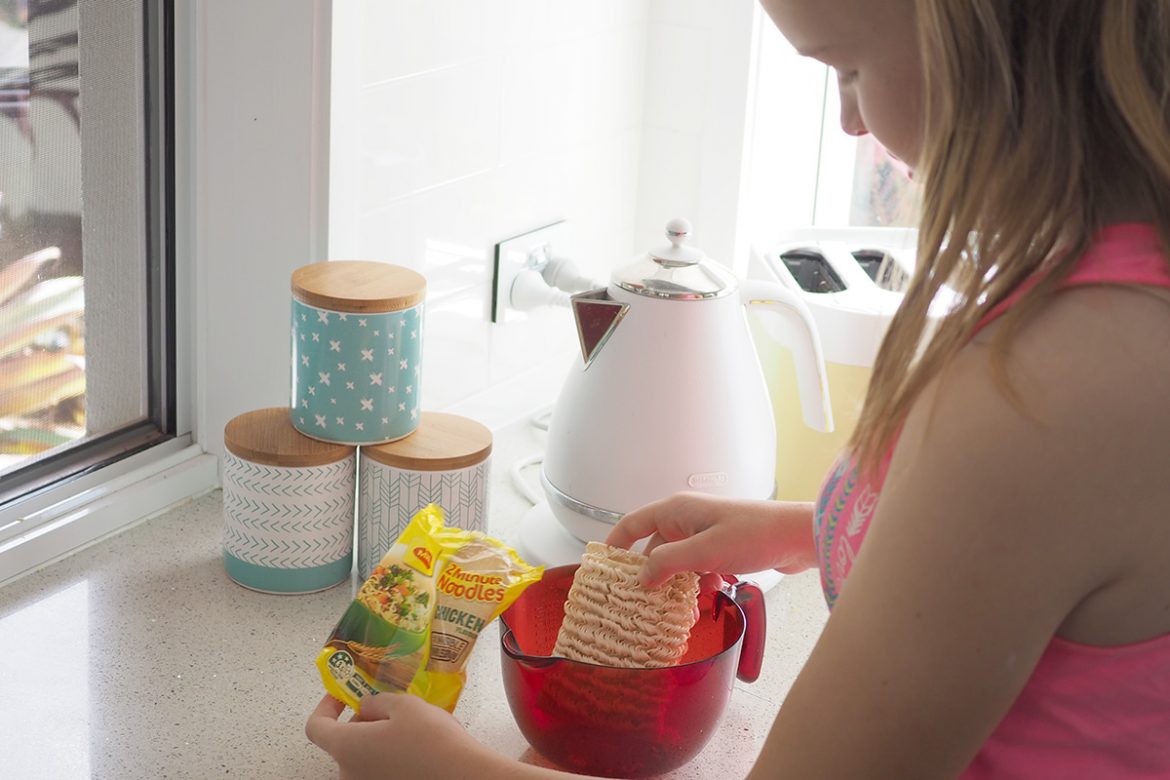 1. DIY Chicken and Vegetable Noodle Cups
Like my mason jar salad's these are great to prepare at the beginning of the week and have on hand for an afternoon when the kids have a quick transition of getting home and ready for after school activities.  We use frozen vegetables as they are already pre-cooked before being frozen and the hot water will heat them back up. You can use fresh vegetables if you prefer, but you will need to cook them first to soften them up.
TO MAKE: Simply add the ingredients into a jar, starting with 1/3 cup frozen peas, corn and carrots, a handful of chicken and spinach leaves. Break noodle cakes and add into jar and sprinkle flavour sachet over top. Seal jar and place in fridge until ready to eat.  Packed like this all the contents will stay fresh for a week. When ready to eat, tip the contents into a microwave container, add enough boiling water to cover noodles and cook in microwave for 2 minutes.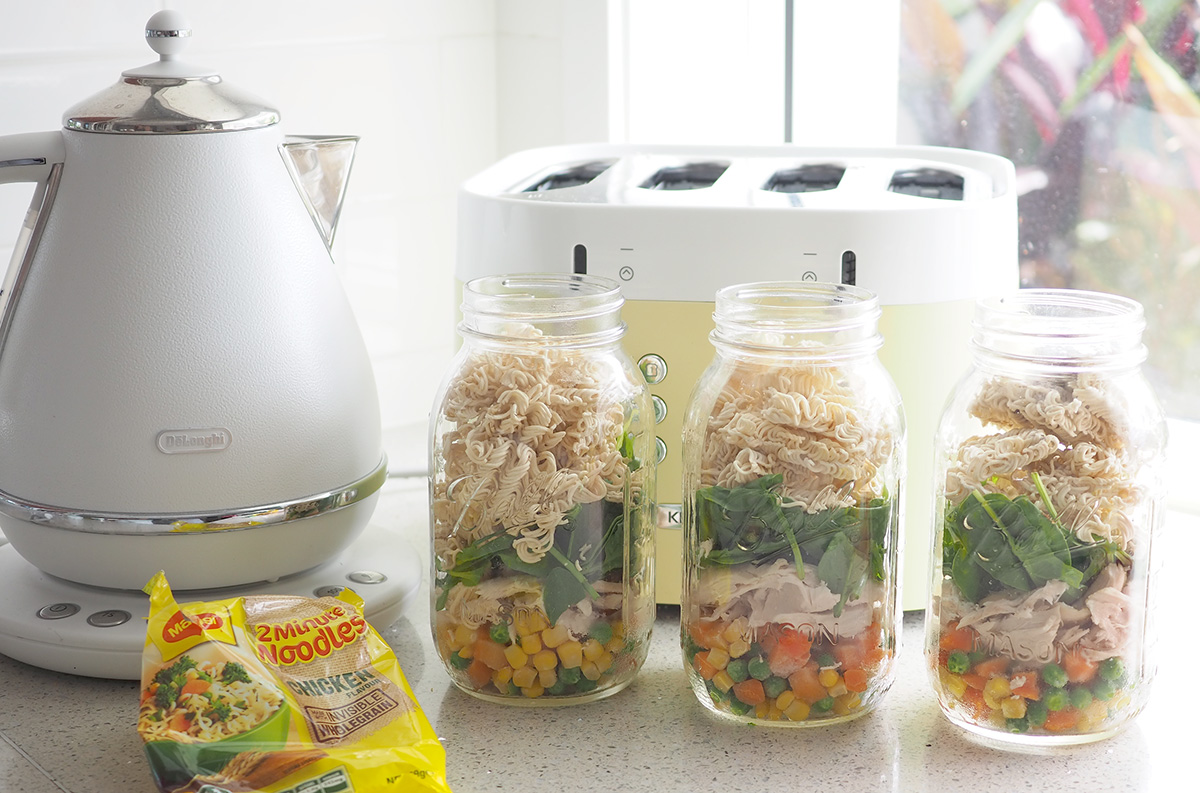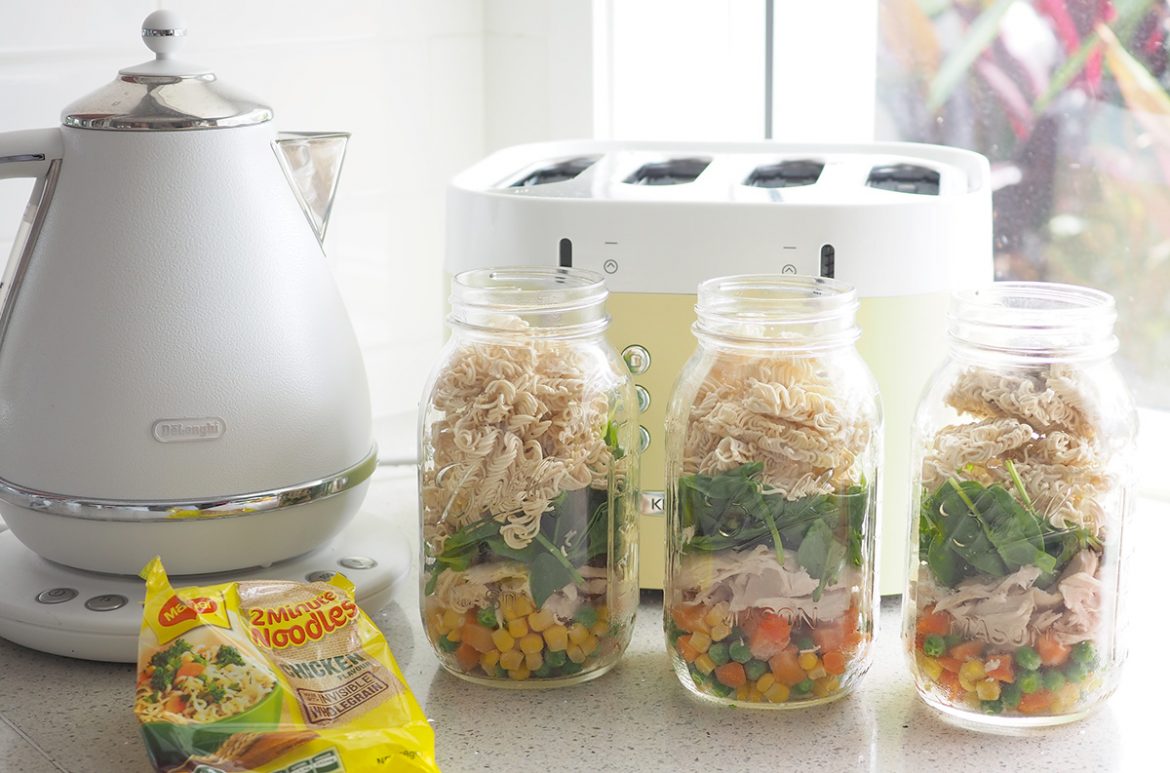 2. Noodle Omelette
An omelette is one of these adaptable recipes where you can just throw in whatever fresh vegetables you may have in the fridge and serve it at any time of day, for breakfast, lunch, after school snack or dinner if you like. This omelette can serve two.
TO MAKE: Cook chicken noodles following packet directions, add in chicken flavouring, drain. While the noodles are cooking fry up half a cup of finely sliced capsicum and onion and half a cup of spinach. In a bowl mix three eggs.  Once vegetables have softened add noodles, mix through the vegetables and pour egg over mixture.  Cook on medium to low heat until egg has cooked through.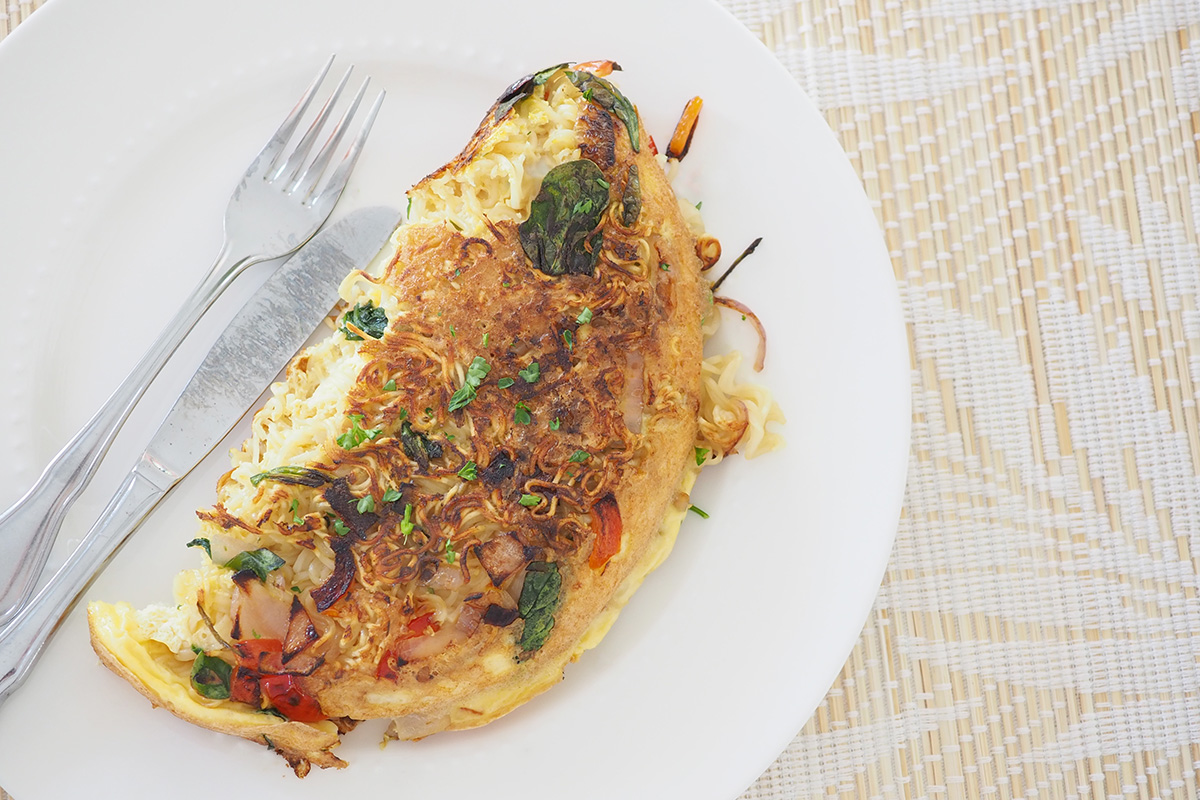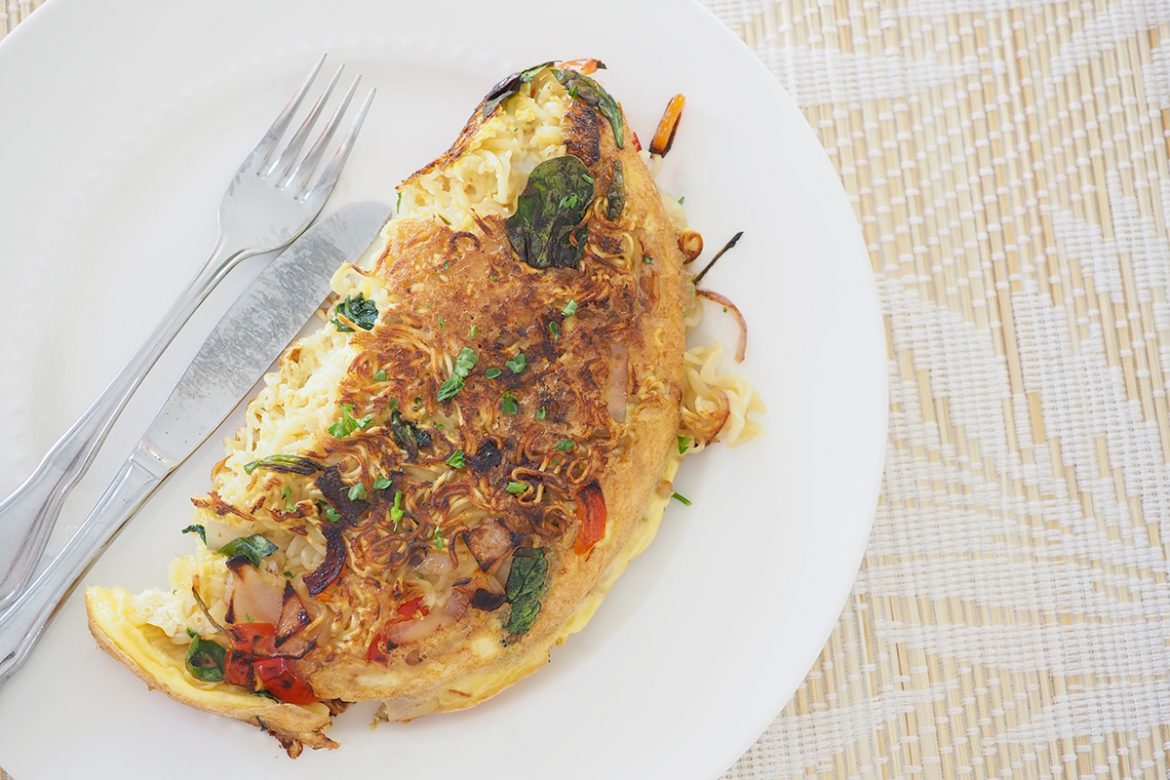 3. Salmon Noodle Fritters
This is a fantastic way to add extra fish into your kids diet. This recipe makes 6 fritters which is enough to serve 2, or can be stretched to feed 3 with salad on the side! These fritters would also make for a great lunchbox snack.
TO MAKE: Cook noodles following packet directions, discard flavour packet you won't need it for this recipe, drain noodles. In a bowl add 3 eggs and whisk.  Add to bowl, 95g tin salmon broken into pieces, 1/3 cup corn kernels, 2 spring onions finely sliced, noodles and season with salt and pepper.  Mix well to combine.  Heat oil in frying pan over medium heat. Spoon 1/4 cup of mixture into pan, cooking for 2 minutes each side or until golden.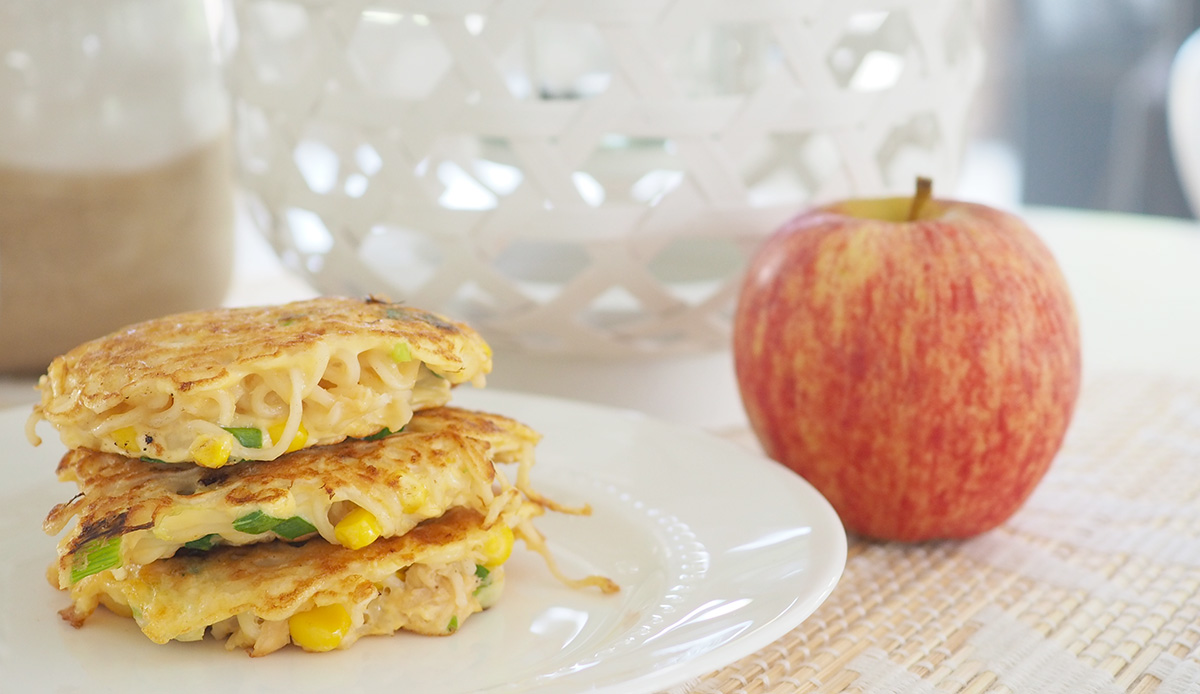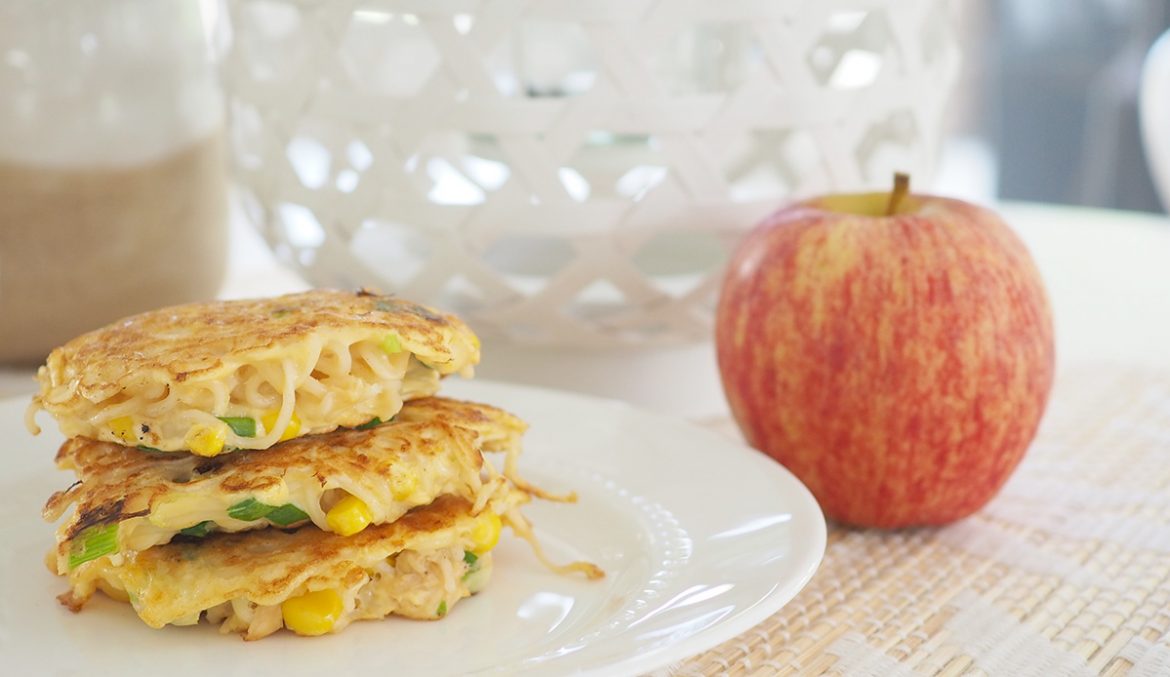 4. Bolognese Noodles
I always cook up a double batch of bolognese, it's handy to have left overs in the fridge or put it away in the freezer for a meal another night.  Left over bolognese can be served on toast, rolled up in pastry to make pinwheels, on pasta or as my kids do with 2 minute noodles, because that's easier than waiting for water to boil on the stove and pasta to cook, noodles are ready within mintues.
TO MAKE: Cook beef noodles following packet directions, add in beef flavouring, drain. Heat bolognese sauce and serve on top of noodles with parmesan cheese.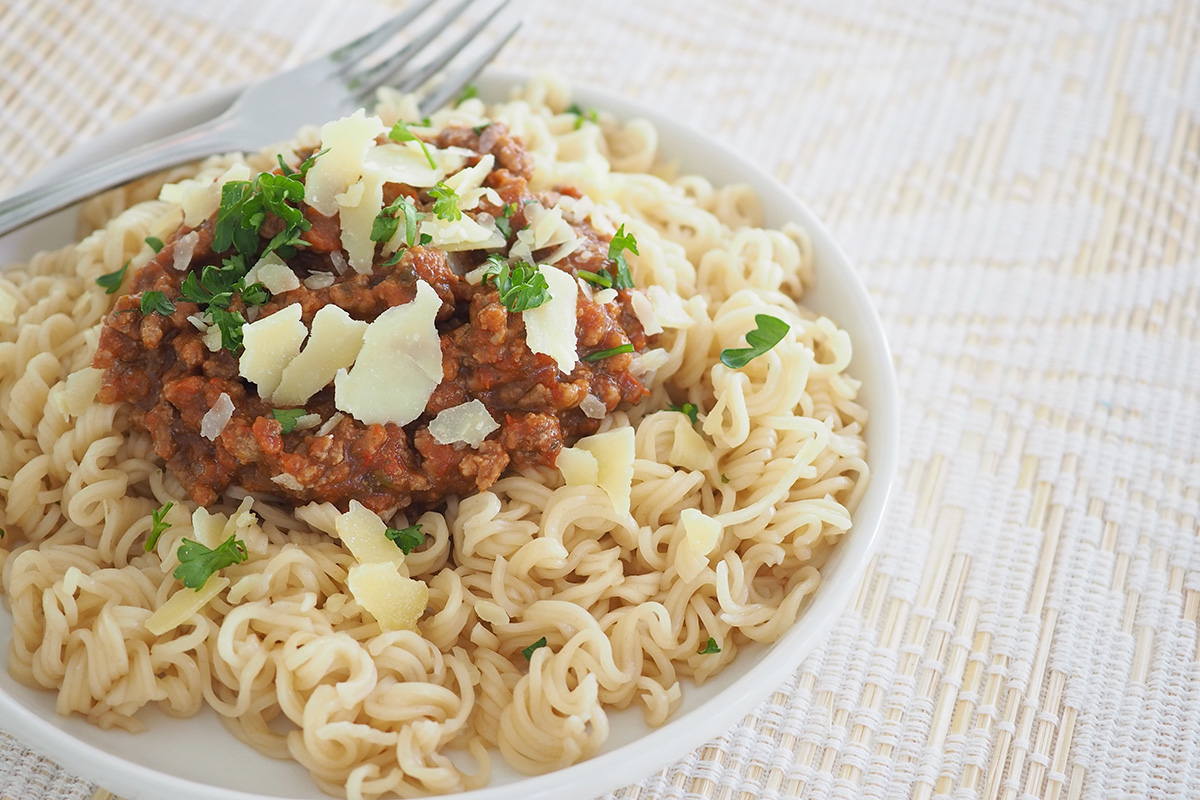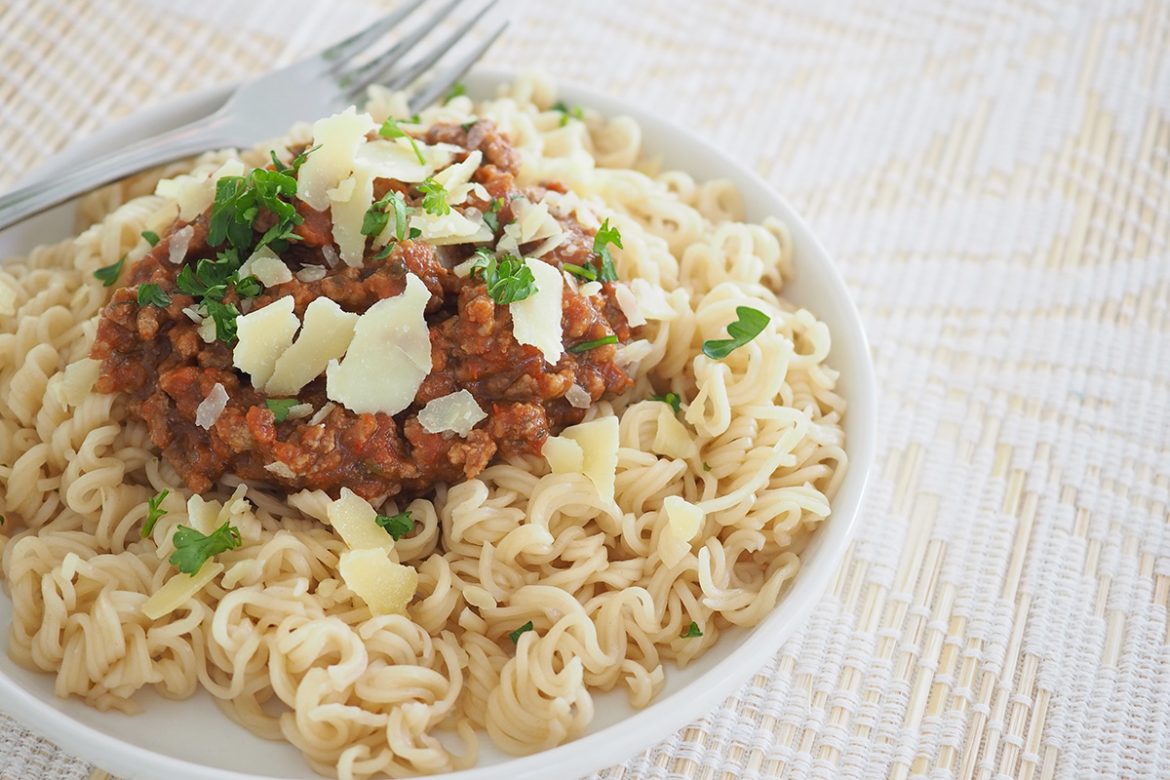 5. 2 minute carbonara
This 2 minute carbonara is tasty and super easy for the kids to make and it seriously can be made within 2 minutes, if you have the water boiled and bacon and spring onions already sliced, so maybe I should call it 5-minute carbonara LOL. But seriously this would have to be the quickest carbonara recipe, using MAGGI 2 minute wholegrain noodles is a great alternative for the kids who don't have the desire to sit around stirring fettuccine waiting for it to cook. You can add in chicken and additional vegetables if you prefer such as spinach or mushrooms.
TO MAKE: Cook chicken noodles following packet directions, add in chicken flavouring, drain, reserving 2-3 tablespoon of water. While the noodles are cooking add 1 sliced spring onion, 1 diced bacon and 1/4 teaspoon minced garlic to greased hot frying pan. Cook for 30-60 seconds or until onion has softened and bacon golden, add 50ml of thickened cream. Once cream has heated through add noodles and 1 tablespoon of reserved water, toss noodles to coat in sauce, adding more reserved water if needed. Sprinkle with parsley and parmesan cheese.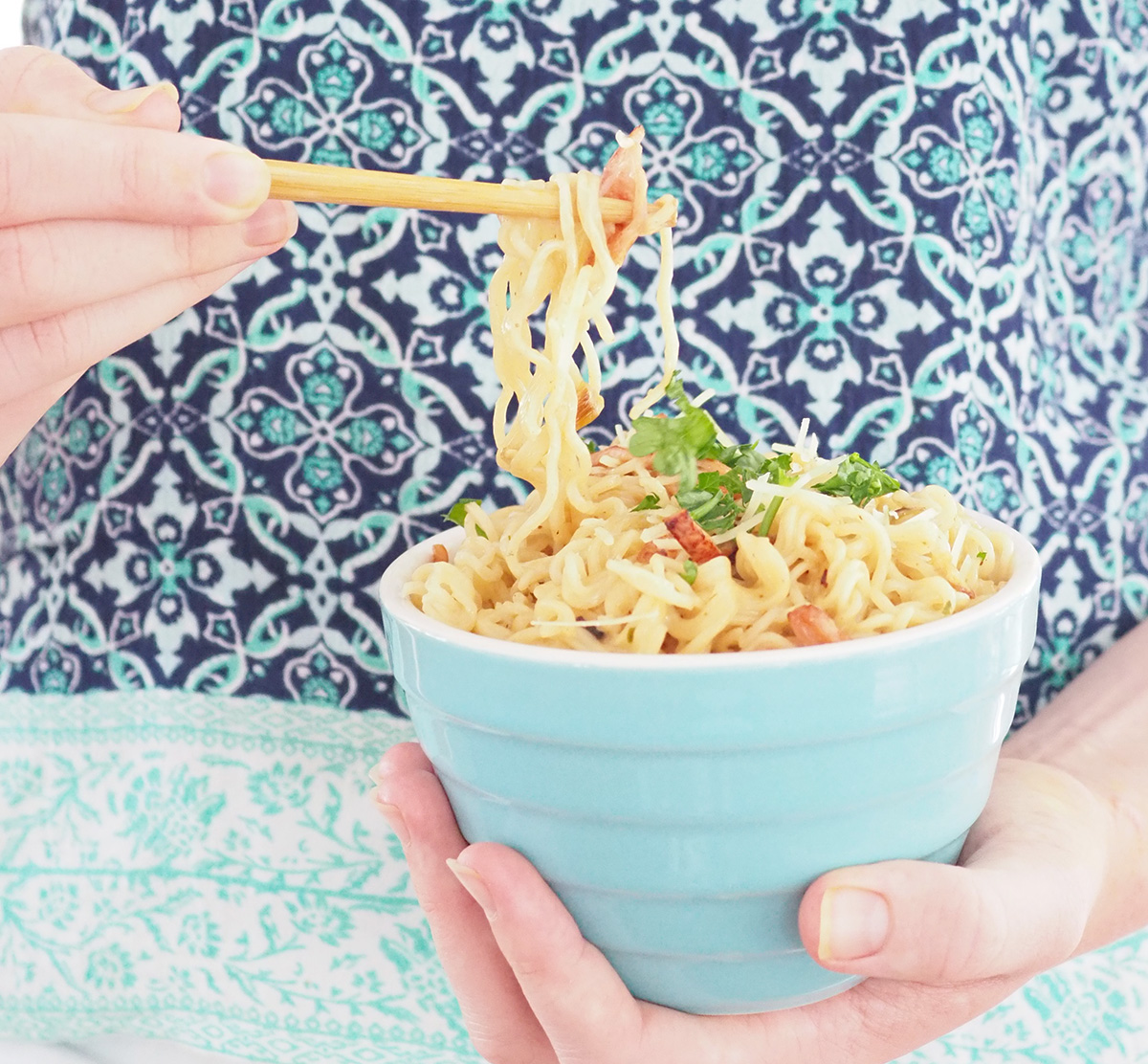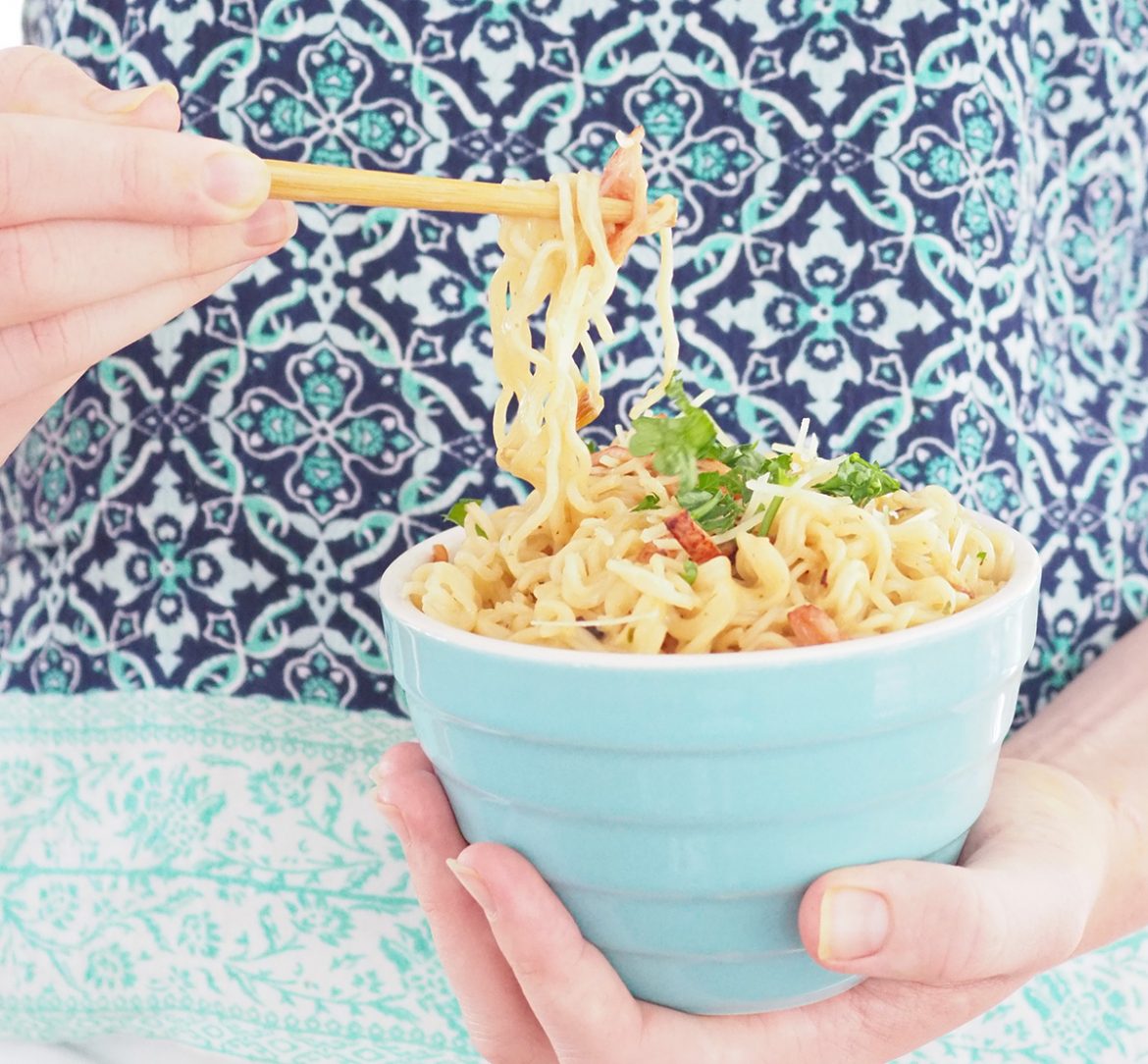 Download the printable recipe cards & afternoon snack ideas here!!
This post is sponsored by MAGGI