This post is sponsored by Maggi
By the time kids get home from school it has likely been several hours since they have last eaten lunch, or if you have a child like one of mine, they eat most of their lunch at morning tea so they can play sport at lunch. So by the time the kids get home they are ravenous. Now my kids are older and more independent they prepare their own after school snacks, most of the time (some days I just can't help myself).  I've noticed my kids typically eat what tastes good and what's within reach so I make sure I have nutritious and healthy options available to boost their energy and mood.  I've put together a printable list of After School Snack Ideas for you to put on your fridge or back of your pantry door to help you plan ahead to fill the fridge and pantry, ready to feed your hungry kids. And… this after-school snack idea printable is handy for those times they will say "Mum there is nothing to eat", then get them to check the list and make up an easy snack.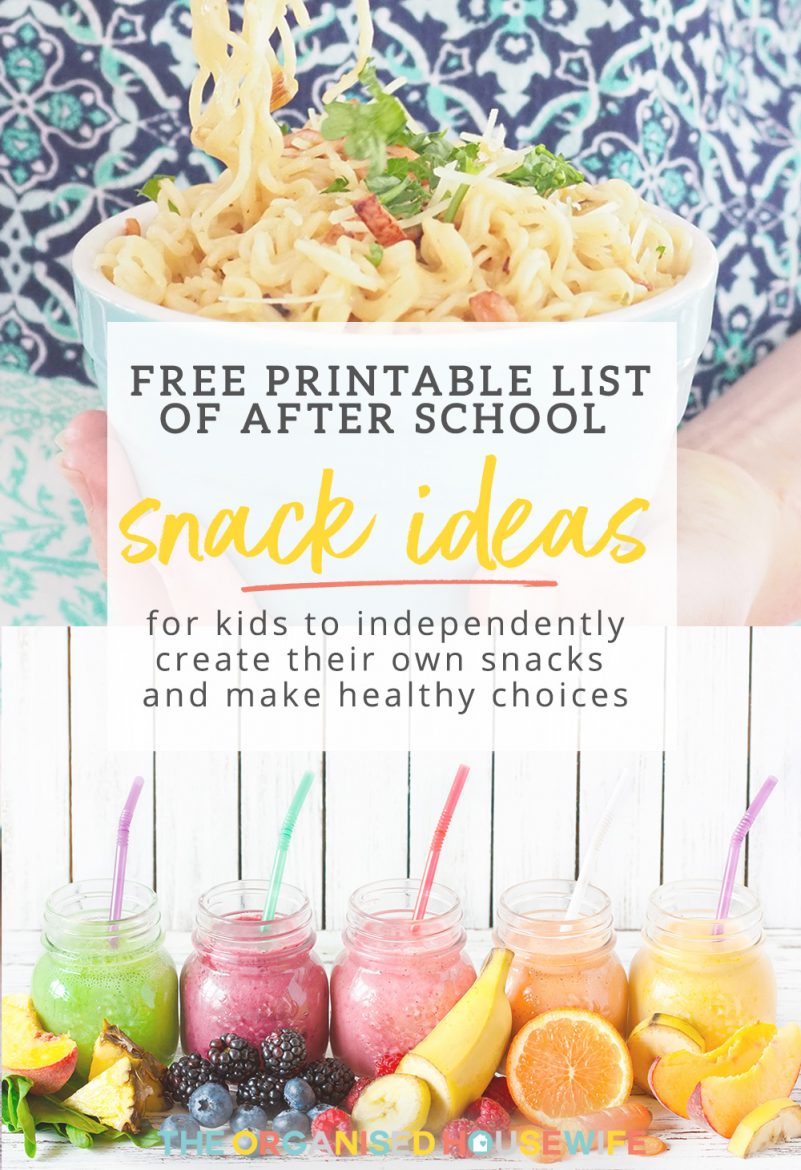 Kids need to eat healthy snacks to refuel after a very long day. It's ideal for a nutritionally balanced after school snack for kids to contain a serve of protein and wholegrain carbohydrate, giving them the energy to continue through the afternoon with homework, after school activities and to keep them satisfied until dinner time.
Aside from the homebaked goodies that I make my family and I have listed below other Healthy After School Snack Ideas that my tweens and teens prepare themselves.
LEFT OVERS
When my kids look for something to snack on they firstly check the fridge and see what left overs there are from dinner the night before. I keep all left overs even if there is the smallest amount as the kids can add it to noodles, place on toast, make an omelette, top a tortilla to create a pizza… the list is endless when it comes to left overs. I typically make double batches of most dinners now to ensure there is enough to feed my growing kids or have for lunch the next day or the kids eat as an after school snack. My daughter added MAGGI 2 minute noodles to left over stir fry to create a decent sized portion.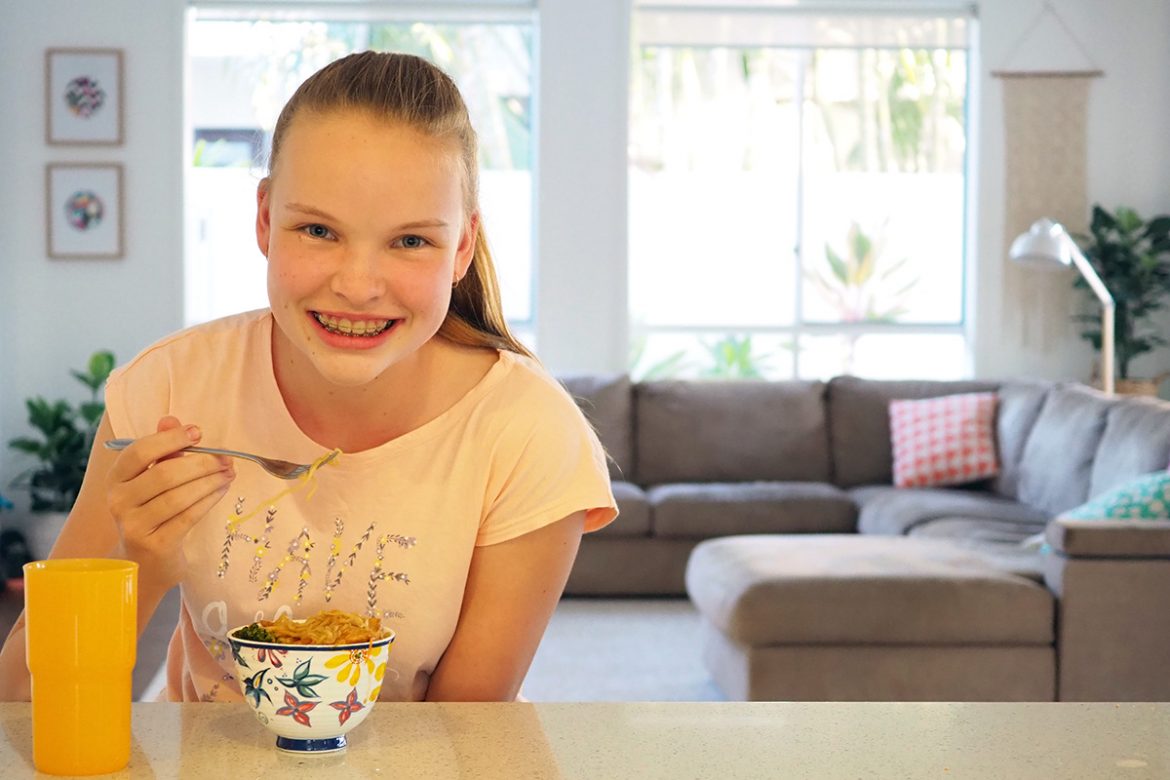 FROZEN FRUIT
Frozen fruit makes for a refreshing after school treat on a hot day and as it's an easy finger food snack options my kids enjoy having it next to them while they are doing their homework.  Wash fresh fruit and place in a single layer on a baking tray and put in the freezer overnight. Remove from tray and store in an airtight container or zip lock bag. By freezing them separately it's easier to take the few pieces needed from the container, if you were to place them in the container to freeze it would freeze as a clump and make it hard to remove individual portions. My kids love to freeze:
Grapes
Oranges
Kiwi fruit
Banana
Strawberries
Watermelon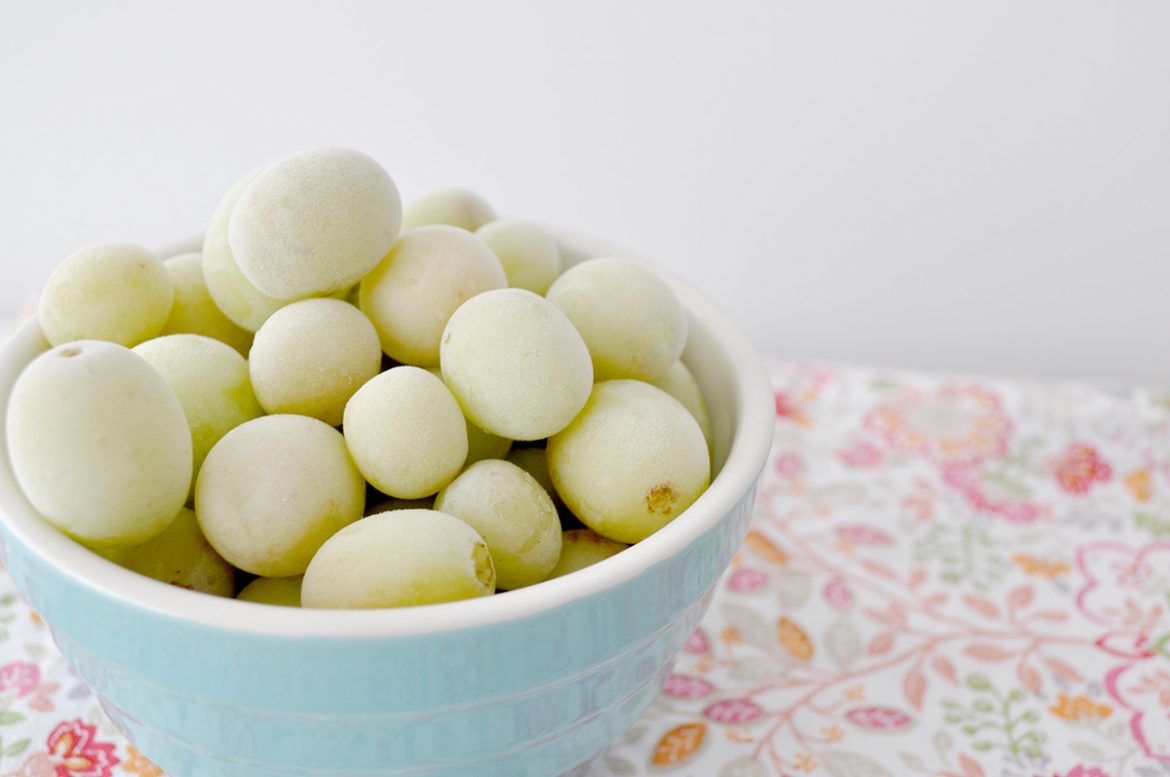 CRACKERS
I keep a range of different cracker options in my pantry. There are many different healthy ideas and choices on what to put on top of a cracker, here are just a few:
vegemite and cheese
cream cheese and tomato
cream cheese and tuna
cream cheese and strawberries
peanut butter and banana
tuna and cucumber
vegemite and cheese
cheese, tomato and avocado
cheese and tomato
avocado and ham
avocado, tomato and fetta
egg and ham
mashed banana
ricotta, grated carrot and sultanas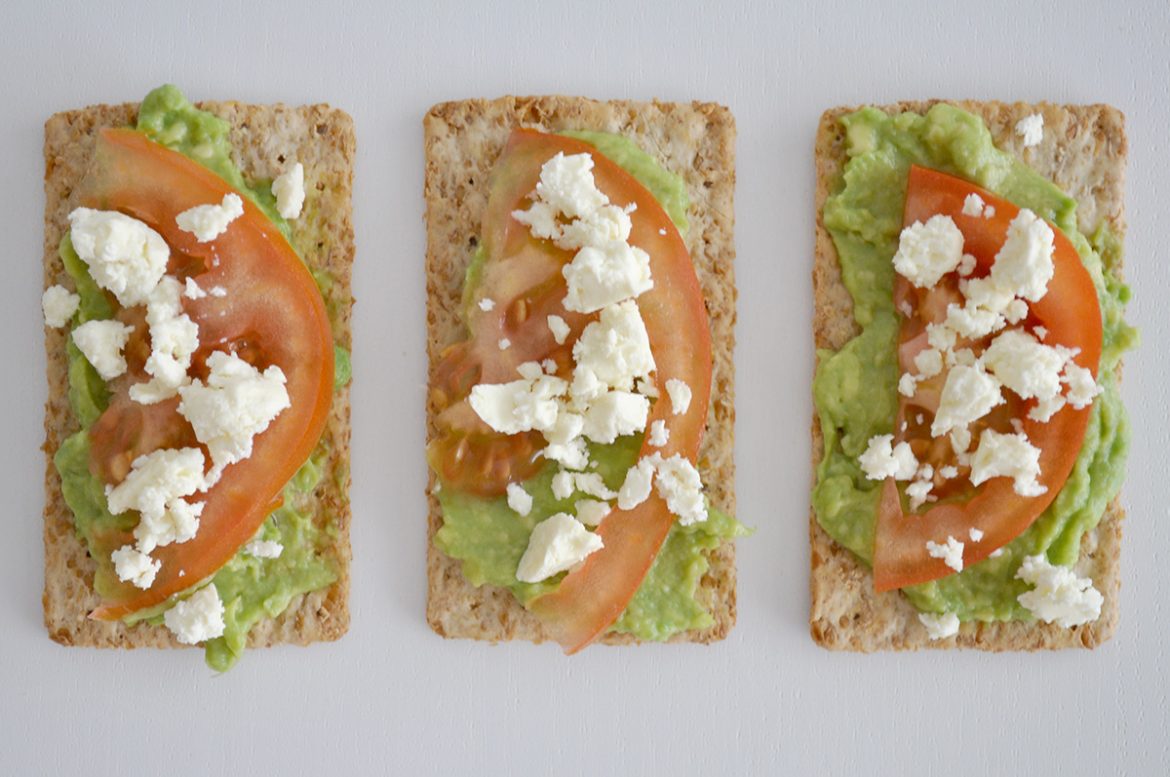 2 MINUTE MAGGI NOODLES
My kids have been making MAGGI 2 minute noodles independently for many years now, it is one of their go-to after-school snacks.  Now available with invisible wholegrain, MAGGI 2 Minute Noodles with Wholegrain still taste the same and have the highest health star rating in the MAGGI noodle range.
Eat the 2 minute noodles as is or as my kids do add some protein and vegetables to make a healthy and tasty afternoon snack. I shared these 5 quick ways to jazz up 2-minute noodles last week:
2 minute carbonara
bolognese noodles
noodle omelette
salmon noodle fritters
DIY Chicken and Vegetable Noodle Cups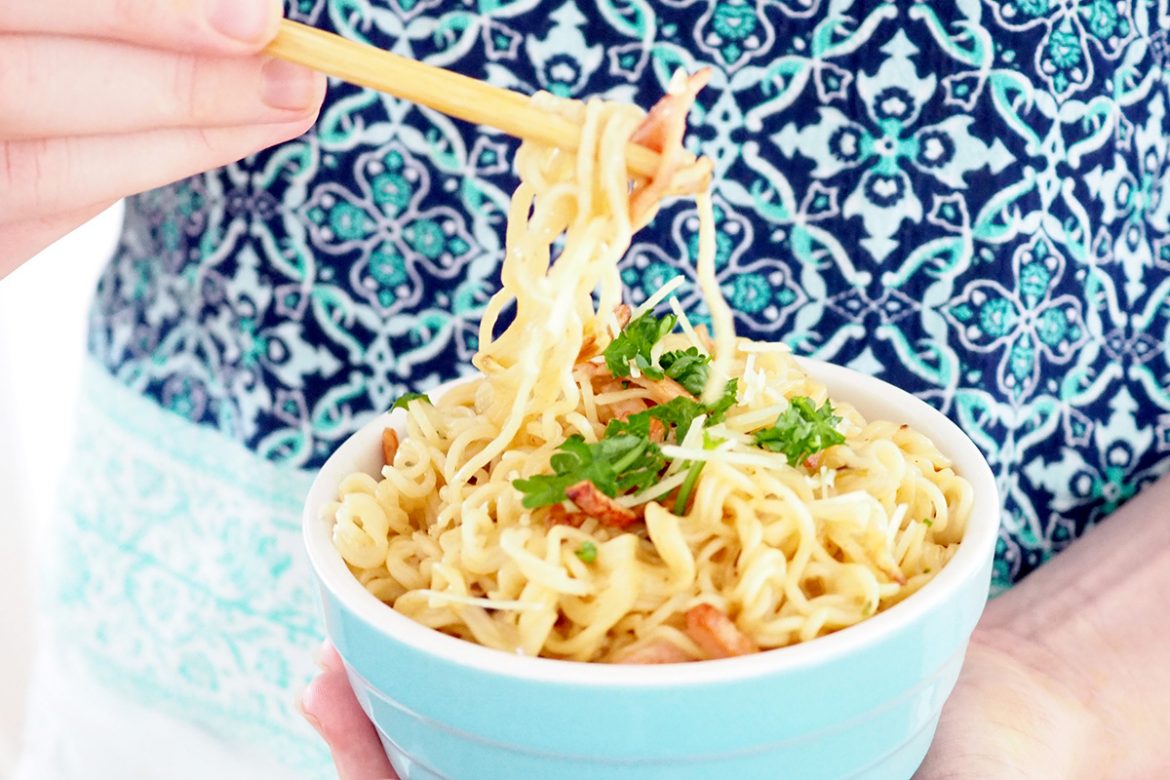 DIP AND VEGETABLE STICKS
My girls would take the time to cut up vegetable sticks, but my son wouldn't.  So if you do find your child is 'lazy' in this respect you could slice up some sticks and keep them the fridge to make them a more convenient snack.  My kids like to dip their sticks into hummus or greek yoghurt. Vegetables that are good to make into sticks:
Capsicum
Celery
Carrot
Snow peas
Cucumber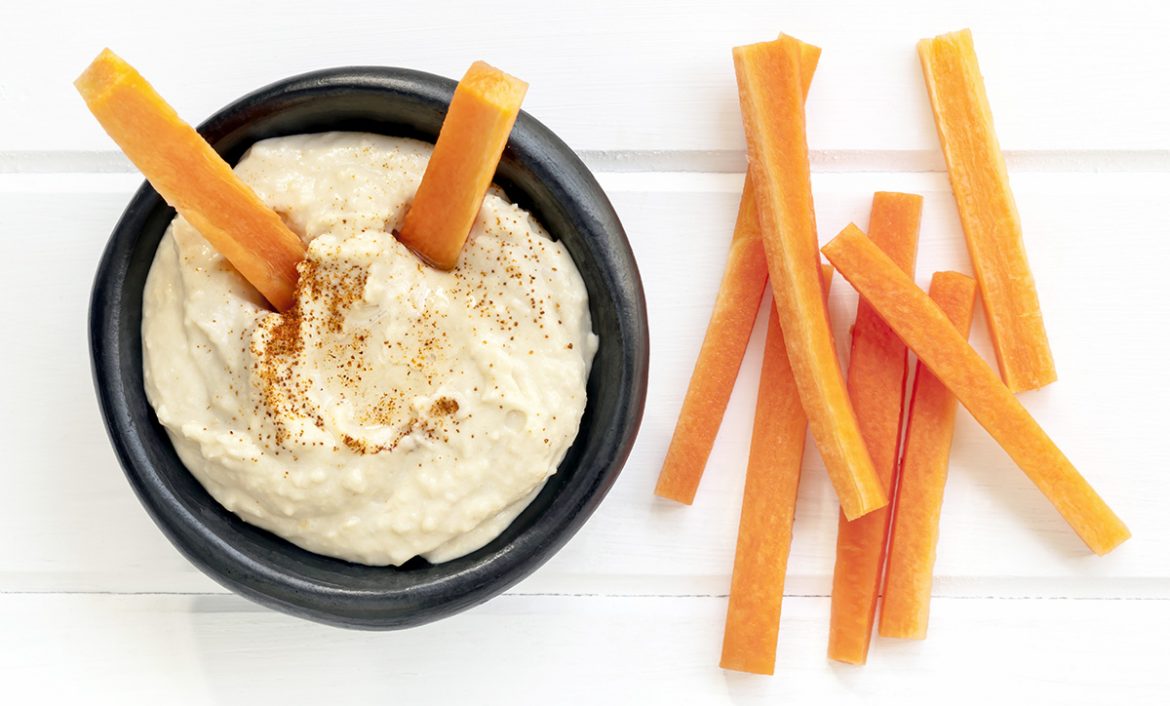 SMOOTHIES
Smoothies make for healthy refreshing drink after a long hot day.  This is a great quick recipe, simply add 1-2 pieces of fruit, 1 cup milk, 1/2 cup vanilla yoghurt, 1 tablespoon honey and handful of ice into a blender and blitz.  Pour into a glass and serve!
Pineapple + Peach
Blueberry + Blackberry
Raspberry + Banana
Orange + Carrot
Banana + Peach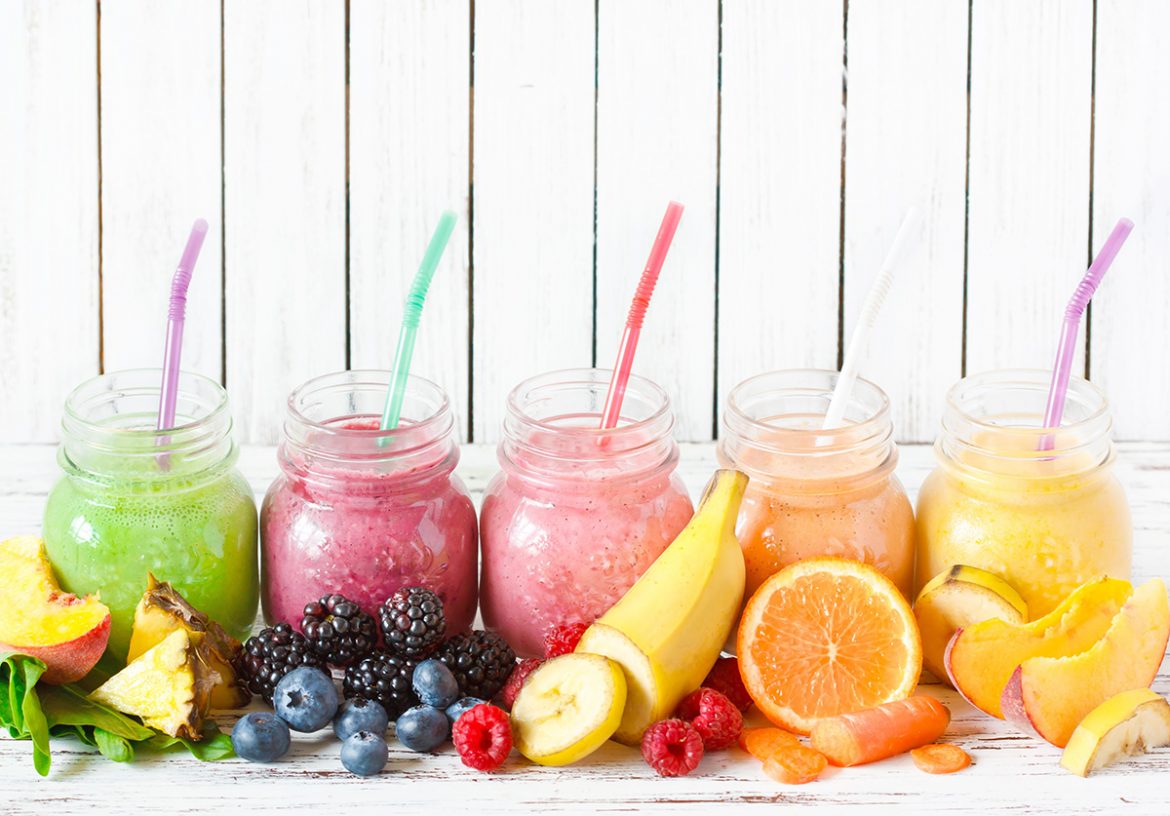 OTHER
Popcorn
Granola, fruit and yoghurt
Roasted Chickpeas
Guacamole and tortilla/corn chips
Diced cheese
Boiled Egg
Nuts and dried fruit
---
FREE PRINTABLE AFTER SCHOOL SNACK IDEAS
Keep this list handy to use as a reference when creating your weekly shopping list, to help ensure you have some after school snacks ready for the kids to help themselves after school.  And as I mentioned above the kids can use it to help identify what they can make themselves.  I've also created recipe cards for the 5 Quick Ways to Jazz up 2 Minute Noodles for the kids to have as a handy.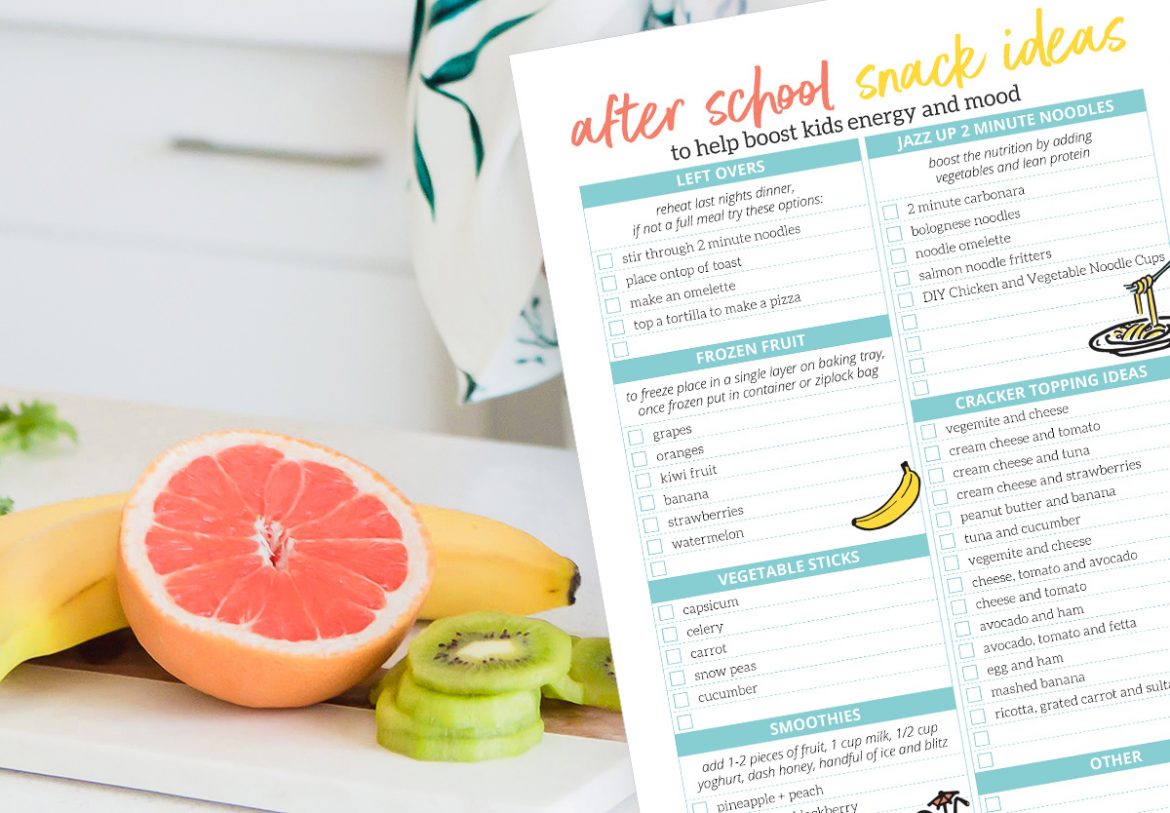 1 LUCKY READER WILL WIN A $150 WOOLWORTHS GIFT CARD!
This giveaway is now closed! Thank you to all who entered. Congratulations to Aimee, Thanks to MAGGI Wholegrain 2 minute Noodles you have won a $150 Woolworths gift card.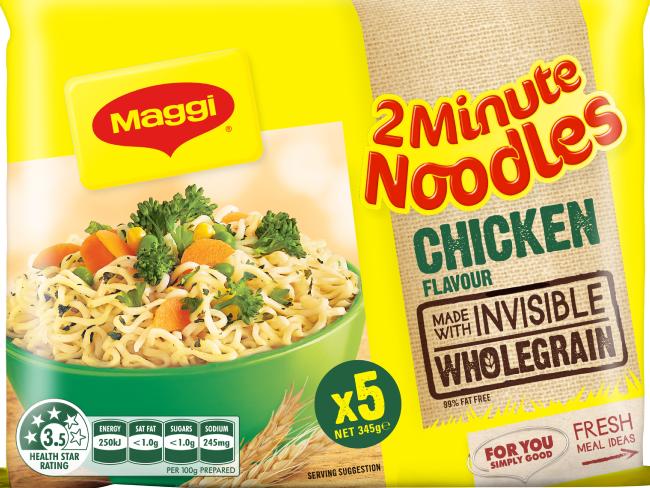 HOW TO ENTER:
Share in the comments below, what is your kids' favourite after-school snack? 
---
GIVEAWAY TERMS AND CONDITIONS – This giveaway run in accordance with my disclosure policy, please read the terms and conditions below:

1. Entries must be made on The Organised Housewife blog, comments on social media are invalid.  2. Entries close 11.59pm AEST Wednesday 21st February 2018. 3. One entry per household and open to Australian residents only.  4. This giveaway is a game of skill. The judge's decision is final and no correspondence will be entered.  5. Total prize pool is valued at $150. 1 winner will receive a Woolworths $150 gift card, not redeemable for cash. 6. Winner will be contacted by email, please ensure you leave your email address.  7. If I have not received a reply from the winner within 7 days the prize will be forfeited and awarded to the entry judged to be the next best.  8.  The Organised Housewife will take no responsibility for any delay, loss or damage to prizes sent to winners.