Warm comforting dinner ideas that are tasty and easy to prepare, making them the perfect meals for winter weeknights.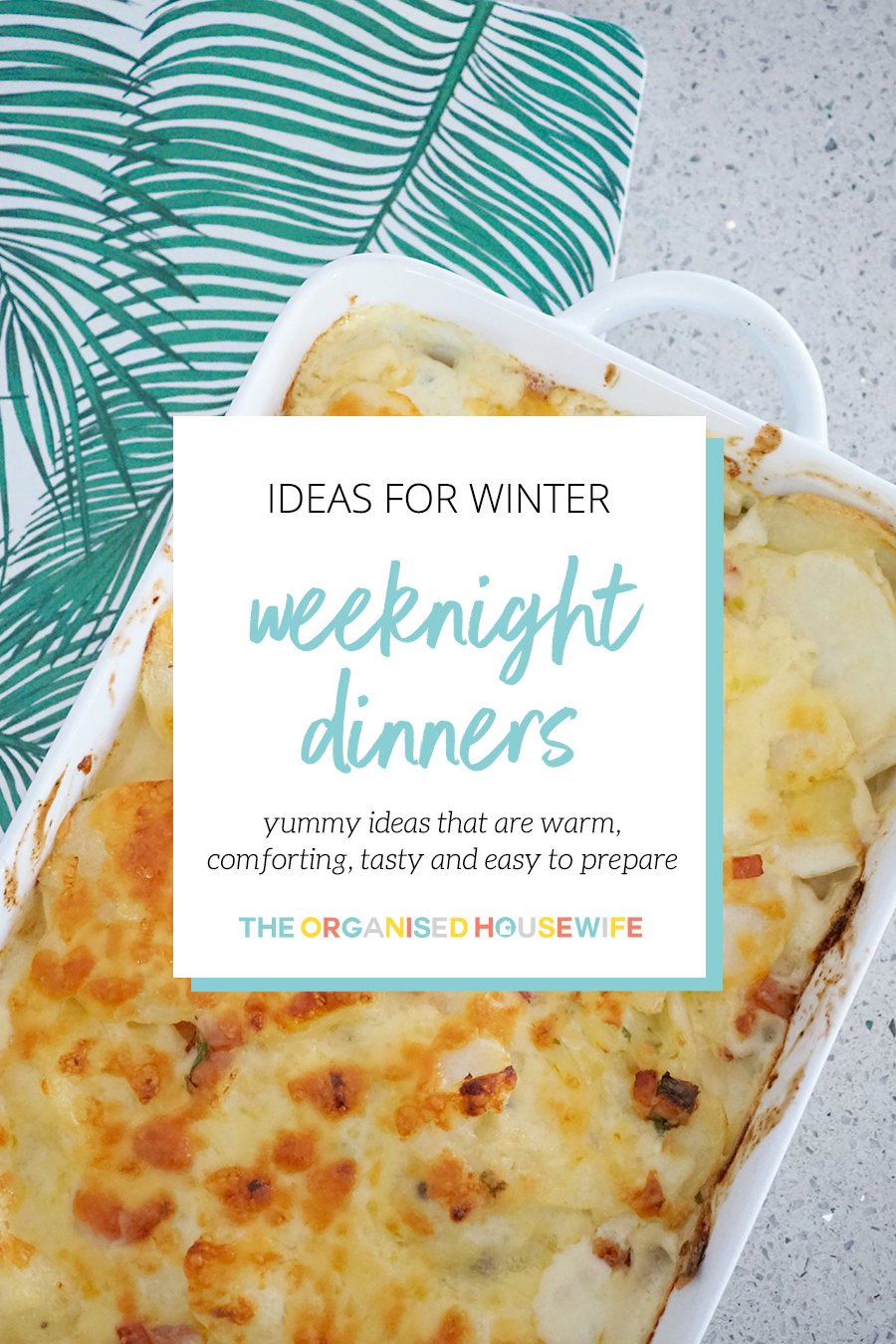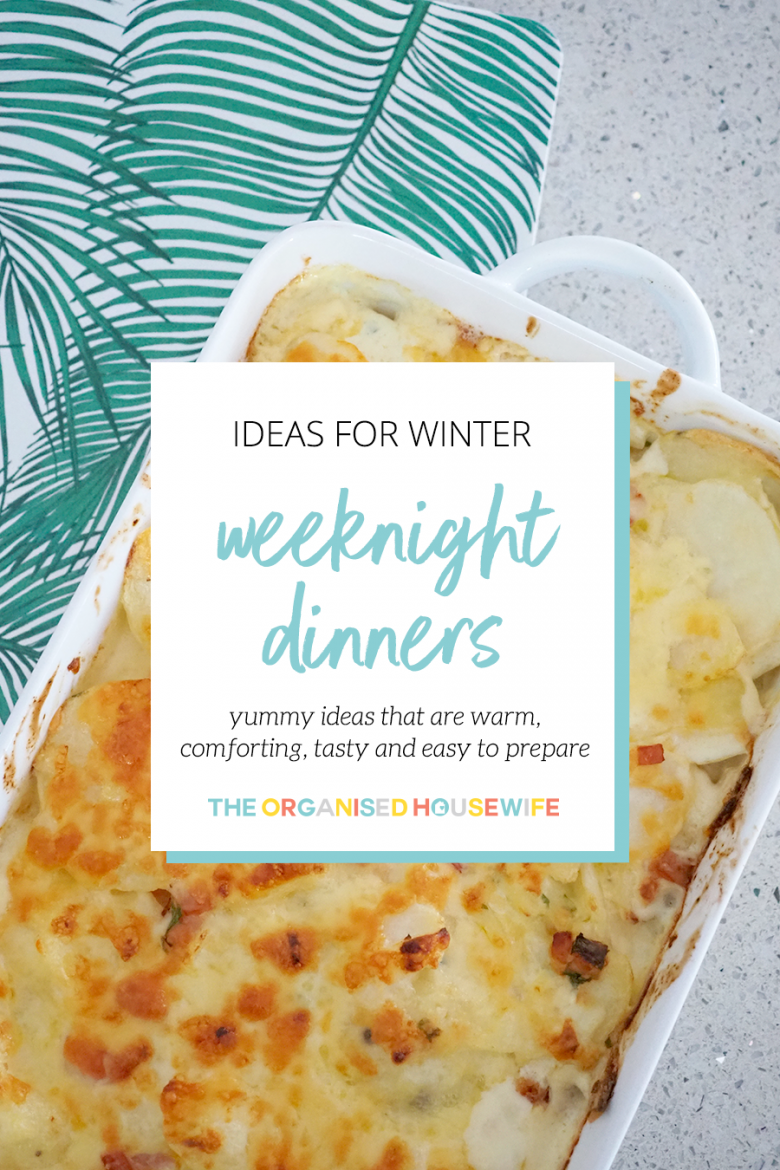 In partnership with Woolworths
Cold dark nights are creeping up on us, and with them comes hot dinners, warm blankets in front of the TV, and early nights in our cosy beds. The days are feeling shorter, and when I get home from work it's nearly dark. My PJ's (ooh I love my PJ's) are calling me and the last thing I feel like doing is spending ages in the kitchen preparing dinner. It's like my body just wants to rest… but at the same time I don't mind making a warm winter meal for dinner.
The good news is a little pre-planning and these simple (yet yummy!) dinner suggestions will mean you can have your cake (er, casserole?) and eat it too!
---
---
Winter Weeknight Dinner Ideas
CHEESY CHICKEN AND CORN PASTA BAKE – 10 mins prep – 20 mins cook
I adore a hot tasty cheesy bake! It's the ultimate comfort food on a winter night. They're super easy to make (and can even be made ahead of time) and are an easy meal to use up those leftover veggies too.
View this Cheesy Chicken and Corn Pasta Bake recipe.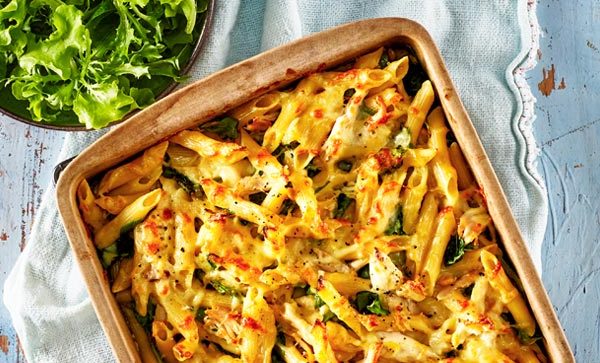 BEEF AND VEGETABLE CASSEROLE – 20 mins prep – 120 mins cook
Casseroles are fabulous in winter! I use a slow cooker to make mine so that I can get it all set up in the morning, and then it's ready for the dinner table when I get home from work. Alternatively, you can cook this on the stove on an afternoon when you are going to be home. It can simply bubble away in the background whilst making the house smell delicious!
View this Beef and Vegetable Casserole recipe.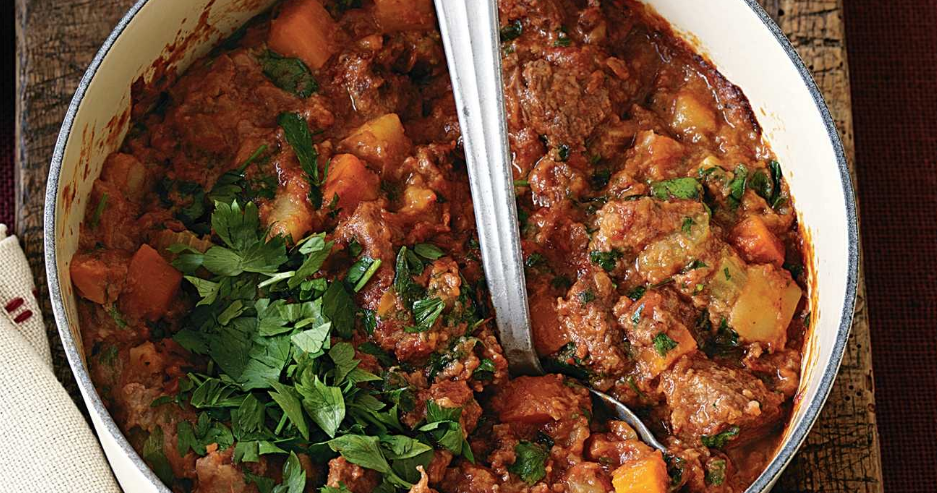 ROAST PUMPKIN SOUP – 10 mins prep – 1 hr 15 mins cook
This is the easiest and most delicious pumpkin soup I have ever made. I like to make a double batch of this soup and freeze it – you can check out my space savings tips for freezing soup on the recipe page. It goes down a treat with both my hubby and the kids.
View my Super Easy Roast Pumpkin recipe (PLUS soup freezing tips!).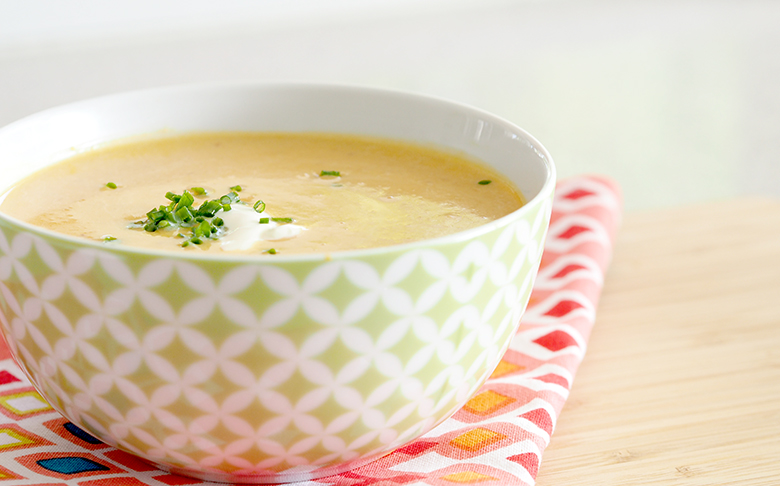 LEEK, CHORIZO, CAULIFLOWER AND CHICKEN BAKE – 10 mins prep – 25 mins cook
For when you're wanting something a little different, this is a very tasty meal that's simply bursting with flavour!
View this Leek, Chorizo, Cauliflower and Chicken Bake recipe.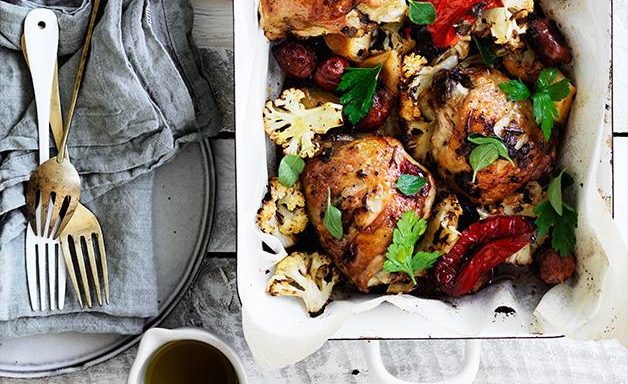 LAYERED VEGETABLE BAKE – 25 mins prep – 75 mins cook
Bakes are great for making ahead of time. I like to make two at a time because it takes about the same time as it does to make one. I usually do this on a weekend when I have a bit more time, and I then pop them in my freezer. That's two dinners done and dusted, ready for those cold winter weeknight meals.
View this Layered Vegetable Bake recipe.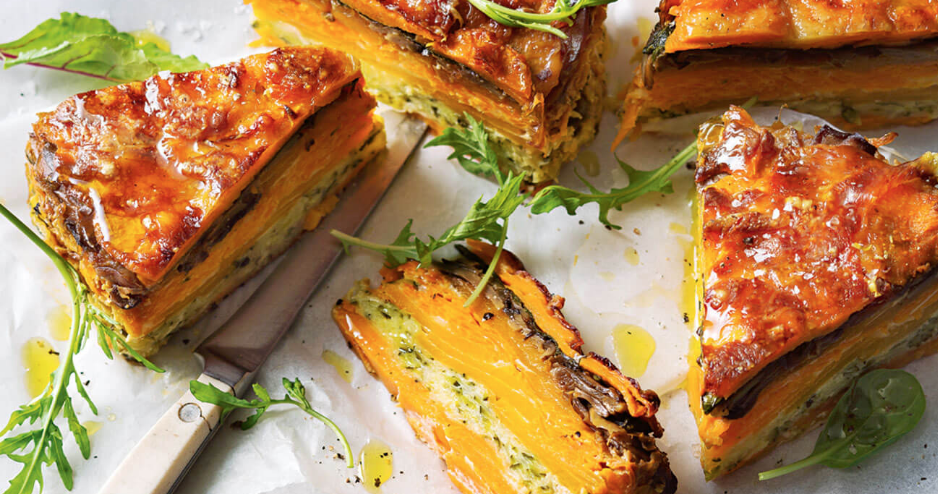 CHICKEN AND BROCCOLI MAC CHEESE – 15 mins prep – 45 mins cook
This recipe is a nutritious take on the traditional mac and cheese recipes, and way more tasty too! If you're looking for a quicker option, you can replace the chicken with canned tuna.
View this Chicken and Broccoli Mac Cheese recipe.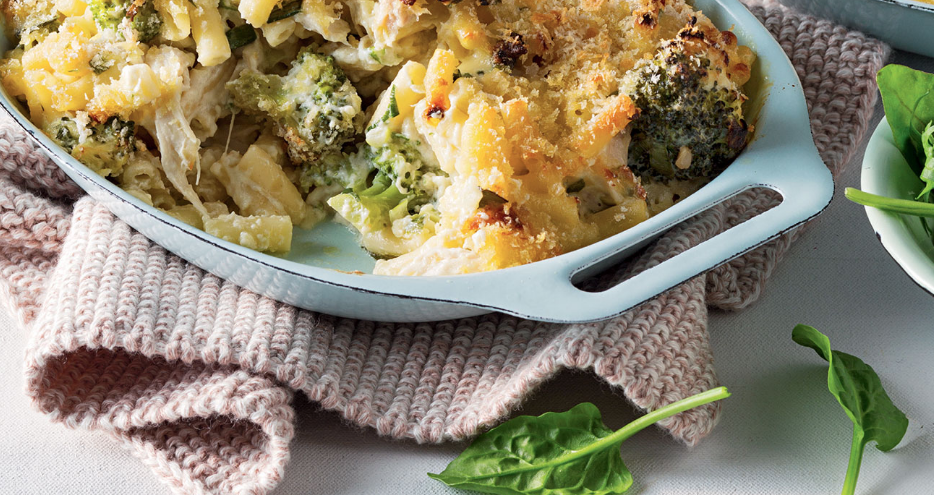 SAUSAGE AND VEGETABLE BAKE – 15 mins prep – 45 mins cook
A fantastic recipe for using up any leftover sausages from last night's BBQ – waste not want not I say!
View my Sausage and Vegetable Bake recipe.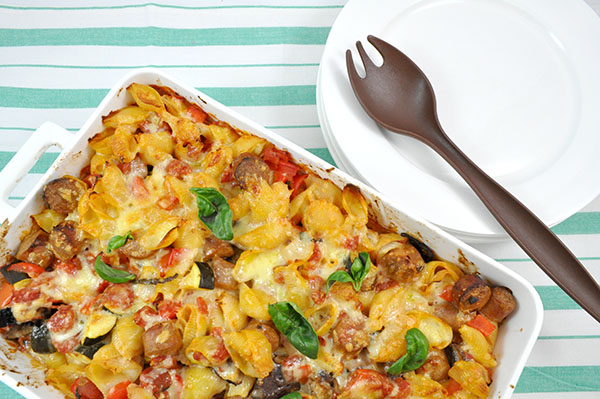 BEEF STROGANOFF WITH RICE – 10 mins prep – 20 mins cook
This beef stroganoff could be served with pasta, rice or mashed potato. I like mine with a good serving of sour cream, so it's probably not the best dinner for someone watching their weight, but it certainly is a winter comfort food! I also like to sneak in some extra vegetables like grated carrot and zucchini.
View this Beef Stroganoff with Rice recipe.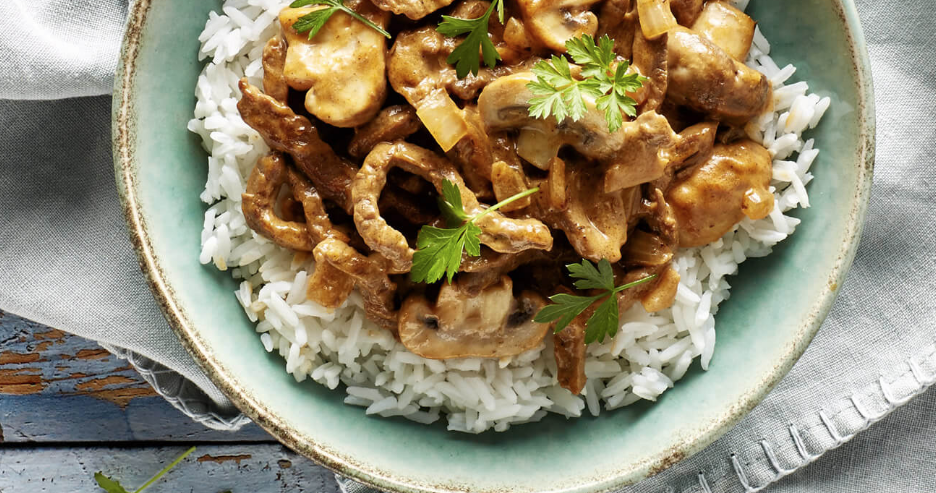 WINTER VEGETABLE PASTA – 10 mins prep – 15 mins cook
Such a quick, easy and tasty meal to make. I like to sprinkle a little parmesan on mine, and sometimes even toss a few toasted pine nuts through too. Chicken also works really well in this recipe.
View this Winter Vegetable Pasta recipe.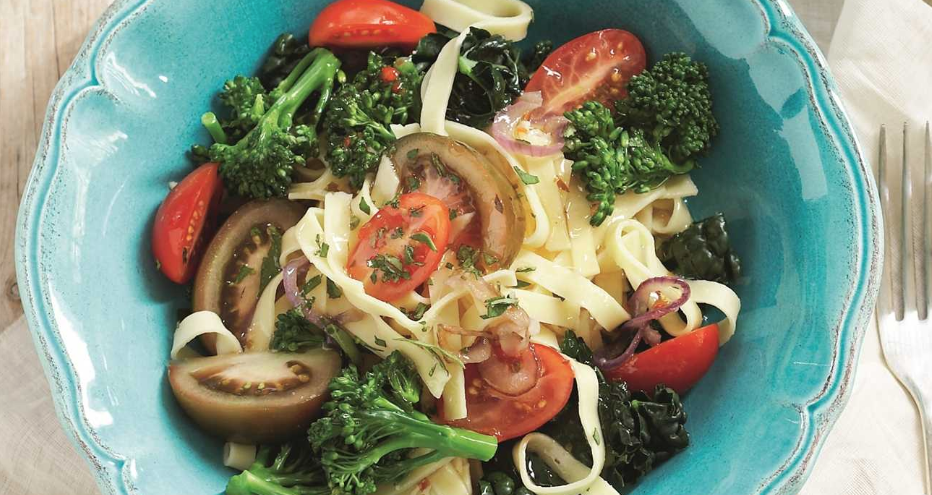 NO-FAIL CREAMY POTATO BAKE – 15 mins prep – 35 mins cook
Say goodbye to hard, uncooked potatoes with my easy 'no-fail' potato bake recipe. This dish is a creamy cheesy delicious staple for the winter dinner table, and is super easy to make!
View my No-Fail Creamy Potato Bake recipe.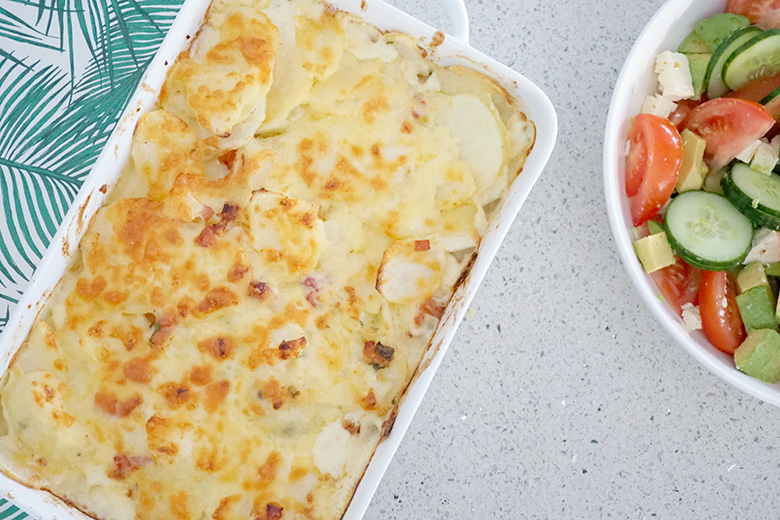 CREAMY BACON PUMPKIN SPAGHETTI – 10 mins prep – 30 mins cook
This recipe is a really fun way to get more veggies into the kids whilst also cutting back on the carbs. The roast pumpkin spaghetti tastes amazing alongside the crispy bacon and cream. It's the perfect winter weeknight meal!
View this Creamy Bacon Pumpkin Spaghetti recipe.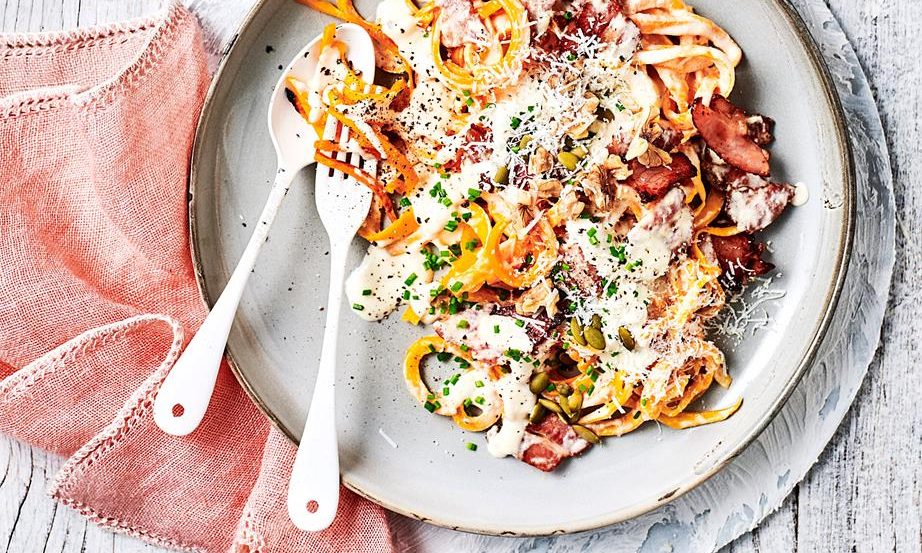 CHICKEN AND PESTO PIZZA – 5 mins prep – 15 mins cook
Pizza is always a perfect choice for a quick tasty winter meal – and this pizza can literally be made in 3 easy steps! Switch things up but customising the topping to suit your own family's tastebuds.
View this Chicken and Pesto Pizza recipe.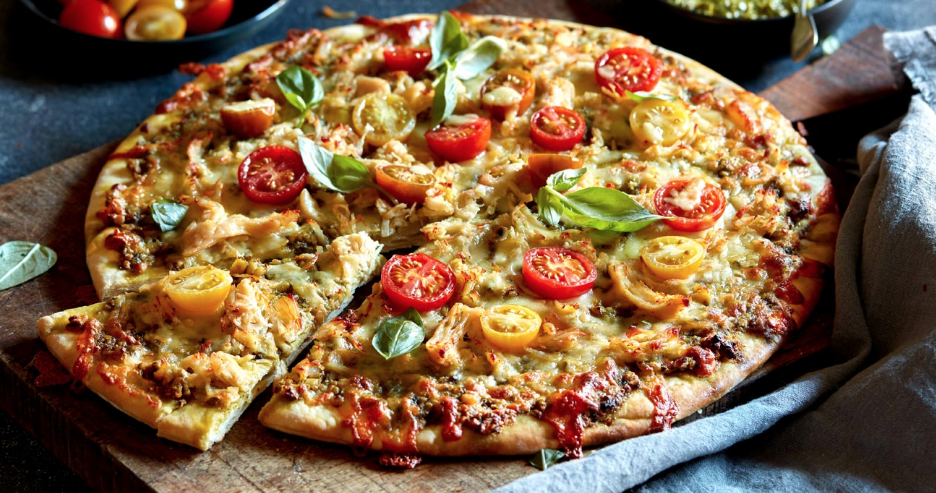 EASY TIKKA MEATBALL CURRY – 5 mins prep – 25 mins cook
A great go-to for a quick dinner idea that is perfect for those cold winter nights! A very versatile recipe too – this dish can be made with your own meatballs, or swapped out for chicken, beef, or lamb meatballs. I like to serve mine with steamed veggies and rice.
View my Easy Tikka Meatball Curry recipe.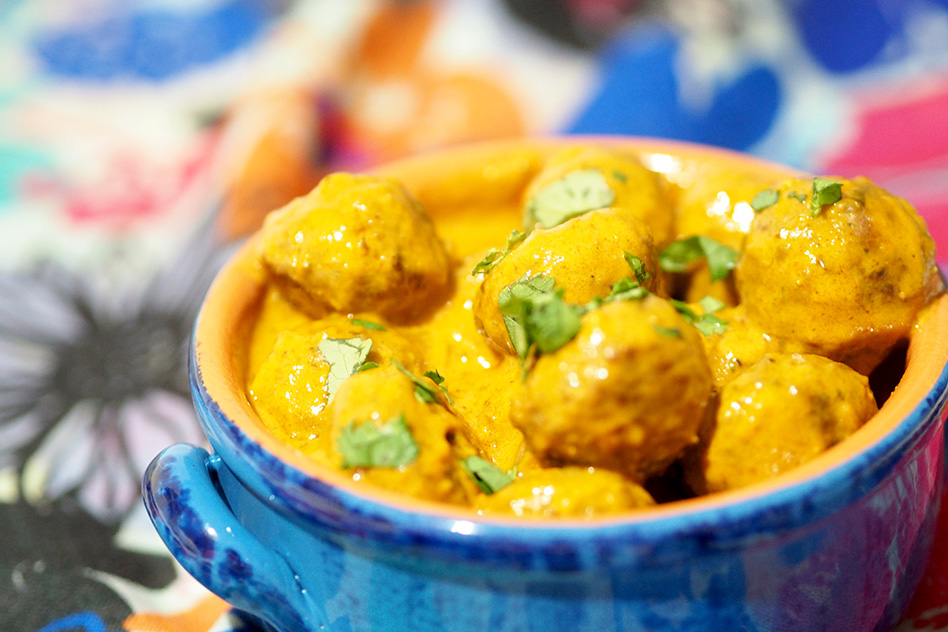 MINESTRONE SOUP – 20 mins prep – 30 mins cook
Soup is a great way to use seasonal vegetables. With this recipe you could swap out carrot, potato and kale for other root vegetables and leafy greens. As with other soups, you can make this recipe ahead of time and freeze it. I like to put my soup in ziplock bags and lay them flat in the freezer as it uses a lot less space than Tupperware containers.
View this Minestrone Soup recipe.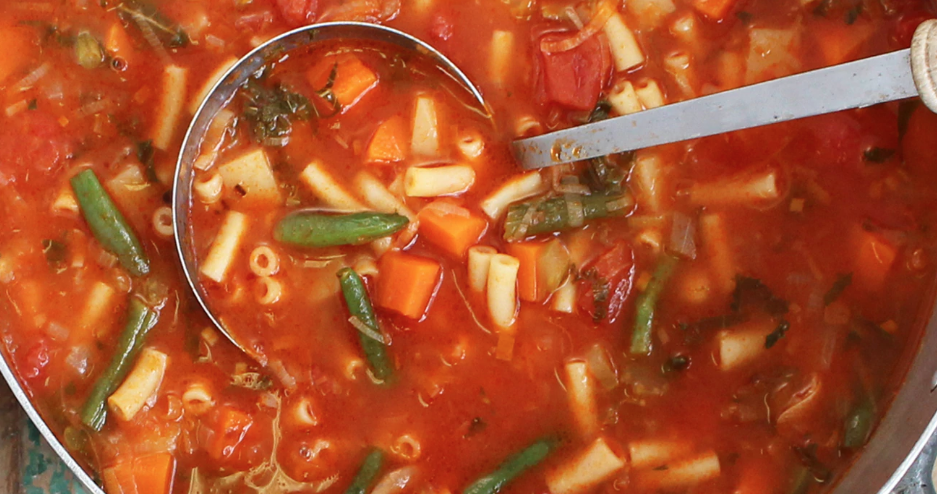 CURRIED SAUSAGES WITH YELLOW FRIED RICE – 10 mins prep – 30 mins cook
Save yourself even more time on weeknights by preparing freezer friendly meals in advance. This meal can be frozen for up to 2 months and thawed in the refrigerator overnight, ready for heating up the following evening.
View this Curried Sausages with Yellow Fried Rice recipe.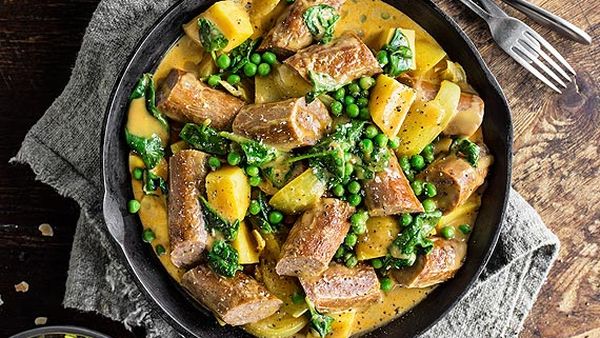 Woolworths Family Dinner Bundles
Woolworths have some great dinner bundle savings packs to offer a little inspiration, help with busy weeknight evenings, and help you save at the checkout too! Some of these are fabulous for buying in bulk and stocking the pantry or freezer up. I love to save myself the hassle of venturing out on these cold winter nights by getting my groceries delivered straight to my door! I love it – I order whilst in my PJ's, and am at home all warm and snuggly (still in my PJ's – LOL!) when my shopping arrives! If you place your Woolworths order online and spend $200, use this code to get 5% off + free delivery!
WHAT IS YOUR FAVOURITE WINTER DINNER?
This post is run in accordance with my disclosure policy.