I'm trying to mix up what I am eating for lunches during the week.  Earlier this year I was stuck in a rut of making a sandwich every day.  Now I take time to plan ahead and make sure I eat something different each day.  I still have a sandwich, but another day I may have crispbread loaded with tuna, spinach, onion and tomato and then another day a mason jar salad.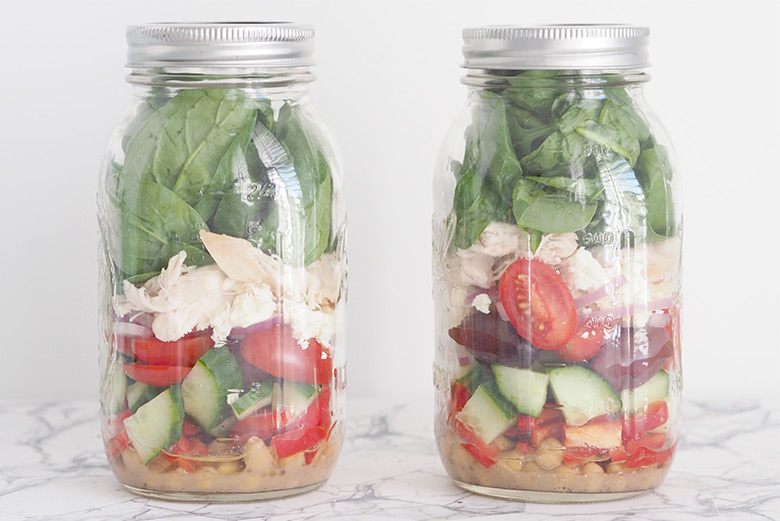 The beauty of Mason Jar Salad is that you can prepare them in advance, eat them a few days later and they are just as fresh as they day you prepared them.  I make 4 each week, I'll usually have 2 and hubby with have the other 2.
Greek Mason Jar Salad
There is a special technique to the salad assembly to keep all the contents fresh.  The vegetables and protein need to be layered in a particular way:
Layer 1 – Dressing
Layer 2 – Chickpeas
Layer 3 – Hard vegetables – capsicum, cucumber and red onion
Layer 4 – Soft vegetables – cherry tomatoes, olives
Layer 5 – Protein – chicken and fetta
Layer 6 – Salad greens – baby spinach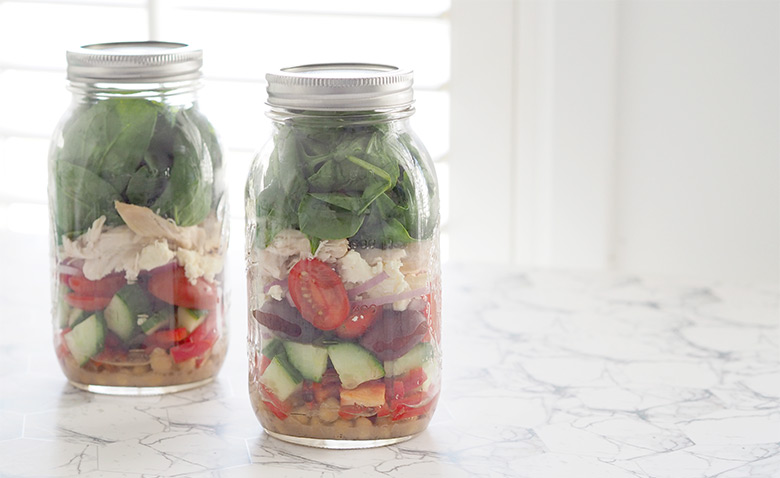 I used Paul Newmans Classic Dressing for this salad, there are many different dressing/ vinaigrette options available at the supermaket, or you can make your own!   You could also use a BBQ chicken to save time or poaching chicken is a healthier option and will save you money too.  Read more about how I poach chicken here.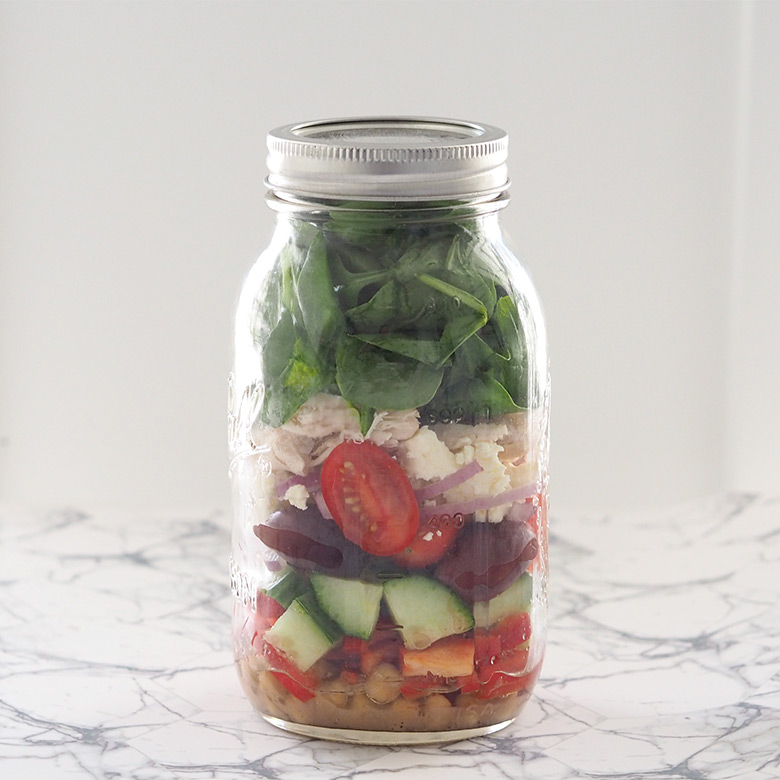 I don't work with quantities when it comes to making the salad, I just put more of the vegetable I like in it, and less of those I don't. I don't like olives, I leave it out of mine, but my hubby loved loads of them!
Print
Greek Mason Jar Salad
Author:
Prep Time:

10 mins

Total Time:

10 mins

Category:

Salad
1

–

2

tablespoons classic dressing

1

/3 cup chickpeas
Capsicum, diced
Cucumber, diced
Red onion, sliced
Cherry tomatoes, halved
Olives
Chicken, shredded
Fetta, cubed
Baby spinach, washed
Instructions
Place all ingredients in the order listed above into a clean mason jar
Seal tightly, refrigerate and use within 5-7 days.
Find more of my Mason Jar Salad Recipes here:
Roasted Garlic Mason Jar Salad
French Vinaigrette Mason Jar Salad
Avocado and Roasted Garlic Mason Jar Salad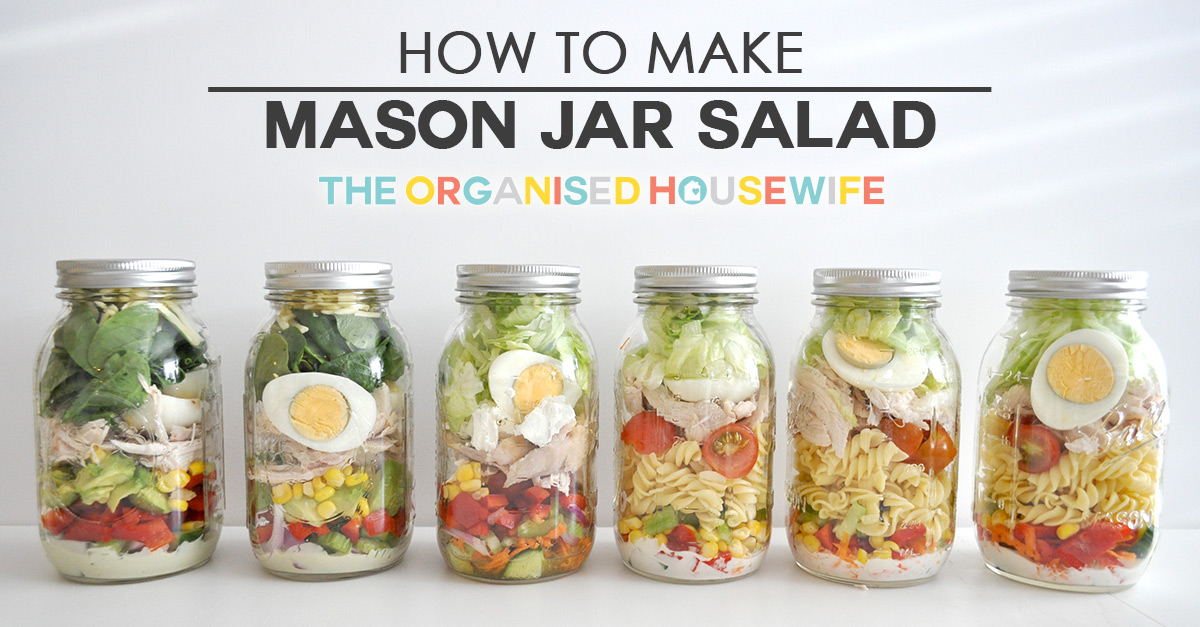 Also read more about how I organise my fridge, to help keep it tidy, prevent food from spoiling, ensure leftovers get eaten and it makes it easy to write a shopping list as I can quickly glance and see what I need to top up.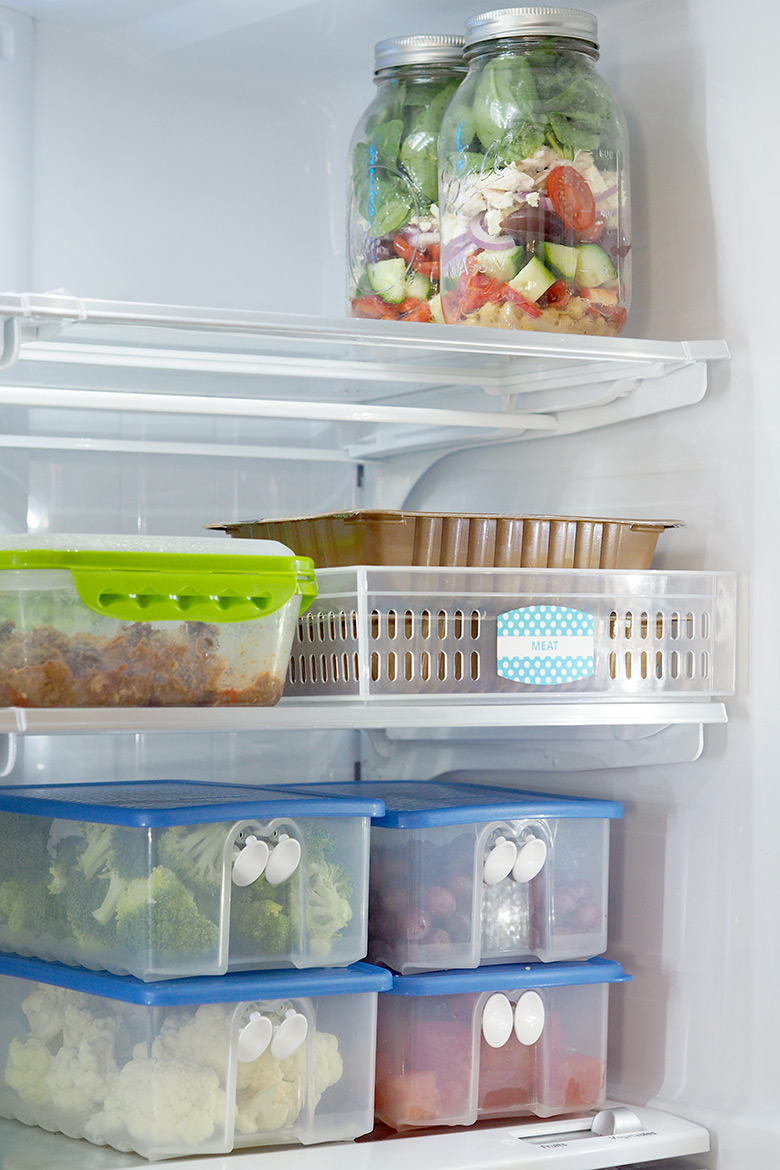 I hope you enjoy this Mason Jar Salad recipe, and it inspires you to make changes to your lunches if you are feeling in a bit of a rut too.
What do you like to eat for lunch?