This post is sponsored by Avery Products
Earlier this year I purchased a new french door refrigerator with a freezer drawer.  We used to have a side by side fridge/freezer which I found was comfortable to reach everything and the shelves were not too deep which made it easy to organise the fridge and keep it tidy. However, with the new fridge I struggle to reach the top shelf and would have no hope in being able to grab what is at the back of the top shelf, yes I am that short LOL.  So, I created a solution initially to help me reach the items at the back of the top shelf, but I liked it so much I implemented the idea on the other shelves as it is keeping our fridge very organised and tidy.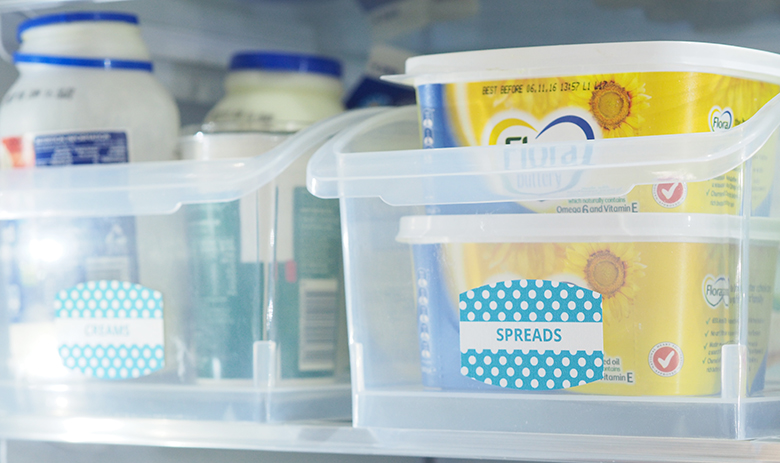 How to Organise the Fridge and Keep it Tidy
The key to organisation in any area of the home is:
labels
good storage containers
Labelling has many benefits, you know where to find things, you know where to put things back and makes it easier for other members of the household to find the items.  It simply keeps things organised and tidy.
Organising the fridge may sound OTT, but it has its benefits. Initially, I just started using the one tub (for yoghurts) at the top of the fridge so I can pull it out and grab what I needed easily.  I could see that the kids could always find where the yoghurt was and they put it back in the right place, which meant the fridge door wasn't open for any longer than it needed to be. Soon I found other items were getting lost in the fridge, cream in particular, so I decided to create tubs for other items in the fridge. And… as I do, I decided to organise the fridge as I would a cupboard and labelled my new tubs.
Having the fridge this organised takes it to a whole new level and I don't think it's over the top at all.  Food doesn't spoil, leftovers get eaten and it makes it easy to write a shopping list as I can quickly glance and see what I need to top up.
Avery Kitchen & Pantry Labels
I used the printable A5 Avery Kitchen & Pantry Labels which come in a range of different shapes and have a variety of uses. They can be used in the office, craft room, garage, the shed, bedrooms, various areas of the kitchen, pantry being the obvious choice, labels can be used anywhere and everywhere for general storage and organisation, you're only limited by your imagination.
Don't be fooled by the packaging, with the canister with pretty tiffany blue labels. Inside you will find the labels are a blank, white, premium linen textured material that is water-resistant (suitable for the fridge!). The bonus of these labels is you can design them to suit your style, add whatever text you want and print them at home! But of course you can create the pretty canister labels pictured if you want, they have included the template for you.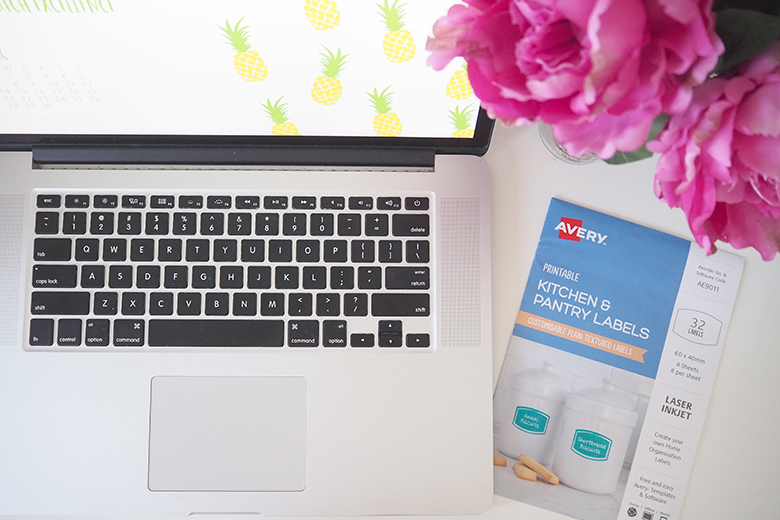 It is super easy to use and personalise, you don't need to download any software.  These labels are available from Officeworks at very reasonable prices. They come in many different sizes and shapes so you can find one that suits your style and needs.
Visit  www.averyproducts.com.au/print – you can design and print from your computer or use the app from iTunes or Google Play
Enter your software code (found at the top right of the label cover, or on the upper part of the labels). This matches up the program to the labels you want to use.
Choose a template – there is a variety of pre-designed or blank templates available.
Edit the text – you have a few options, either all labels can be the same or each can have different text.  You can also remove the design from some of the labels you don't want to print so you can use them at a later time.
Print – a great feature is that they print to the edge of each label, giving it a high-quality finish.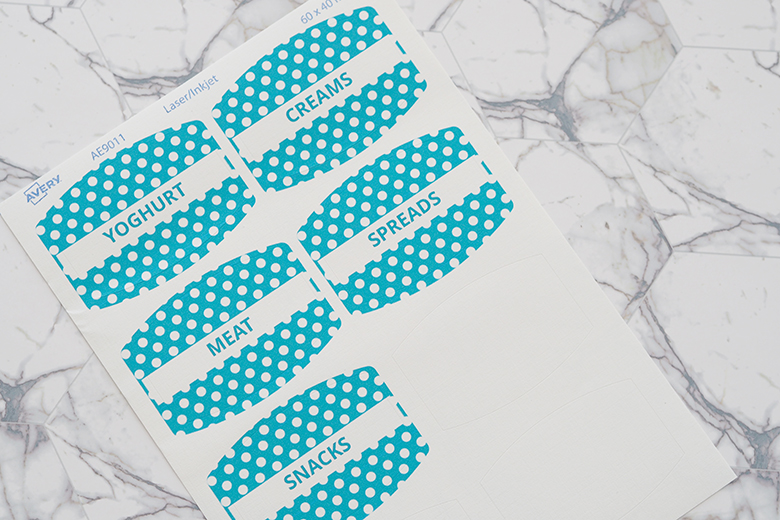 I chose the edit on design screen to create the labels for my fridge.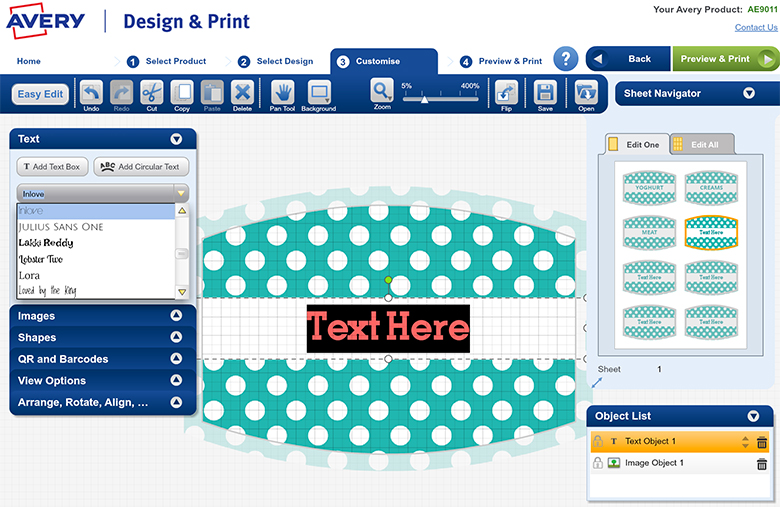 or if you choose Easy Edit Wizard option this enables you to add your own background image.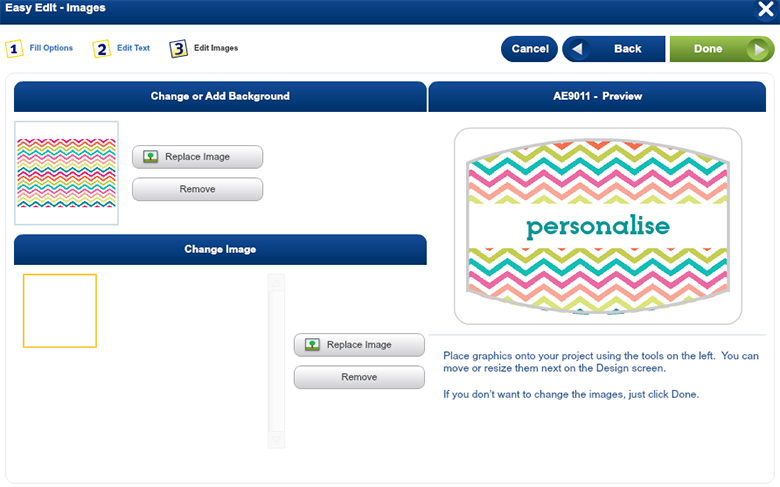 The labels have permanent adhesive so you don't have to worry about them falling off and they can stick to various surfaces.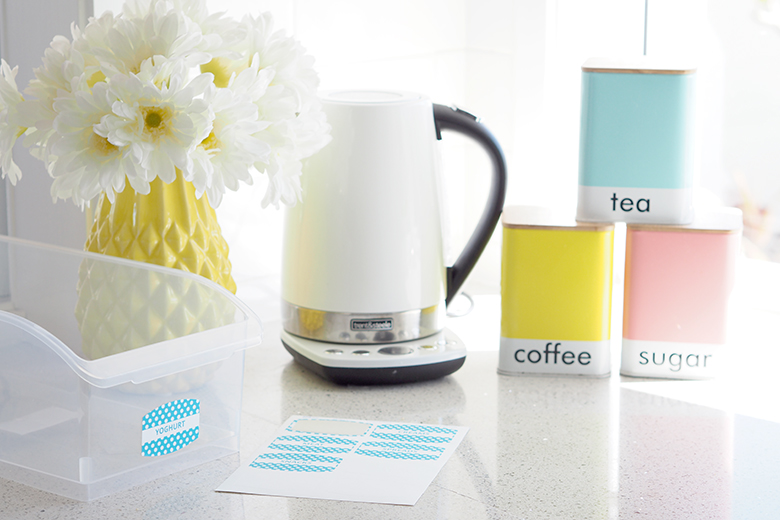 Organised Storage for the Fridge
I'm not going into detail about what are the best containers to store your food; this post is about how to keep all the contents of the fridge tidy and organised.  I have found the best way to do this is using plastic tubs. When looking for tubs I wanted something that was easy for me to grab with one hand and can simply wipe over and clean if anything does spill inside.
I have used the following tubs to organise the fridge:
This is a picture of my fridge mid week. After a weekly grocery shop, it may have a little more in it such as meats and more snack items.  I keep a vacant space on a shelf for the kids lunchboxes, as they are made the night before and I keep them in the fridge overnight.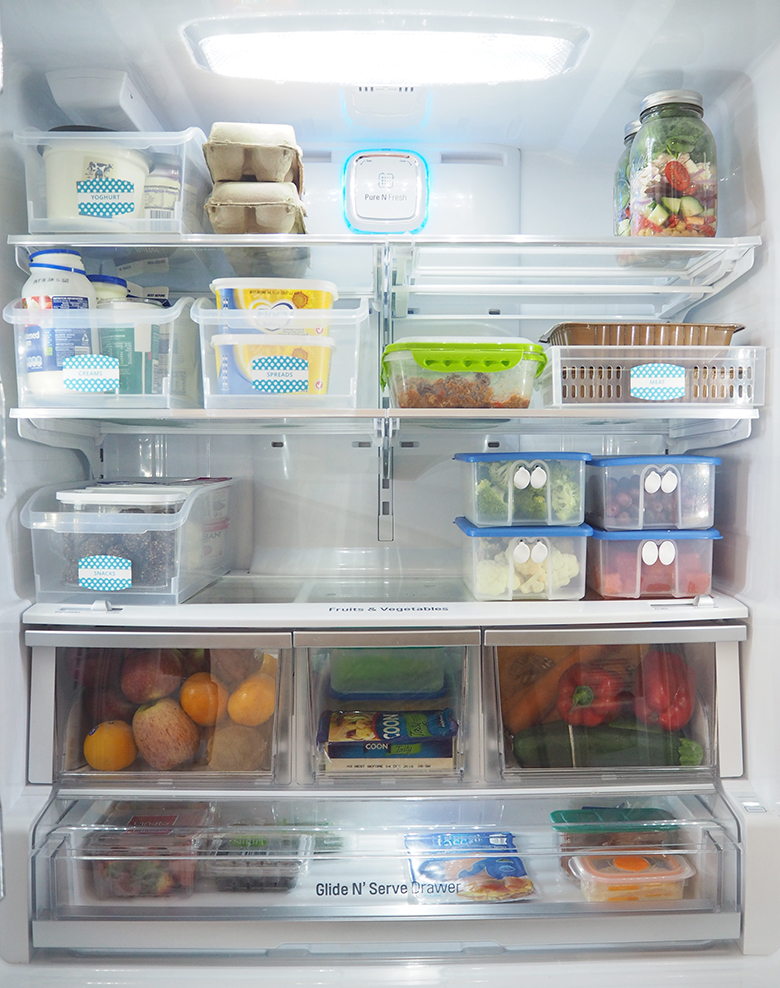 This is what I see when standing at the fridge, gives you an idea how short I am and how hard it would be to reach the back of the top shelf.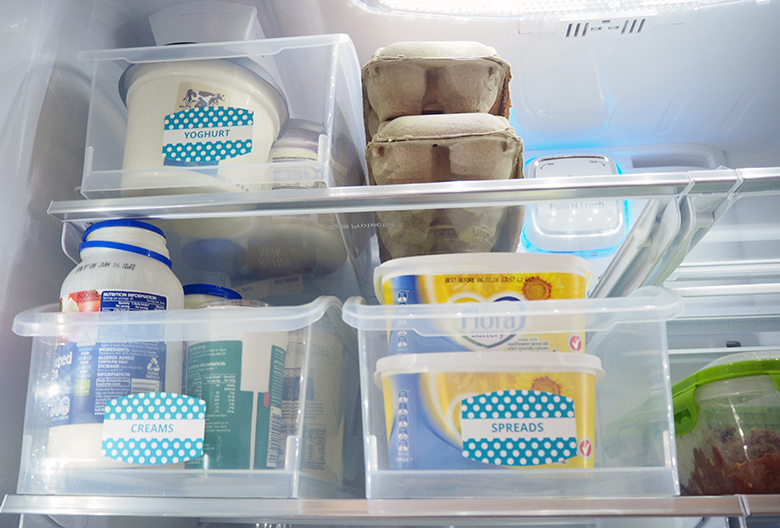 These plastic drsawes have wheels which make them easy to pull out.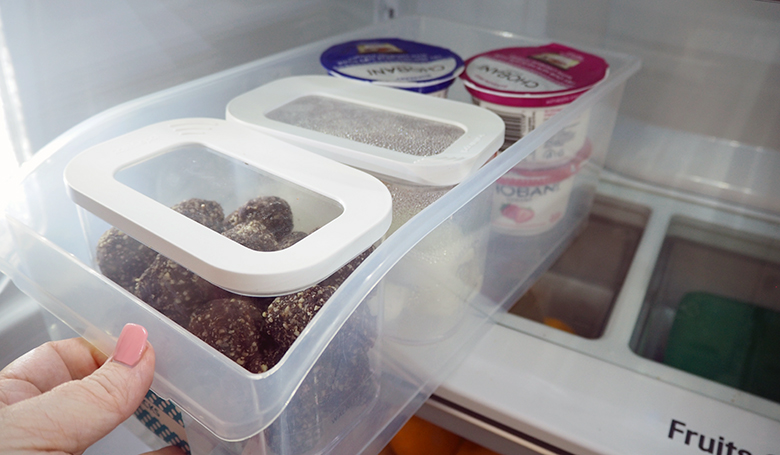 Starting from the top of the fridge,  I keep yoghurts (plain for cereal, greek for cooking etc) up there with cartons of eggs, which I find easy to pull down from the top shelf.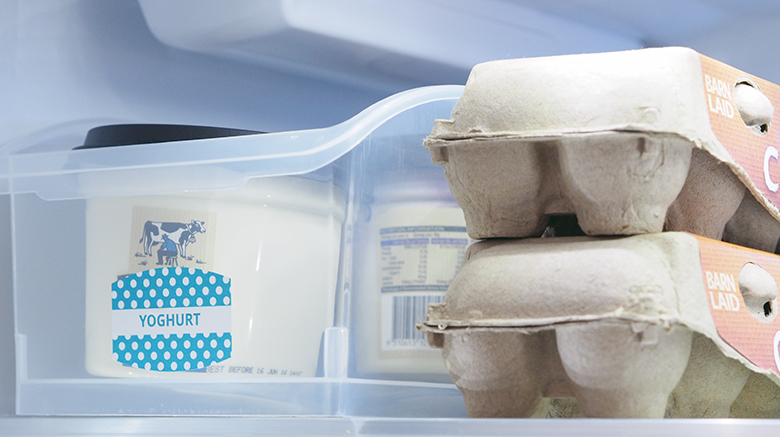 I also make mason jar salads ahead of time for lunch during the week. I'll share this greek salad mason jar salad recipe next week.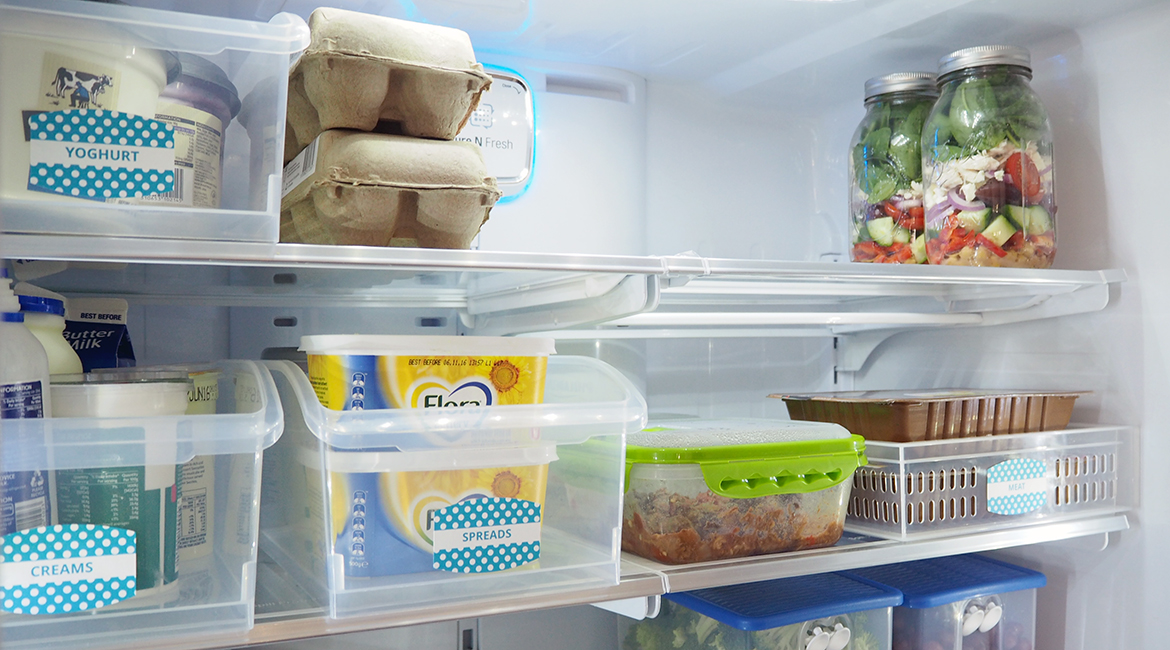 On the 2nd shelf I store spreads (margarine, cream cheese, cottage cheese etc) and creams, which I do have a lot of as I cook with them often, I like that they are all stored together makes it easier to keep an eye on the used by date and use them up before they go off (vanilla custard is my go-to recipe for this).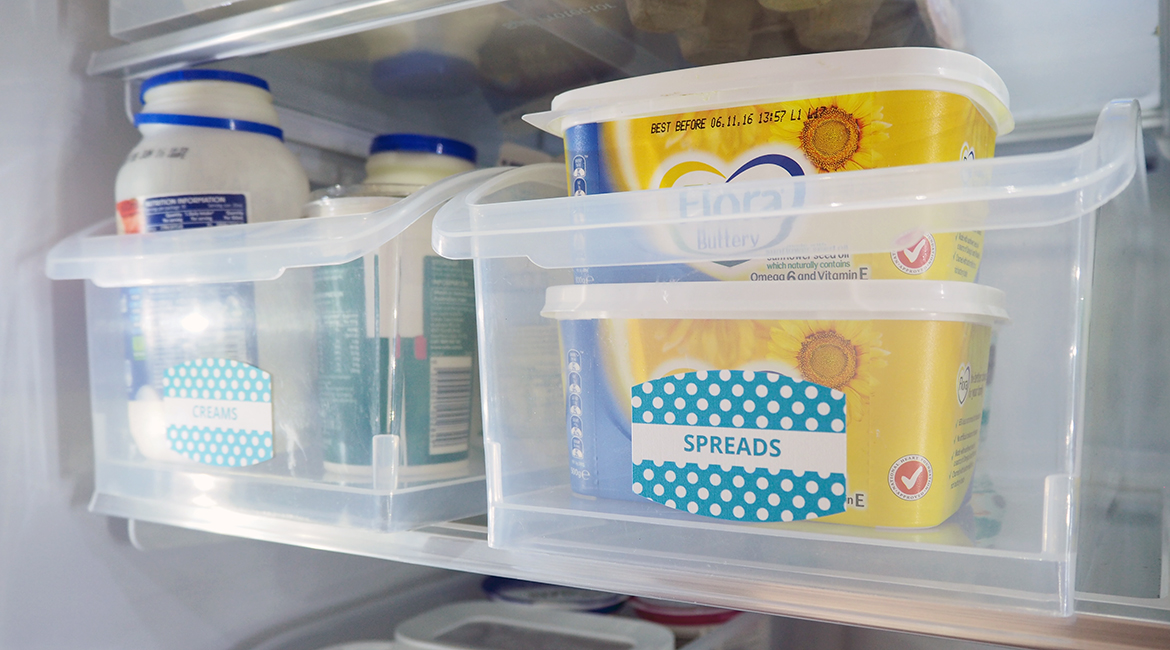 Leftovers usually sit on the 2nd shelf, so the kids can quickly glance and see if there is anything there they can have it as an after school snack (if there isn't enough for a full family meal).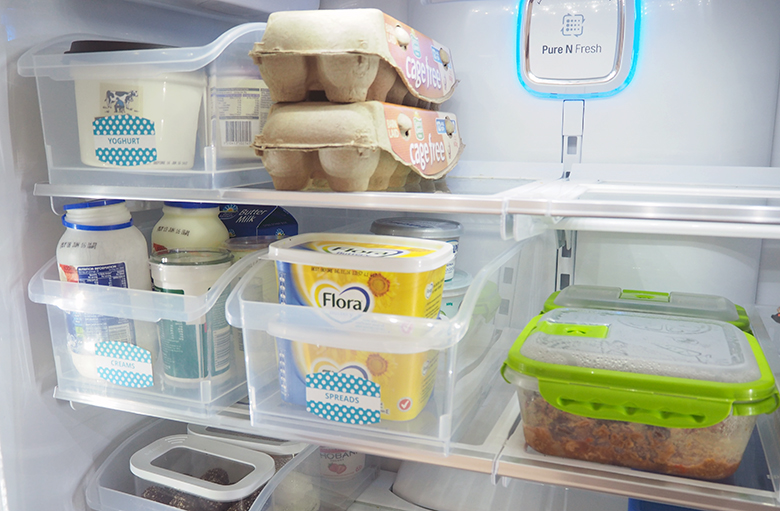 I like to keep meat on a plastic tray, or within the shopping plastic bag to prevent any meat juices from dripping throughout the fridge.  Now if anything has spilt, I can take out the plastic tray and give it a good wash in the sink with hot soapy water, better than removing the fridge shelf. Read more about how to clean the fridge here.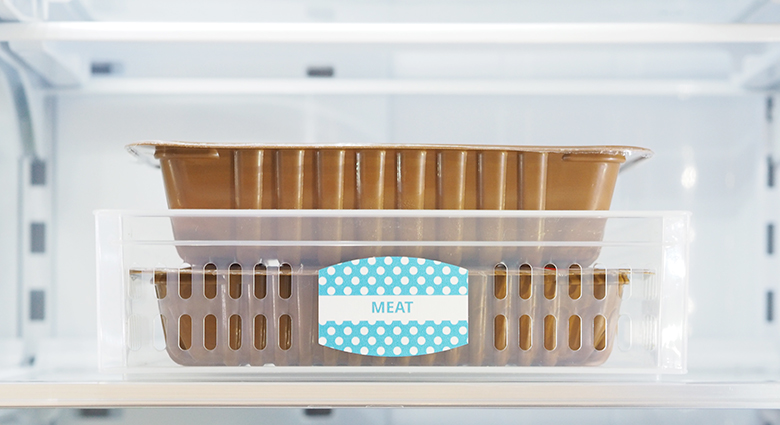 On the bottom shelf, I have a tub of snacks for the kids, things that they can put into their lunchbox or snack on when they are home.  This week I have in the tub some healthy chocolate and coconut bliss balls, boiled eggs and yoghurt.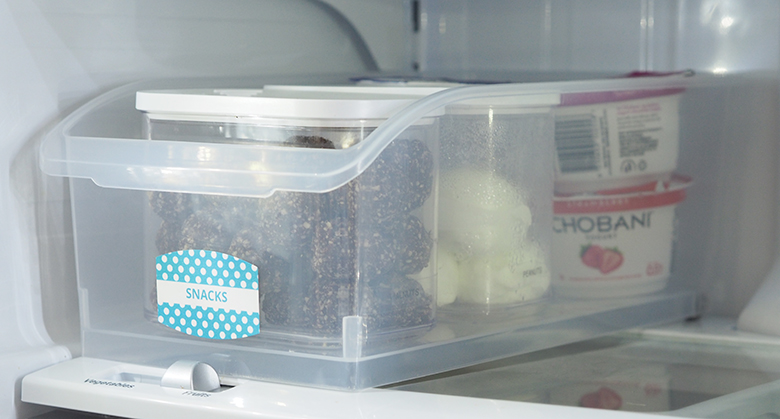 As you know, I cut up fruits and vegetables. Having diced watermelon and washed grapes at easy reach makes for a healthy snack option and vegetables to make dinner prep so much quicker.  I used to use the square green containers (pictured with leftovers) but have started using the rectangular Tupperware containers again as they are a better size for this fridge, making it a better use of space.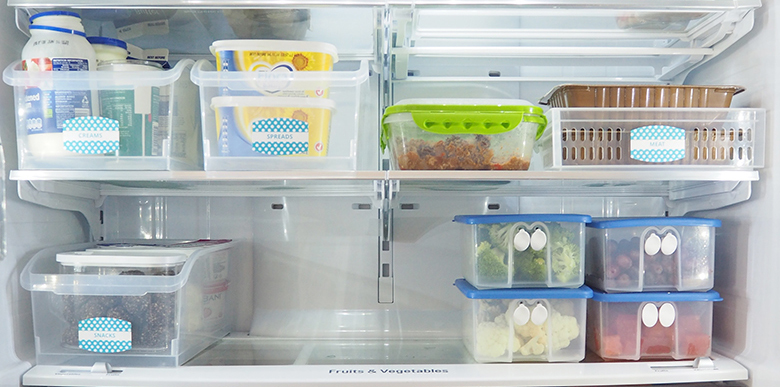 I can't fault the crisper in this fridge so I am happy to store my fruits, cheese and some vegetables in the drawers.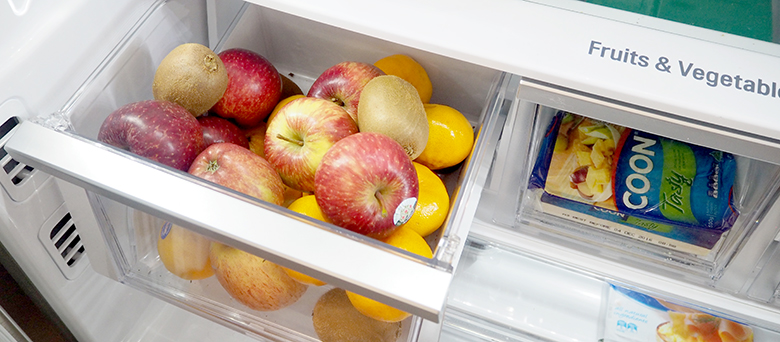 In the bottom slide out drawer, I store berries, cold meat, herbs, homemade hummus dip and cheese that won't fit in the drawer above.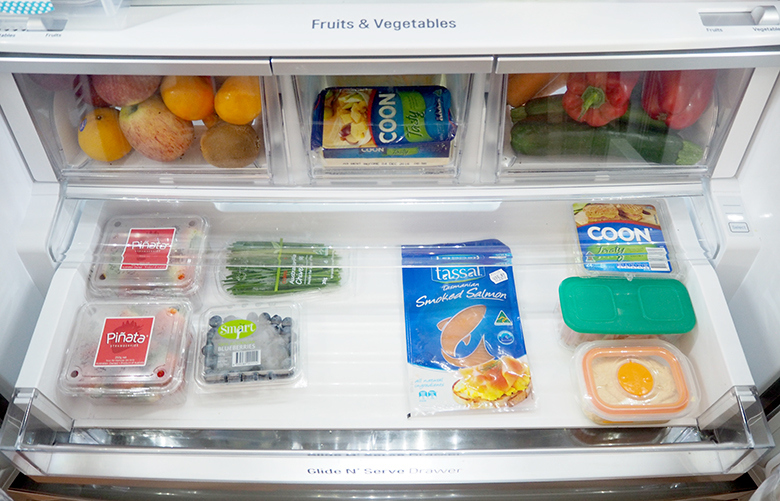 How funny… looking at this picture I can see we have a little-hidden shelf under the milk shelf, I had no idea!  I'm going to put the butter that I store up the top down the bottom so I can reach and easily see how much I have.  Like the cream, I keep a lot of butter on hand for cooking.  Jars of condiments, jams and milk, are all stored in the door of the fridge.
It looks like my fridge needs a good clean to remove the fingerprints, I didn't see them when I was photographing the fridge.  I'll share with you in the next few days my quick and easy way to clean stainless steel.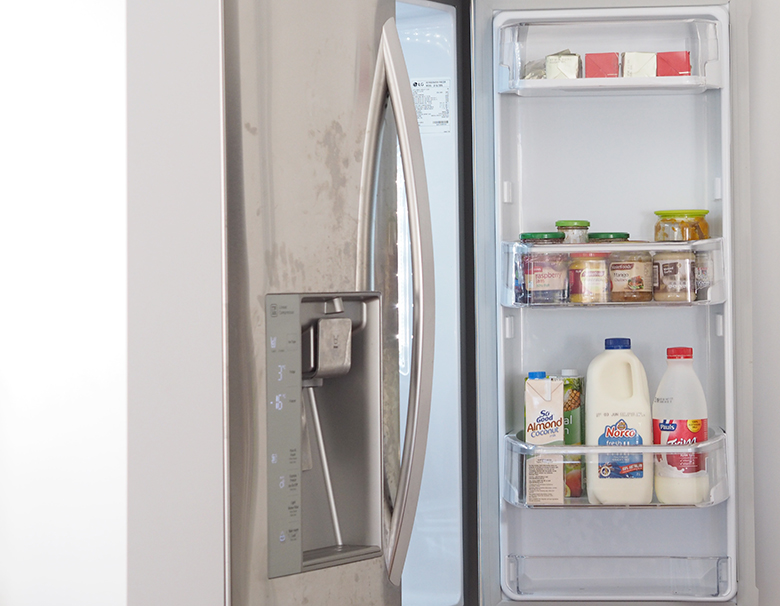 In the other fridge door, I keep more condiments and always keep sunburn relief gel in the fridge as it's soothing on the skin when cold.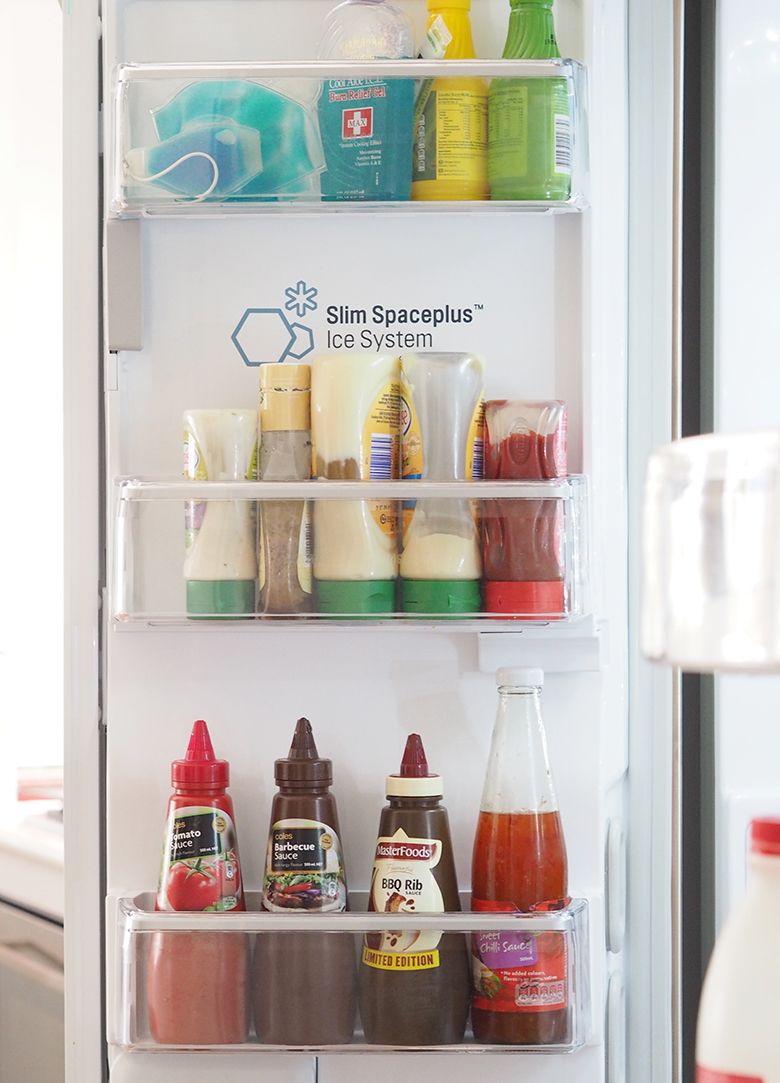 I do love how tidy this fridge stays because of how organised it is by simply using some great priced tubs and fun labels. The kids no longer yell out 'where's the margarine?' and having all the snacks together makes it quick and easy for packing school lunches.
I have quite a few of the Avery Kitchen & Pantry Labels left from this packet…. wondering what can I organise and label next?
---
What products do you lose in the fridge?
---
This post was coordinated by The Remarkables Group and run in accordance with my disclosure policy.