I love a BBQ Chook bread roll, it's a quick and easy lunch to make the family. However they are too expensive to have often and high in fat, but I have found an alternative. I purchase a kilogram of chicken breast (it's cheaper from the supermarket deli than packaged in the meat section), poach and shred them for our sandwiches. Having the chicken already cooked and shredded in the fridge is a healthy option for school lunch boxes, makes making sandwiches a breeze and is budget friendly!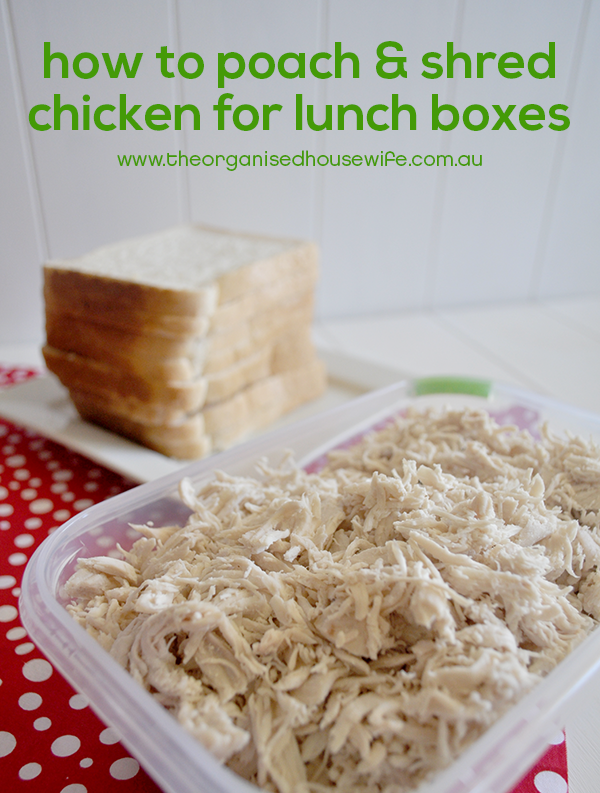 I have poached and shredded chicken in a variety of ways over the past few months, below I will share with you how to do it on the stove top and steaming in the Thermomix. They are both just as easy and tasty as each other, but the Thermomix would have to be my preferred option. Shredded chicken can also be frozen and added to a pasta bake style meal for an easy dinner.

Poaching Chicken on the Stove Top

Print
Poached Chicken
2

chicken breasts

2

garlic cloves
small handful of your preferred herbs (I used basil)
Instructions
Place 2 chicken breasts, garlic and herbs in a saucepan, cover with cold water
Bring to the boil over medium-high heat
Reduce heat to low, cover & simmer for a further 5-7 minutes
Remove from heat and stand for 5 minutes
Remove chicken from water
While chicken is still warm place in KitchenAid mixer (or any mixer), shred chicken on medium high speed until shredded to your liking. Alternatively shred breast with a fork.

Steaming & Shredding Chicken in Thermomix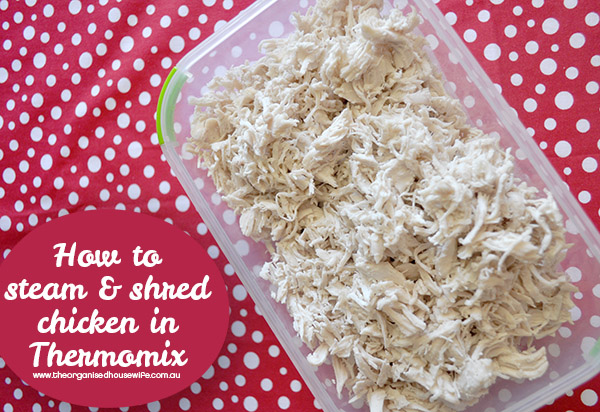 Print
Steaming Chicken in Thermomix
2

chicken breasts

1

garlic clove

1

litre water
small handful of desired herb (I used basil)
Instructions
Add water, garlic and herb to thermomix mixing bowl
Slice Chicken breast in half (like a schnitzel)
Place in the top basket of Varoma
Cook on Varoma / 20 minutes / speed 2
Shred Chicken
Discard contents from bowl and wash
Add chicken to bowl
Shred reverse / 4 seconds / speed 4

Over the next few weeks I will share with you a variety of recipes you can use with the shredded chicken. TIP: Create a lunch plan for the kids to ensure that you don't forget to use up the chicken through the week.
VIEW ALL LUNCH BOX RECIPES HERE