Typically I release my yearly Christmas Planners towards the end of the year, but I have always wanted to release it earlier in the year as I know when my kids were toddlers I used to go to the mid year sales and lay-by all their toys. Doing this, it's super easy to forget what you purchased so far out from Christmas with the high chance you may spend more or double up on gifts. That's where my Christmas Planner comes in handy, for writing down gifts you purchased, creating budgets, recording traditions, planning advent and stocking ideas and so much more.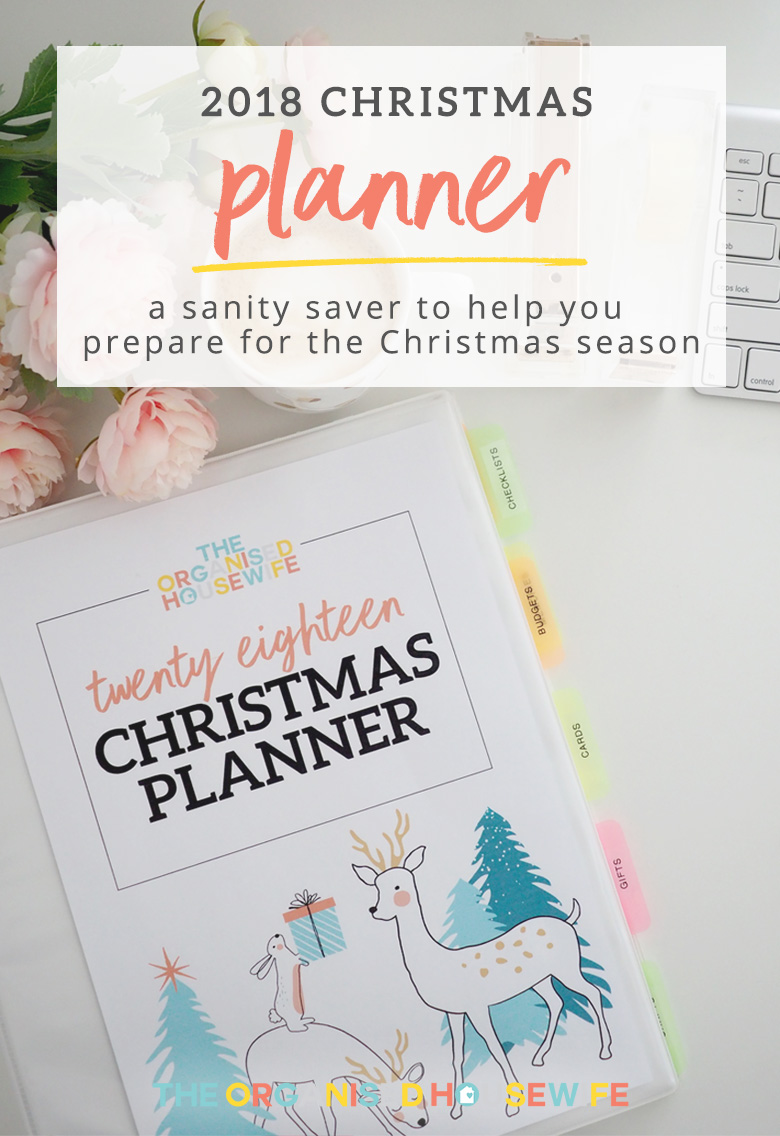 There is always so much to do in the lead-up to Christmas and never enough time to do it (or so it feels). Christmas is definitely my favourite time of the year – creating memories with the kids, re-living special traditions, spending quality time with extended family and, of course, preparing a large spread of delicious sweet and savoury foods. The one thing I have learnt over the years is that planning is essential in making the Christmas season stress-free and manageable. My Christmas Planner is my sanity saver and it could help you prepare for the special time of year when Santa Claus comes to town!
I have been using a Christmas Planner for as long as I can remember as it's the perfect way for me to organise, plan, prioritise, set budgets, create gift lists, card lists, plan meals and more before the 25th of December rolls around. This fresh, pretty and fun newly designed 2018 Christmas Planner is available in my shop as an instant download, so you can start planning today!!
  INSTANT DOWNLOAD – Purchase my 2018 Christmas Planner from my shop here.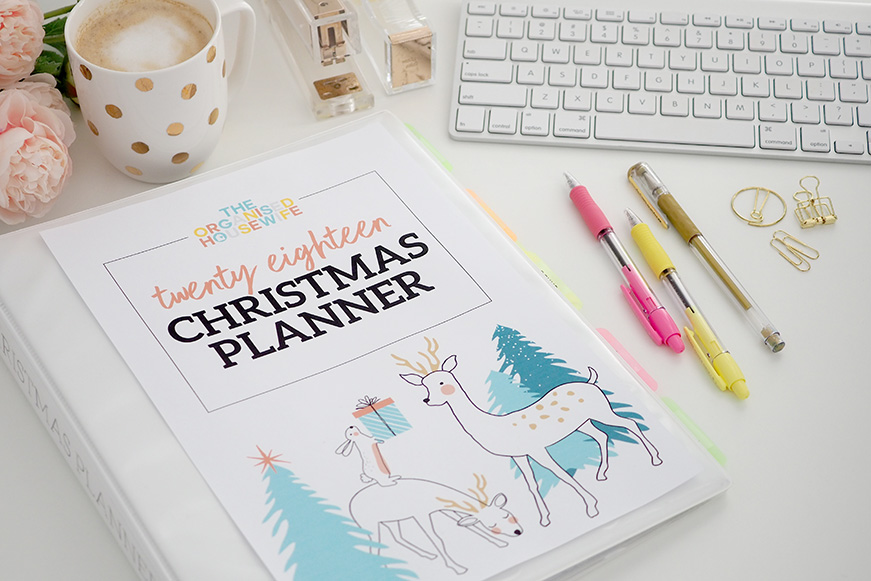 No more losing notes scribbled on the back of envelopes or misplacing receipts on your desk! This Christmas Planner will keep all your checklists, planners, budgets, recipes, ideas and more together in the one place.
The planner is a digital download. This means you will receive a file instantly after purchase. You can print the planner in it's entirey or specific pages and start organising within minutes! I use a 2D insert binder that I purchased for $3.50 from Kmart. It allows me to slip in the front cover page and spine label.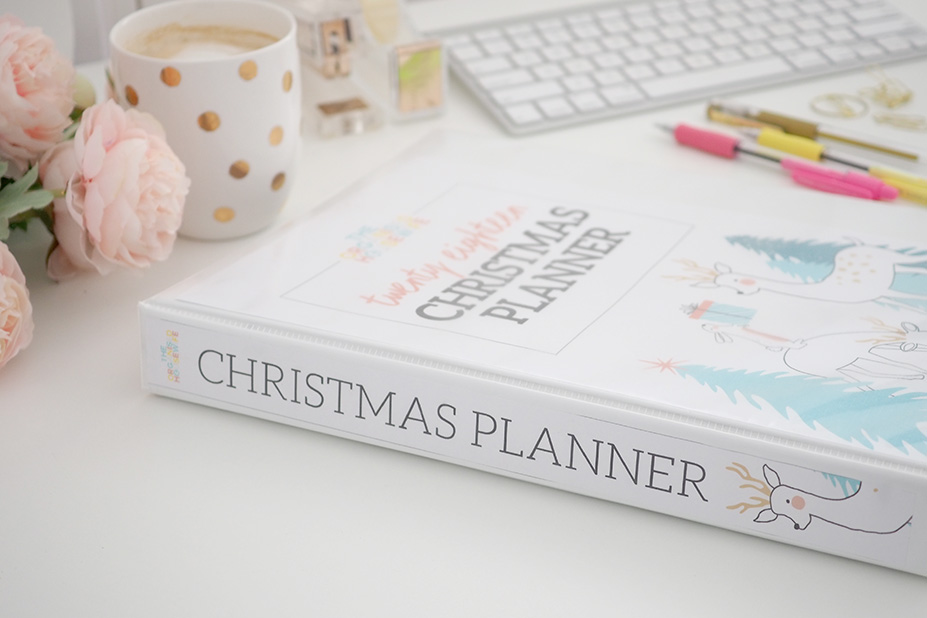 As you open up the planner you will find a Christmas Goals list.  This is a new addition to the planner as I wanted an area for you to write a few focus things you want to achieve this Christmas.  ie.  Spend more time with Nanna, make handmade gifts, go ornament shopping with the kids or don't overspend on toys!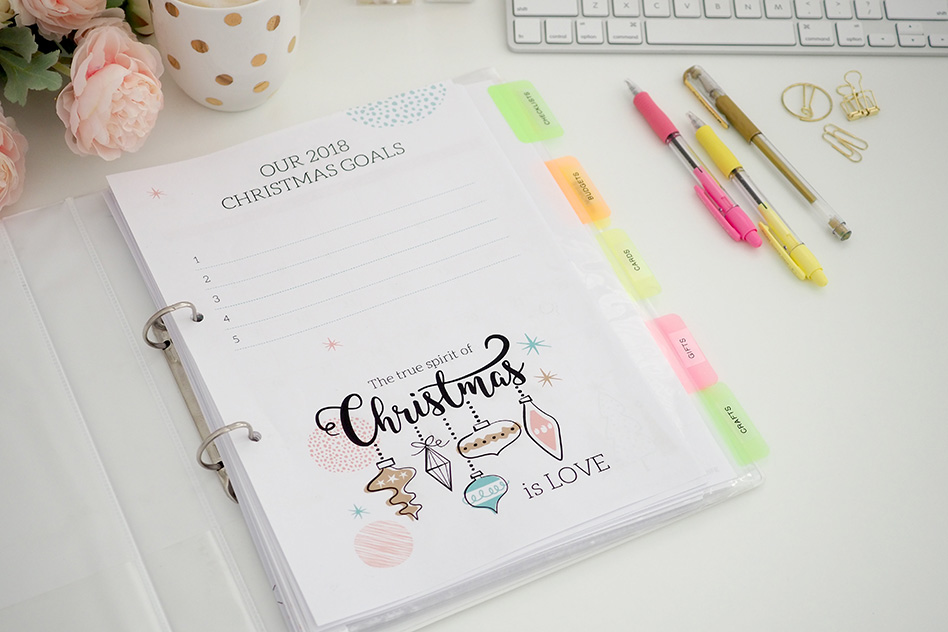 There are a few different options for the divider pages that I have included. You can laminate them, or as I have done, insert them into premium quality sheet protectors and add tabs that I bought for $2.50 from Kmart. This makes it easier to find sections within the planner.  I've used my labeller to label the tabs.
Curious to know what pages are included in the 2018 Christmas planner? I've listed a few below for you to see how helpful this organiser will be leading up to Christmas. And in my normal style I have thought of everything, right down to noting down gift hiding places!
PLANNERS
The first key to being organised is planning. Use the calendar pages to plan your events and the tasks you would like to do on specific days.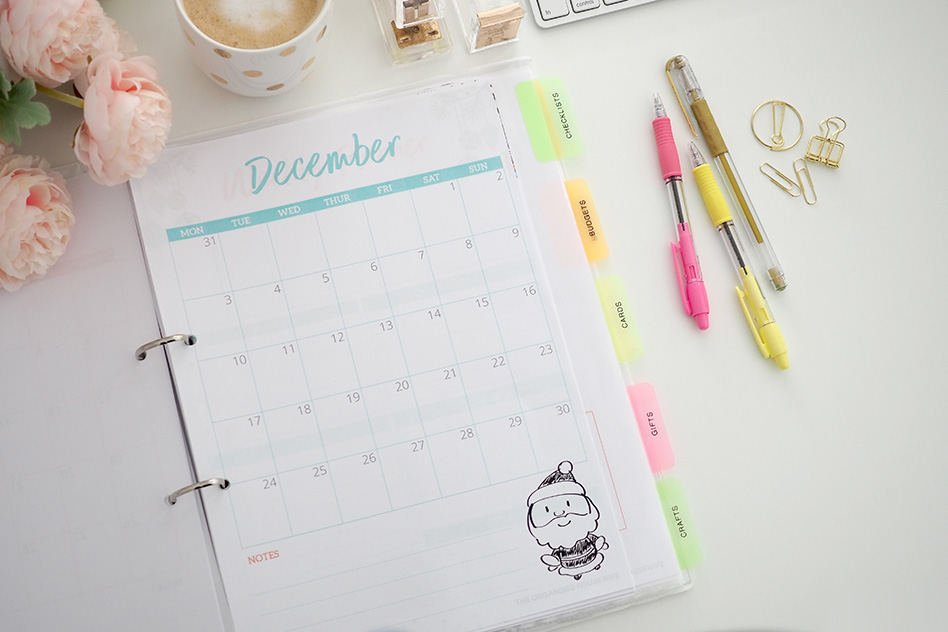 As I am releasing this planner early, I have included calendars from July – December 2018 as monthly calendar pages as well as Christmas Eve, Christmas Day and Boxing Day planning pages where you can write down your schedule for each of these, particularly important days. i.e. what time you need to put the ham in the oven, time for opening gifts, start lunch, etc.
A handy addition to the Christmas Planner is the December weekly planning pages so you can prioritise tasks (to buy, to clean, to do and to bake) and plan out when you can add them into your weekly schedule.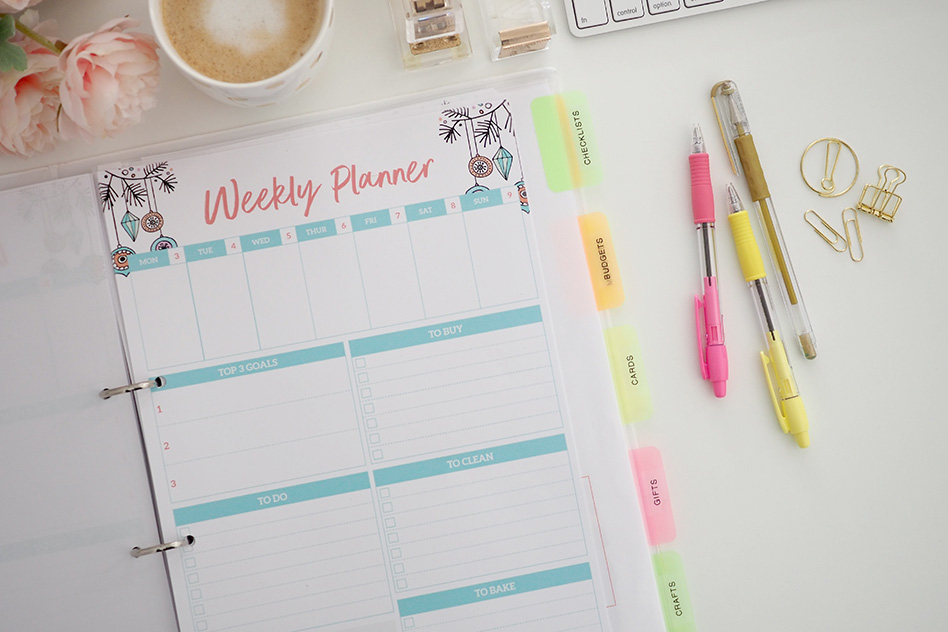 CHECKLISTS
I have helped you by creating a checklist for you. This is filled with everything you need to do and plan for Christmas – from remembering to buy stamps for Christmas cards, your guest list and organising who's bringing a plate on Christmas Day.  I have also left blank lines for you to add in additional and more specific tasks.  ie. in the decorate checklist, you may want to add, decorate hall buffet unit, buy decorations for front door etc.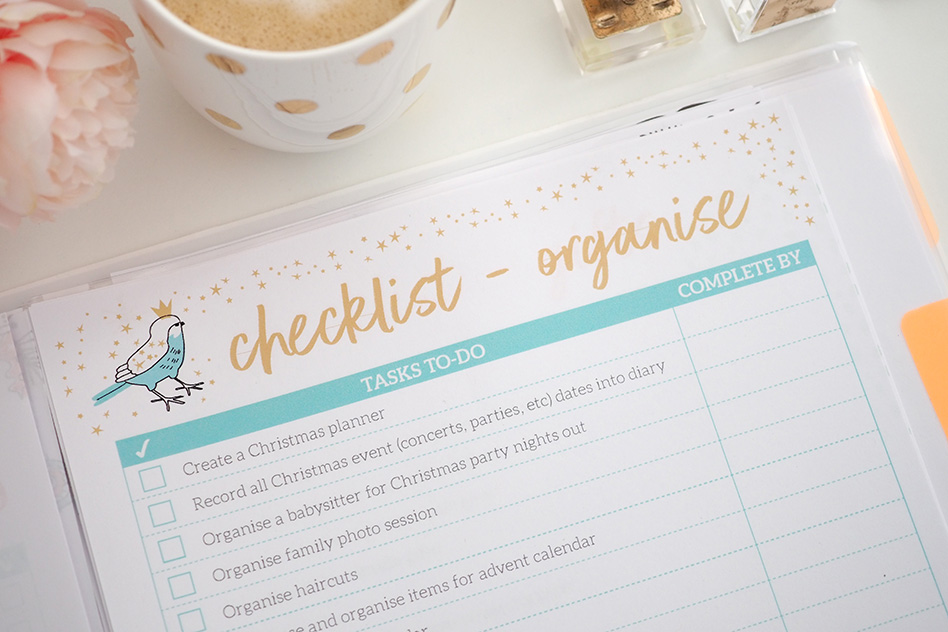 BUDGET
Before you start your Christmas shopping, work out your budget to determine how much you can spend as you don't want to receive an unexpected credit card bill in the New Year because you forgot to add into your budget the cost of the other elements of Christmas such as events, food and little gifts, like stocking stuffers and advent calendar gifts. All of which add up very quickly.  I have included budget pages for to help you keep track of everything!
CARDS
I like to send out a lot of Christmas Cards so to stay on top of who is receiving a card and whether I've written it or not, I have created a page to do just this. I write the same sentiment on all my Christmas Cards and perhaps a little personal message on some. Use this page to jot down your sentiment for easy reference, which is helpful if you're writing cards over the course of a few weeks. This will help you remember what the message is. The list of names is great for remembering who you are sending cards to, whether you want to add a family photo to their card, when you have sent it and also if you receive a card too -this is especially handy if you forget to send somebody a card, note them down so you can add them to your Christmas card list for next year! I've also included a special little list for the kids to write cards to their friends, with words at the top to help them copy what to write. Use the address book pages to store all your family and friends' postal addresses.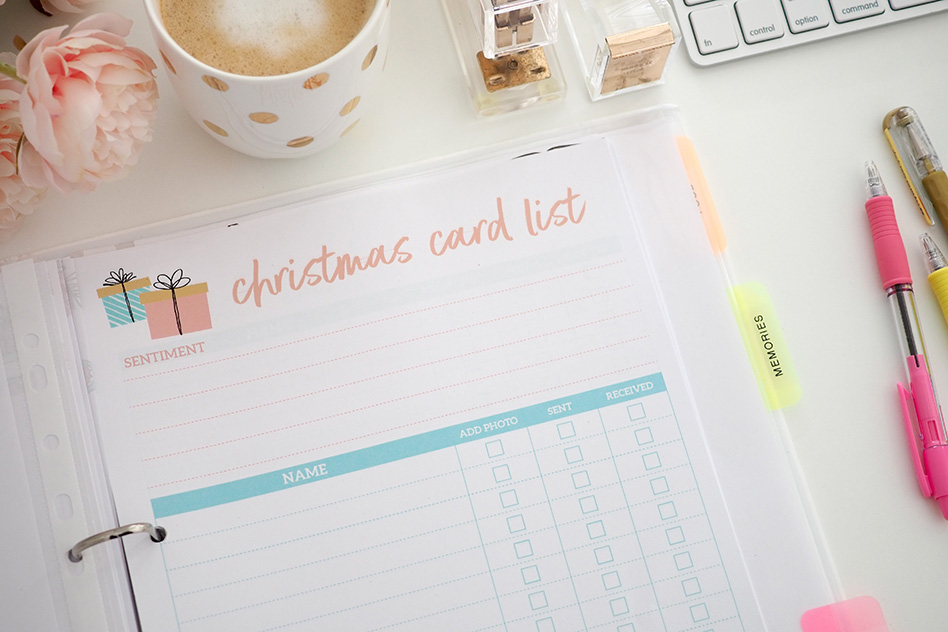 GIFTS
There are so many people to buy gifts for – kids, extended family, friends, neighbours, workmates…  I have created lists for the different people in your life so you can keep track of your purchases. I know all families are different and approach Christmas gifting differently, so I have also included a "split" page. This means you can put two kids on one page or use one page per child, whichever suits you! To keep track of gifts for the kids, I have added an area for a budget on their gift list page as well as in the main budget section – giving you the option you use whichever you prefer.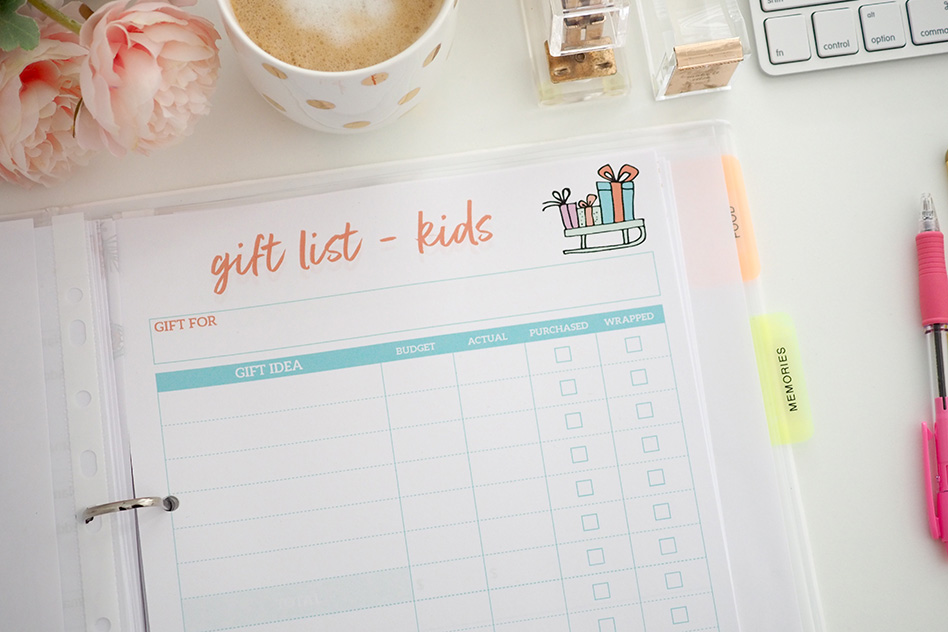 There are also pages to keep track of:
shopping list
stocking stuffer list
advent calendar gift list
your online orders
password tracker
lay-bys
where you hide gifts in the home (so they don't get lost)
what gifts were received (because it is good to keep note that Aunt May gave bub the pink teddy)
handmade gifts (writing down what you are making and what products you need to buy to complete the project)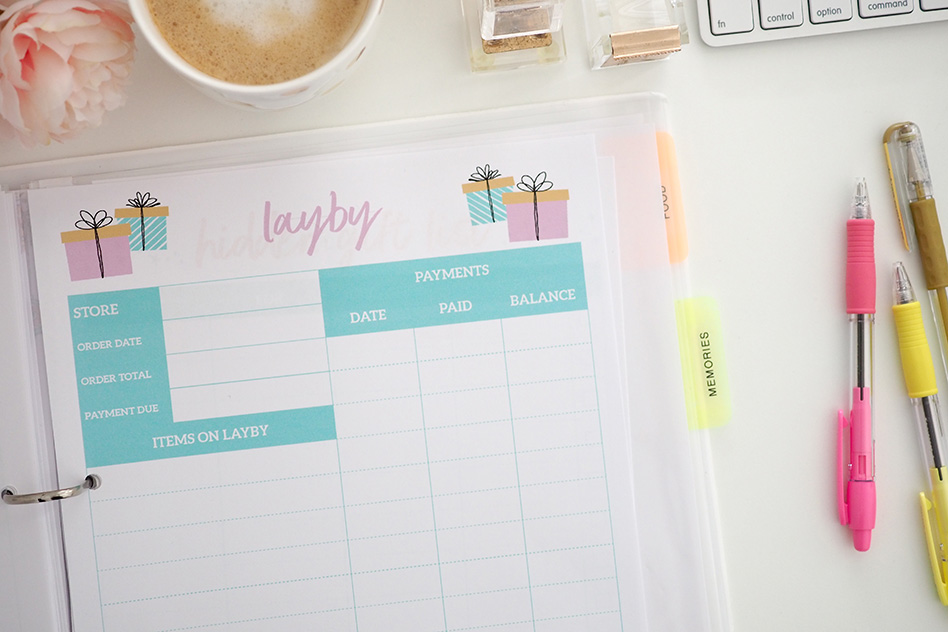 The purpose of all these pages is so you can keep track of your purchase, stick to a budget and not over buy. Don't forget to add in a plastic sleeve at the back of the planner to place all your gift receipts. They are handy to have at easy reach in case somebody needs to return something.
MEAL PLAN
This section will help you organise what you would like to bake during the holiday season. Use the Christmas Baking and Cooking page to write down the recipe, along with ingredients and where you can find the full recipe.
Keep track of your favourite Christmas recipes so you have a list ready of what to bake and cook for your family each year. Again, I have included a few different versions of pages for Christmas baking. Use the one that you find easiest to work with.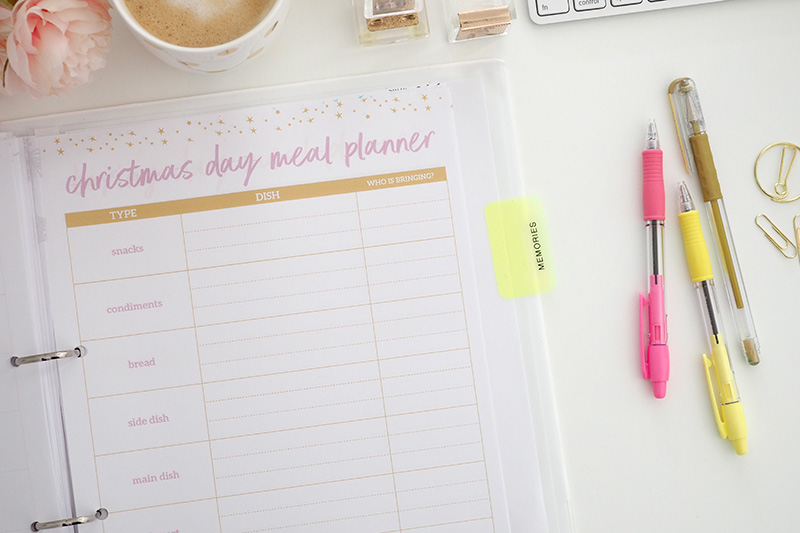 Use the Meal Planner page to plan what you are cooking on Christmas Day. This page allows you to plan with other family members on what they can bring/contribute, and keep track of what food is expected so there's not too little or too much food. I've categorised the Christmas Grocery List to make the shopping process easier for you and help you to remember all the items you need.
I like to use the Recipes to Try page for recipes I've found in cookbooks, magazines or online. I can note down what ingredients they have, so when I feel like cooking it's easier to glance at the ingredients and decide what to make.
CRAFTS
Use the Christmas Craft page to paste in a picture of the craft idea and note down the supplies are needed and where you found the idea in case you need to reference back for the tutorial. This is particularly handy to use throughout the year to remind yourself of something to make during the Christmas season.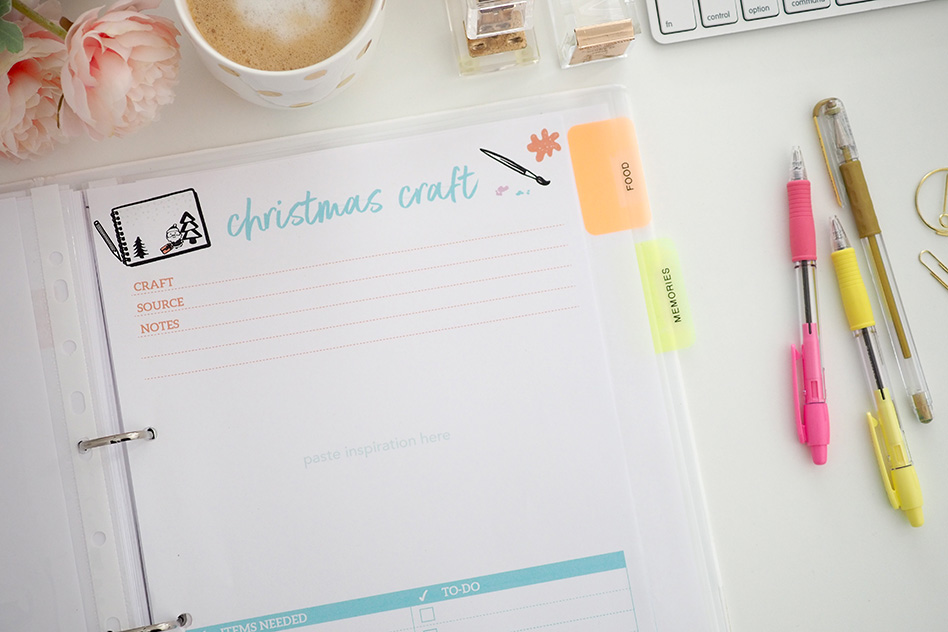 MEMORIES
This is perfect for remember old and new traditions that you participate in with your family each year, so you remember to do the same next year! One of our traditions is that I give my kids a Christmas Ornament each year, so when they leave home they have a box full of Chrismas memories to take to their new home. I've created this page to help keep track of the ornaments and their meanings.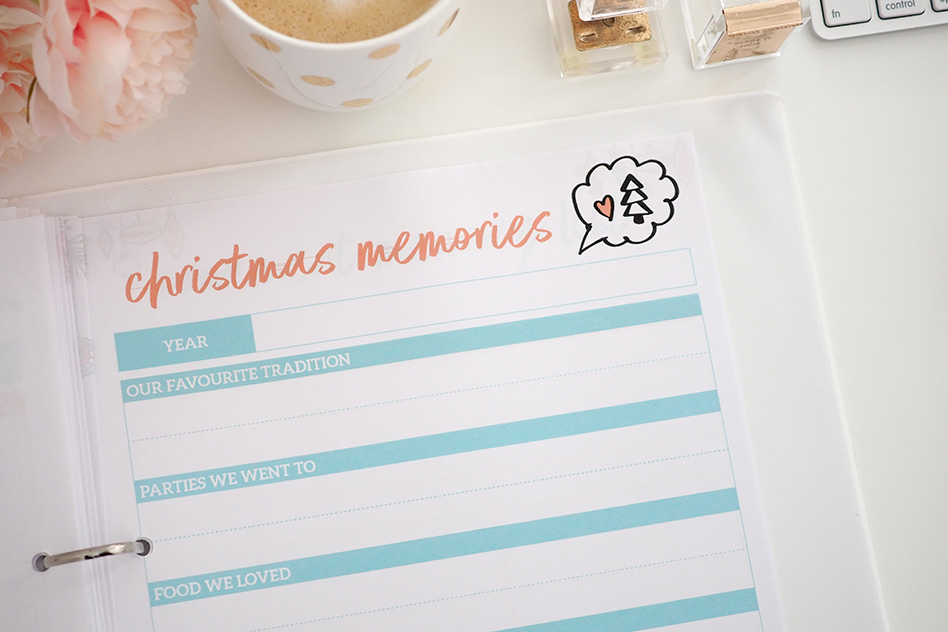 I mentioned it has 70+ pages, but you don't need to print them all.  This planner was created to be personalised, meaning you can print multiple copies of particular pages or not print certain pages at all. It is a planner that you can adapt to suit you!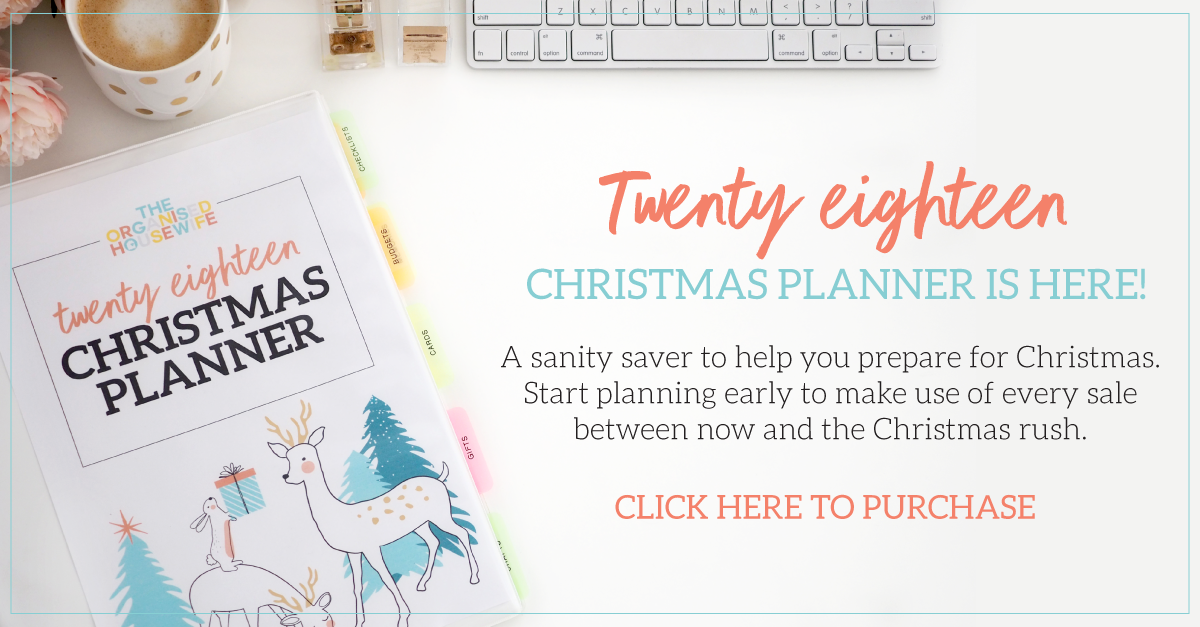 What do you find is the hardest thing to organise for Christmas?