This time next week I will be heading down to the Aussie Bloggers Conference which is being held in Sydney, quite a long way from home.  I know the kids will be in good hands with my husband, I'm really not worried as I know they will all have a great time.  I'm a bit scared being in a big city all alone, but thankfully have found some lovely bloggers to meet up with for dinner and pre conference drinks.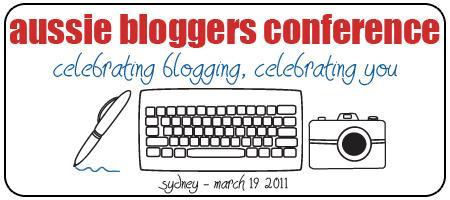 I am absolutely terrified to meet everybody.  I find it super easy to sit at this computer and chat away, but in person it's a whole different ball game.  What will people be expecting me to look like?  I know I have shown a few photo's of me, but I am really worried about meeting people in real life, I am short and round, didn't loose the 20 odd kilo's that would of made me super beautiful for the conference.  I am a dag and always wear thongs, it's rare to not see me in thongs, so I'll be wearing something thong-like (on my feet :)).  I don't drink alcohol, tea, coffee or softdrink, give me a glass of water or my new favourite a Zarraffa's Coffee Fusion and I'll be happy.  I am who I am….from what I have read in the Aussie blogging world each of these women are so lovely and feeling exactly the same way so i am sure they won't care about my little quirks!!!!  That's me terrified in a nutshell.
But…..I am so so excited to meet everybody, share experiences, talk blogging for a full day, learn and improve.  I know I still have so much to learn about blogging, it should be a blast!!
Are you attending the conference?
I have tried to go through the attendees list, but it's just so long.  So please leave your link in the comments section so I can have a look at your blog before the big day.  Look forward to meeting you at the 'Aussie Bloggers Conference'!