I love organising days! You all know now that I get a thrill from organising something, even if it is the cutlery draw…lol.  So much so, that I want to see your end results.  I have set up a new feature, enabling you to link up your blog post showing your beautifully organised area.
Organise the Linen Cupboard
I would like you to set 30 minutes aside and organise your linen cupboard.
Depending on the space you have, dedicate a shelf to each of the following.
Top shelf – seasonal linens you don't regularly use i.e. blankets, winter sheets, etc.

4th shelf – bed linens

3rd shelf – bath towels

2nd shelf – beach towel, tablecloths

Bottom shelf – Buckets and larger items that don't fit on shelves
Perhaps you may find it easier to store tablecloths in a drawer or cabinet closer to the table. Therefore, freeing up space in your linen cupboard or possibly bath towels in the bathroom.  Organise your cupboard to suit your family.
We keep the kitty litter tray and her food and water bowls in the laundry. This way we can store all other items, like medication, brushes, litter bag, etc., in the linen cupboard too.
Video Tutorial folding sheets and towels
My camera is away getting fixed. When I get it back, I will do a video for you on how I fold my towels and bed linens (super easy and so not how Martha Stewart does it, really who has the time to or desire to fold a fitted sheet perfectly, sorry Martha love ya, but I do it super dooper quick and it still looks neat).  Stay tuned for those videos, sorry for their delay 🙂
Video: Link to video tutorial on folding sheets.
My Linen Cupboard
Sorry I couldn't get a full length view of the cupboard as the laundry is narrow there was no room.
Top of my linen cupboard.  I have been using these Ikea boxes to store seasonal linens, eg. flannalette sheet sets.  I would prefer to change these boxes at some stage to plastic storage containers.  Next shelf down is all the bed linens, then bath towels on a shelf easy for the kids to reach along with some cat 'things' and toilet paper, usually tissue boxes are here too but i need to buy some.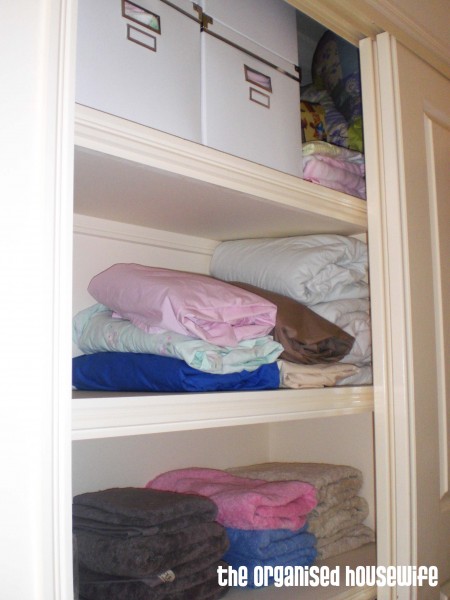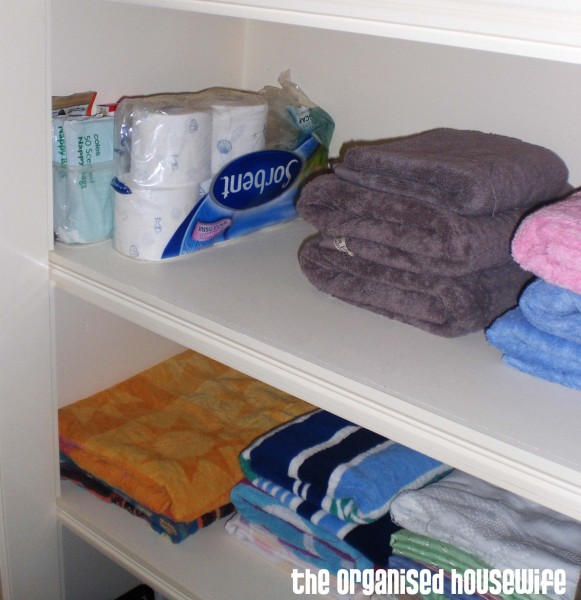 Bottom shelf stores handy housework carry container, rags, cat food, kitty litter and pet carrier.  Shelf above keeps the kids beach towels handy along with tablecloths and turbo vacuum head.  Aah, just noticed the tablecloth is all messy, this is from the cat sitting on it, you will see below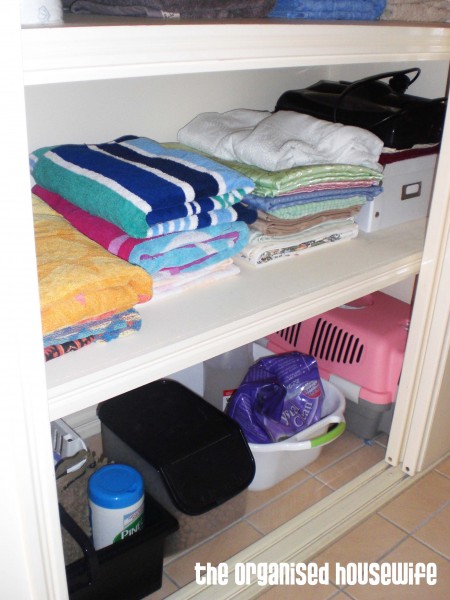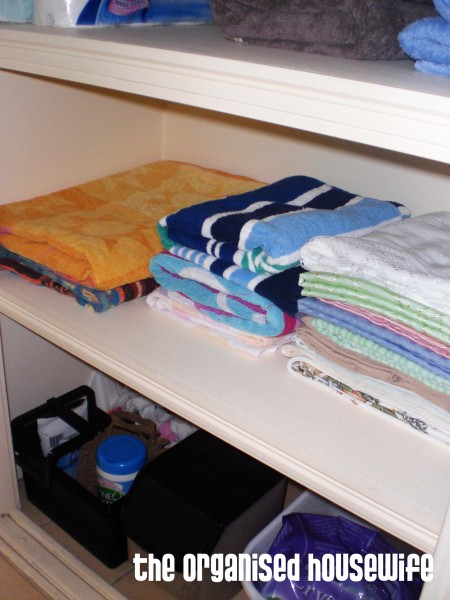 I use old containers to store our cats litter bags, medication, brush etc.  Also in a container is a few packets of travel sized tissue packets.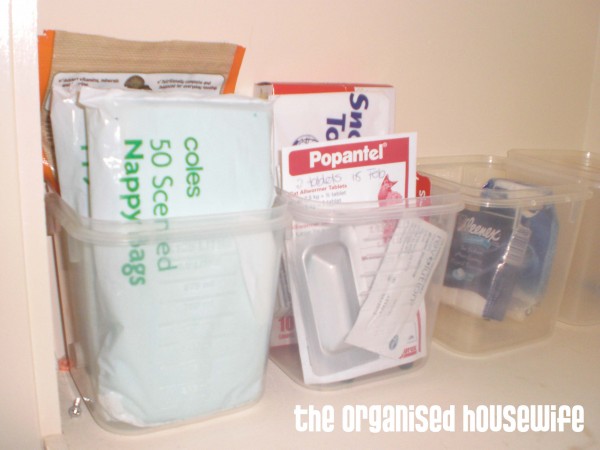 Millee is a Ragdoll, she's beautiful and very snobby 🙂  She stays indoors which I love as she keeps very clean and her fur is just so soft and lush.