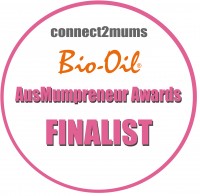 Next week I am going to Sydney for the Connect 2 Mums Ausmumpreneur awards.  I am a finalist for Best Blog for 2011. As I have mentioned before it is such an honour to be considered for this award.
Voting is closing soon
I would love to have your support, can you please take a moment and vote for me. 
To vote:
Sign up to Connect 2 Mum's website HERE.  Information about Connect 2 Mums below.
You will need to wait for a confirmation email. 
On the home page of the Connect 2 Mum's website scroll down to the photo's section and click on BEST BLOG image.
Now you are on the screen of all the best blog finalists, please find The Organied Housewife image, click to open.
Here is my submission, to vote for me you need to click LIKE.  But here is the tricky part, it has confused many people, there are 2 like buttons on the page and I think most people have clicked the wrong one?  Please click this like button to submit your vote.

I know this is alot of effort to vote…I'm sorry, but I would be so thankful and very grateful for your support.