This post is sponsored by Howards Storage World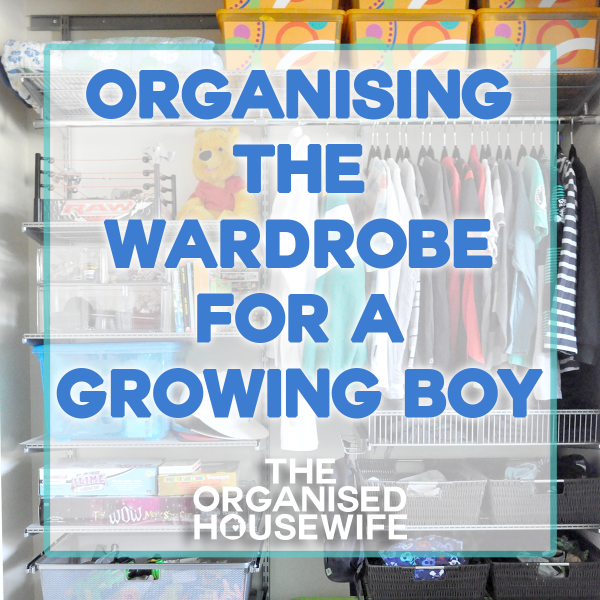 I am really sad to admit the twins, now 11 are taller than me.  They are growing so fast, thankfully have their fathers genes.  But in doing so Mr 11's current wardrobe system is no longer working.  The cubed system was great when he was younger  but now his pants are getting longer  I have to fold them over by 3 rather than 2 times, therefore not many could fit in each cube and they were falling out.  I have neglected his wardrobe for far too long and it just become a disaster.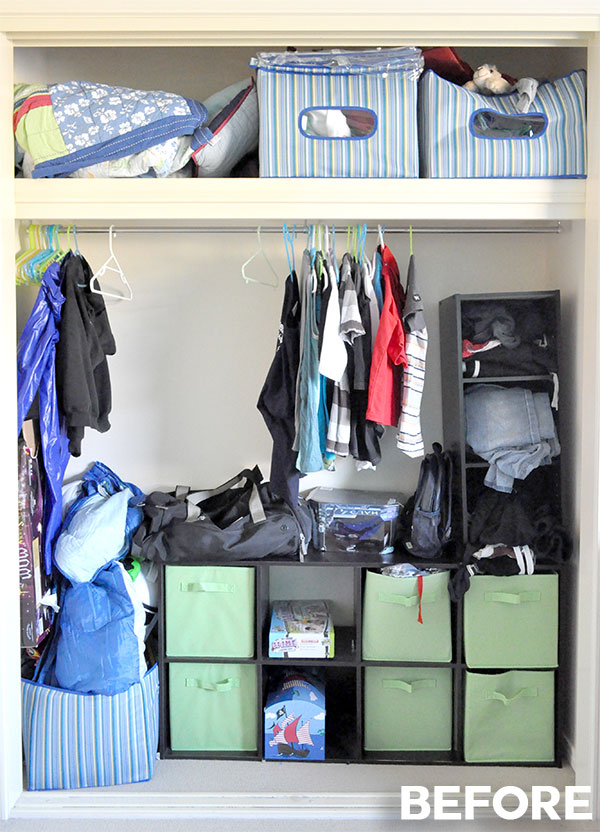 Despite him growing I still had children's sized hangers in his wardrobe and his clothes were falling off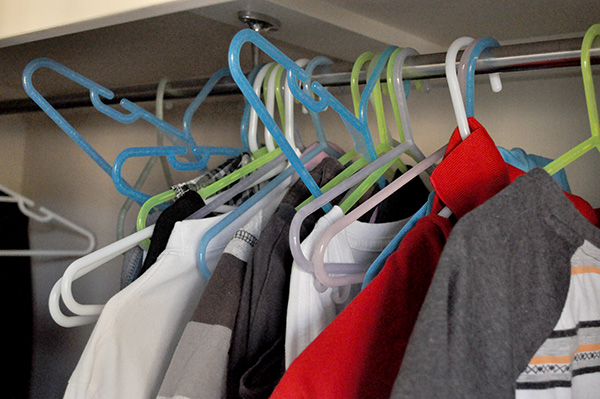 I wanted to use the same Elfa Solution as my daughters (his twin sisters) wardrobe, she has managed to keep it very tidy and the extra storage space it created is just amazing.  I emptied the wardrobe and asked my brother-in-law (who is awesome on the tools) to help me remove the built-in shelf.  With a few hits of the hammer it came out and he patched and repainted the walls.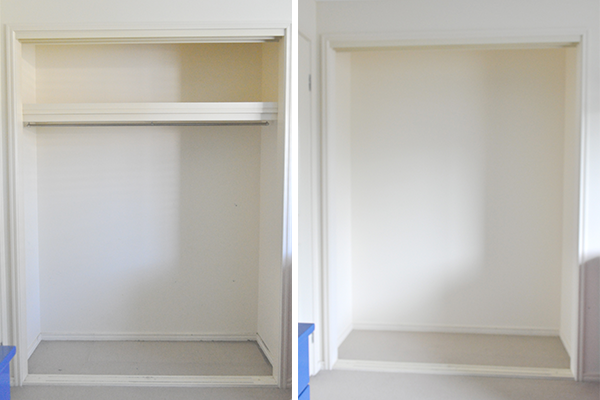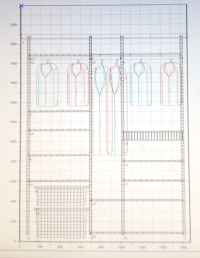 I worked with the team at my local Howards Storage World to create the best solution for this space.  I already had an idea of the types of functions I wanted.  Mr 11 starts high school next year and at this new school the students need to wear trousers, belt and tie, so having an area for long clothes was important.  He had a toy box when he was younger, but he has since outgrown this and it's gone, I wanted some drawers in his wardrobe that he could pull out and easily just throw (he's a boy I don't expect him to have organised drawers) in a few toys.  He doesn't have a dresser in his bedroom so it was essential to have areas for all his clothes.
When designing the plan of the wardrobe the team at Howards Storage World draw my ideas to scale based on the measurements of the Elfa System, this is a great way to view what the finished product would be like. Howards Storage World can install the system for you, or you can do it yourself.
The Elfa Solutions have the option of white or platinum shelves, racks etc.  White was lovely and fresh in my daughters room, but I felt the platinum was a masculine feel for Mr 11's room.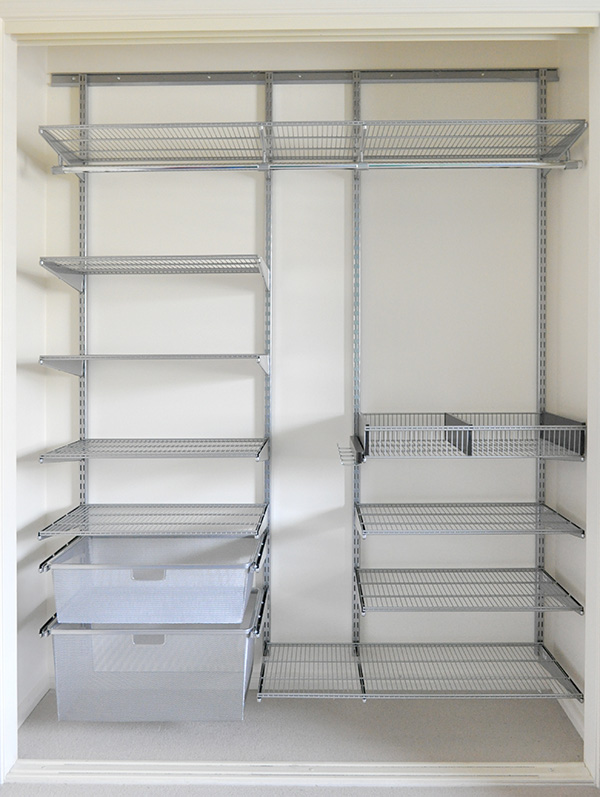 Watch this short clip on how we put the system together
One major feature I love about the Elfa System is that the shelves are adjustable. As he gets older if  the wardrobe isn't functioning how he wants to it's really easy to lift a shelf up a notch or two or remove altogether.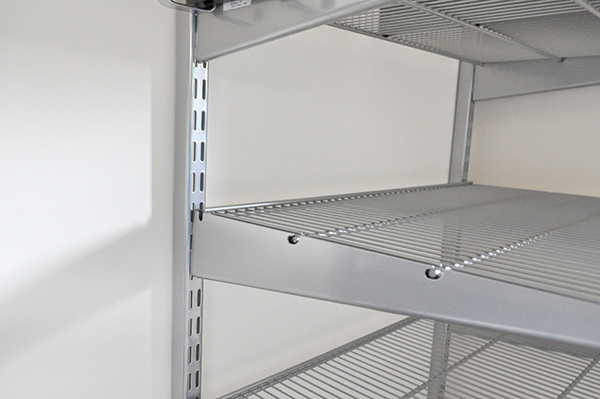 This space turned out better than I could have ever imagined.  The extra storage is amazing.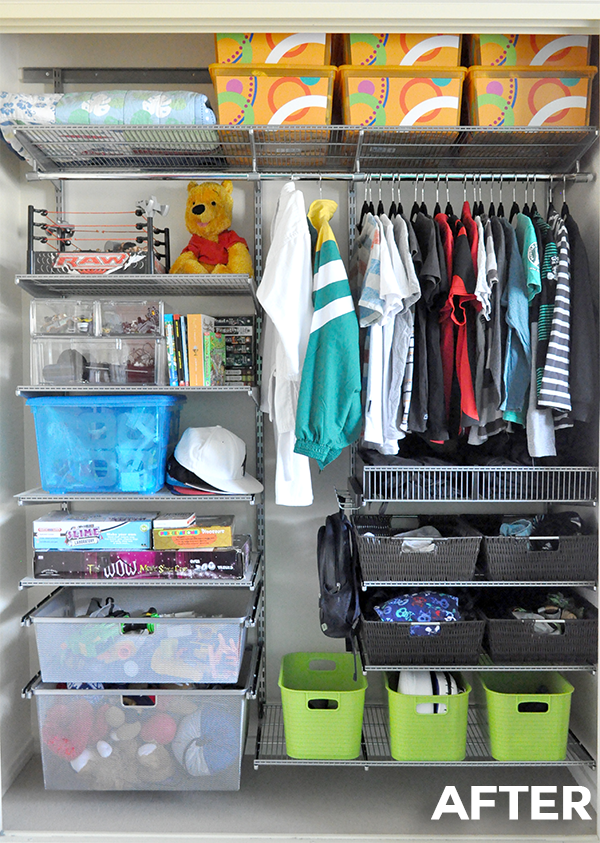 In the tops of the kids cupboards I like to store their out of season clothes, special keepsake like items and extra blankets.  I used the Kis C-Box Bubbles, they come in a variety of sizes and colours, however I chose this size as they fit easily into the top of the wardrobe and stack perfectly with two on top of each other.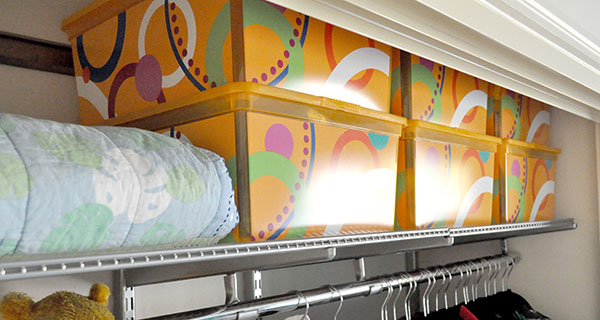 In his keepsake box he has all his karate belts, his first gi and pair of glasses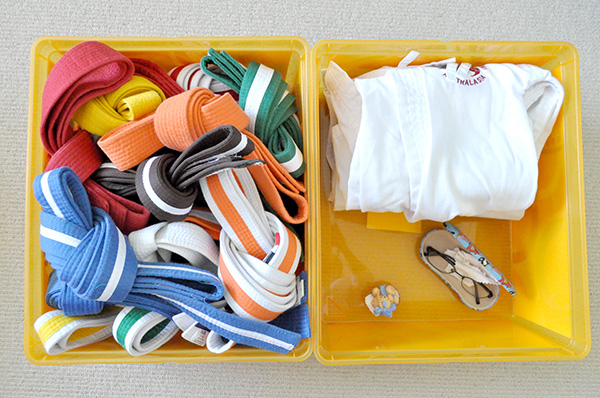 Mr 11 has dust mite allergies so he can't have too many cuddly toys in his room, we have put these ones away as he is not ready to part with them.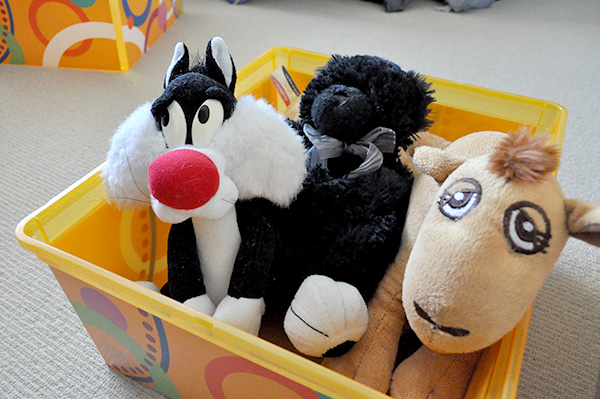 When the seasons change we always go through his current clothes and purge any that no longer fit him.  All his summer clothes fit in this one box, think I need to do some shopping for him soon.
I have never folded my kids underwear or paired socks, just saves me so much time when folding all the washing. They have always had a basket which stores each of these items along with PJ's and boxer shorts.  The baskets keep them separated and organised.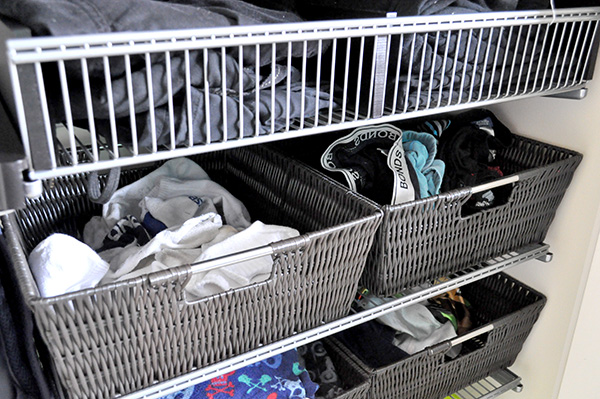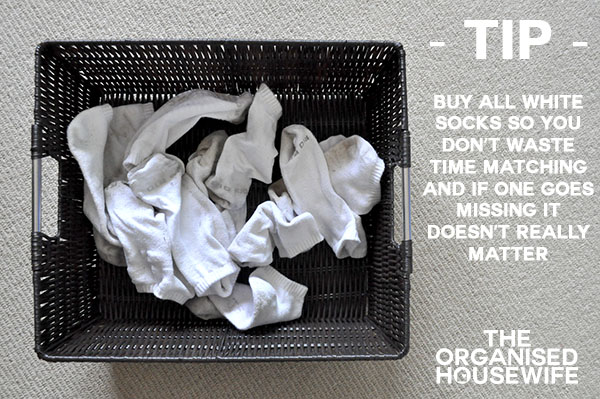 These Rattique Shelf Chocolate Tote Baskets are the perfect long depth and shallow height to fit into the Elfa shelves.  With the handle on the front makes it easy for Mr 11 to pull in and out.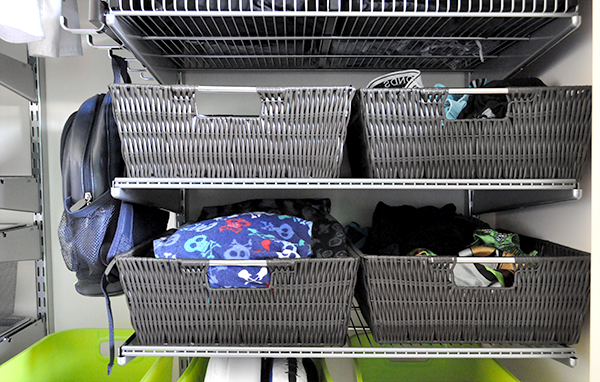 I upgraded his coat hangers to the adult size and chose the flocked hangers so his clothes won't slip off, will help to keep his wardrobe tidy.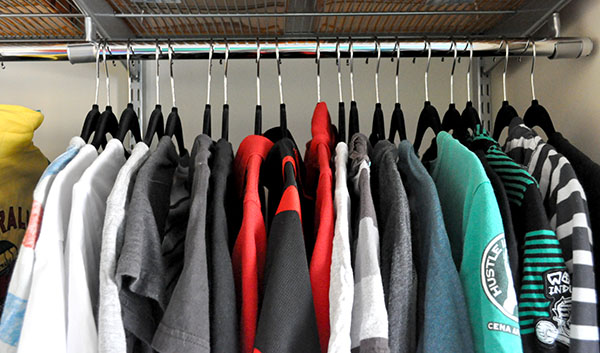 I wanted to incorporate the long hanging space into his wardrobe, this wardrobe has two sliding doors which makes the middle of the wardrobe hard to access.  Putting shelves in this area wasn't a functional option, rather it was perfect for long hanging clothes like trousers, dressing gowns, sports clothes etc.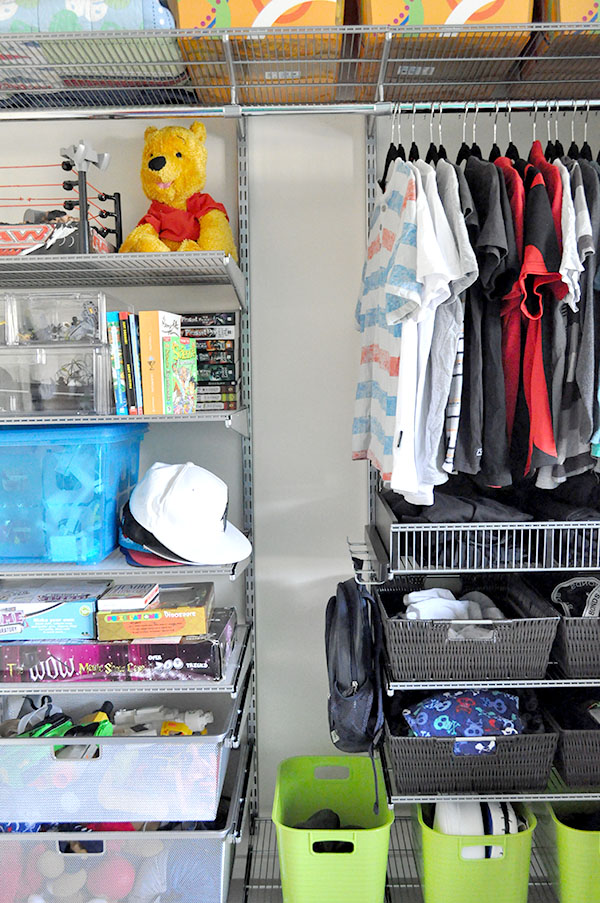 This bracket easily lifts on and off the shelves, he will use this to store bags, belts etc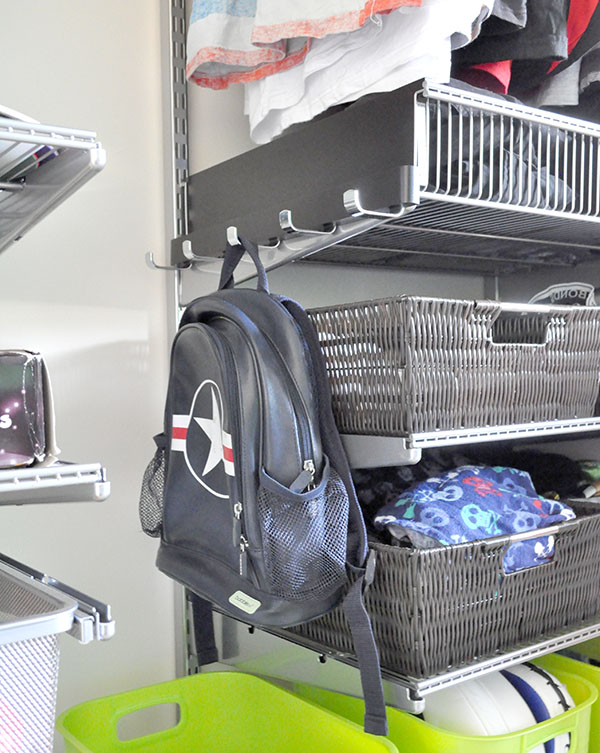 The drawers are really quite deep, here he can keep his sleeping bag, some toys, nerf guns etc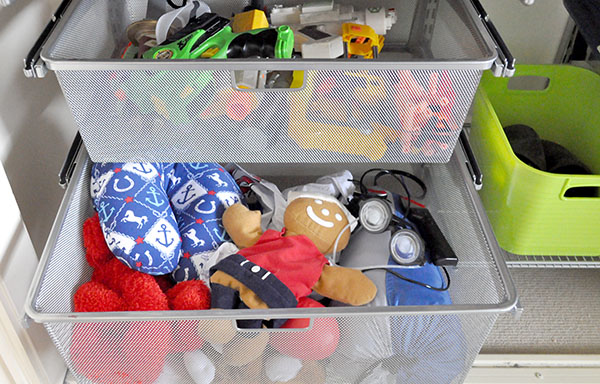 This used to sit on the floor in his bedroom as he used to lack storage space.  Now it's off the floor, easier for me to vacuum and look so much tidier in the shelf.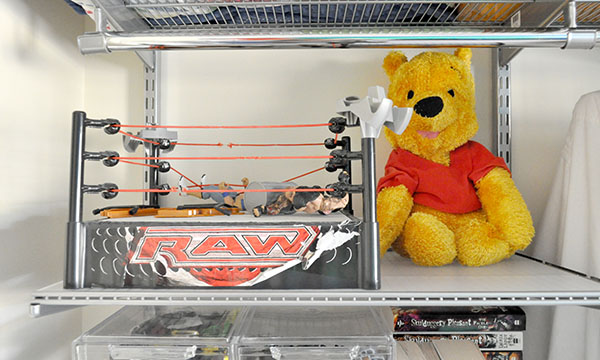 Mr 11 loves his lego and has many all set up displayed in his bedroom, but there are some that he has pulled apart, they are stored in large ziplock bags in this Kis Square Box- 28L sitting alongside his collection of caps.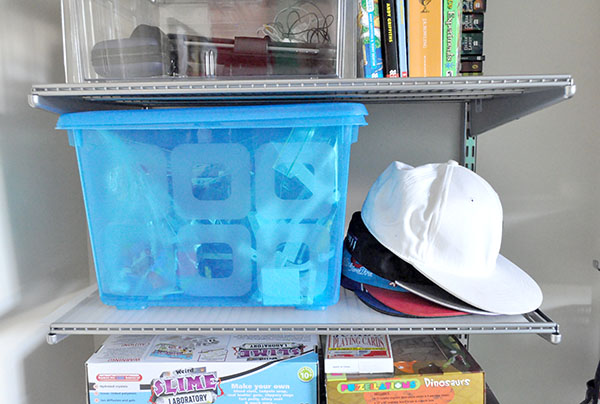 Kids often have so many little bits and pieces and typically if placed in a toy box it ends up at the bottom of the pile.  I've used these clear store shoe drawers in small  to hold his matchbox cars, bionical pieces and  the and medium clear store shoe drawer for his technology items such as iPad, DS, headphones and all electrical cords.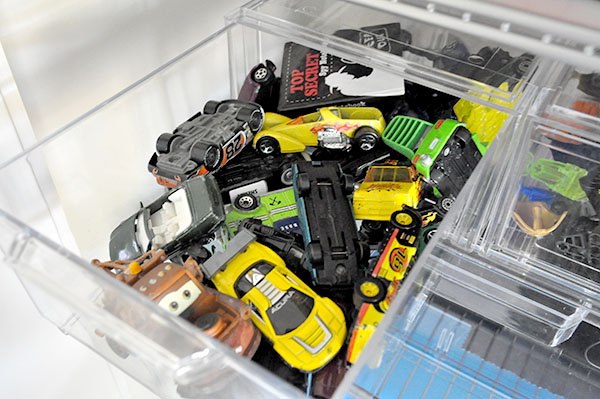 I've placed the Elfa Plastic Shelf Liner on some of the shelfs to make it a solid shelf.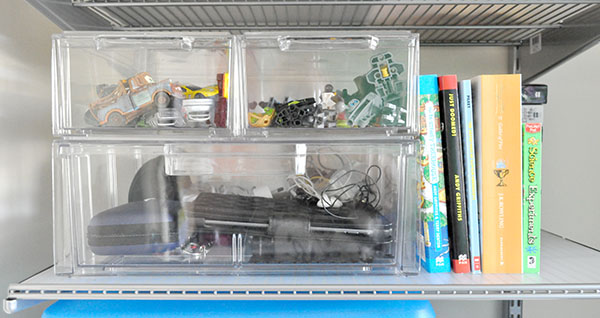 And then I used the flexi tubs 12L along the bottom shelf to store his sporting gear, swimmers etc.  There is a space below this shelf which would be great to store shoes, but we keep all shoes in the garage.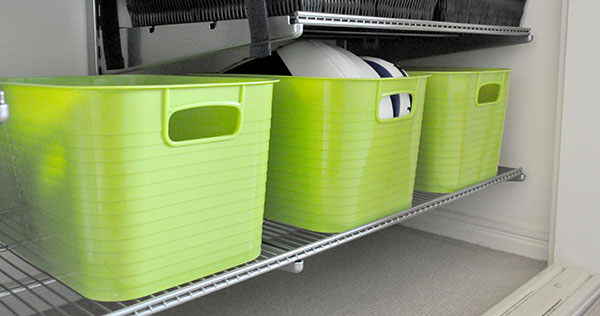 For full list of items used in this wardrobe visit Howards Storage World here
What area of your boys bedroom do you struggle to keep organised?

Tween Wardrobe Webinar
If you would like to know more about the tween wardrobe makeover I am doing with Howards, there is a Howards "member only" webinar on the 16th Sept at 7.30pm and 18th Sept at 10.30am.
 The event is by invitation only so if you are a Howards inspirations member – you'll automatically receive an email invitation.
If you are not a member, visit https://howardsinspirations.com.au/register.asp to join (its free!). You'll receive a Webinar invitation via email a few days later.
Non-members need to join and fully register by 10th September, to be invited.

Howards Storage World are currently running a competition.  Simply post on Howards Storage Worlds Facebook App your before photo + a short description of what you want to achieve and you could win prizes.  Enter here.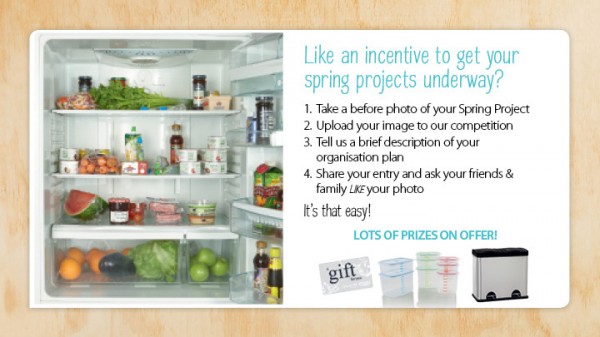 Please note this competition is run by Howards Storage World.  This post was coordinated by The Remarkables Group and run in accordance with my disclosure policy