During August each year across Australia, kids celebrate Children's Book Week. Throughout book week participating schools have a Book Character Parades and talented librarians create amazing displays to celebrate authors, illustrators and Australian Children's Literature. This year Book Week is 20-26th August, and the 2016 theme is Australia! Story Country.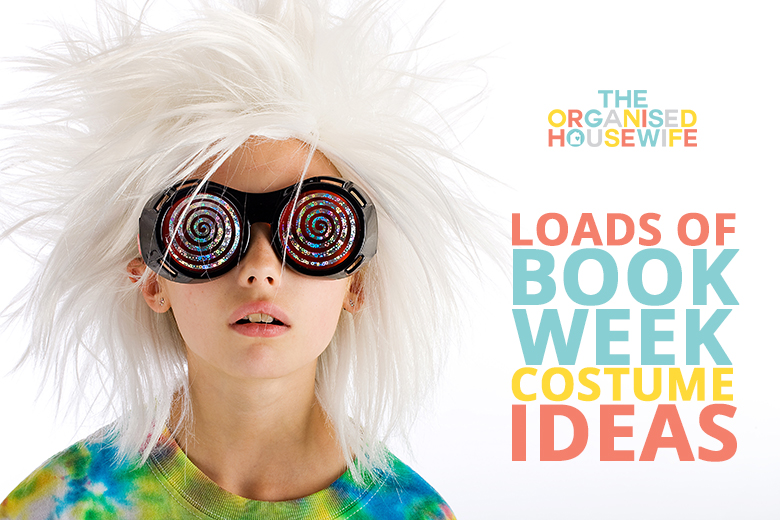 Are your kids eagerly trying to work out who they are going to be dressing up as at this years Book Character Parade? I've put together a collection of book week costume ideas to inspire you, along with a list of some great Aussie books.
My favourite over the years has been my eldest dressing up as a Gumnut Baby from May Gibbs Snugglepot and Cuddly Pie.
10+ BOOK WEEK COSTUME IDEAS – my gummnut baby, the clever diction fairy and more. View all the costume ideas here.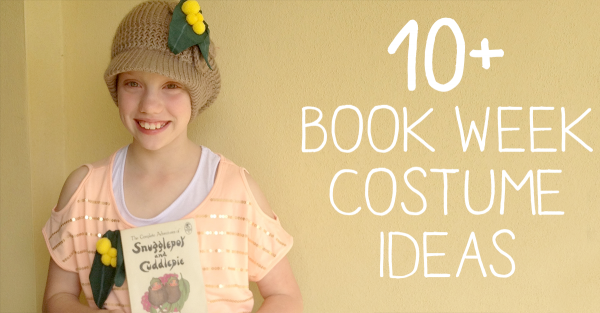 18 BOOK WEEK COSTUME IDEAS – my youngest dressed up as giant Alice In Wonderland trapped inside the house, the year I published this post. It was so much fun to create this costume together with her.  More idea is this post are Blinky Bill, Olivia, Diary of a Whimpy Kid and more. View all 18 the costume ideas here.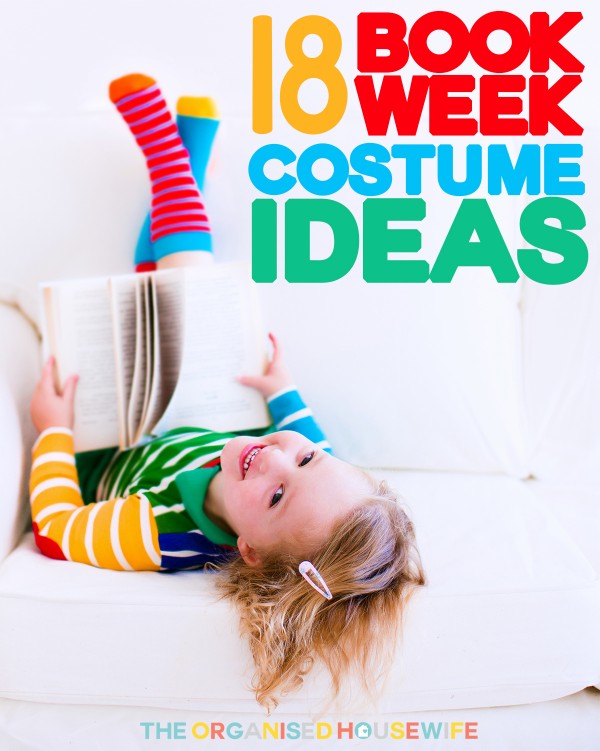 READERS COSTUME IDEAS – A few years ago some readers emailed me some of their kids dressed up for Book Character Parade, some clever ideas here my twins dressed up as Hansel and Gretel, there's a really cute gingerbread man, a clever crocodile and more. See readers costume ideas here.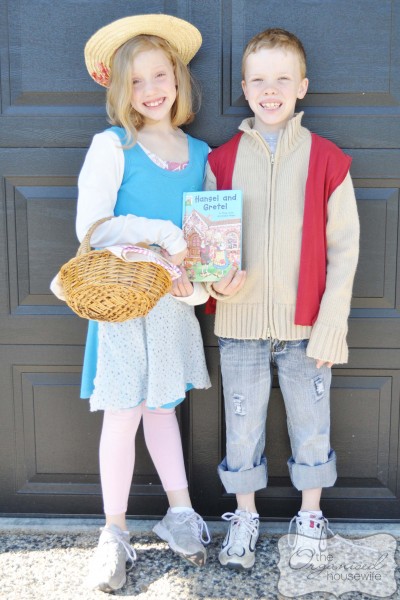 Book Week Costume Ideas – Australian Story
This years theme is Australia! Story Country. The Children's Book Council of Australia have put together a great pinterest board filled with 2016 book week theme ideas & activities.
What does Australia! Story Country mean, I wasn't sure so I did a little research and found this great post by The Book Chook:
Children's Book Week 2016 has the potential to involve cross-curriculum priorities, particularly in the areas of Aboriginal and Torres Strait Islander histories and culture, and Asian and other cultures from around the world. Opportunities for creative and critical thinking leap out of this theme, as does intercultural understanding. Australia draws its stories from so many places – from Nonna's tales of the old country, from Disney, from family and community life, from millions of wonderful books and from children's own imaginations. Story itself is the beating heart of teaching. It puts Maths and Science into context, brings History to life and underpins English and the Arts.
Australian books and authors
Find more Australian Stories here

A fantastic Australian Book is Blinky Bill.  I purchased a cheap white top and grey leggings, then made the red pants. We sewed together some furry fabric, adding elastic to the top so it would stay on her arms, along with a little face mask.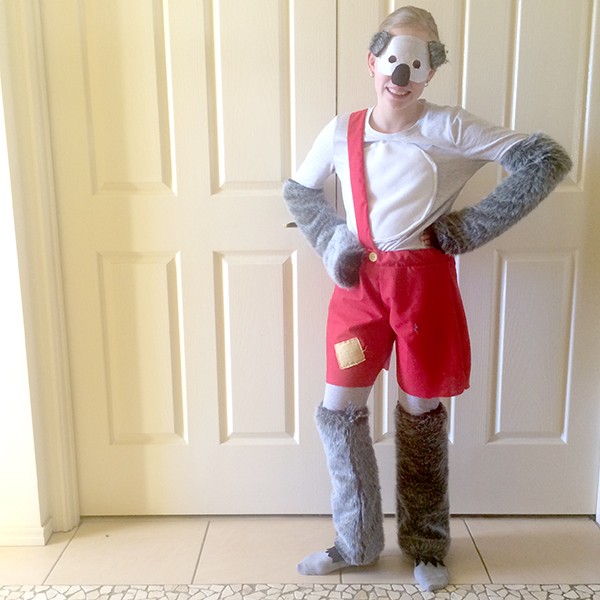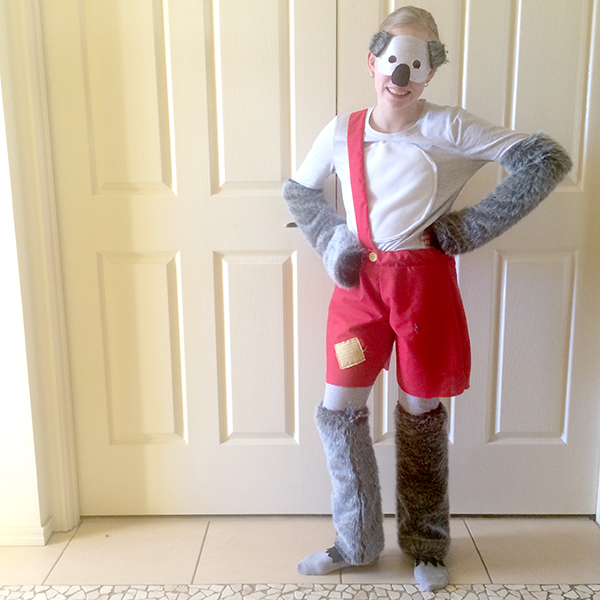 A few more Book Week Costume Ideas
FLY GUY – from Tedd Arnold's Fly Guy series. Image by Danielle Davis, via pinterest.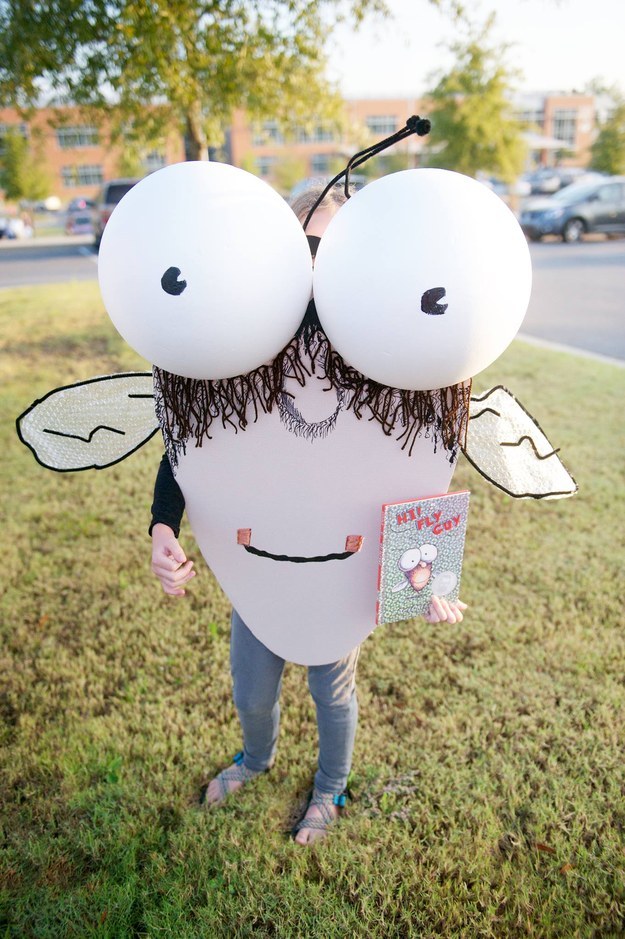 THE OWL AND THE PUSSY CAT – This is a clever creation
HUMPTY DUMPTY – All the king's horses and all the king's men couldn't put Ms. G together again
All the king's horses and all the king's men couldn't put Ms. G together again #bookcharacterday #humptydumpty #humptydance

A photo posted by Marissa G (@mjg590) on
THELMA THE UNICORN – you could make this using a bath towel (or purchase this handmade costume from Sparrow & B). Thelma the Unicorn is by Australian author Aaron Blabey.
MARY POPPINS – love the tape and umbrella handle sticking out of the top, clever touch.
IF YOU GIVE A MOUSE A COOKIE – ooh he looks adorable
What are your kids dressing up as this year?