A delicious Banana Weetbix Muffin recipe perfect for using up your overripe bananas and the crumbs at the bottom of the Weetbix box.
I have been making these Banana Weet-Bix muffins for my kids since they were in kindy, and whenever I tell them I'm going to do a big bake up, they usually always request I make up a batch of these. They are quick and easy, and make a wonderful addition to their school lunches.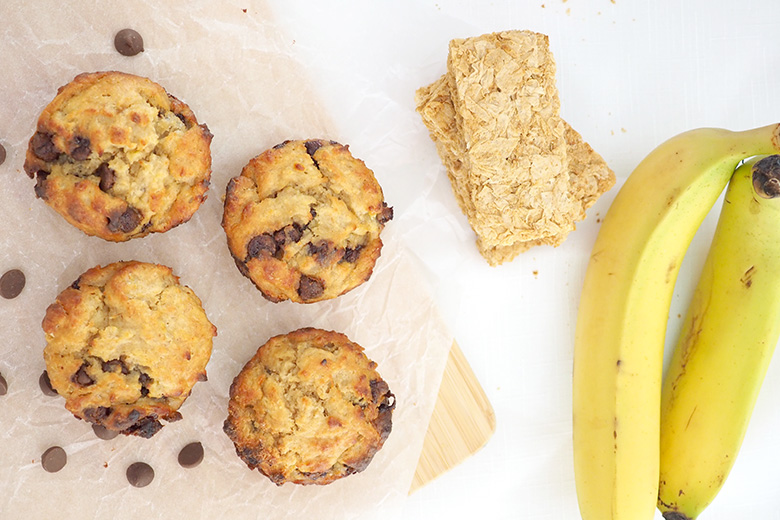 Don't forget to lightly grease your muffin tray, to avoid the mixture from sticking when baking. You can also us a silicone muffin tray.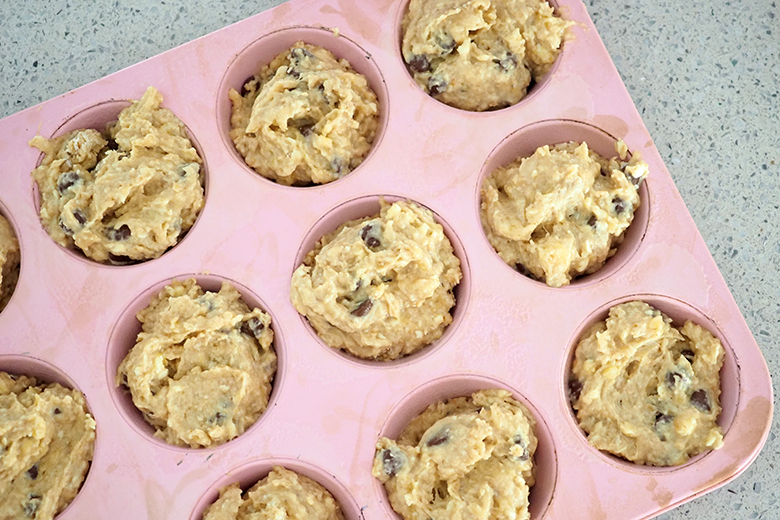 A bonus to this recipe is that it has very little sugar, so it's a great snack to add to your kid's school lunches.  It's super easy to make, and there's no need for an electric mixer, just use a bowl and a spoon!!
Recommended Tools to Make Banana Weetbix Muffins
Banana Weet-bix Muffins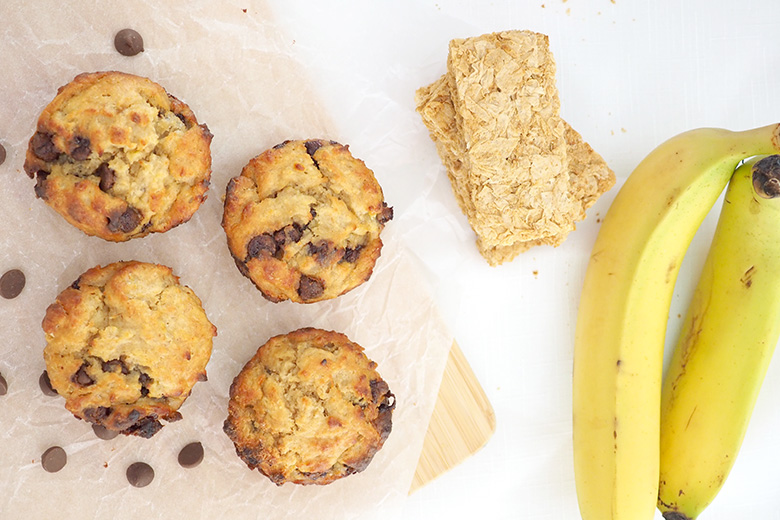 Ingredients
3 ripe bananas
4 Weet-Bix
3/4 cup milk
2 eggs
80g margarine
1 1/2 cups SR Flour
2 tablespoons brown sugar
1 cup milk chocolate chips
Instructions
Preheat oven to 180°C, fan forced.
Lightly grease a 12-hole muffin tray or line with paper patty cases.
In a medium bowl, add bananas, Weet-Bix and milk, mix to combine. Set aside for 10 minutes to soften.
In a large bowl, beat eggs and margarine.
Spoon in banana mixture and fold.
Add flour, sugar and chocolate chips to banana mixture, mix to combine.
Spoon mixture evenly into muffin cases.
Bake muffins in oven for 20-25 minutes or until golden and cooked through.
Rest in tray for 5 minutes, before transferring to a wire rack to cool completely.
By Kat – The Organised Housewife
As I do with most of the muffins and cookies I bake, I make up a batch of these and place them in the freezer to have available for lunchboxes, not just for the kids, but for the whole family.
TIP: For a fruity alternative, swap chocolate chips with sultanas.

Don't forget to order my Lunch Box Recipe Cookbook, for some fabulous recipes for your kid's school lunches.


LET ME KNOW WHAT YOU THINK OF THIS RECIPE! – If you've tried this Banana Weetbix Muffin recipe, please leave me a comment below. I love to hear from people who've made my recipes! You can SUBSCRIBE to receive my newsletters with the latest recipes or FOLLOW ME on FACEBOOK, INSTAGRAM and PINTEREST for even more delicious food.
ARE YOU ON INSTAGRAM? –If you make this recipe, please share a photo, tag @theorganisedhousewife and add hashtag it #TOHRecipes  – I'd love to see what you're cooking!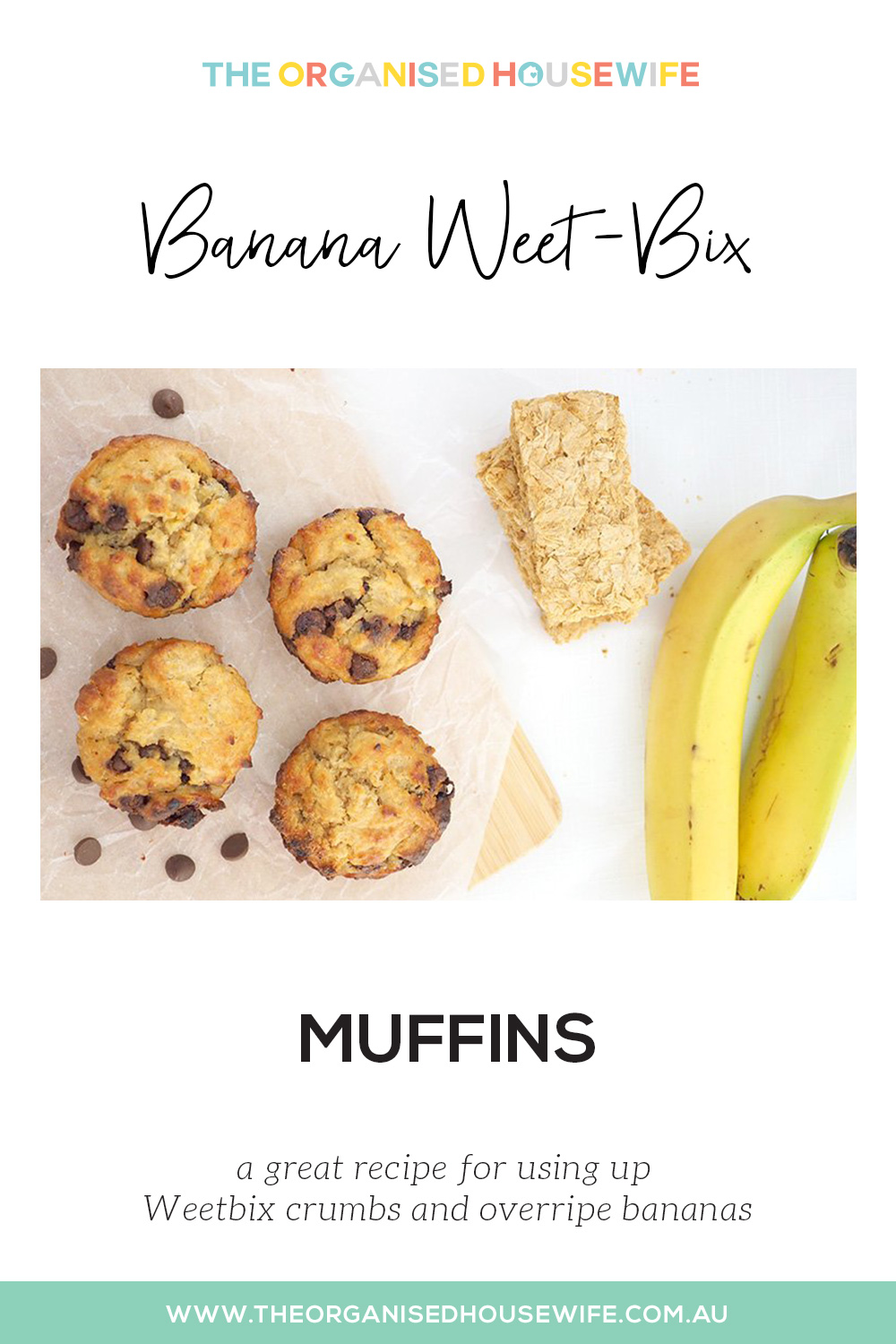 December 8, 2020

October 28, 2020

September 16, 2020