On Mothers Day I had a craving for some really creamy garlic prawns, so hubby and Miss Tween spoilt me by cooking some for dinner.
It was so delicious, and I literally had to laugh out loud when hubby found a recipe and it only required on large clove or garlic, he wanted it to be full of flavour so he used a whole bulb, I had to wait to see if it was the right choice!  He didn't go wrong, it tasted perfect!
Once the prawns are peeled, this dish comes together so quickly.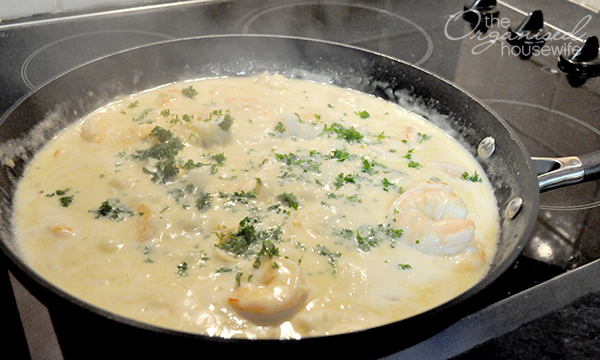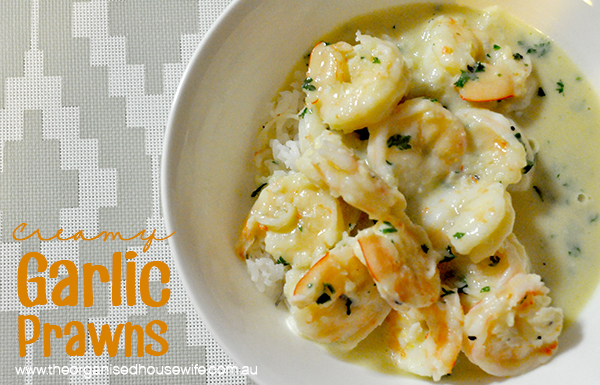 Creamy Garlic Prawns

| | | |
| --- | --- | --- |
| Prep Time | Cook Time | Total Time |
| 30 mins | 10 mins | 40 mins |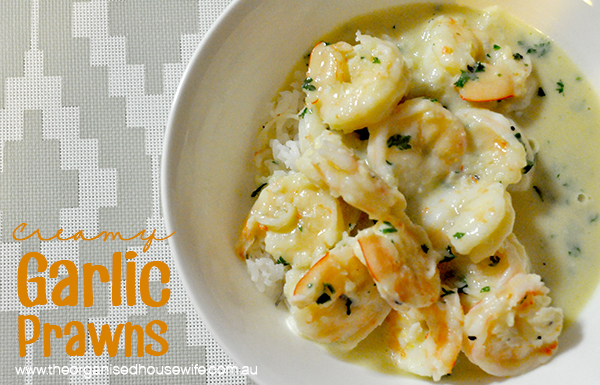 Ingredients
1kg uncooked prawns
1 bulb garlic (12 cloves), crushed
1 cup chicken stock
2 tablespoons white wine
115 g butter
1 tablespoon flour
1/2 cup cream
1/2 teaspoon dry mustard
1 tablespoon chopped parsley
salt and pepper, to season
rice, to serve
Instructions
Peel prawns
Heat butter and garlic in saucepan over medium heat
Add flour, stirring for 1 minute
Remove pan from heat
Gradually add stock, cream and wine, stir until combined
Return pan to heat and stir until sauce boils and thickens
Sprinkle in mustard and season with salt and pepper
Continue stirring, when sauce begin to boil add the prawns
Cook for 5 minutes or until prawns have cooked through
Sprinkle parsley into sauce, stir, remove from heat and serve
Serve with rice
By Kat – The Organised Housewife
7 THINGS I DO EACH DAY TO KEEP THE HOME CLEAN AND ORGANISED
Subscribe to my weekly newsletter to receive blog updates in our inbox + this FREE eBook sharing some of my top tips that you can adapt in your own home.