My kids love giving gifts to their friends at the end of the school year, not only do they socialise at lunchtime, study and laugh together, they also lean on each other and support one another through the hard times. My kids have been going through some intense study periods and exams over the last few weeks, and I know that without their friends from school, this time of year would be almost unbearable. So what kind of Christmas gift should the kids get for school friends?
GREAT GIFT IDEAS FOR YOUR CHILD'S BEST FRIEND
I never know how far to go around the Christmas period when it comes to giving gifts to your children's friends. I thought I would look into some unique and personal gift ideas for best friends, and for group gift ideas for classmates.
CHARM BRACELET – Aren't these bracelets beautiful! And they even have a pineapple charm available which all young girls are adoring this year. If only they had a flamingo too, I would be smitten. This is such a lovely gift for your daughter's best friend, just to let her know that she's appreciated. It won't break the budget either. Available online here.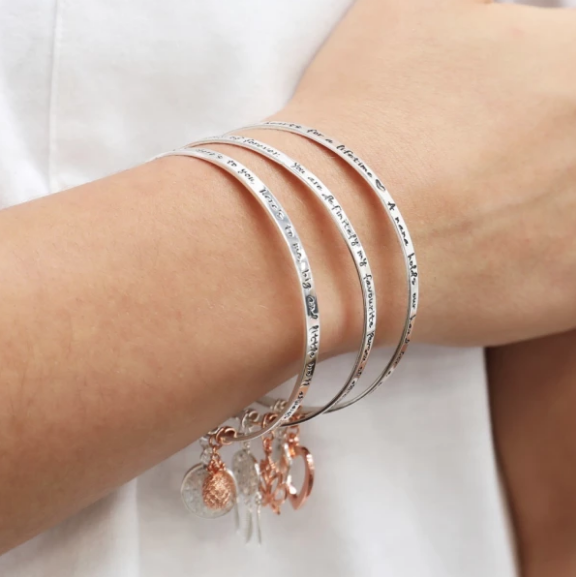 WOODEN USB FLASH DRIVE – I also found this Laser Engraved Wood Flash Drive or USB Stick on Etsy from Laserlinx. This would be such a lovely gift for any teenager, and would definitely make them feel special and appreciated.  It's also a USB that they would never lose, as it would be treasured because it's wooden and unique, and can be personally engraved, not necessarily having to engrave Merry Christmas onto it. They can be ready to post between 3 to 5 days of your order, and the shipping cost won't break your budget either. Available online here.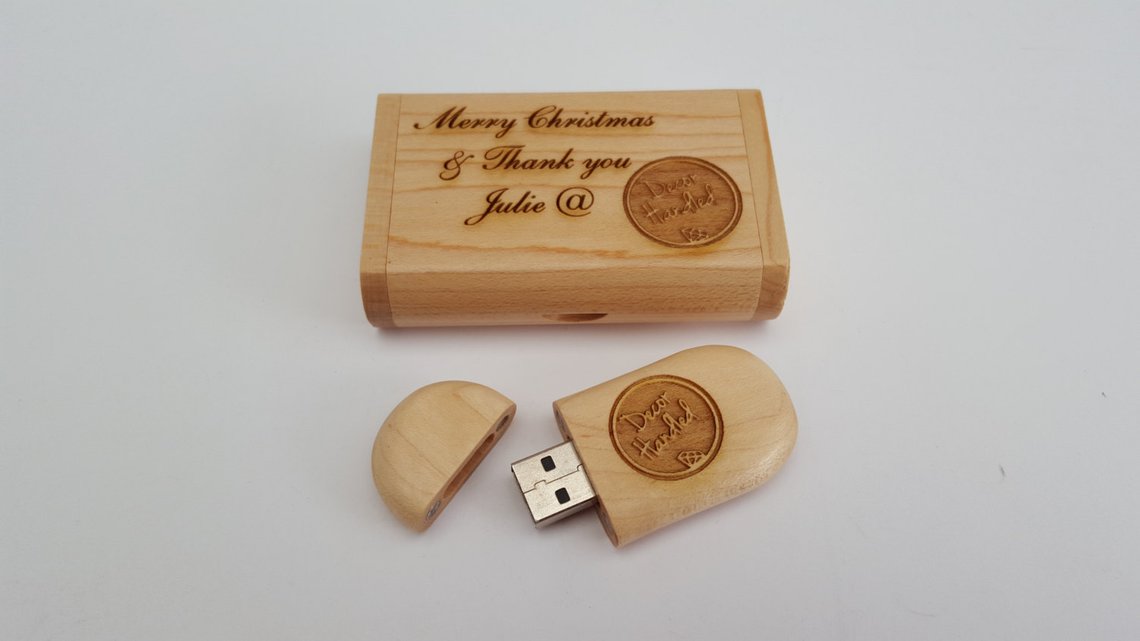 CHARMED NECKLACE – This handmade necklace with a garnet gemstone that your daughter and her best friend will wear proudly. This little treasure would always make the girls feel connected. Ok so this item created by Wedunit Jewels is a little more pricey, but I know my girls would love this for their nearest and dearest friends Available online here.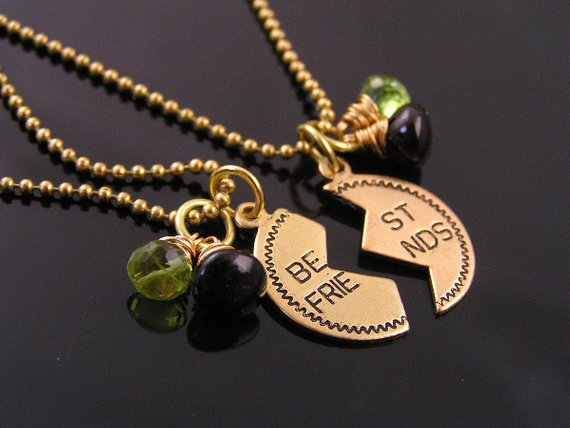 GIFT IDEAS FOR LOTS OF SCHOOL FRIENDS
One thing that has always been my go-to for bulk friends gifts are goodie bags with treats inside. When you are doing little gifts for a large number of students, you have to think about the budget and how you can let the kids know that they're appreciated.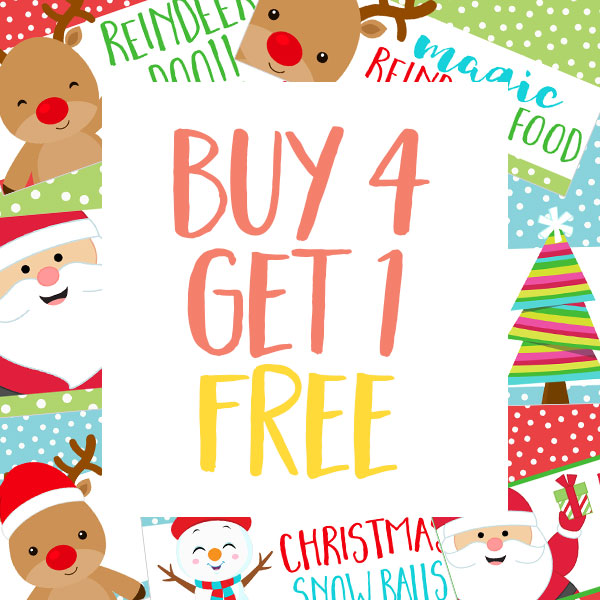 CHRISTMAS TREAT BAGS – My Christmas bag toppers are a great way to show the spirit of Christmas to classmates.  Fill them up with special edible treats, or even with something a little more symbolic, like a home-made gift your kids might create. These little beauties make it very easy for me to include all classmates. I have a wide range available in our online shop, and currently, have a promotion going. If you buy 4 Christmas bag toppers, I will send you one additional pack at no extra cost. Check out my Christmas Bag Toppers here.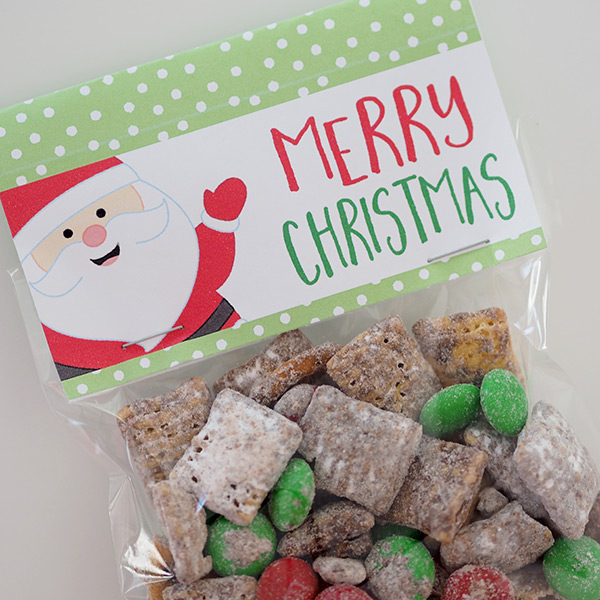 FRIEND GROUP PUZZLE PIECE KEYCHAIN – This is a special little gift idea for a group of school friends. This is a perfect gift for a small group of close friends who will be appreciated this four-piece puzzle that fits together. Talk about great gifts for BFFs (Best Friends Forever) and BFGFs (Best Friends Group Forever).  Available online here.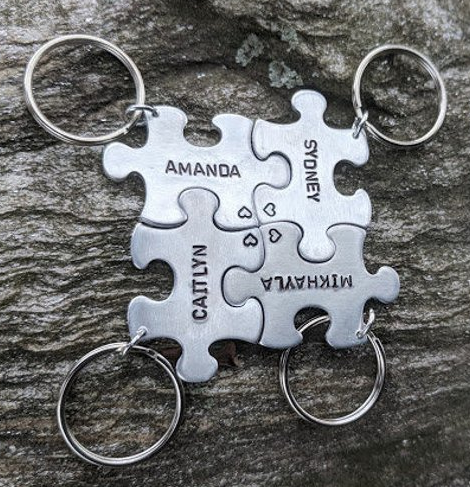 WHAT SPECIAL GIFT HAVE YOU RECEIVED FROM YOUR BEST FRIEND OVER THE YEARS?