This DIY Homemade Detangler recipe will cleanse the scalp and promote strong and healthy hair.  It's moisturising and soothing with enriching properties that will make your hair smell beautiful all day!
I have been making hair detangler for my girls hair ever since they were little, I used to put tea tree essential oil in it to prevent nits, but now they are older and have long luscious locks of hair, I have a new DIY Hair Detangler recipe to cleanse the scalp and promote strong and healthy hair. You could make this spray-in hair detangler with or without an essential oil for head lice prevention.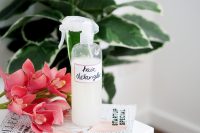 DIY Homemade Hair Detangler
My girls spray the Hair Detangler in their hair after they get out of the shower so the comb can easily glide through to prevent breakages and make it easier to remove knots.  I add a variety of essential oils to it which have moisturising, soothing, and enriching properties and the bonus is their hair smells beautiful all day!
The spray bottle is kept in a tub that stores all things hair, such as brushes, combs, ribbons, hair ties and hairspray and kept in the bathroom. We used to have this set up so the girls would carry the tub to me to do their hair before school, but now they are older they do their own hair (yes I am crying inside, I loved doing their hair), but this system still keeps everything tidily together.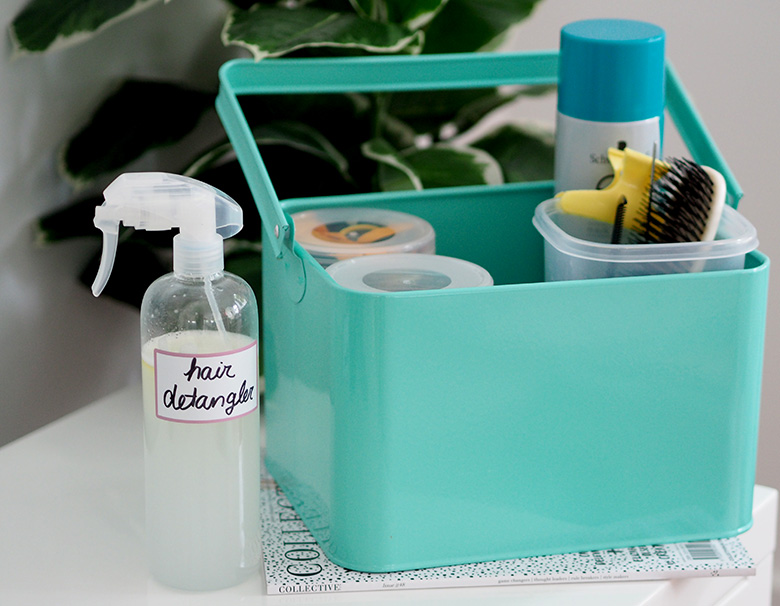 The ingredients I use in my homemade hair detangler
FRACTIONATED COCONUT OIL – Fractionated Coconut Oil is an absorbent and light carrier oil that will help to increase essential oil distribution while leaving hair feeling smooth and soft. Available here.
LAVENDER ESSENTIAL OIL – can help to speed up hair growth. Available here.
GERANIUM ESSENTIAL OIL – promotes healthy glowing skin and hair.  Available here.
GRAPEFRUIT ESSENTIAL OIL – will help improve the appearance of healthy-looking hair. Available here.
TEA TREE OR EUCALYPTUS ESSENTIAL OIL – optional addition. Can help deter head lice. Available here.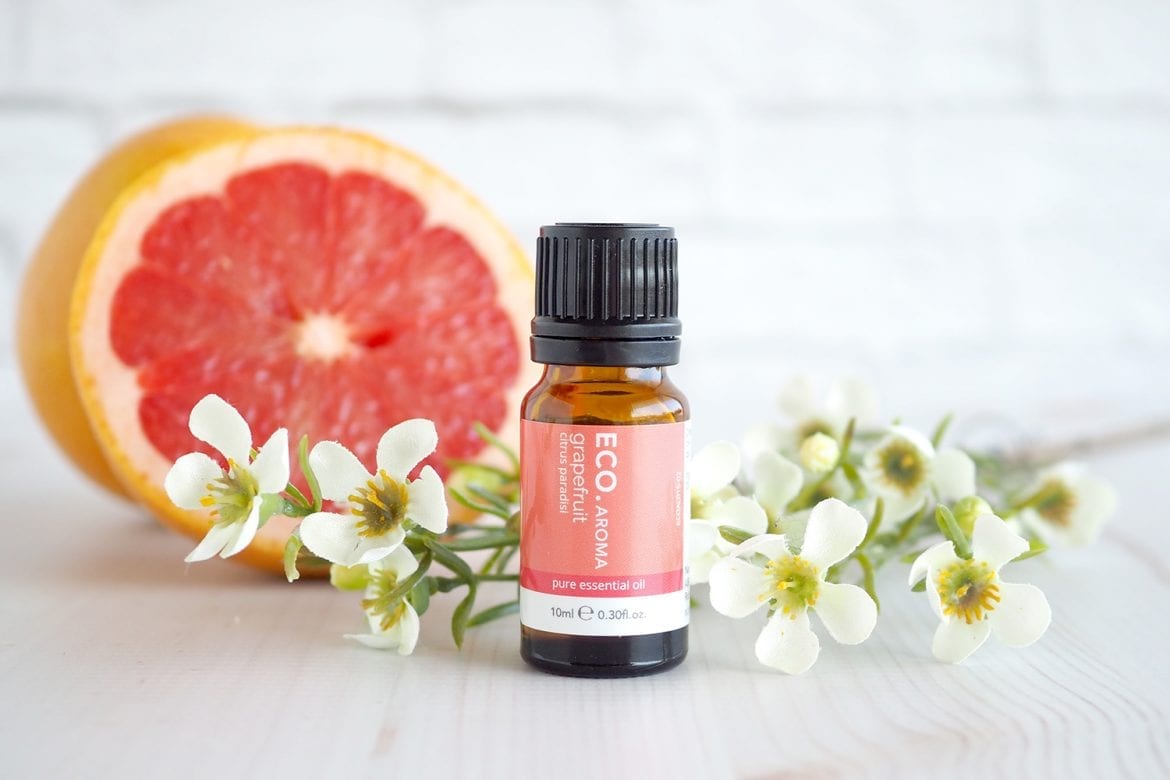 WITCH HAZEL – "Witch hazel is a type of plant native to North America, the leaves and bark from the plant are used to make a skin-healing astringent that's capable of naturally reducing acne, blisters, insect bites, poison ivy, inflammation and much more. The most popular use for witch hazel is on the skin since its strong antioxidant and astringent properties are perfect for killing bacteria that lives within skin's pores, stopping cellular damage that can lead to skin cancer, preventing signs of ageing, and speeding up healing". – Dr Axe. I purchased my witch hazel from Chemist Warehouse, you should be able to find it at your local chemist.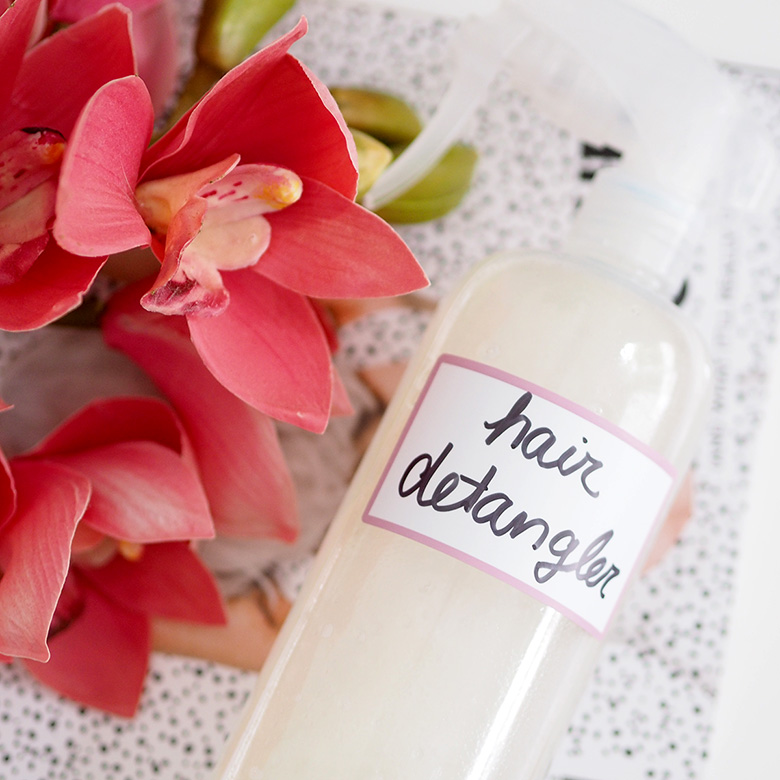 This DIY Homemade Hair Detangler is super easy to make, print out the recipe below to have it on hand when you need.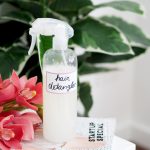 YOU WILL NEED
500ml spray bottle (approx doesn't need to be exact ml)

1 tablespoon fractionated coconut oil

1 tablespoon witch hazel

10 drops grapefruit essential oil

8 drops lavender essential oil

8 drops geranium essential oil

OPTIONAL - 6 drops of eucalyptus or tea tree essential oil (reduce the other essential oils by two drops each)

cool boiled water
Instructions
Pour fractionated coconut oil, witch hazel and drops of the essential oils into a spray bottle.
Fill with water and shake.
Notes
Remember to shake the bottle before each use. Shelf Life: Because it doesn't contain any preservatives or chemicals, I personally like to replace it after 6 weeks.
Deep Hair Conditioner
I also wanted to share with you this DIY deep conditioner, this is a good recipe too that will leave your hair soft, smooth, and a bonus is it's chemical-free. Here is a single treatment size, double or triple the recipe to make a good supply like the image below, jars like this can be found at the supermarket or cheap dollar stores.
Whip (with a fork, whisk or even in your electric mixer) ingredients together and apply to clean dry hair. Comb through with wide tooth comb to evenly distribute and let sit 15-20 minutes. Rinse, shampoo and style as desired.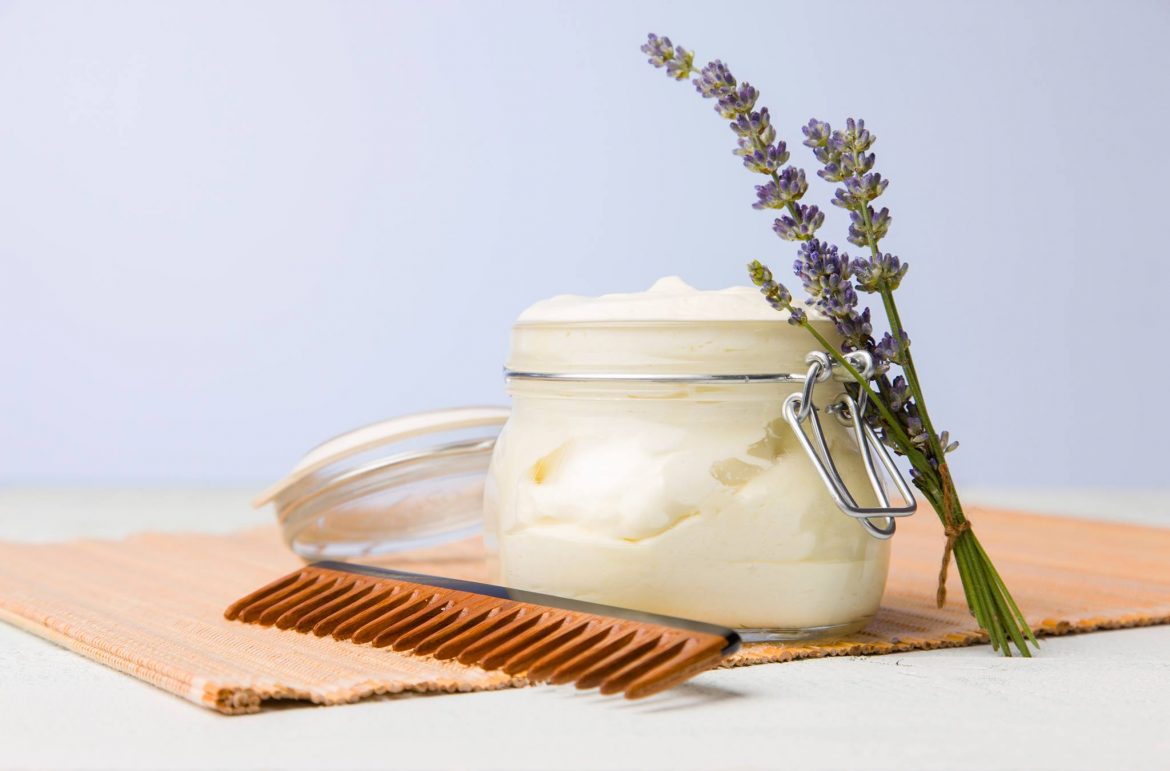 What is your preferred method to detangle hair?
---
Pin this image below to Pinterest!