I used to love bathtime when the kids were younger, we had so much fun together.  We would sing together, splash and play.  Then when they were older and could safely sit by themselves I would give the bathroom a little clean, while they would happily continue to play.  I had 3 kids under the age of 2 and each had their own bath toys, we had a good collection! However it was challenging to store and organise kids bath toys tidly.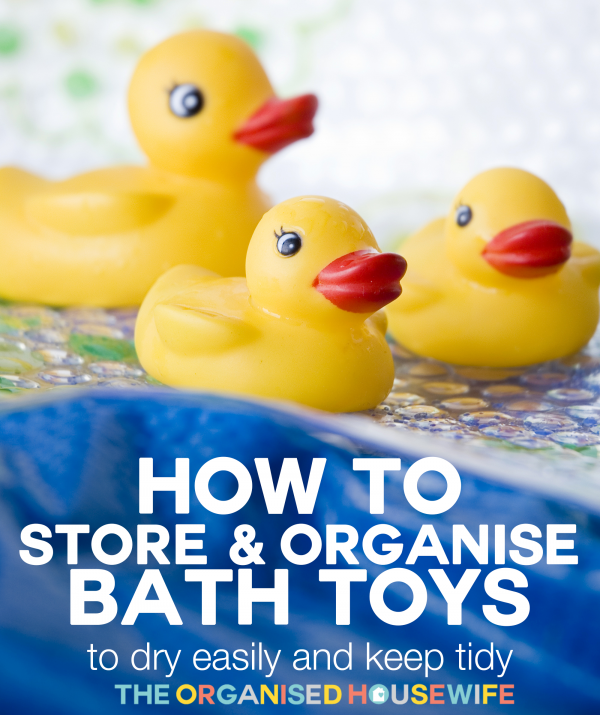 My kids are older now and rarely use the bath, toys were donated a long time ago, but I used a delicates washing bag, I sewed fabric loops onto each end which hung off 2 suctioned hooks, it allowed the toys to drip and dry through the bag (similar to the first idea below).  Now I have learnt of so many more great ideas, I've shared a variety of creative ways to store and organise kids bath toys below:
How to store kids bath toys
Delicates washing bag – This is very similar to what I created when my kids were younger – image via Make It and Love It.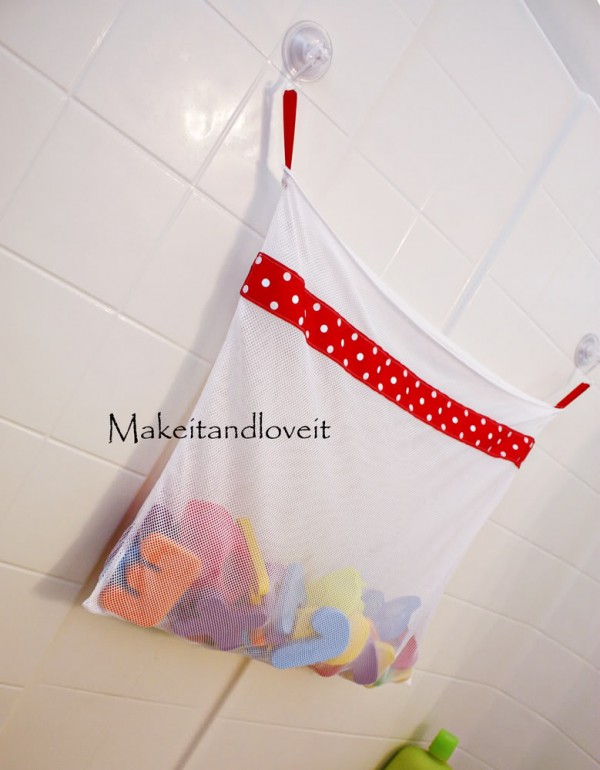 Dollar Store Baskets with suction caps -This is super easy to do.  Just add a little water to the back of each suction cup, line two up in a straight line, let sit for a while, then attach the lip of the bin to the hooks – image via Real House Life.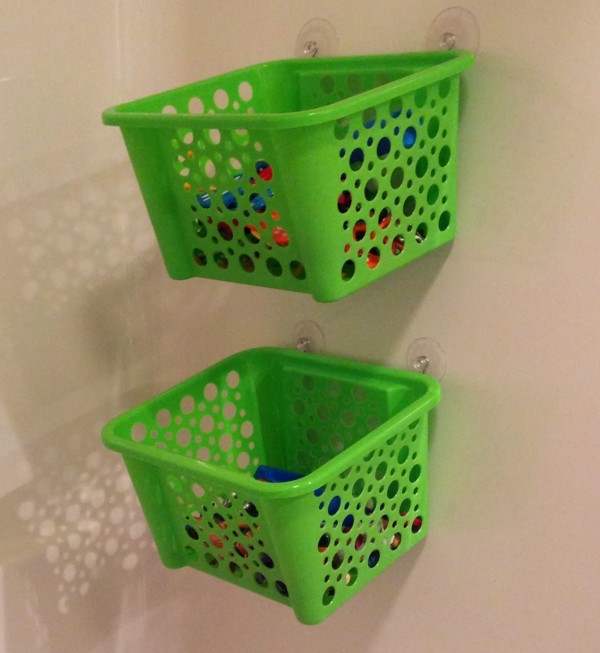 Peg Basket and Shower Curtain Hooks – Rubber-coated baskets and metal shower curtain hooks – image via pinterest.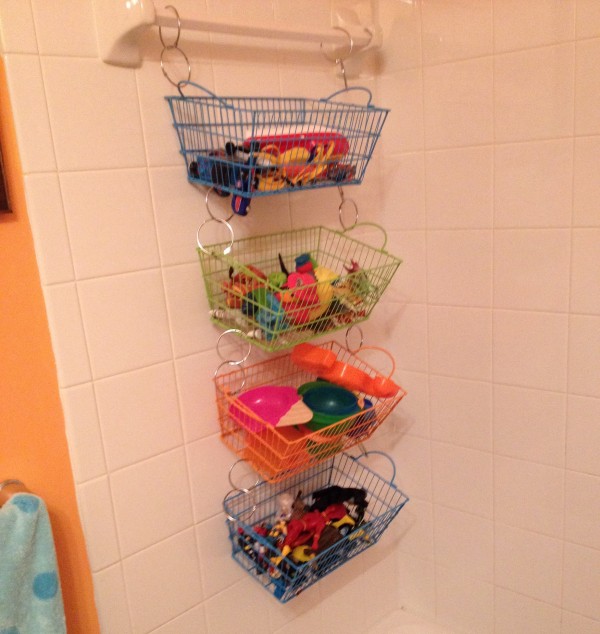 Basket – Our reader Natalia O uses a black woven basket at the end of bathtub.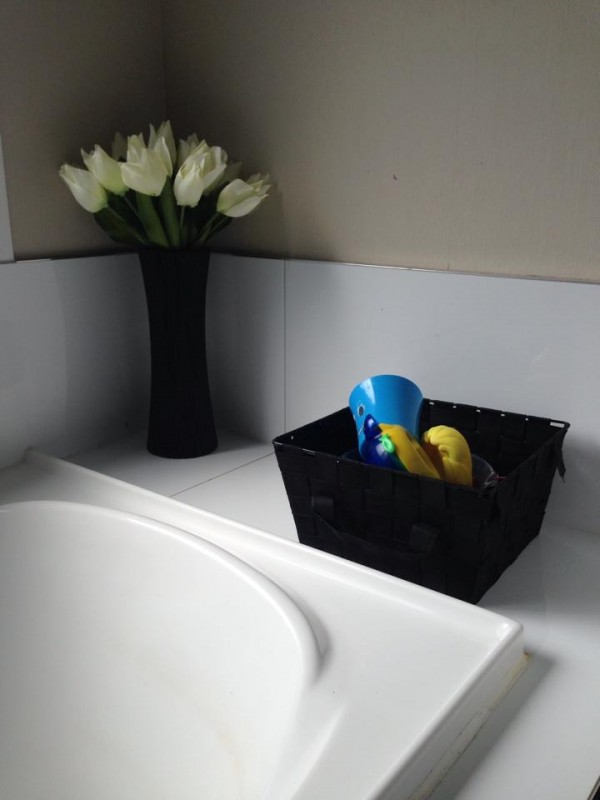 Tubs on a rail – Drill holes into the bottom of the tubs and hang on a rail.  These tubs are from an overseas Ikea, however I've searched the Australian Ikea and can't find anything similar, but I think this is so beautifully organised – image via blue i style.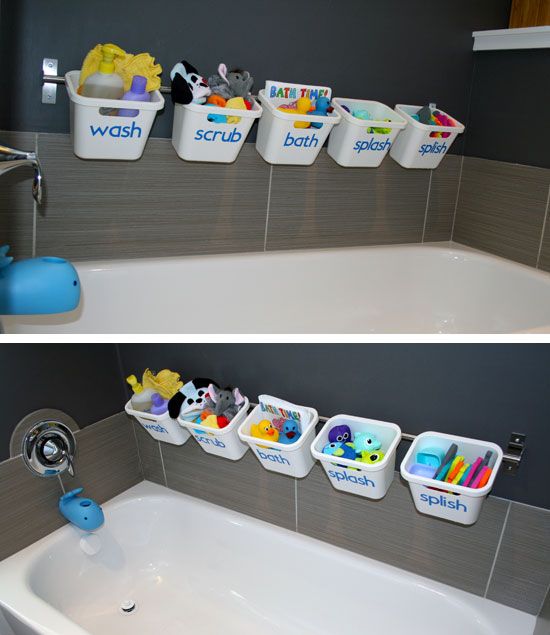 Tension Rod, Hooks and Plastic Baskets – Attach plastic baskets with plastic shower curtain hooks to a tension rod.  Tension rods can be found at spotlight. Image via Heather Drive.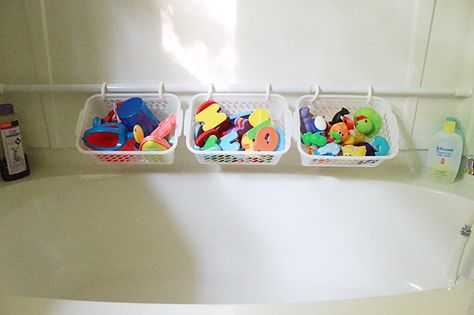 Another Tension Rod Organiser – image via Cleverly Simple.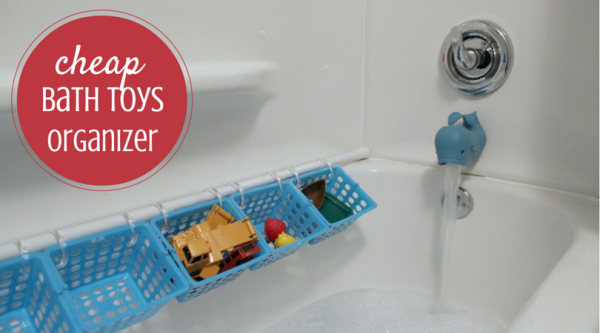 3M hooks and wire baskets -The wide slats on the baskets help everything drain easily. No trapped water! – image via Someday I'll Learn.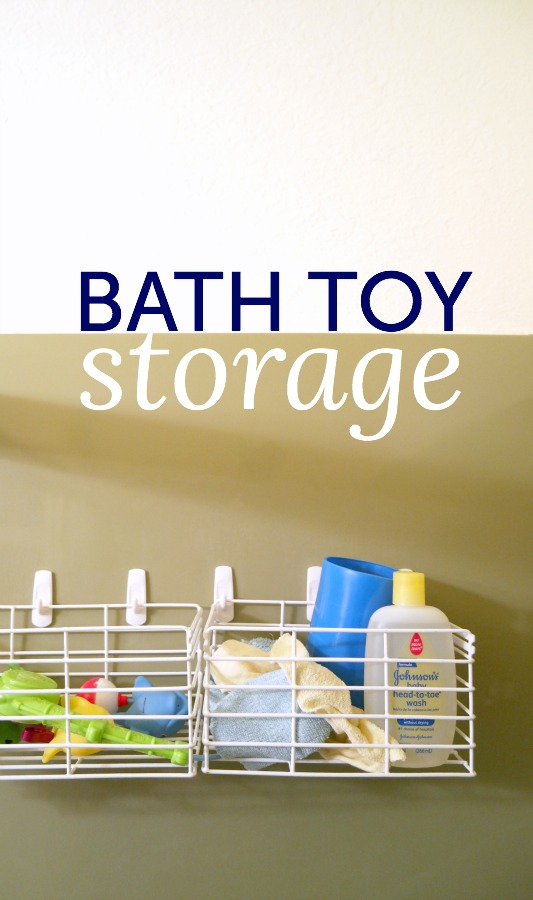 Waste Bin – Reader Kirstin suggested this bin from Ikea, it's only $3.95. Use their suction hooks to attach to wall – original image credit unknown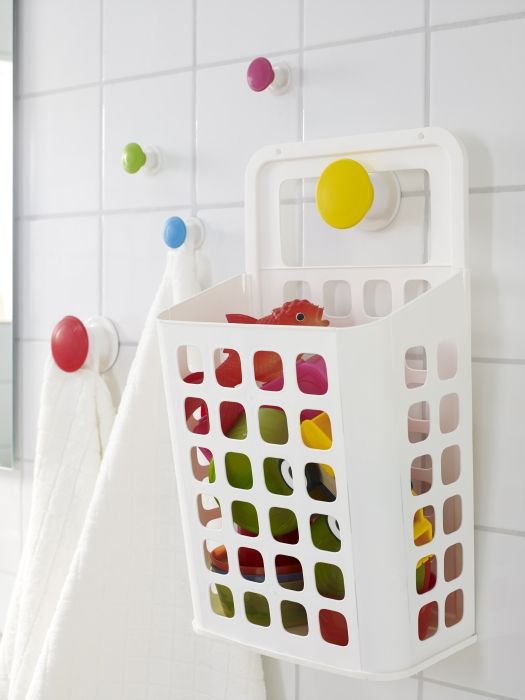 Tiered Plastic Shelves – Reader Nicole shared this great set up, keeping all her bath toys beautifully organised.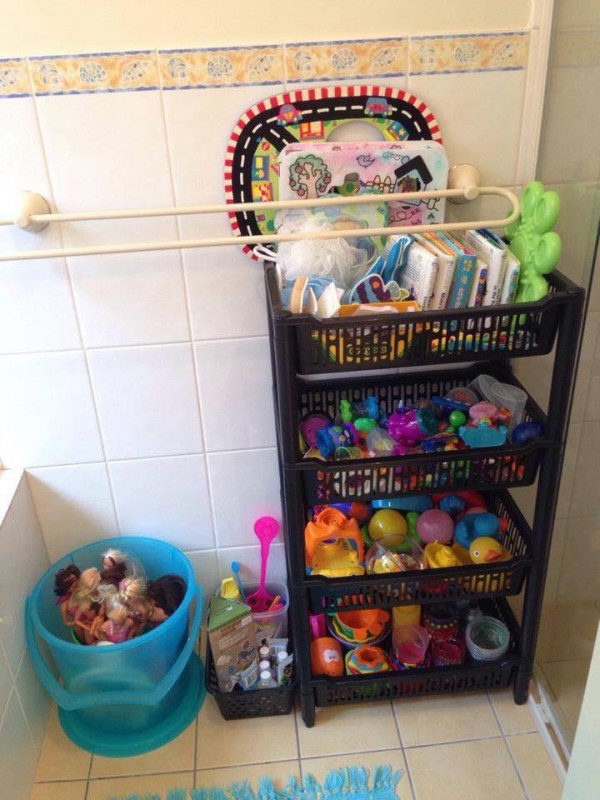 Bath Toys and Accessories for your Kids
Create special moment with your little one playing and splashing in the bath together. The mats are great to stop the kids from slipping in the tub and we love the Pineapple Heads Body wash, they're made from natural ingredients and no nasties, like parabens, PEGS, petrochemicals, silicones and other yucky stuff.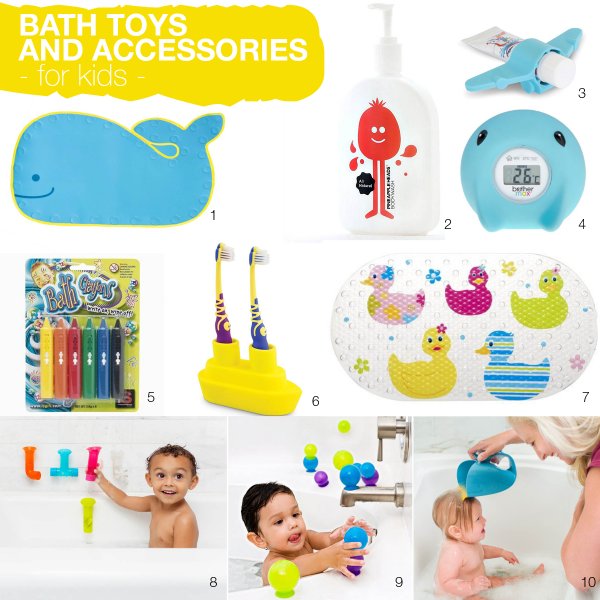 1. Non-Slip Bath Mat 2. Natural Bodywash 3. Toothpaste Holder 4. Bath & Room Thermometer 5. Bath Crayons 6. Toothbrush Holder 7. Non-Slip Bath Mat 8. Bath Toy – Pipes 9. Bath Toy – Bubbles 10. Waterfall Rinser
How do you store your kid's bath toys?
Please share your photo's on our facebook page, or use a hashtag on Instagram #organisedbathroom and tag [email protected]