Fabric and leather lounges should be cleaned regularly to keep them clean and in top condition. Here's how to clean upholstery and keep your couch looking great.
Between Netflix nights and family relaxation time (and our dog Zoe sneaking up when I'm not looking!), we spend a fair bit of time on our lounges so they do need regular cleaning.
Whether your lounge is fabric or leather, it's important to clean it so it looks and smells great. Here's how to clean upholstery.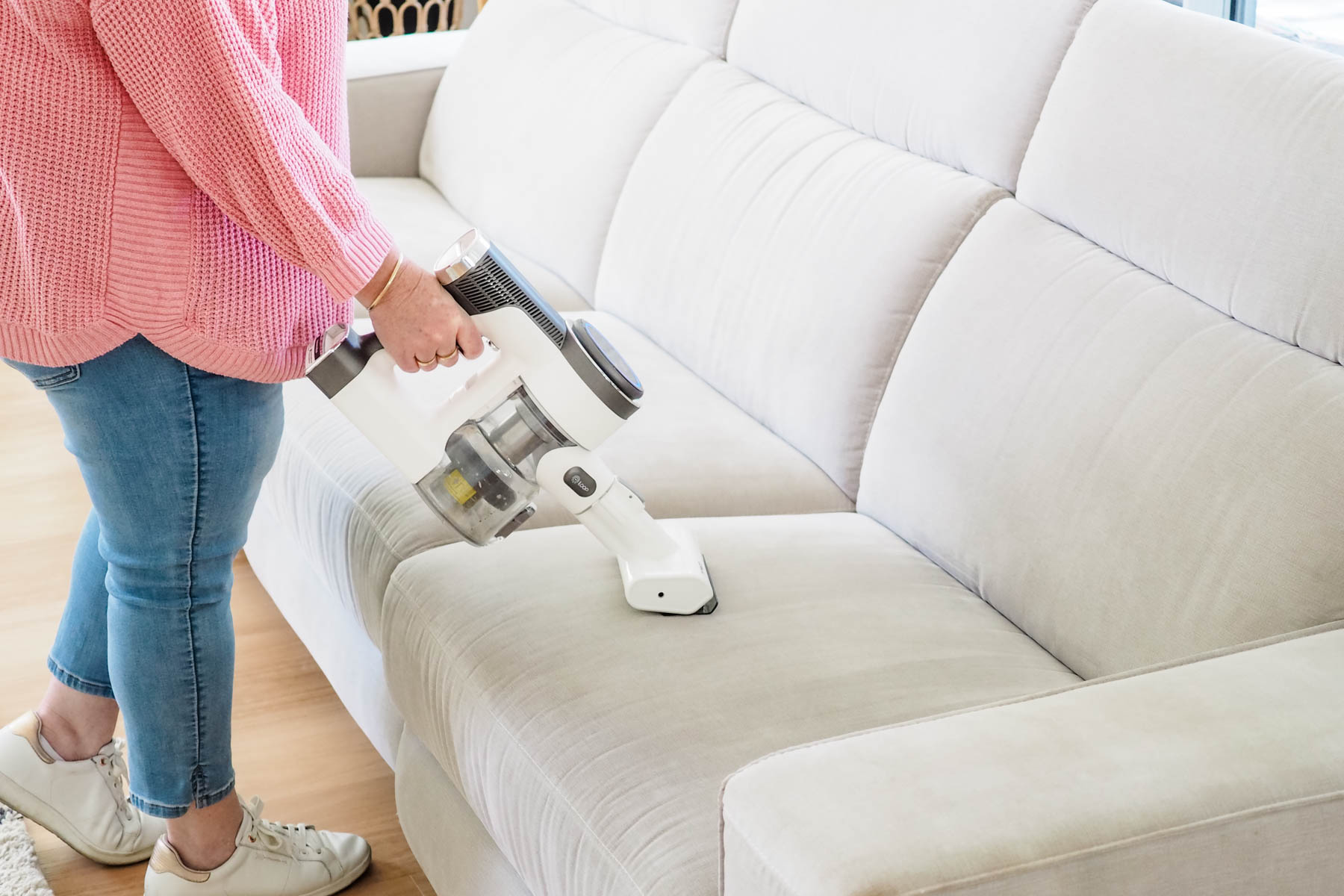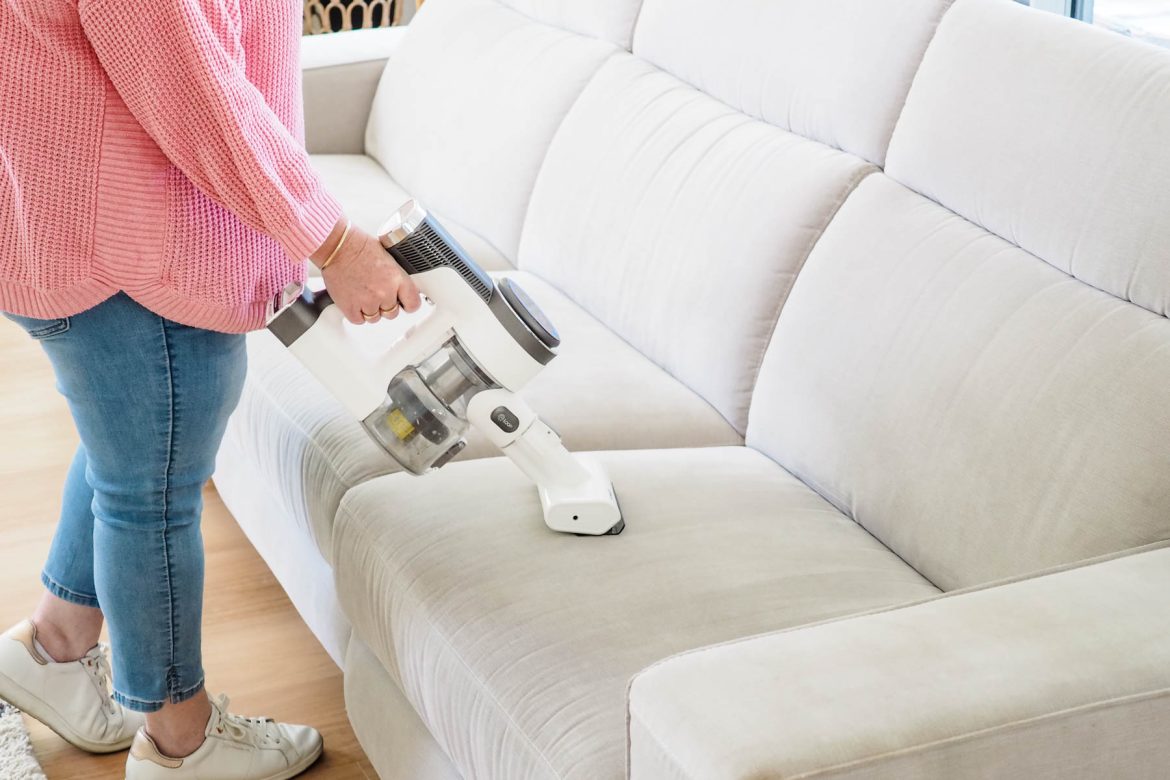 Cleaning Kit
Vacuum cleaner with upholstery and crevice attachment
Duster
Cleaning cloths
Kat's Cleaning Spray or fabric upholstery cleaner
Bicarb soda or fabric freshener
Silicone gloveS, for pet hair
Leather cleaner
quick clean
Vacuum the couch with the upholstery attachment. If the cushions are detachable, vacuum both sides, Change to a crevice tool and get into the seams and crevices to pick up all dirt and food crumbs.
Use a duster or spray cleaning spray onto a cleaning cloth and wipe any food or metal pieces such as the legs to remove dust build-up.
For any smells, sprinkle bicarb soda over the couch, let sit for 30 minutes then vacuum. Remember to empty and clean your vacuum. Alternatively, use fabric freshener spray.
For pet hair, silicone glove works wonders. By running the glove over the surface, the friction between the glove and the fabric creates static energy, picking up pet hair with the bristles.
Kat's tip: Make sure you use a similar-coloured cleaning cloth to your couch, ensuring the colour of the cloth does not transfer to the lounge.
spot clean
Lightly spray with Kat's Cleaning Spray or fabric upholstery cleaner, dabbing with. cleaning cloth until the stain lifts. Do not rub the fabric. Dab the area with a slightly damp cloth dipped in warm water to pick up any soapy residue. Use another dry cloth, again dabbing at the area repeatedly to lift as much water as possible. Do not leave the area too damp as this may cause a water stain. Allow the area to dry thoroughly before use.
For leather, spray with leather cleaner and wipe over with a cloth.
For grease stains on fabric, sprinkle the area with bicarb soda, then sit for 30 minutes to soak up the grease. Vacuum area. Dab with a dry cleaning cloth to pick up any remaining grease. Clean vacuum.
deep clean
A carpet cleaning machine can be used on fabric lounges to pick up lingering dirt, sweat and odours sitting in the fabric fibres. These machines are available for hire from large hardware stores or supermarkets. Alternatively, there are some small handheld spot-clean machines available at department stores. It is important to remember not to use too much water to prevent water stains on your upholstery.
Follow the manufacturer's instructions to clean your upholstery. Keep the air in the room circulating (turn the fan on if you have one) while drying. I deep clean in the evening so the fabric dries while we are sleeping.
Do not sit on the couch until it is completely dry.
Immediately – spot clean
Weekly – quick and spot clean
Seasonally – deep clean