This post is sponsored by Woolworths
Has spring fever set into your home yet? I have felt the sunshine warming up lately and can't wait to pack away all my winter jumpers and quilts. As you know I am a huge fan of DIY Homemade Cleaning Supplies which I keep in my Cleaning Kit, but I am also mindful that not everyone has the same desire to make their own and prefers the convenience of readily made cleaners at the supermarket. With such an abundance of cleaning products available, what do you actually need? I've put together a list of Household Cleaning Kit Essentials that you can pick up in your next grocery shop. This list would be super handy for anybody that is unsure of what to put into a kit or moving out of home for the first time and starting out.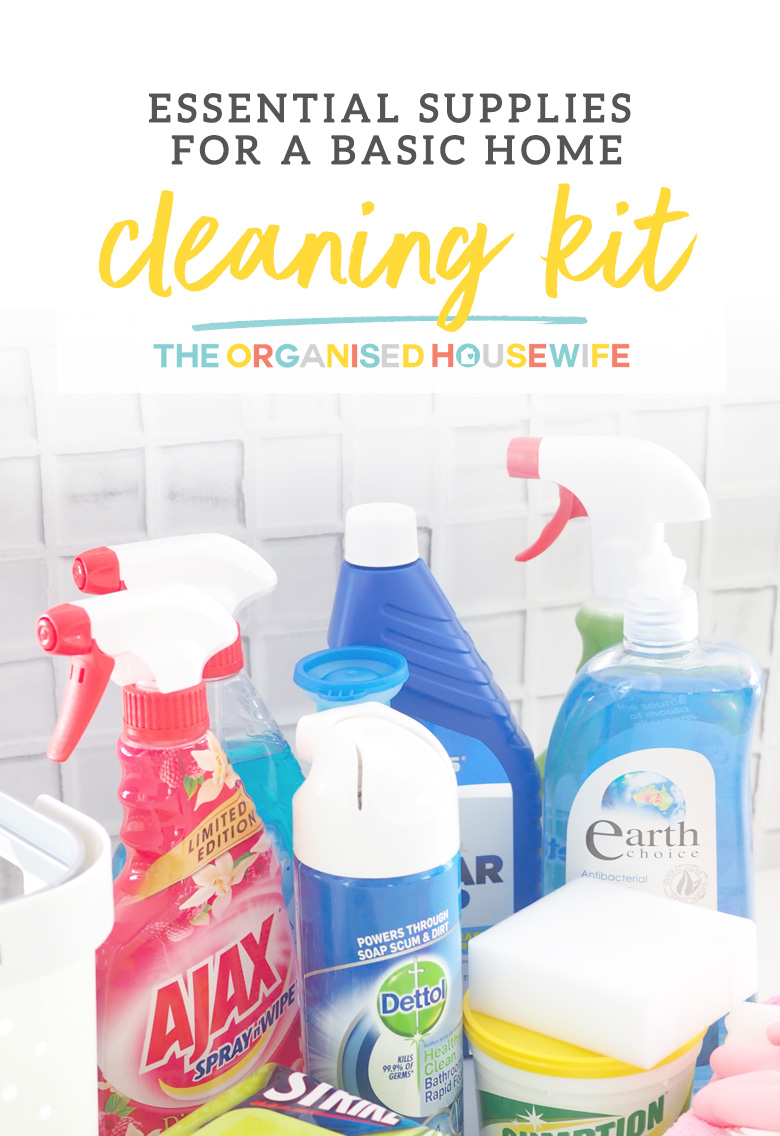 ---
SAVE $$ – EXCLUSIVE COUPON CODE FOR HOUSEHOLD & BEAUTY PRODUCTS
Save at the checkout with this exclusive coupon code for all of The Organised Housewife community. When you place your next Woolworths online order use this coupon to get $10 off when you spend $100 on Household & Beauty!

---
I put all my cleaning products together in a caddy which makes it easy to carry my cleaning supplies around to each room in the house. The ideal household cleaning kit should be practical, easily transportable and hold all of your essential cleaning products and tools help you efficiently clean the home.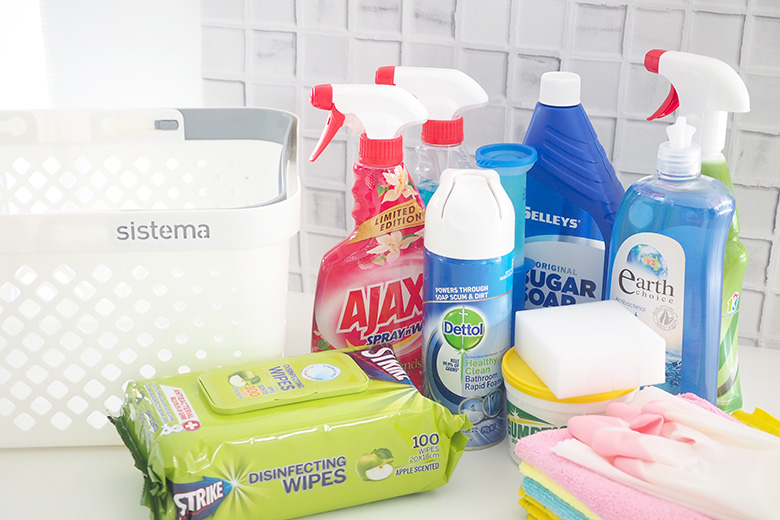 Whilst I use my own homemade cleaners now, I have used all of these in the past (except for the disinfecting wipes) and found them effective. For your convenience, if you're putting a kit together, click the title of each product to then add to your Woolworths online shopping cart.
ALL PURPOSE CLEANER – This is usually a general cleaner suitable for a variety of surfaces in your home, such as bathroom or kitchen benchtops, furniture surfaces, and for general touch-ups around the home. Choose an all-purpose cleaner with disinfectant to kill germs while you're cleaning these areas, to either prevent or wipe away sickness throughout the house.
GLASS & MIRROR CLEANER – To remove fingerprints, marks and dust on your windows and mirrors.
SOAP SCUM REMOVER
– To clean away soap scum and bacteria build up within the bathroom.
MOULD REMOVER – To clear surfaces where moisture collects to prevent/remove spots of mould.
GUMPTION – Used for hard water stains around the bathroom sink and tub, stubborn marks on the walls, cleaning the ceramic stovetop, pots and pans. Wipe gumption onto toothbrush or cloth to remove dirt and stains.
MAGIC ERASER – Quick and easy solution to clean walls
TOILET CLEANER
– Yo hygienically clean and remove stains in the toilet bowl.
TOILET DISCS – After cleaning the toilet I like to put the discs in the bowl as it continually gives it a fresh smell.
SUGAR SOAP – Use sugar soap diluted in a spray bottle (1/2 sugar soap and 1/2 water)
CLEANING WIPES – A convenient way to clean surfaces of your home that require a 'one use only cloth' such as the toilet seat.
ABSORBENT CLOTH – To use with the all-purpose cleaner. Get a reusable, strong, high-quality cloth that is machine washable.
MICROFIBRE CLOTHS – Great for wiping over surfaces to remove dirt and grime. I use them to also clean the windows, however, you can use a paper towel as well. They polish up surfaces extremely well too! Do not use them to clean greasy areas as the grease won't wash out of them.
TOOTHBRUSH – These are ideal for getting into tricky little spaces and grooves such as window tracks and in the shower.
SOCK – Use a clean white sock to easily clean your walls. Spray sugar soap onto walls with one hand and wipe over with a sock on your other hand to easily pick up all dirt on the walls.
GLOVES – Protect your hands from chemicals and grime by creating a barrier between you and the products you're using. Plus they will protect your delicate hands and nails!
CLEANING CADDY – To keep all your cleaning supplies together in one easy to carry caddy. Woolworths have this super handy Sistema 18.5L Basket with retractable handles which makes storing easy, being able to lower the handles if space is low.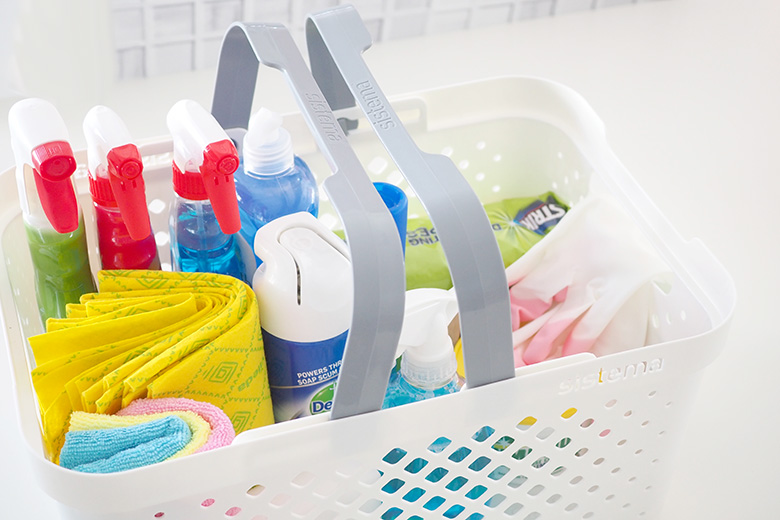 Woolworths have a great Household Savings Bundle to help save more $$ during your grocery shop:
Don't forget our exclusive coupon SAVE $10 when you spend $100 on Household & Beauty items when you place your next Woolworths online order. Don't forget additional supplies like laundry detergent, toilet paper, shampoo, moisturiser etc.
This post is run in accordance with my disclosure policy.